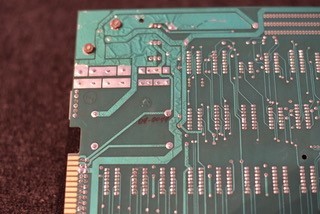 Apple-1 COMPUTER.
Apple 1 motherboard, with label "Apple Computer 1 / Palo Alto. Ca. Copyright 1976,"
5 December 2018, 14:00 EST
New York
Sold for US$237,500 inc. premium
Own a similar item?
Submit your item online for a free auction estimate.
How to sell
Looking for a similar item?
Our History of Science & Technology specialists can help you find a similar item at an auction or via a private sale.
Find your local specialist
Ask about this lot
Adam Stackhouse
Specialist
Apple-1 COMPUTER.
Apple 1 motherboard, with label "Apple Computer 1 / Palo Alto. Ca. Copyright 1976," includes printed circuit board with four rows A-D, and columns 1-18, MOS Technologies 6502 microprocessor, labeled MCS 6502 1576; keyboard interface and connector; 8K bytes RAM in 16-pin 4K memory chips; 3 "Big Blue" Sprague capacitors; firmware in PROMS (A1, A2); low-profile sockets on all integrated circuits; inked in security pen "01-0044" on underside; heatsink; expansion connector; cassette board connector; and original cassette interface, labeled Apple 1 Cassette Interface Copyright 1976 with "NTI" lettered in triangle on component side, overall approximately 15 x 9 x 2½ inches.
WITH: 2 Stancor power transformers; George Risk Industries keyboard model 756; Panasonic RQ-309DS cassette recorder, Hitachi VM-900U 9-inch monitor; custom plexiglas-covered wooden case with power supply and cooling fan. Lot also includes Apple-1 Operation Manual. Palo Alto, CA: Apple Computer Co., 1976. 4to. 8pp, fold-out schematic, warranty printed on inside of back wrapper. White paper wrappers with first type Apple Computer logo, depicting Isaac Newton sitting below an apple tree, stapled binding.
Preliminary Apple Basic Users Manual October 1976. Palo Alto, CA: Apple Computer Co., 1976. 4to. 14 pp. Green paper front wrapper with first type Apple Computer Co. logo, bound with a single staple at upper left. One horizontal fold crease, soiling to back page, handling smudges.
Paper documentation, including Apple-1 Cassette Interface [Users' Manual]. Oblong octavo. White printed wrappers, folded and staple bound at top edge; an Apple Computer Co. customer return tag dated August 1977, for Bob Reinemer, marked "'Doesn't load BASIC,' no -5V regulator"; Apple Computer Company marketing flyer, 4to, with first type logo and "Byte into an Apple" slogan; UHF Industries TV-1 computer monitor parts list and instruction sheet, 1p, 4to, folded; George Risk Industries Model 756 keyboard manual and specification sheet, 4 pp, 4to, on yellow paper, staple bound.

Computer operational as of October 2018; a video of that operation is linked to the online description of this lot at http://www.bonhams.com/video/******/. It was examined and operated by Corey Cohen, Apple-1 expert. Mr. Cohen notes the Apple-1 is currently in 7.0 (out of 10) condition. Request condition report for further information.
Provenance: Bob Reinemer (return tag); Apple Computer; Sent by Steve Jobs to present owner circa 1977.

APPLE-1 COMPUTER GIFTED BY STEVE JOBS AND IN EXCELLENT WORKING CONDITION.

The Apple-1 computer is the first pre-assembled personal computer to come to market, heralding the dawn of the personal computer revolution. Steve Wozniak, in his autobiography, recounts: "I didn't realize it at the time, but that day, Sunday, June 29, 1975, was pivotal. It was the first time in history anyone had typed a character on a keyboard and seen it show up on their own computer's screen right in front of them" (p 166).

The story of its production and sale has become one of the most potent legends in 20th century history. "People who saw my computer could take one look at it and see the future. And it was a one-way door. Once you went through it, you could never go back" (Wozniak p 168).

Wozniak and Steve Jobs demonstrated the breakthrough design at the Homebrew Computer Club in Palo Alto. The next day, the ever enterprising Jobs obtained an order from Byte Shop owner Paul Terrell for 50 assembled boards to be delivered in 30 days at $500 apiece. Jobs scrambled to come up with the $15,000 of parts needed and enlisted friends and family in the assembly process. Approximately 200 units were eventually made, but this is thought to be one of the first batch of 50 with the PCB manufacturer unidentified on the front copper layer of the board. It also bears the inked number "01-0044" on the reverse, of unknown significance, though generally considered to be a Byte Shop inventory number. Only 68 surviving authentic Apple-1's are listed in Mike Willegas's Apple 1 Registry as of October 2018. Although the first Byte Shop order sold extremely well (at a retail price of $666.66), there were at least some remainders from the additional 150 and also many Apple-1s were eventually traded in for Apple IIs, many of which are thought to have been destroyed by Jobs.

The present example was consigned by a friend of Steve Jobs. The two had met during the 8th grade school year and became fast friends, even backpacking and camping with each other's family. They maintained contact even after they each went off to college. The owner recounts a visit to Jobs in 2007 where he was stopped by a couple of men in black suits as he neared Jobs' house. The men directed the consignor where to park and he was escorted to the entryway where Jobs introduced the consignor to former President Bill Clinton!

Regarding the Apple-1, the consignor contacted Jobs late in 1977, after the Apple II was already a big success, to see if there were any Apple-1s around that he could be used for experimentation. Jobs sent the present unit, which was part of the Apple exchange program. The tag bore the name Bob Reinemer and stated "Doesn't load Basic." The consignor worked on the unit for some time before he was able to finally get it working.

The lack of an NTI logo, the Byte Shop's security penned number on the PCB verso, and the low number indicates that this example was likely from the first batch of 50 that Jobs and Wozniak sold. It was probably returned to Apple through the Byte Shop for the exchange program.

Wozniak, Steve & Gina Smith. iWoz. NY: 2006; Isaacson, Walter. Steve Jobs. NY: 2011.
Footnotes
"EVERY COMPUTER BEFORE THE APPLE I HAD THAT FRONT PANEL OF SWITCHES AND LIGHTS. EVERY COMPUTER SINCE HAS HAD A KEYBOARD AND A SCREEN. THAT'S HOW HUGE MY IDEA TURNED OUT" —STEVE WOZNIAK