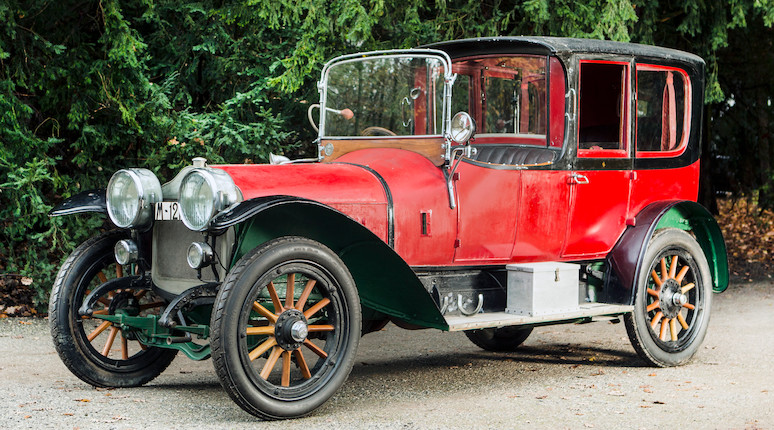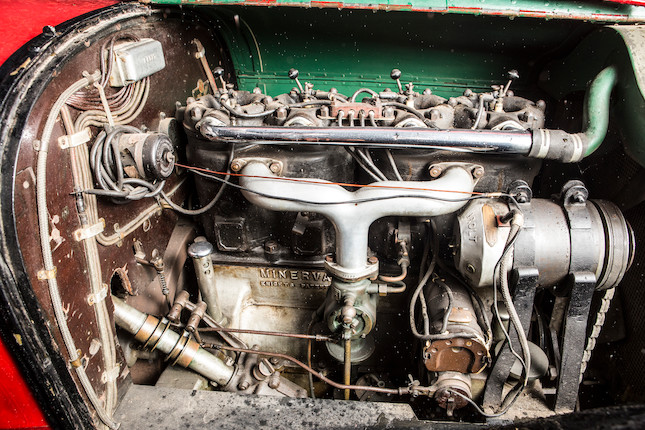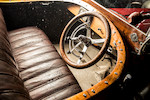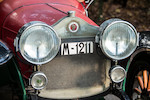 Minerva modèle Z 38 HP limousine ouverte 1911
8 February 2018, 14:00 CET
Paris, The Grand Palais
Sold for €71,300 inc. premium
Own a similar item?
Submit your item online for a free auction estimate.
How to sell
Looking for a similar item?
Our Collector Cars specialists can help you find a similar item at an auction or via a private sale.
Find your local specialist
Ask about this lot
Philip Kantor
International Chairman for Motoring
Minerva modèle Z 38 HP limousine ouverte 1911
Châssis N° 10699
Moteur N° 10700

•Rare Minerva livrée en Espagne
•Dossier historique fascinant
•Intérieur d'origine préservé
•Aux mains du même propriétaire pendant plus de 30 années

Le plus puissant modèle de Minerva en 1911 était leur modèle Z. Avec un alésage x course de 124 x 130 mm, le moteur affichait environ 6, 3 litres et, par le biais d'une boîte à quatre rapports, le murmure de son silencieux moteur Knight passait une excellente puissance tout en souplesse à la route dans un large éventail de vitesses et offrait aux carrossiers un châssis raffiné sur lequel bâtir des carrosseries à la requête de leur estimable clientèle.

À cette époque, la marque se faisait une bonne réputation internationale, notamment grâce à son excellente fiabilité et à ses agences ouvertes pour alimenter les marchés étrangers. En 1913, des publicités dans la presse contemporaine montrent une Automoviles Minerva en Espagne commercialisant tous les modèles, montrant clairement que ces voitures plaisaient dans ce pays. Il semblerait bien que ce soit là le tout premier modèle construit, les historiens notant que la série débute autour du numéro 10699, et qu'il pourrait bien être antérieur à l'émergence de la société espagnole, sa plaque de châssis affichant un libellé en français. En tout cas, dans tous ses autres aspects la voiture affiche des éléments de marques espagnoles, de son radiateur Corominas (de Barcelone et Madrid) à ses feux et phares Tarrida (de Barcelone). Il n'y a pas de plaque de carrossier, mais elle arbore des lignes courbes très caractéristiques avec un compartiment avant capoté qui pourraient bien être de facture espagnole.

De façon typique pour le collectionneur attentionné qu'était Jacques Vander Stappen, il a choisi un nouvel exemplaire parfaitement documenté de cette marque qui contrastait agréablement avec les autres pièces de sa collection en terme de style et d'origine. On trouvera au dossier une correspondance remontant aux années 1920 et la vignette originale de 1928 encore en place qui atteste que ses plaques d'époque étaient M-1211, suggérant qu'elle fut immatriculée très tôt à Madrid. Plus tard, on trouve des contrats de vente, la voiture changeant rarement de mains apparemment seulement en 1940, puis en 1975, avant d'arriver dans cette collection.

Bien qu'elle n'ait pas été utilisée ces dernières années et qu'elle nécessite à juste titre une remise en route, la voiture est complète et dans un état d'origine remarquable. Les cuirs des compartiments avant et arrière semblent conserver leur matériau d'origine et montrent peu de traces d'usure pour leur plus de 100 ans d'existence, seulement des traces de coups de soleil sur la porte de la cabine arrière et quelques traces sur les sièges. À un moment, la peinture semble avoir été refaite en partie, passant d'un vert pomme que l'on trouve encore sur les essieux et dans les passages de roue, à la livrée rouge et noir d'aujourd'hui qui met mieux en valeur les lignes de la carrosserie, qui pourra facilement être changée pour une autre harmonie.

Ces immenses Minerva sont réputées pour être de bonnes voitures de tourisme. Celle-ci avec le supplément de distinction que lui confère sa provenance espagnole, est à la fois exceptionnellement rare et une pièce fascinante de l'histoire de la marque belge.

1911 Minerva Model Z 38HP Open Drive Limousine
Chassis No. 10699
Engine No. 10700

•Rare Spanish delivery Minerva
•Fascinating history file
•Original interior in preserved order
•In the present ownership for more than 30 years

Minerva's largest horsepower offering for 1911 was their Model Z. With a 124 x 130mm bore and stroke engine rating at approximately 6.3 Litres and transmitting to the road through a four speed gearbox, its whisper quiet Knight engine would have provided excellent power and smoothness at a range of speeds as well as allowing coachbuilders a refined chassis on which to exact bodywork at the request of their esteemed clientele.

By this time the marque was gaining a good reputation around the world, particularly for their reliability, and agencies opened to supply national markets. In 1913, adverts in contemporary press show an Automoviles Minerva in Spain marketing all models, clearly showing that the appeal was strong enough in that country. This appears to be the earliest of the Model to have been built as historians record the series to have started at around number 10699, and may well predate the emerge of the Spanish entity, as its chassis plate has a home market script in French. However, in all other respects the car is branded with Spanish details from its Corominas (of Barcelona and Madrid) radiator to its Tarrida (of Barcelona) lighting set. There is no coachbuilder accreditation in terms of plaques, but it has a very distinct, curved design with cowled or hooded front compartment which may well also be of Spanish build.

Quite typically for the careful collector that Jacques Vander Stappen was, he chose another well documented example of the breed which contrasted nicely with others in his stable in terms of its style and origins. On file here is correspondence going back to the 1920s and original 1928 road tax discs still present, which denote its contemporary plate to have been 'M-1211', suggesting early ownership in Madrid. Later there are contracts of sale as the car passed infrequently through custodians, seemingly in 1940, then 1975, before arriving in this collection.

Although unused in recent years and likely to require recommissioning, the car is in remarkably complete and original order. Both the leather to the front and rear compartments would seem to retain the original fabrics and show relatively modest wear for their more than 100 year existence, including sunburst patterns to the rear cabin doors, and occasional seating. At some point some of the paintwork appears to have been changed from an apple green colour which remains on the axles and in the wheel arches, to the present red and black scheme which accents the form of the body better, an aspect which could relatively easily be tidied to a more consistent livery.

These larger capacity Minervas are known to have been good touring cars, this with its added distinction of Spanish provenance is both exceptionally rare and a fascinating part of the Belgian marque's tale.