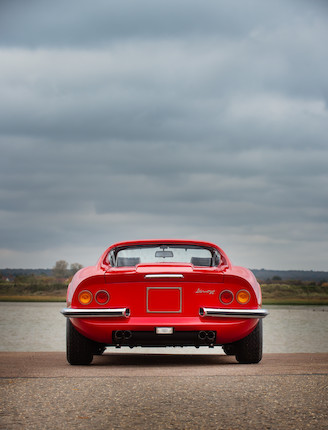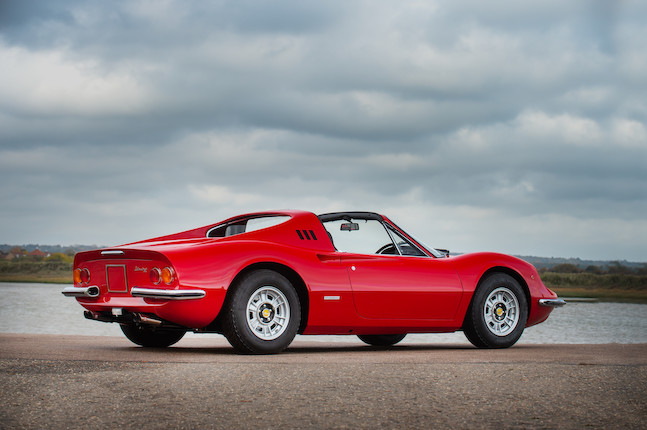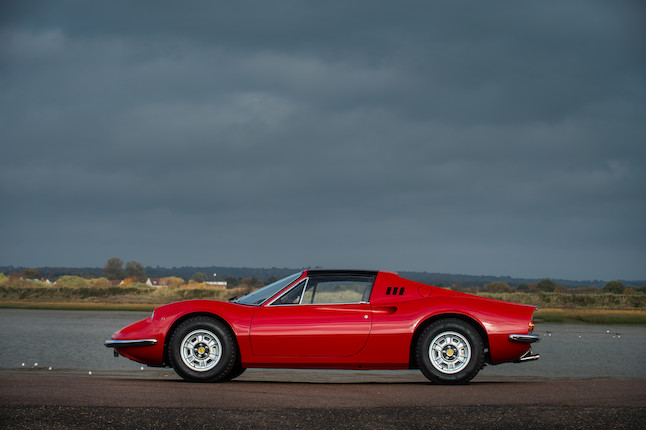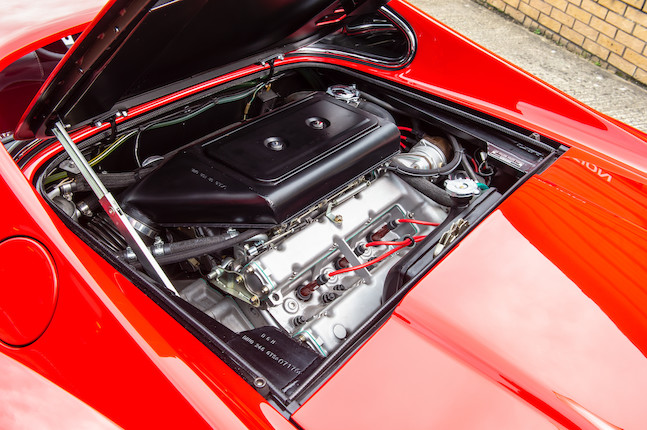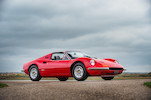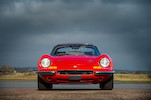 1973 Ferrari Dino 246 GTS Spider
Coachwork by Pininfarina/Scaglietti Registration no. PPU 69M Chassis no. 07176
3 December 2018, 14:00 GMT
London, Olympia
Own a similar item?
Submit your item online for a free auction estimate.
How to sell
Looking for a similar item?
Our Collector Cars specialists can help you find a similar item at an auction or via a private sale.
Find your local specialist
Ask about this lot
Richard Stafford
Specialist, Head of Research
Fully restored to Concours condition
1973 Ferrari Dino 246 GTS Spider
Coachwork by Pininfarina/Scaglietti
Registration no. PPU 69M
Chassis no. 07176
*One of 235 right-hand drive models
*Supplied new to the UK
*Single family ownership from new
*Extensively restored 2013-2017
*Beautiful condition
Footnotes
'It is a thrill to drive a car like the Dino, one whose capabilities are far beyond what even an expert driver can use in most real-world motoring, and that is the Dino's reason for being. The real joy of a good mid-engined car is in its handling and braking and the Dino shone as we expected it to. The steering is quick without being super quick, and it transmits by what seems a carefully planned amount of feedback exactly what is going on at the tyres. Thanks to the layout's low polar moment of inertia the car responds instantly to it. The Dino's cornering limits are very high... ' – Road & Track.

It was the need for a production-based engine for the new Formula 2 that had prompted the introduction of a 'junior' Ferrari, the Dino 206 GT, at the Turin Motor Show in 1967. The latest in a line of Dino V6 'quad-cam' engines stretching back to the late 1950s, the new unit proved as successful on the racetrack as in the showroom, Derek Bell and Ernesto Brambilla both winning races in the European Championship, while Andrea de Adamich triumphed in the 1968 Argentine Temporada series.

Building on experienced gained with its successful limited edition Dino 206S sports-racer of 1966, Ferrari retained the racer's mid-engined layout for the road car but installed the power unit transversely rather than longitudinally. A compact, aluminium-bodied coupé of striking appearance, the Pininfarina-styled Dino - named after Enzo Ferrari's late son Alfredino Ferrari and intended as the first of a separate but related marque - was powered by a 2.0-litre, four-cam V6 driving via an in-unit five-speed transaxle. The motor's 180 brake horsepower was good enough to propel the lightweight, aerodynamically-efficient Dino to 142mph, and while there were few complaints about the car's performance, the high cost enforced by its aluminium construction hindered sales.

A 2.4-litre version on a longer wheelbase - the 246 GT - replaced the original Dino 206 in late 1969. Built by Scaglietti, the body was now steel, and the cylinder block cast-iron rather than aluminium, but the bigger engine's increased power - 195bhp at 7,600rpm - adequately compensated for the weight gain. A Targa-top version, the 246 GTS, followed in 1972. The Dino 246 was built in three series: 'L', 'M', and 'E', these designations reflecting detail changes in the specification.

While not quite as fast in a straight line as its larger V12-engined stablemates, the nimble Dino was capable of showing almost anything a clean pair of heels over twisty going. Truly a driver's car par excellence, it is still highly regarded today. Every Ferrari collection should have one.

A rare UK-supplied right-hand drive model, this exceptional Dino has belonged to the same family from new. One of only 235 RHD examples made, chassis number '07176' was completed on 21st September 1973 and delivered new to Colonel Ronnie Hoare's Maranello Concessionaires Ltd in Egham, Surrey. Its accompanying Massini Report also reveals that this car's original colour scheme was Rosso Chiaro with Nero interior, and that it left the factory equipped with Cromodora alloy wheels. Maranello Concessionaires sold the Dino to Frank Sytner Auto, Nottingham in October 1973. Only one former keeper (the current registered keeper's father) is listed on the V5 registration document, making this a rare single family-owned example.

Between 2013 and 2017, the Dino was treated to a complete, bare-metal, 'last nut and bolt' restoration by independent Ferrari specialists, Hoyle Fox Classics, with every component either rebuilt or replaced. Works carried out included rebuilds of the engine and gearbox, and substantial repairs to the metalwork to remove any corrosion, while the interior was re-trimmed and the seats' red cloth inserts changed to the more desirable all-black pattern. Only some 200 miles have been covered since the rebuild's completion.

Offered with restoration invoices and the aforementioned V5 document, this immaculately restored Ferrari Dino has to be one of the very best examples – if not the best – currently available and is worthy of the closest inspection.