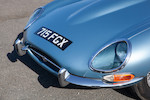 1961 Jaguar E-Type 'Series 1' 3.8-Litre 'Flat Floor' Roadster
Registration no. 715 FGX Chassis no. 850164
3 December 2018, 14:00 GMT
London, Olympia
Sold for £74,166.67 inc. premium
Own a similar item?
Submit your item online for a free auction estimate.
How to sell
Looking for a similar item?
Our Collector Cars specialists can help you find a similar item at an auction or via a private sale.
Find your local specialist
Ask about this lot
Richard Stafford
Head of Research
1961 Jaguar E-Type 'Series 1' 3.8-Litre 'Flat Floor' Roadster
Registration no. 715 FGX
Chassis no. 850164
*The 164th right-hand drive roadster
*Present ownership since February 1985
*Extensively professionally restored over the last four years
*Most recent service in June 2018
Footnotes
'If Les Vingt Quatre Heures du Mans has been responsible for the new E-Type Jaguar, then that Homeric contest on the Sarthe circuit will have been abundantly justified. Here we have one of the quietest and most flexible cars on the market, capable of whispering along in top gear at 10mph or leaping into its 150mph stride on the brief depression of a pedal. A practical touring car, this, with its wide doors and capacious luggage space, yet it has a sheer beauty of line which easily beats the Italians at their own particular game.' - John Bolster, Autosport.

Introduced in 3.8-litre form in 1961, the Jaguar E-Type (XKE in the USA) caused a sensation when it appeared, with instantly classic lines and 150mph top speed. While, inevitably, the car's stupendous straight-line performance and gorgeous looks grabbed the headlines, there was a lot more to the E-Type beneath the skin.

The newcomer's design owed much to that of the racing D-Type. Indeed, the E-Type would be one of the last great sports cars developed directly from a successful competition ancestor. Just as in the D-Type, a monocoque tub formed the main body/chassis structure while a tubular spaceframe extended forwards to support the engine. The latter was the same 3.8-litre, triple-carburettor, 'S' unit first offered as an option on the preceding XK150. With a claimed 265 horsepower on tap, the E-Type's performance did not disappoint: firstly, because it weighed around 500lb less than the XK150 and secondly because aerodynamicist Malcolm Sayer used experience gained with the D-Type to create one of the most elegant and efficient shapes ever to grace a motor car.

Developed from that of the original XK120 sports car and refined in the racing D-Type, the double wishbone, independent front suspension was mounted on the forward sub-frame that supported the engine. At the rear the E-Type's suspension broke new ground for a large-capacity sports car, being independent at a time when most of its major rivals relied on the traditional live rear axle. Dunlop disc brakes were fitted to all four wheels; those at the rear being mounted inboard alongside the differential to reduce un-sprung weight. Only in terms of its transmission did the E-Type represent no significant advance over the XK150, whose durable four-speed Moss gearbox it retained.

Today, the E-Type's graceful lines live on in modern Jaguar sports cars, and there can be little doubt that William Lyons' sublime creation would feature in any knowledgeable enthusiast's 'Top Ten' of the world's most beautiful cars of all time. Indeed, even Enzo Ferrari felt obliged to concede that the E-type was 'the most beautiful car ever made'.

Its gorgeous appearance notwithstanding, the E-Type could feel a little cramped if you were a taller driver, a criticism addressed by the introduction of foot wells (and other, more minor modifications) early in 1962. The E-Type would go on to be offered in various forms until mid-1974, latterly with the magnificent V12 engine, but of all versions of Jaguar's long-lived and much-loved sports car, it is the very early 'flat floor' 3.8-litre cars built prior to February 1962 which, for many enthusiasts, remain the most desirable.

According to its accompanying Jaguar Heritage Trust Certificate, this E-Type was manufactured on 21st September 1961 as a right-hand drive open two-seater. The original colour combination was black with tan leather interior, while the original distributor was Henlys, London. The chassis number sequence of the right-hand drive roadsters began at '850001', making this car the 164th made.

The E-type was acquired by the current vendor in February 1985 having had three former keepers according to the V5C document on file. Also on file are numerous invoices relating to extensive renovation carried out over the course of the last four years. Mostly undertaken by Xtreme Jaguar Restorations Ltd of Woodchurch, Kent, these works have included an engine rebuild; carburettor overhaul; front suspension and steering rebuild; fitting a new bonnet frame; and a repaint. Accompanying bills for parts and labour total well in excess of £18,000. Last serviced in June 2018 (bill available), the car is described by the private vendor as in generally good condition. Electronic ignition is the only notified deviation from factory specification.