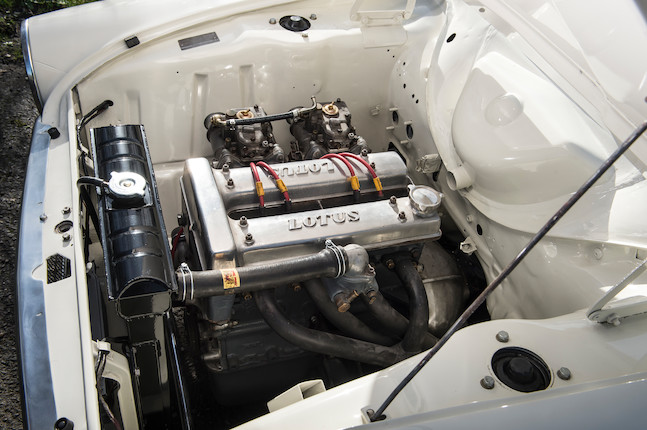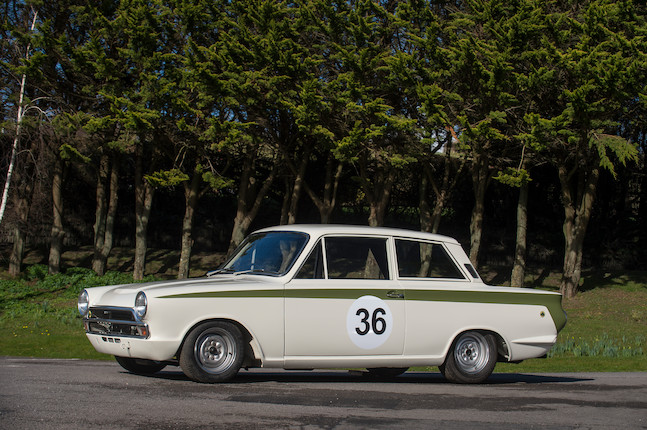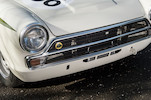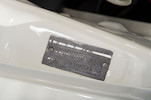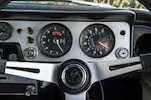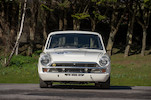 1965 Ford-Lotus Cortina Competition Saloon
Registration no. KPU 388C (see text) Chassis no. BA74EU59035
3 December 2018, 14:00 GMT
London, Olympia
Sold for £92,000 inc. premium
Own a similar item?
Submit your item online for a free auction estimate.
How to sell
Looking for a similar item?
Our Collector Cars specialists can help you find a similar item at an auction or via a private sale.
Find your local specialist
Ask about this lot
Richard Stafford
Specialist, Head of Research
The ex-Alan Mann Racing
1965 Ford-Lotus Cortina Competition Saloon
Registration no. KPU 388C (see text)
Chassis no. BA74EU59035
*Identity confirmed by Henry Mann of AMR (see letter)
*Extensive competition history file
*Driven by Sir Jackie Stewart, Jacky Ickx, Frank *Gardner, Lucien Bianchi et al
*Off the road since the 1970s
*Presented in partially restored condition
Footnotes
Chassis number 'BA74EU59035' left Ford's Boreham plant in June 1965 as one of a batch of 11 pre-production cars for homologation with the new leaf-sprung rear suspension. The 'KPU' cars, as they became known, were split between Team Lotus, Alan Mann Racing, and Ford's own team. While Team Lotus focussed on the British Touring Car Championship, Alan Mann Racing concentrated on the European Touring Car Championship.

To differentiate their Cortinas from the host of similar entries, Alan Mann Racing painted theirs with the now famous Ferrari Red and gold livery and campaigned three cars during the 1966 season. 'Missing' for many years, this historically important Cortina, #035 has been driven by so many legendary Race Drivers. The reason it has been missing for so long would seem to be in its registration and chassis numbers.

'BA74EU59035' was registered by Essex County Council as 'KPU 388C' however according to AMR and its vast files of historic race entries, chassis number 'BA74EU59035' was known to them and raced under the registration number 'KPU 391C' - alongside Sir John Whitmore's 'KPU 392C' throughout the entire 1966 season. The FIA had introduced new rules making it compulsory to include Chassis Numbers (previously not needed) in Race Entries along with registration numbers and drivers names for the 1966 season.

Included in the file of historic documentation is a letter from the Ford Motor Co to Alan Mann Racing confirming the purchase of KPU 390C & KPU 391C with corresponding Chassis Numbers '032' & '035' for the sum of £350 each. In addition a document dated 31st December 1966 stating "Please find enclosed, copies of the Log Books for 390C & 391C on loan to you."
The car was then sold to Frami Racing in Holland.

This car has been inspected and verified by Henry Mann and his mechanics in the AMR workshop as that which they knew as 'KPU 391C' (see documentation). On inspection Henry Mann found the Lotus SE (Special Equipment) lower suspension arms to be stamped 'KPU 391C'. Verified by the Mk1 Cortina Owners' Club (see documentation) and wearing its original chassis plate, as well as being examined and verified by the DVLA's own inspection service. It should be noted that the shell now incorporates a number of left hand drive Cortina panels to the front, and a quantity of new panels elsewhere – not uncommon with a well worked race car.

'035' may well have raced in late 1965 but as yet this has not been established, though Team Lotus certainly campaigned a 'KPU' car at Brands Hatch in August 1965. In 1966, '035' was successfully campaigned by legendary drivers Sir Jackie Stewart, Jacky Ickx, Frank Gardner, Lucien Bianchi, Bo Ljungfeldt, Peter Procter, Richard Attwood, Hubert Hahne, and Paul Hawkins (see accompanying list of race results). In 1967 the car was sold to Frans Lubin of FRAMI Racing in Holland, then moved on to Theo Schoonderbeek for the 1968 season. '035' was found in an Essex lockup garage where it had been since 1978, in its partially restored condition and current white/green colour scheme. Of the other two Alan Mann Racing Lotus Cortinas, 'KPU 392C' is Sir John Whitmore's European Touring Car Championship-winning car, while 'KPU 390C' is in AMR's possession.

Following painstaking research by its current owner, this car was identified as '035' by AMR's Henry Mann, and confirmed to be correct with the important undisclosed bodyshell modification that was only carried out on AMR cars. Original race entries, invoices, and other paperwork in Alan Mann Racing's historic archive were studied, resulting in the discovery of copies of original letters from the Ford Motor Company to Alan Mann; letters to drivers confirming race entries stating registration and chassis numbers; and a letter to a Mr Ickx confirming a drive for his son, copies of which are included in the sale.

When '035' returned to the UK is not known, but it is likely that when it did, it was registered as KPU 388C, by 1978 it was in the possession of one Mr Williams in Essex. It then went to a Mr Townsend from Essex where restoration stalled due to illness and/or age. The Cortina then passed to the immediately preceding owner, Mr Spencer of Norwich, from whom it was purchased by the current vendor.

The car itself is in 90% restored condition, although the new owner would no doubt return it to its correct red/gold livery and factory-correct leather front seats (the 'KPU' cars came with leather in place of production vinyl). The engine (block number '701M6015') is listed as 'something rather special reputedly from Ford Germany' and is said to have been rebuilt, which the current owner has no reason to doubt. It turns over easily, with compression, but a precautionary check is recommended. All in all a very exciting find along with the large file of historical photographs and Alan Mann documentation and more history still to be uncovered at AMR, make this a car of great historical importance.