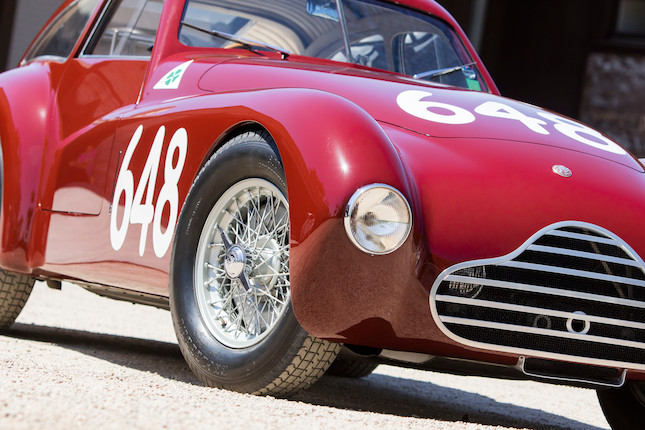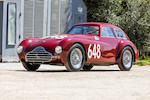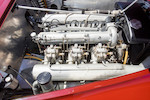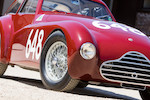 1948 Alfa Romeo 6C 2500 Competizione
Amended
24 August 2018, 10:00 PDT
Carmel, Quail Lodge & Golf Club
Sold for US$3,525,000 inc. premium
Own a similar item?
Submit your item online for a free auction estimate.
How to sell
Looking for a similar item?
Our Collector Cars specialists can help you find a similar item at an auction or via a private sale.
Find your local specialist
1948 Alfa Romeo 6C 2500 Competizione
Chassis no. 920002
Engine no. 921002

2,443cc DOHC 6-Cylinder Engine
3 Weber 35 DCO Carburetors
Estimated 160bhp at 5,500rpm
5-speed manual gearbox (original 4-speed included)
Independent Front Suspension – Live Rear Axle
4-Wheel Hydraulic Drum Brakes

*The only original survivor of three Competizione Berlinettas
*Consecutive years of Mille Miglia and Targa Florio competition
*Nestled among Michel Dovaz's "Sleeping Beauties" for 40 years
*Matching numbers and exeptional, well-documented provenance
*Exceptional 69-year file of original documentation
*Pebble Beach class winner, 100 point CCCA results

THE 6C 2500 COMPETIZIONE

Alfa Romeo scrambled to rebuild its Portello factory after WW2 and adjust to a new world without German competition or its own racing department Scuderia Ferrari, which would soon become an archrival.

Aerodynamic advances meant that closed Berlinettas were superseding open Spiders and the result was the aggressive Tipo 46 6C 2500 Competizione, which pointed the way to the future. Alfa Corse shortened and lightened pre-war 8C 2900 frames in 1948 to produce three elegant coupes, which were bodied by Alfa themselves.

The new 6C 2500 Berlinetta had a wheelbase of only 100 inches and the old 8C 2900 frame was cut in front of the rear wheels. It kept the original suspension points, and cross members of the 2900B frame were drilled to save weight. The independent front suspension was adapted from the Tipo 308 monoposto, but the rear used the 2900's transverse spring, with trailing arms and the brakes were adapted to fit Borrani wire wheels.

The car was designed to win the Mille Miglia, Italy's most prestigious automotive event from 1927-1957. It defined Grand Touring and attracted as many as 5 million spectators over 1,000 miles of racing along coastal and mountain roads and through small towns around Italy.

The first post-war Mille Miglia in 1947 had been won by Clemente Biondetti and Emilio Romani in an Alfa Romeo 8C 2900 Berlinetta. They beat a record field of 150 entries, including a hard-charging Tazio Nuvolari in a Cisitalia 202 SMM Spider, who was 2nd. Encouraged by this result, the first of the 6C 2500 Competizione coupes 920001 was prepared for Consalvo Sanesi and Zanardi Sala for the 1948 Mille Miglia as #1047. Sanesi was an Alfa Romeo works driver and the car showed much promise, but he crashed it severely, tearing off the roof.

THE MOTORCAR OFFERED

Meanwhile, privateer Franco Rol brought the second 6C 2500 Competizione Coupe, 920002 to the 1948 event, which had 167 entries. Rol was an Italian aristocrat, a successful chemical manufacturer and a competitive racer, and 920002's extensive photo file even shows the delighted buyer taking delivery of his new car. Rol and co-driver Alessandro Gaboardi entered the Mille Miglia as #20, but did not finish, also running off the road, though not as seriously. Undeterred, Rol entered the Coppa d'Oro delle Dolomiti and won his class, finishing 5th overall.

Franco Rol began 1949 on March 19 at the Targa Florio in Sicily. He and co-driver Vincenzo Richiero had gained a commanding lead until slowed by a broken fuel line, ultimately finishing a commendable 2nd overall. On April 24 the pair returned to Brescia for the Mille Miglia. Entries had swelled to 303, the largest ever field, but the pair were encouraged by their performance in Sicily and managed a class win and a spectacular 3rd place behind two Ferraris. Rol's 6C carried #648 in the race, which is the number it wears today.

The proud owner followed up with a 3rd place in July's Coppa d'Oro delle Dolomiti and finished his season by winning the Cicuito di Pescara in mid-August. When Rol couldn't make it to a race, he was apparently inclined to lend his car to friends. Thus in 1950 Giovanni Alessi took 920002 to the Vittorio Veneto-Cansiglio race (3rd), Treponti-Castelnuovo race (2nd) and Trieste-Opincia (5th). Mario Bornigia (who had won the 1950 Targa Florio) finished 9th in the 1951 Coppa d'Oro delle Dolomiti.

Rol started the 1950 season at the Targa Florio again and finished 2nd in his class and 6th overall, a strong result for a car in its 3rd season. He and Richiero entered the Mille Miglia again in April as #720 but luck wasn't on their side and they DNF'd. However 920001 had reportedly been rebodied by this point to closely resemble 920002, and Juan Manuel Fangio and Augento Zanardi scored a podium finish for Alfa Romeo by finishing 3rd as #730.

The third of the competizione coupes, 920003, was bodied later by Touring in a somewhat similar style, with a 3-liter engine, as the 6C 3000 C50. It was also entered in the 1950 Mille Miglia, driven by Sanesi, who crashed catastrophically, once again! The car was deemed un-rebuildable by the factory, though the engine survives in its museum.

Rol would enter the Mille Miglia once more with 920002 in 1951, partnered by Gino Munaron but they did not finish and Rol decided to move on. He and Munaron would campaign a Siata 208S in 1952, finishing 12th in the Giro di Sicilia and 11th in the 1952 Mille Miglia, after which Rol bought a Ferrari 250MM.

In July 1951, Rol sold 920002 to Dennis Spagnol in Lausanne, Switzerland who campaigned it locally and modified the grille with vertical bars and driving lights. Spagnol passed the car on to Jean Charles Munger of Thonex, Switzerland in October 1953. Thonex overhauled the coupe mechanically and reconfigured the nose and grille to resemble a Ferrari egg crate.

The next sale was to guarantee 920002's survival, but hardly to preserve it. In November 1954 Swiss car collector Michel Dovaz bought the 6C 2500 and condemned it to a leaky horse barn with 50 other unrestored classics at his chateau outside Paris - for the next 30 years. Surrounded by equally desirable Bentleys, Ferraris, Rolls-Royces, a Cord and a number of Bugattis, the Alfa Romeo collected dust and mice until photographer Herbert W. Hesselmann immortalized the collection in his 1983 coffee table book "Sleeping Beauties".

Alerted that his secret was out, Dovaz began to move his collection to the more discreet setting of a museum in Bordeaux. Then he transferred 25 cars to the Chateau Sarlat-la-Caneda museum in southwest France, without actually restoring them, merely displaying them in distressed tableaux. The one exception – more or less – was the 6C 2500 Competizione, which was quickly prepared by the Club Alfa Romeo de France for the 1984 Mille Miglia Storica.

When 920002 was prepared for the 1984 Mille Miglia, it was mostly fixed up to be driveable, as numerous repairs and modifications had been made over the years. It wasn't until 1995 that Alfa Romeo specialist Raoul San Giorgi was able to buy it – the first time it had changed hands in 40 years – that the car's luck changed. San Giorgi sold it to Nicholas Springer in Germany but bought the car back later and restored it in Milan, exhibiting it at three prestigious events in 2003, the Concours Villa d'Este, Louis Vuitton Classic and the Concours Paleis Het Loo in the Netherlands.

Shortly afterwards, San Giorgi sold it to Washington State collector David Smith. Smith, a stickler for detail and authenticity, set out to restore 920002 in its original configuration. Having been raced and damaged over the years the 6C had undergone at least three different grille configurations, been fitted with the wrong size headlights (necessitating re-shaping the front fenders for the correct, smaller Carello units) and even lost its original engine.

Smith commissioned a third restoration, this time to be as accurate as possible to the car's original design. He recovered many of the pieces which had been removed or copied in various restorations and reinstalled them in 920002. The doors, rear body and inner structures are considered to be the original panels which left Portello in 1948. The current hood is an even smoother creation than the original. Smith tracked down the original engine, rebuilt it and refitted it in the final stages of the restoration.

The car's design remains impressive, most particularly for the period of its construction. It's all business, but with wires, lines and hoses routed neatly, or out of sight. Raw aluminum panels decorate the engine compartment with evenly spaced rivets, and a spare set of spark plugs decorates the firewall. An examination of the underneath of the car indicates how the smooth panels assist its low wind resistance. The (conservatively estimated) 145 bhp engine was a masterpiece in its time and is still impressive, a double overhead cam 6-cylinder with an alloy cylinder head and triple side-draught Weber carburetors.

The driver's seat was reconfigured with a Porsche shell and leather padding, but the original seat is included. An internal luggage rack has been added to confine any items that need to be carried during modern competition. The car is currently fitted with a 5-speed gearbox from an early Alfa Giulietta, but the original 4-speed gearbox is included. The dashboard is a mix of elegant contemporary gauges and additional items, like a period stopwatch and kill switch which refer to the car's competition history.

The proof was in the pudding at Pebble Beach Concours in 2005 when the car scored 100 points and only missed out on a 1st in Class award because the brake light switch failed at a crucial moment. However all documents and original parts now accompany the car – far more than it could carry.

The car's enormous files include 84 pages of extensive newspaper magazine reports of all the car's races, hundreds of photos from competition to restoration – every period of its life, including some pictures of its lesser-known siblings. There is an original Alfa Romeo booklet with detailed specifications and a leather-bound Alfa Romeo binder. Also included is the original key fob from the 1949 Targa Florio race, surely unobtainable today.

Works race cars rarely survive, especially in times of duress, when the manufacturer is scrambling to keep the doors open and literally patching cars as fast as possible to maintain a presence on the circuit. Considering how hard this car was run in its early years, its survival probably can be credited to Michel Dovaz who hid it until its value could be appreciated, and it could be painstakingly restored and appreciated, as it deserves.

All the evidence indicates without a doubt that this is the best documented and most original 6C 2500 Competizione model in existence and it is bound to be joyfully welcomed by organizers and spectators at any event for which it is eligible.
Saleroom notices
Please note, the mentioned original key fob from the 1949 Targa Florio race, will not be included in the sale for this 6C.