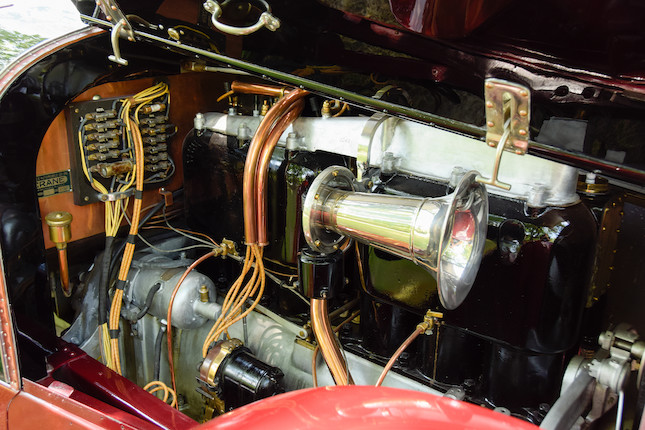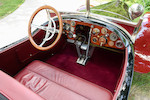 1915 Simplex Crane Model 5 Tourer
Chassis no. 2046
Engine no. 2049

564ci L-Head Inline 6-Cylinder Engine
Single Updraft Carburetor
110bhp at 2,900rpm
4-Speed Manual Transmission
Semi-elliptic Leaf Spring Suspension with Tubular Dampers
Double Acting Mechanical Brake on Rear Wheels

*Spectacular presented Simplex Crane Motorcar
*Massive six-cylinder power and 4-speed gearbox
*Eligible for many driving and concours event
*Few, long-term owners

THE SIMPLEX CRANE

These remarkable automobiles represent not only some of the finest statements of luxury of their day, but the car's impressive proportions would not be possible without the underpinning of a substantial mechanical aspect. The origins of these mechanics belong with the Simplex Automobile Company and with Henry Middlebrook Crane. Crane graduated from the Massachusetts Institute of Technology in 1896, with degrees in mechanical and electrical engineering. His Crane and Whitman Company of Bayonne, New Jersey (est.1906), evolved into the Crane Motor Car Company by 1910. Around this time, the Simplex Automobile Company acquired his business. Simplex, a name inextricably linked to one of the finest of all early cars, the Daimler-built Mercedes Simplex, had made its market as a consequence of the punitive tax that had been placed on imported automobiles. In this era, six-cylinderism was all the rage. Led by Rolls-Royce with their famed Silver Ghost, and with others such as Napier and Delaunay-Belleville in the running, the fashion seemed to be moving toward a powerful, but quieter, less intimidating, and more refined motorcar. The new owners of Simplex clearly felt the need for a six-cylinder engine, which Henry Crane could provide. His services were included in the transaction, and, rather quickly, the Simplex Crane Model 5 was introduced, with Crane's refined 564 cubic inch six-cylinder engine in a 144-inch wheelbase chassis. It is frequently said that there is "no substitute for power." Naturally, the magnificent Model 5 had it in abundance—and that allowed the coachbuilders to build imposing bodies that befitted the chassis

THE MOTORCAR OFFERED

Wearing sporty bodywork with exquisite presentation, this 1915 Simplex Crane Model 5 is an outstanding example from this storied American marque. Its original owner, Mr. Adler, purchased the car in 1915 and is reported to have kept it over three decades. Adler parted with his beloved Simplex in 1946. The sporty, open twin-cockpit body is a later addition, as often would occur with luxury automobiles of this era and stature, given as a chassis could easily outlive multiple bodies due to age, changing styles, and tastes of individual owners. The lovely boat-tail speedster-like style suits the car well and makes for strong performance. This is due to its light, pared-down construction in conjunction with the mighty Crane engine. The quality of the body and subsequent restoration is lovely with gorgeous deep maroon paint on the chassis and cycle fenders contrasting the black main body and black artillery wheels. Paint quality is very good and panel fit is impressive for a car of this era. It is a large automobile, though well-proportioned and finely detailed inside and out. The front compartment features doors for driver and passenger, while a smaller rear compartment has a unique single-sided door; an exciting period appropriate touch. The beautiful radiator shell is nickel plated, as are the drum headlamps, Simplex wheel hub caps, and assorted hardware on the chassis. A set of brass dampers are affixed to the chassis, protected with tidy leather boots that match the fenders. The rear of the car tapers to a boat-tail style, while the cut-down windscreen, dual rear-mount spares and floating step-boards impart a decidedly sporting and purposeful appearance.

The interior is dominated by the fat wood-rimmed steering wheel with nickel spokes and engine controls all presenting in outstanding order, beautifully polished and detailed. The dash features a marvelous array of instruments and switchgear, with the driver getting a Warner Auto Meter speedometer and odometer, along with an ammeter and fuel gauge. With an obvious eye toward touring and rallying, the front passenger faces a Waltham clock and oil pressure gauge, along with controls for fuel pressure, mixture control, and the Bosch ignition system.

Of course, the highlight of any Simplex Crane is Henry Crane's mighty L-Head inline six-cylinder engine—one of the greatest of the era. Well-detailed down to correct ignition wires, fabric wiring loom, and brass hose clamps, the presentation is breathtaking. Certainly, giving Crane's masterpiece appropriate justice.

It is believed that fewer than 500 Simplex Crane Model 5s were built in the short time the company existed before being taken over in 1919. Such was their quality and performance that most original owners kept them for many years, this example being no exception.