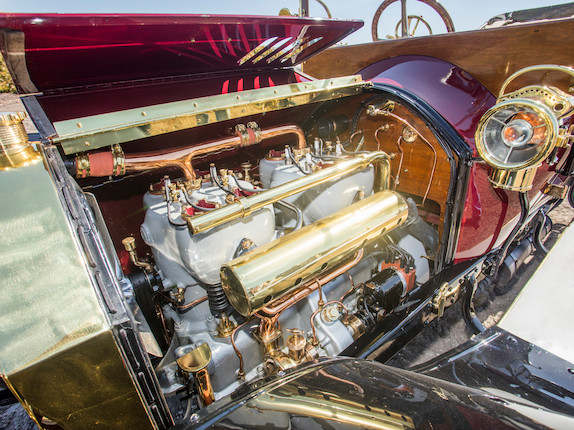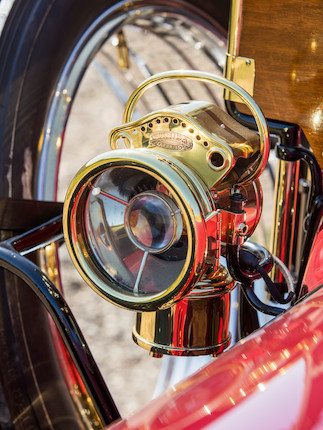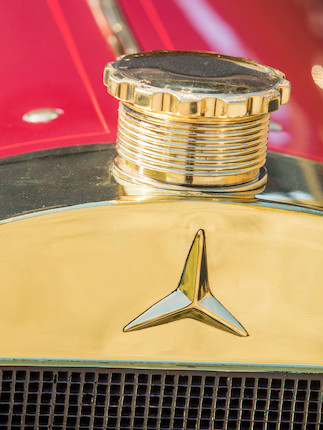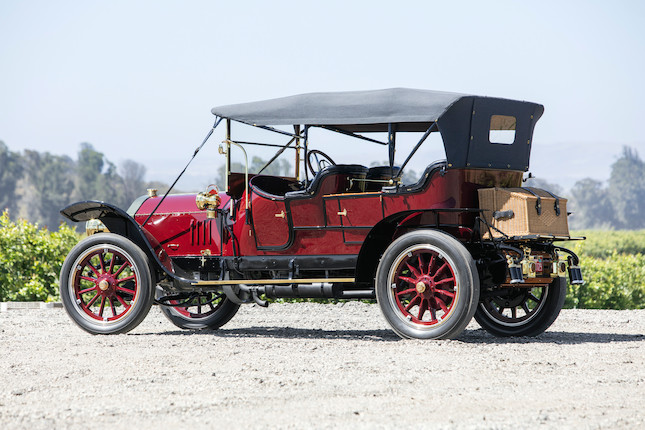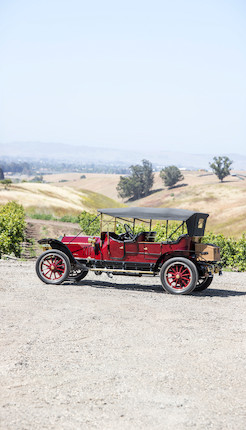 1913 Mercedes 28/60HP Phaeton
24 August 2018, 10:00 PDT
Carmel, Quail Lodge & Golf Club
US$800,000 - US$1,000,000
Own a similar item?
Submit your item online for a free auction estimate.
How to sell
Looking for a similar item?
Our Collector Cars specialists can help you find a similar item at an auction or via a private sale.
Find your local specialist
1913 Mercedes 28/60HP Phaeton
Engine no. 16352

7,240cc T-Head 4-Cylinder Engine Cast in Pairs, with Lateral Camshafts
Single Daimler Carburetor
60bhp at 1,300 rpm
4-Speed Manual Gearbox
Front and Rear Semi-Elliptic Leaf Spring Suspension
2-Wheel Pedal Operated Mechanical Drum Brake

*Owned by the same family for over 40 years
*One of the earliest motorcars to feature a universal-joint propeller-driveshaft
*Comprehensive two-year restoration completed in 2008
*Extensively used for touring on HCCA events
*Subject of cover feature in September/October 2009 issue of The Star (MBCA magazine)

EVOLUTION OF THE EARLY SHAFT-DRIVEN MERCEDES

While today's Mercedes-Benz is a global behemoth of vast renown, the brand's early teething years, which were characterized by racing success and small-volume production, are far less chronicled. In 1890, the now legendary engineers Gottlieb Daimler and Wilhelm Maybach left their positions at Deutz AG Gasmotorenfabrik to found an independent eponymous engine concern, Daimler Motoren Gesellschaft (DMG). Initially surviving on engine sales and licensing, the pair steadily promoted the concept of automobile production despite the difficulties of securing financing. During the initial years, DMG built a smattering of irregularly produced motorcars to individual order, delivering their first chassis to the Sultan of Morocco in 1892.

In 1894, Maybach designed a new 4-cylinder motor arranged in pairs of two. Dubbed the Phoenix, the engine featured a number of advanced elements, including a patented spray-nozzle carburetor and camshaft-actuated exhaust valves. The Phoenix unit was utilized in a variety of capacities ranging from automobiles and commercial trucks to marine applications.

In 1897 Daimler finally found lasting financial help from customer Emil Jellinek, an Austrian businessman who also served as his country's Consul General. Particularly interested in racing, Jellinek ordered two Daimler competition cars to be equipped with the Phoenix engine, and this constituted the first appearance of the important 4-cylinder engine in a DMG automobile. Over the next few years, Jellinek developed a lucrative side business of buying DMG cars and re-selling them to high-profile racing clients on the French Riviera. By 1900 he had bought 29 such chassis, but his involvement with the company was about to become even more significant.

With the death of Gottlieb Daimler in 1900 it was obvious that DMG would require fresh direction, and around this time Maybach began to seriously consider a proposal by Jellinek for the company to build a new sub-brand of sports cars to be named for the diplomat's young daughter, Mercedes. By this time Jellinek had already been entering events at the Nice Week races in France under the name Monsieur Mercedes.

In April 1900 DMG struck a deal to build the proposed Mercedes, which was to feature a new Maybach-designed engine called the Daimler-Mercedes motor. This development of the Phoenix 4-cylinder unit was enlarged to displace 5.9 liters for a rating of 35 hp. The Mercedes chassis was equally advanced, with a low center of gravity, a pressed steel frame, and a revolutionary honeycomb radiator.

Jellinek's customers were quite happy with the Mercedes' performance at the 1901 Nice Week, as Wilhelm Werner's car won the Nice-Salon-Nice race at an average speed of 58.1 kph. Werner was also the first of a one-two finish for the model in the two-seat racecar class at the Nice-La Turbie Hillclimb, and Claude Lorraine-Barrow separately set a new world record in his car with an average speed of 79.7 kph over the standing-start mile. Competition highlights continued for the Mercedes at the 1903 Gordon Bennett Cup when Belgian driver Camille Jenatzy won the race in a car liveried in German colors, and he placed second a year later at the 1904 Gordon Bennett.

With Wilhelm Maybach's departure from DMG in 1909, the manufacturer continued to grasp for market-share in the face of competition from Great Britain and France. While most automobiles of the era were chain-driven, Rolls-Royce had experimented with a shaft-driven system in the Silver Ghost model, and the success of this component prompted other manufacturers to engineer their own versions. To this end, in 1908 Daimler began to offer a so-called Cardan drive on its entry-level 21/35 model. Purportedly named for the Italian mathematician Gerolamo Cardano, this component was a forerunner of the universal-joint drive shaft architecture that is common in modern vehicles today.

Initially the Cardan drive was equipped solely on smaller displacement Mercedes models, but around 1910 the prop drive unit was offered on the new 28/60, which featured a 7.2-liter version of the 4-cylinder Daimler-Mercedes engine (utilizing the then-standard German nomenclature convention of listing both the taxable and true metric horsepower ratings).

Offered as a rolling chassis for bodywork to be built by the customer's preferred coachbuilder, the 28/60 was also available with three forms of factory coachwork built at DMG's Unterturkheim plant, a two-seater sports car, a phaeton, and a landaulet. In production through 1920, the Cardan-drive Mercedes 28/60 was a benchmark design that cemented Daimler's technical supremacy during the brass era, and a centrifugal component of the company's identity prior to the important 1926 merger with Benz & Cie.

THE MOTORCAR OFFERED

This impressive early Mercedes claims over 40 years of care by a single family and a highly authentic restoration completed in 2008, resulting in one of the best presenting examples in the world. According to Mercedes-Benz Classic, this 28/60 Phaeton was delivered to London on June 27, 1913. The car is believed to have sold through the official British distributor, Milnes-Daimler-Mercedes, Ltd. in London, as suggested by an original owners manual featuring the dealer's name.

In the mid-1950s, the 28/60 was reportedly purchased in London with several other cars by Norm Viney of Cleveland, Ohio, and he may have commissioned some restoration work in the UK. In the early 1960s the phaeton was sent for additional refurbishment to Tom Lester, proprietor of Lester Tires and Lester Restorations in Florida. Around this time the rear end of the bodywork, which had been partially removed for unknown reasons, was rebuilt using hand-formed coachbuilding techniques.

After Viney's passing in the mid-1970s the car was sold by his widow to their good friend, Solon Sprinchorn, and he shipped the minimally driven car to Jamestown, New York. The Mercedes was domiciled there for the next twenty years without being used until Mr. Sprinchorn decided to make car operational for some touring, for which he enlisted the assistance of his son-in-law. Completed by mid-1997, the freshened phaeton ran the VMCCA's 30-day Trans-Continental Reliability Tour, stretching over 2,500 miles from El Paso, Texas, to Banff, Canada, and on to Spokane, Washington. Following completion of the tour, the 28/60 was returned to the son-in-law's home in Santa Maria, California.

Sadly, Mr. Sprinchorn's first tour in the Mercedes was also his last, as he passed away just six months later. His son-in-law decided to keep the car in honor of the former owner, and it officially passed into his possession in 1998. Interested in "touring and tinkering," he drove the Mercedes on numerous Horseless Carriage Club of America (HCCA) tours on the West Coast, and during one such event in Napa Valley the motor developed a bad bearing. In 2007 the owner entrusted the car to the awarded Robin Onsoien and his Early Motors in Nipomo, California, to professionally rebuild the original T-head Daimler-Mercedes engine, and a more comprehensive refurbishment was soon commenced. In addition to a complete chassis freshening, the coachwork was carefully stripped and refinished in a two-tone scheme of black and red, and Loren Burch of Pasadena rebuilt the soft top and properly reupholstered the seats in black leather. The restoration process is extensively documented with detailed photographs.

After completing restoration in 2008, the Mercedes was used on at least another 12 tours, and the owner estimates he has accrued approximately 1,000 miles of annual use while fastidiously maintaining the antique car. As detailed in a cover feature in the September/October 2009 issue of The Star (the MBCA magazine), he has run the racing engine with abandon, achieving freeway speeds during event use. Though the 28/60 remains mostly original, it has been tastefully upgraded for improved mechanical function with a modern starter; a single switch for the magneto, battery, and buzz-coil; and an alternator to provide power for an electric fuel pump, electric lights in the acetylene headlamps, and electric taillights with a directional signal.

Accompanied by side curtains, a boot, tonneau cover, and spare parts, this exquisite early Mercedes presents beautifully with period details like the Ducellier brass headlamps, wood-spoke artillery wheels, and a wicker-woven rear luggage piece. The phaeton would make an ideal candidate for further use on vintage tours, and as the current longtime owner had no interest in attending exhibitions the car is virtually unknown to the show circuit, portending a warm welcome at regional Concours d'Elegance, Mercedes-Benz Club of America events, and Mercedes gatherings. In all likelihood one of but a handful that remain extant worldwide, this charming Cardan-drive Mercedes 28/60 is a superlative example of the revolutionary engineering that emerged from DMG in the early 1900s. It would make an important acquisition for any enthusiast, particularly suited to brass-era collections.