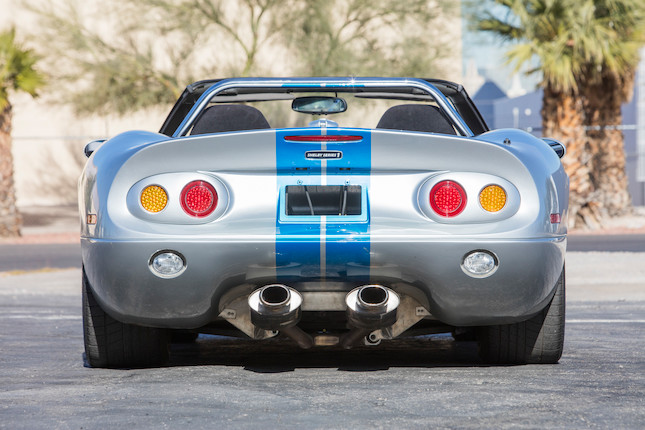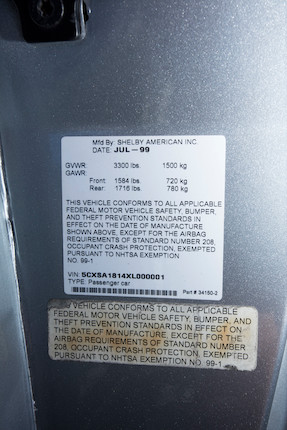 From the Private Collection of Carroll Shelby
1999 Shelby Series 1

Amended
3 June 2018, 11:00 EDT
Greenwich
Sold for US$313,000 inc. premium
Own a similar item?
Submit your item online for a free auction estimate.
How to sell
Looking for a similar item?
Our Collector Cars specialists can help you find a similar item at an auction or via a private sale.
Find your local specialist
Ask about this lot
Eric Minoff
Senior Specialist
1999 Shelby Series 1
VIN. 5CXSA1814XL000001

244ci DOHC Oldsmobile L47 Aurora V8
Computer Controlled Fuel Injection
600bhp at 6,500rpm
6-Speed ZF Manual Transmission
4-Wheel Double Wishbone Independent Suspension
4-Wheel Disc Brakes

*From the personal collection of Carroll Shelby
*Very first of only 249 Series 1s Built - CSX5001
*Fitted with a prototype Supercharger
*The spiritual successor Carroll Shelby's Cobra and the only car he designed from the ground up

THE SHELBY SERIES 1

Carroll Shelby is an automotive legend who needs no introduction. His formative creations in the 1960s that injected greater power into existing platforms such as the V8-powered AC Ace that became the Cobra and the performance enhanced Ford Mustangs that became GT350s and GT500s cemented the Texan and former chicken farmer as one of the greatest car builders in history. After remaining quiet on the sidelines for quite some time, in the early 1980s Shelby began working with Chrysler before deciding to design his first all-new car from the ground up.

With development beginning in 1994 and a proposed release date of 1998, Shelby set out to create an enviable machine that would provide performance capable of trouncing the fastest cars coming from Europe—just as he had done decades earlier. Beginning with a chassis of extruded and formed 6061 aluminum, it was clothed with a skin of aluminum and carbon-fiber underpinned by bonded aluminum honeycomb for added stiffness and Kevlar floor panels for lightness. Under the hood sat an Oldsmobile Aurora-derived V8 attached to a ZF 6-speed manual gearbox from a Corvette. Altogether, the car weighed in at just 2,650 pounds and rocketed to 60mph in just 4.4 seconds while the buttoned down chassis and suspension allowed it to turn 0.92 g on the skid pad.

In the end, production delays and compromises forced upon the car to meet EPA and DOT standards for 1999 pushed the delivery date a year back, the weight up a few hundred pounds, and the price up to $181,824—nearly double the initial estimate. The car would last only one model year with a mere 249 rolling off the production line. Over a decade and a half hence, it remains as Carroll Shelby's last home-grown sportscar and the only one he created from soup-to-nuts.

THE MOTORCAR OFFERED

This Shelby Series 1, which carries the Shelby serial number CSX5001, was the very first Series 1 to roll off the production line, as evidenced by the plaque placed in full view on the dash. CSX5001 has been under the ownership of Carroll Shelby for the entirety of the vehicle's life. CSX5001 was finished in the popular color scheme of silver with blue strips. Inside, prototype Sparco seats with a 4-point belt system ensures the occupants are strapped in for a wild ride. The car is also fitted with a unique roll bar giving its pilot a bit of added security. CSX5001 served as the proof of concept for the supercharger system that would later become an optional extra later on in production. With the addition of forced induction, and a special tune for Carroll's personal car, power was reportedly increased to a seriously impressive 600hp and the 0-60 time was dropped to 3.2 seconds. It is believed that fewer than 25% of Series 1s were fitted with the supercharger which carried a cost of over $20,000. To cope with all of the forced induction power, the car was fitted with a beefed up 4-piston 4-wheel disc brake setup. To this day, the Series 1 still offers supercar performance. The utilization of advanced materials and resulting performance figures truly put the Series 1 ahead of curve and is sure to go down in history as one of the greats. Having covered only 10,085 miles, the car is fantastic condition. CSX5001 is offered with a Shelby vehicle authenticity certificate certifying that the car was owned by Carroll Shelby. When considering CSX5001's rarity and incredible provenance, it quickly becomes a must have for any Shelby Collector.
Saleroom notices
Due to Connecticut emissions laws, please note that this vehicle may only be sold to an out-of-state resident for use outside of Connecticut or to a licensed automotive dealer. Also note, the title for this vehicle is in transit.