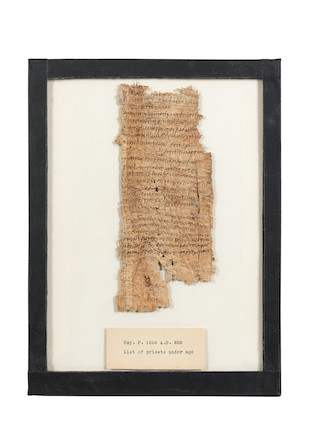 Two Egyptian fragmentary papyri from Oxyrhynchus
2
28 November 2018, 10:30 GMT
London, New Bond Street
Sold for £21,250 inc. premium
Own a similar item?
Submit your item online for a free auction estimate.
How to sell
Looking for a similar item?
Our Antiquities specialists can help you find a similar item at an auction or via a private sale.
Find your local specialist
Ask about this lot
Francesca Hickin
Head of Department
Two Egyptian fragmentary papyri from Oxyrhynchus
Roman period, dated to 282 A.D. and 336 A.D.
Comprising a Greek text composed of twenty-five lines recording a list of persons of priestly descent who were underage, ref. Oxy. P. 1256, 20.7cm x 8.8cm, and another fragment of twenty-eight lines of Greek text recording an oath by a priest that his priestly rank was derived from his father, ref. Oxy. P. 1265, 23.5cm x 8.5cm (2)
Footnotes
Provenance:
Colgate Rochester Crozer Divinity School (Ambrose Swasey Library), Rochester, N.Y., donated in the early 20th Century by the Egyptian Exploration Fund.
Anonymous sale; Sotheby's, New York, 20 June 2003, lot 94.
Private collection.

Published:
B.P. Grenfell and A. S. Hunt, The Oxyrhynchus Papyri, X, 1914, pp.174-6, no. 1256 and pp.189-91, no. 1265.

The Oxyrhynchus papyri were excavated by Bernard Grenfell and Arthur Hunt between 1896 and 1907. They were found at Oxyrhynchus, the capital of the 19th Nome and the third-largest city of Hellenistic Upper Egypt. The fragments come from books and documents of daily life and they provide an insight into society, law, the economy and the literary culture of Egypt from the Ptolemaic through to Roman, Byzantine and Arab periods.