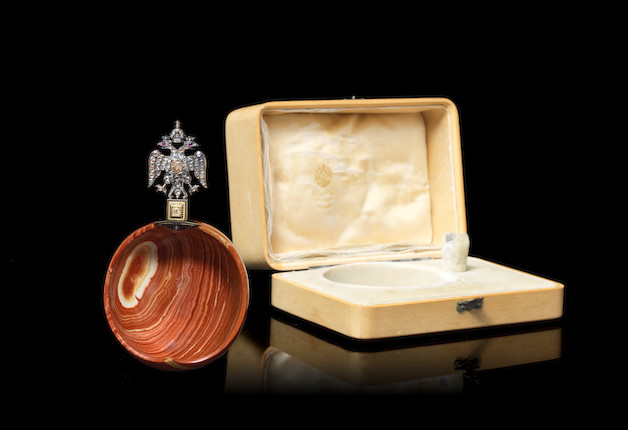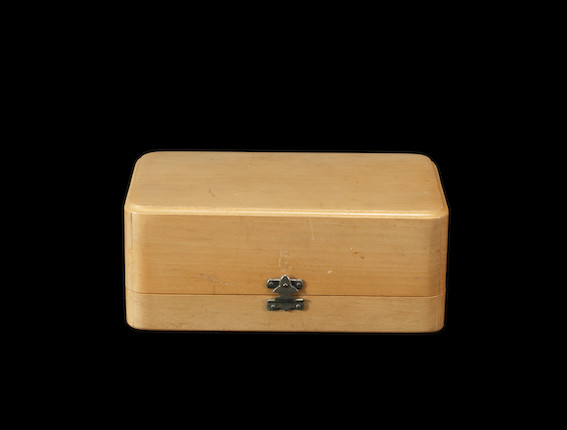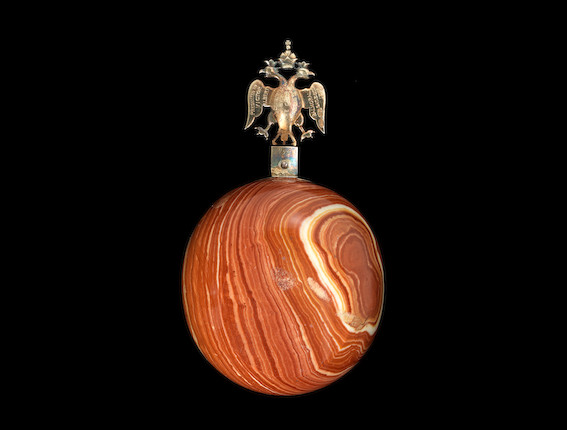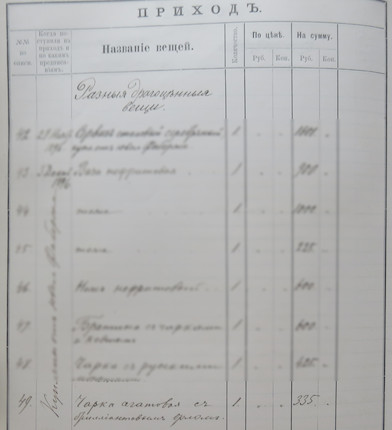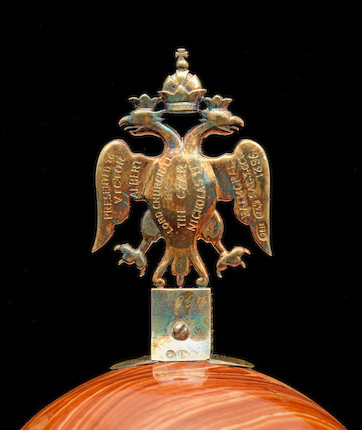 Property from the Estate of the late Victor, 3rd Viscount Churchill (1934-2017)
An Imperial presentation jewelled, gold, enamel and hardstone kovsh

Fabergé, workmaster Michael Perchin, St. Petersburg, 1896, scratched inventory number 51966
28 November 2018, 15:00 GMT
London, New Bond Street
Sold for £236,750 inc. premium
Own a similar item?
Submit your item online for a free auction estimate.
How to sell
Looking for a similar item?
Our Russian Paintings and Works of Art specialists can help you find a similar item at an auction or via a private sale.
Find your local specialist
Ask about this lot
Daria Khristova nee Chernenko
Department Director
Stefania Sorrentino
Cataloguer
An Imperial presentation jewelled, gold, enamel and hardstone kovsh

Fabergé, workmaster Michael Perchin, St. Petersburg, 1896, scratched inventory number 51966
the compressed oval agate bowl mounted with diamond-set gold handle enriched with champlevé black stripes, terminating in a diamond and ruby-set Imperial eagle, the reverse engraved with presentation inscription "Presented to Victor Albert Lord Churchill by The Czar Nicholas II, Balmoral Sat.3.Oct 1896", in original fitted silk-lined case stamped 'Fabergé St. Petersburg' beneath the Imperial Warrant, 72 standard

length: 12cm (4 3/4in).
Footnotes
Provenance
Presented by Emperor Nicholas II on 3rd October 1896 to Victor Albert Francis Spencer, 3rd Baron Churchill (later 1st Viscount Churchill) (1864-1934)
Thence by direct descent

Предмет происходит из выдающейся семьи политических деятелей – Черчиллей. Этот великолепный агатовый ковш был заказан императором Николаем II у Фаберже в дар лорду Черчиллю во время императорского визита к королеве Виктории в Балморал. Процарапанный инвентарный номер прослеживается в архивах Фаберже (см. иллюстрацию)

The magnificent kovsh was presented by Nicholas II at the conclusion of the Russian Imperial visit to Balmoral. Faberge inventories confirm that it was supplied at a cost of 335 roubles and the Imperial Cabinet, documenting gifts by their Imperial Highnesses abroad in 1896, cites 'England Lord Churchill' as the recipient.

The 3rd Baron Churchill, a cousin of Sir Winston Churchill, was born into a branch of the family with strong British political and royal links. His mother, Lady Jane Churchill was the longest serving Lady of the Bedchamber and a close confidante of Queen Victoria. Lord Churchill was personally acquainted with Nicholas II and moved in court circles serving as Page of Honour to Queen Victoria, Lord in Waiting in the Royal Household, and acting as Lord Chamberlain for the Coronation of Edward VII in 1902, the year he was created 1st Viscount Churchill. He was also His Majesty's Representative at Ascot between 1901-1934, the longest serving Chairman of the Great Western Railway from 1908 to 1934, and served with the Queen's Own Oxfordshire Hussars from 1902-1918, alongside his cousins Winston Churchill and the 9th Duke of Marlborough.

Churchill contributed to the success of the 1896 Russian visit to Balmoral despite the complexities that mired the planning stages. The logistical and security challenges presented by the visiting retinue from St Petersburg had threatened to overwhelm the reunion between Empress Alexandra Feodorovna and her grandmother, Queen Victoria. As this voyage followed Nicholas and Alexandra's coronation as well as the birth of their first child, Grand Duchess Olga, it was hoped that a Scottish break would be restorative.

Behind the scenes, Queen Victoria's closest advisers worked tirelessly to ensure the success of the visit scheduling entertainment as well as manoeuvring opportunities for informal political discussion. Lord Churchill, who was previously acquainted with the Imperial couple, was only four years older than the Russian monarch and his position in the household ensured his attendance at Balmoral social occasions. A seating plan preserved from September 30th, 1896 indicates that Lord Churchill dined with the Queen, Empress Alexandra, their aristocratic relations and the inner circle of courtiers at a table for eighteen.

Fortunately, the Russian sojourn passed without incident and on October 3, Nicholas and Alexandra prepared to depart for France. That morning, the family were recorded in the first ever moving image of Queen Victoria when she allowed herself to be filmed seated in a pony cart surrounded by Nicholas II and his consort amongst others. That final date of the Balmoral visit is engraved on the Faberge kovsh presented by Nicholas II to Lord Churchill, and remains a lasting souvenir of this historic Imperial visit.