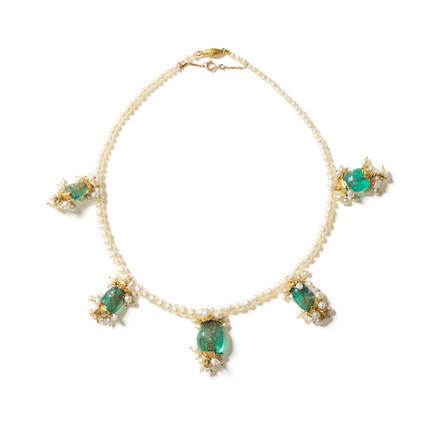 An important emerald and seed-pearl Necklace from the Lahore Treasury, worn by Maharani Jindan Kaur (1817-63), wife of Ranjit Singh, the Lion of the Punjab (1780–1839)
Lahore, first half of the 19th Century
23 October 2018, 11:00 BST
London, New Bond Street
Sold for £187,500 inc. premium
Own a similar item?
Submit your item online for a free auction estimate.
How to sell
Looking for a similar item?
Our Islamic and Indian Art specialists can help you find a similar item at an auction or via a private sale.
Find your local specialist
Ask about this lot
Oliver White
Head of Department
An important emerald and seed-pearl Necklace from the Lahore Treasury, worn by Maharani Jindan Kaur (1817-63), wife of Ranjit Singh, the Lion of the Punjab (1780–1839)
Lahore, first half of the 19th Century
comprising five polished emerald beads, each bead gold-mounted and fringed with seed-pearl drop tassels, with gold clasp, one loose emerald similarly mounted, in fitted cloth covered case, the inside of the lid inscribed From the Collection of the Court of Lahore formed by HH The Maharajah Runjeet Singh & lastly worn by Her Highness The Late Maharanee Jeudan Kower.
the necklace 38 cm. diam.; the case 20.5 x 12cm.
Footnotes
Provenance
Collection of Maharani Jindan Kaur (1817-63), wife of Maharajah Ranjit Singh (1780-1839)
Sold by Frazer and Hawes from Garrards of Regent Street, London
Bonhams, Islamic and Indian Art, 8th October 2009, Lot 366
UK Private Collection, acquired from the above

Other items in similar fitted cases from the Maharani's collection have been sold at auction: a pair of earrings were sold in these rooms, Islamic and Indian Art, 24 April 2018, lot 300; and a necklace, Christie's, Magnificent Mughal Jewels, 6th October 1999, lot 178.

Between 1849 and 1850, when the British took control of the court in Lahore, they entered the Treasury, where they found the court jewels wrapped in cloth. The Treasury was fabled to be the greatest and largest treasure ever found. The most famous and well-known jewels were taken away as gifts for Queen Victoria, including the Koh-i Noor and the Timur Ruby. Confiscated treasures were sold by Messrs Lattie Bros. of Hay-on-Wye in the Diwan-i-Am of the Lahore Fort. The items were listed in seven printed catalogues and the sales took place over five successive days, the last one starting on 2nd December 1850. It is also known that some of the jewels were boxed in Bombay by Frazer and Hawes and were sent to London, where they were sold by Garrards. Judging by the age of the case, this would have been done after the Maharani's death.


Maharani Jindan Kaur

Maharani Jindan Kaur was born in 1817 in Chahar, Sialkhot, Punjab. Of humble origins, she grew into a young lady of exquisite beauty and came to the attention of Maharajah Ranjit Singh at a young age. In 1835, she became Ranjit Singh's seventeenth wife and in 1838 bore him a son, Duleep. Duleep was his last child and just ten months later Ranjit Singh died. Jindan was the Maharajah's only surviving widow, rejecting the practice of 'Sati' or throwing herself on the funeral pyre with his other wives, choosing to bring up her young son instead.

Ranjit Singh's empire stretched from the Indian Ocean to the Himalayas, with its southern boundary bordering British India. His court was fabled for its patronage of the arts and sciences, and for its riches. Immediately after his death, Ranjit Singh's golden empire began to crumble. His eldest son, Kharak Singh, took the throne but was murdered two years later; the reign of Sher Singh was similarly short-lived and he was assassinated in 1843 upon which the five year old Duleep was proclaimed Maharajah with his mother as Regent. As Jindan came to power, she was swiftly confronted by the British army in the hope of conquering one of the last independent states of Northern India.

As Regent, Jindan became a thorn in the side of the East India Company: she waged two unsuccessful wars against the British, the First and Second Anglo-Sikh Wars of 1846-49, which brought about the annexation of the Punjab. In 1846 she was deposed and in February 1847 the British took possession of Lahore. The British continued to see her as a major threat and thus in August 1847, to halt her influence on the young king, Duleep was sent away from the palace and Jindan was incarcerated. In 1849 she escaped from captivity and fled to the Himalayas, where she found troubled sanctuary in Kathmandu, Nepal.

Under pressure from the British officials at Kathmandu, the Nepalese imposed humiliating restrictions upon her; meanwhile, the British press began a campaign to blacken her name, calling her the 'Messalina of the Punjab'. Like Messalina, the wife of the Roman Emperor Claudius, Jindan was portrayed as a licentious seductress, who was powerful and influential and too rebellious to control.

The young Maharajah, Duleep, was moved to Fategarh eventually to Britain in 1854, where he was adopted as a godson by Queen Victoria. He converted to Christianity and was brought up as a young English gentleman. In 1860, Duleep sought information about his mother and a report came back that: "The Rani had much changed, was blind and lost much of her energy". The Governor General agreed to a meeting based on this report of the Rani's condition, thinking that the last queen of the Punjab no longer posed a threat. When they met in 1861 Duleep found her almost blind and suffering from poor health. It was agreed that the Rani would travel to England: her private property and jewels, previously taken by the British authorities, would be restored to her on the basis that she left India.

Upon their return to London, a change was noted in the Maharajah and he was heard to talk about his private property in the Punjab; information that only Jindan could have given to him. During this time, she reawakened her son's faith and royal heritage, sowing the seeds of discontent in his mind which would bring about his fall from grace in later life.

On the 1st August 1863, Jindan died in her Kensington home in the country of her sworn enemy, just two and a half years after being reunited with her son and leaving him inconsolable.

As a Sikh queen, cremation was the traditional practice, but one that was not allowed under English law. The Maharani's body was moved to the Dissenters Chapel at Kensal Green Cemetery until such time that it could be taken to India for the last rites. Her body remained at Kensal Green for nearly a year. At the time, Charles Dickens wrote: "Down here... rests the Indian dancing woman whose strong will and bitter enmity towards England caused Lord Dalhousie to say of her, when in exile, that she was the only person our Government near feared".

In 1864, permission was granted to take the body to India and she was cremated at Bombay. In 1924, her ashes were later moved to Lahore and deposited at the samadh of Ranjit Singh.