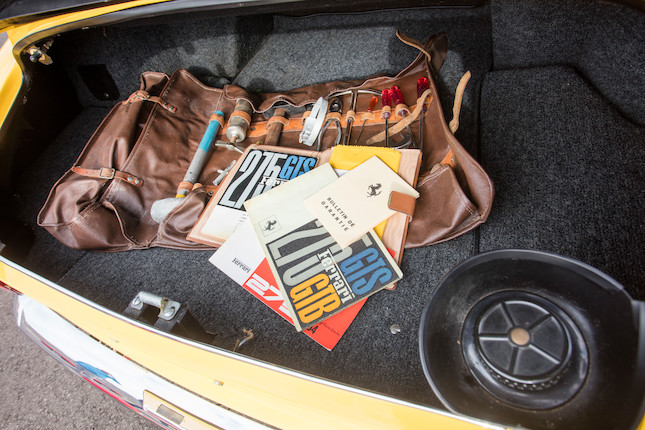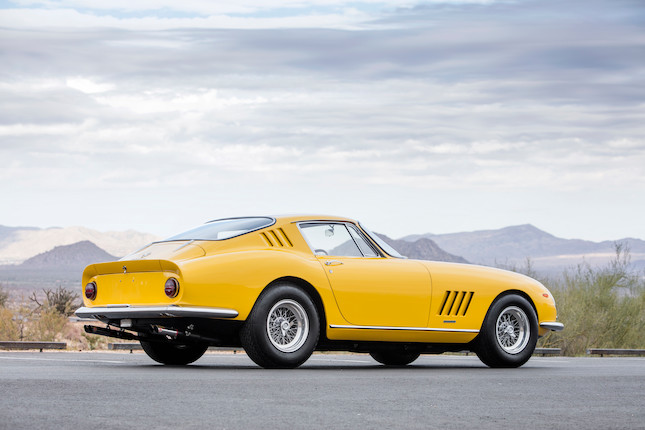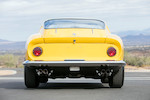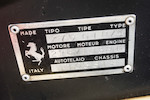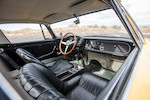 Highly regarded, well preserved example with less than 32,000 miles from new
1967 Ferrari 275 GTB/4
Design by Pininfarina
Coachwork by Scaglietti
18 January 2018, 11:00 MST
Scottsdale, The Westin Kierland Resort & Spa
US$2,800,000 - US$3,400,000
Own a similar item?
Submit your item online for a free auction estimate.
How to sell
Looking for a similar item?
Our Collector Cars specialists can help you find a similar item at an auction or via a private sale.
Find your local specialist
1967 Ferrari 275 GTB/4
Coachwork by Scaglietti - Design by Pininfarina
Chassis no. 10381
Engine no. 10381

3,286cc DOHC V-12 Engine
Six Weber Carburetors
300bhp at 8,000rpm
5-Speed Manual Transaxle
4-Wheel Independent Suspension
4-Wheel Disc Brakes

*Highly regarded, well preserved example with less than 32,000 miles from new
*Very original car retaining the original interior and matching numbers driveline
*Shown at many Ferrari Club of America and Concours events
*Offered with books and tools
*Ferrari Classiche Certified

THE FERRARI 275

To the Ferraristi, those who revere the stable of the prancing horse above all other marques, so admired is the GTB/4 that mere mention of "four-cam Ferrari" invariably evokes outbursts of acclaim for the car's exquisite symmetry of visual and mechanical potency.

More aggressive in appearance, the GTB's long hood, plexiglass-covered headlamps, laid-back cockpit, integrated rear spoiler and side vents were a vivid tribute to the all-conquering GTO race car. Its higher belt- and fender lines and rounded contours gave the 275 a commanding yet aerodynamic presence that conveyed its ability to slice powerfully through the atmosphere.

Beneath the gorgeous body, penned by Batista Farina himself, was a tubular steel frame and mechanicals that reflected thirty years of racecar development. The first road Ferraris to have fully independent suspension, a rear-mounted 5-speed transaxle with torque-tube for near 50-50 weight distribution, and its chassis and gearbox innovations were a direct adaptation of the developments that brought so much success to Enzo Ferrari with his sports/racing cars.

The 275 GTB/4 made its public debut at the 1966 Paris Auto Salon; thereafter, according to Ferrari, only 331 examples were built during the short production run that ceased in March of 1968 (it brought to an end by U.S. emissions standards that effectively eliminated Ferrari's most lucrative market). Model serial numbers range from no. 09007 to no. 11069; all were numbered in the odd chassis number road-car sequence; each chassis was identified with reference no. 596; and the car was offered in both left- and right-hand drive. Most GTB/4s were constructed of steel with aluminum doors, bonnet, and boot lid; a few were built entirely of aluminum. When new, a 275 GTB/4 cost between $16,000 and $17,000.

Its overall shape was almost identical to preceding 275s, including the long nose, designed to reduce front-end lift, which was first introduced to the GTB in 1965, though with a flat bonnet instead of the first GTB's slightly raised profile. Thus the only easily seen visual difference from the 275 GTB (which was produced through 1966) was a slim and shallow central blister to accommodate a larger air filter housing. A second pair of vents, echoing those on the fenders, was cut into the sail panels to evacuate cabin air. European-spec models had different rear light lenses (an orange upper section for the turn signal and central circular reflector) from those bound to the U.S. (full red with a central horizontal rectangular reflector).

Behind the angled windscreen was an interior that emulated other Ferrari-badged grand tourers of the era. Simple but elegant, the cabin's design featured a wraparound dashboard connected with the door panels, which featured aluminum inserts at the bottom. Four gauges fronted both the instrument panel and the center stack area, and the driver faced a classic three-spoke wood-rimmed steering wheel. The conservatively bolstered seats, without headrests, were designed more for grand touring than fighting extreme sideloads. Of course, Ferrari offered buyers options for customization, so the 275 GTB/4's interior could be altered by choice, with colors and trims ranging from basic black to lighter shades or even to red, blue or yellow.

Under the hood, however, was to be found the reason for the /4 in the GTB's nameplate: the first version of the Colombo short-block V-12 to utilize double overhead camshafts. Derived from the 3.3- and 4.0-liter engines of the 275 and 330 P2 prototypes of the 1965 racing season, this new Tipo 226 engine had the same dimensions of the earlier 275's Tipo 213 but incorporated some significant differences: a reduced valve angle for more compact heads; valves directly actuated without the intermediary rocker arms; six twin-choke Weber 40 DCN carburetors (for remarkable mid-range torque and flexibility); and a dry sump oiling system as used on the earlier competition 275 GTB/C, crucial for a high-revving engine in order to reduce windage losses and increase cooling capacity. Oil capacity itself was raised from 11 quarts to 17 quarts. Twin-coil ignition sparked a single spark plug per cylinder.

What did all these refinements deliver? Listen to Dick Irish, an American gentleman racing driver from Kansas City who campaigned a 375 Ferrari in SCCA events against Bill Spear, Carroll Shelby and Jim Kimberly. Dick had finally saved enough money to afford a four-cam and arranged in October 1967 to stay in Maranello to personally oversee production of his 275 GTB/4. He recounted the many interesting experiences in the Ferrari Club magazine Prancing Horse. His final factory thrill was riding with the test drivers: "Would you believe we traversed Modena and the surrounding country side at never under five grand in any gear.

He left the factory with his "new" Ferrari showing 119 miles of road testing. When leaving Italy after 5,000 miles he told his factory friends, "It is all I had hoped for except it is much more civilized than I had imagined." In the first year he drove it 42,000 miles on two continents. As he said, the car is a true Gran Turismo in every way. With a 400-mile range, he went 398 on one tank; long distances can be covered quickly. He did have problems with "loose" undercoating. It was too brittle for three-digit driving on roads sanded to combat ice and snow. In 1970 he drove from Tulsa to Canada and Niagara Falls and back via Detroit and Chicago — with his yellow Labrador wedged behind the seats. By June 1971 the four-cam had 82,462 miles on several sets of tires. Several minor problems had arisen, but a clutch pressure plate at 79,000 miles was about the only major repair. As he contemplated his four-year odyssey, he said, "The voluptuous, almost animalist lines Scaglietti gave the 275 GTB/4 made me realize that Ferraris are the ultimate in Grand Touring."

THE MOTORCAR OFFERED

This fine example of the legendary 275 GTB/4 - chassis no. 10381 - was manufactured during the late summer of 1967, and finally completed in September that year. The car was built to US specifications, and finished in 106-E-8 Grigio Ferro over a black leather interior. Late in 1967 the GTB/4 was delivered to Luigi Chinetti Motors of Greenwich, Connecticut, the official U.S. East Coast Ferrari importer. The lucky first owner was a Mr. James Ryba, resident on Mackinac Island, Michigan. Well-known Ferrari aficionado and dealer Bill Kontes purchased 10381 in 1969, and sold it again about a year later, with help from Kirk F. White, to Dr. John Doll of Thurmont, Maryland. Dr. Doll would show the 275 GTB/4 at the 1973 Ferrari Club of America National Meet, but then sell the car on that same year to fellow collector and enthusiast, Gary Schaevitz. Mr. Schaevitz kept 10381 until the early 1990s, at which point the car was still in its original 106-E-8 Grigio Ferro paint, and had just 23,000 miles recorded on the odometer.

By 1994, the low-mileage and highly original 275 GTB/4 had come into the ownership of Los Angeles, California based collector Mr. Paul D. Moyer, who would start campaigning the rare Ferrari at exclusive Concours and Ferrari Club of America events. The exterior color had been changed to the appropriate Giallo Fly, or Fly Yellow, all other finishes and materials were left original and untouched, including the interior. Mr. Moyer kept 10381 for almost two decades, before selling it to Ferrari enthusiast and dealer, Eddie Karam of West Chester, PA. Karam retained the highly original 275 GTB/4 for a few years, before selling it to the consignor, with whom it has since resided among other exceptional Ferraris.

With an odometer reading of just 31,748 original miles at the time of cataloging, this magnificent and highly original Ferrari 275 GTB/4 shows excellent panel fit, and has a feeling of a well-cared for car which has never been apart or damaged. The chrome and bright work appears original and untouched, as does the glass, and the Marchal lights and lenses adorning the exterior. The headlight covers feature the correct Scaglietti stamps, indicating they are of the original type. The engine compartment is clean and correct, and original down to the Cheney hose clamps. A Borrani spare wheel shod on Michelin XWX tire, matches what is appropriately mounted on the car. The interior is a delight, and original throughout, perfectly matching this 275 GTB/4's low mileage and previous ownership by devoted Ferrari custodians. Owner's manuals in pouch and tools are accompanying the sale of the car, as is the red Ferrari Classiche Certification book, documenting that this car remains in factory correct and original condition, and most importantly retains its original engine, driveline and bodywork.

These classic Four-cams are eligible for many international driving events such as the Tour de France, the Copperstate 1000, and the factory-sponsored tours. As a factory spokesman said about the 2004 275 Italian tour organized to celebrate the 40th anniversary of one of its most iconic models: "The idea of holding a rally for the Ferrari 275 stemmed from this model's successful past, on both road and track, especially in hill climbs and endurance races. In fact, it represents the essence of Ferrari at that time: a car designed for road use, but built with totally sporting pretensions."