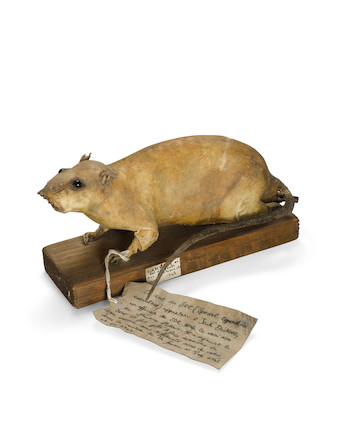 Special Operations Executive: An explosive dummy rat.
English, 1941.
6 December 2017, 13:00 EST
New York
Sold for US$1,875 inc. premium
Own a similar item?
Submit your item online for a free auction estimate.
How to sell
Looking for a similar item?
Our Books & Manuscripts specialists can help you find a similar item at an auction or via a private sale.
Find your local specialist
Special Operations Executive: An explosive dummy rat.
English, 1941. A dummy rat made of actual rat hide, with inert delayed fuse, dry and shriveled, the hair almost removed due to age, mounted on a wooden platform, as if an object for storage in French Police Stores. French police identification label "surmulot ou rat d'egouts Mus decumanus.Pall.Lyon I 1942". with ink label on base dated 1942, and with post war 1940's tie-on label in French, stating that this "rat du SOE", belonged to an officer of the SOE, Maurice Ledain, aka Jack Dickens, who was sent 3 times behind enemy lines into central France in May 1943 and 1944. Length: 400 mm (with tail); height: 100 mm.

A rare example of a Rat Bomb, this one seemingly found in a police store in France, and with attributed ownership to Maurice Ledain. Ledain escaped occupied France in 1940, coming to Britain where he joined Allied Commando 10. From there he moved to the Free French Airforce and then to BCRA (De Gaulle's secret Service). He was dropped into France on numerous occasions using various pseudonyms, the main one being Jack Dickens.
The rat bomb idea was conceived by the SOE in 1941, and their laboratory in Stevenage Herts, posing as London University ordered 100 rats for dissection. The first batch, was packed off to agents in France but was intercepted, and the German authorities then spent many months checking the boiler rooms of France for dead rats which might contain explosives. It was a simple but effective idea that a dead rat in a boiler room would be shoveled up and thrown into a furnace and would explode destroying countless official heating systems across France. It is likely that agents dropped into France would have carried one or two such devices to cause local disruption.