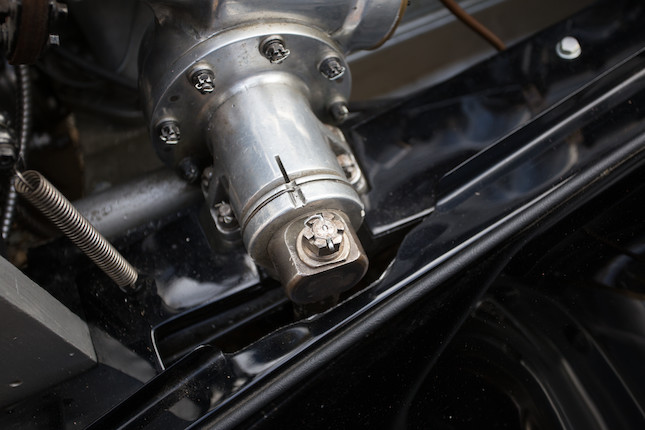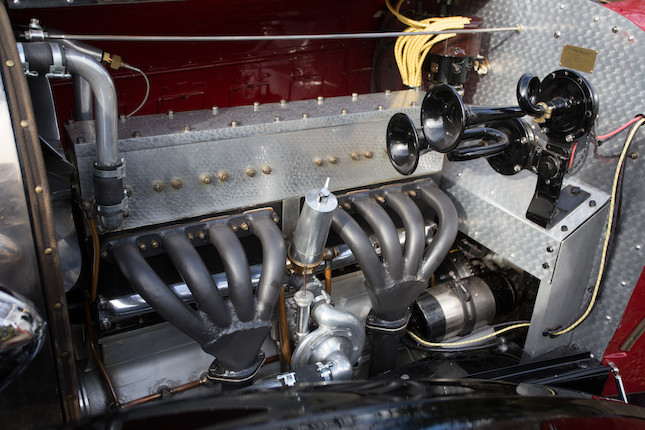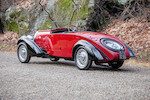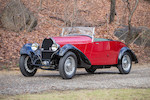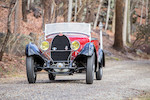 1932 Bugatti TYPE 49 ROADSTER
Coachwork by Labourdette
4 June 2017, 12:00 EDT
Greenwich
Sold for US$676,500 inc. premium
Own a similar item?
Submit your item online for a free auction estimate.
How to sell
Looking for a similar item?
Our Collector Cars specialists can help you find a similar item at an auction or via a private sale.
Find your local specialist
Ask about this lot
Evan Ide
Senior Specialist
Rupert Banner
VP, Business Development
Eric Minoff
Senior Specialist
1932 Bugatti TYPE 49 ROADSTER
Coachwork by Labourdette
Chassis no. 49534
Engine no. L423

3,257cc Inline 8-Cylinder Engine
Single Schebler Carburetor
85bhp at 4,000rpm
4-Speed Manual Transmission
Semi-Elliptic Leaf Springs with Rigid Front Axle – Live Rear Axle
4-Wheel Drum Brakes

*Believed to be unique design by coveted coachbuilder Labourdette
*Offered from long term ownership and fresh from restoration
*History report by Pierre-Yves Laugier on file documenting history
*Fresh to the show and tour circuit

THE TYPE 49

By the early 1930s Ettore Bugatti had established an unrivalled reputation for building cars with outstanding performance on road or track. Indeed, the world's greatest racing drivers enjoyed countless successes aboard the Molsheim factory's products and often chose them for their everyday transport. Although Bugatti is best remembered for its racing models, most of the 6,000-or-so cars produced at the Molsheim factory were touring cars of sporting character.

Ultimate expression of Ettore Bugatti's original design, the Type 49 debuted at the Paris Salon in 1930 and was produced from then until 1934. The Type 49 would be the last of the maestro's eight-cylinder, single-camshaft touring cars and is considered by many to be the finest of all 'real' Bugattis. The new 3.3-litre model featured twin-plug ignition, an enlarged radiator, ball-change gearlever and (later) very pretty cast aluminum wheels among many other improvements. Total Type 49 production amounted to 470 cars, around 76 of which are believed to exist today.

A civilized grande routière to match those of rivals Delage and Delahaye, the Type 49 attracted coachwork of the finest quality executed in a wide variety of styles by both the Molsheim factory and by other coachbuilders throughout Europe.

LABOURDETTE

Among the 'Grand Carrossiers', Labourdette arguably holds the most fascination of all for collectors. Unlike most that had their 'fifteen minutes of fame', or a fleeting moment in the limelight, the sun shone on Labourdette from the moment that they transitioned from carriage to horseless carriage bodywork until well into the post World War Two era. Throughout this time their name was associated with quality and quality automobiles. In the early days that meant that they clothed Panhard-Levassors, C.G.V.s, Delaunay-Bellevilles, and Mors motorcars, through the teen era Mercedes, Peugeot and Rolls-Royce joined that roster, then came Bugatti, Hispano-Suiza and the legendary home grown 40hp Renaults, the 1930s brought collaborations with Delage and Talbot. Their order book was littered with a who's who of their day from early racers such as Rene de Knyff, to Royals including Alphonse XIII, the King of Spain.

Undoubtedly, they are best known for their wooden bodied 'Skiffs', though these were just a chapter in their innovations, as they pioneered lightness in the design for open cars, then the sensation of light design with their 'Vutotal' bodies in the 1930s. Along the way, there were numerous patented features and accessories from lamps to seating arrangements and novel ways of storing luggage on cars.

THE MOTORCAR OFFERED

This very striking roadster combines these two 1930s powerhouses in a most beautiful and harmonious way, its sweeping tapered tail design being unquestionably in keeping with some of the aerodynamic experiments that Labourdette were pioneering, while underpinned by the definitive refinement of Bugatti's straight eight single cam.

Bonhams is extremely grateful to Bugatti archivist Pierre-Yves Laugier who in his typical forensically detailed style has provided a comprehensive history report on 49534, bringing to light numerous photos and information regarding its history which was previously unknown.

It has been confirmed that 49534 was ordered new through Parisian dealer Lamberjack in January 1933, and Laugier reports that its striking avant garde roadster coachwork, which is thought to be unique was believed commissioned for its first owner, Charles Drouilly. Drouilly was quite a character, he is believed to have amassed a fortune selling ladies hats and then spent the rest of his life doting on women and spending! He was once quoted in a Kansas newspaper on the topic of playboys as saying 'the real playboy never lives off women, but he is willing to ruin himself in his unlimited love for them'. He named himself 'Commodore' Charley Drouilly, after his passion for boats.

It is not surprising that for his latest Bugatti he would turn to Labourdette as he had worked with them before and would no doubt have been an admirer of their skiffs. 49534 is built on the longer chassis variant, and it seems to have been necessary to accomplish both the proportions and format of its bodywork, with its two seater, and rumble/dickey seat configuration tailed off with a sunken spare wheel behind this. It was supplied as new with engine number L423, which it retains to this day. The earliest evidence of the completed car are two photos republished here, which was originally featured in the contemporary French journals L'Auto Carrosserie and Automobilia. According to the Labourdette records Mr. Drouilly had paid some 15,000 French Francs for the coachwork alone.

The lady seated in one of these photos is Sarah Drouilly, his socialite wife. Here Sarah is pictured outside the famed Grand Palais in Paris, where Bonhams holds its annual auction each February, in more recent times a portrait of Sarah Drouilly by Kees van Dongen was displayed just across the way in the Petit Palais. An extremely elegant lady, in van Dongen's portrait, she looks very bit the Roaring Twenties lady, ready to enjoy her Sporting Bugatti and perhaps dance the Charleston!

Mr. Laugier notes that the plaques on the side of the car would most probably have been for Labourdette, Lamberjack and he believes that in the center of the door was emblazoned the flag of his yacht, or indeed perhaps that of the Motor Yacht Club de la Cote d'Azur of which he was a member.

The Drouillys were passionate Bugattistes, owning a series of cars including a touring car also bodied by Labourdette. Sarah Drouilly would pass in 1956, and was succeeded by a string of youthful brides for Charley, the last of which he married in 1965. By then an octogenarian the press would report 'Commodore Charles Drouilly is the last of the Belle Epoque rakes, insisting on selecting the outfits for his 25 year old bride'. To judge by his style, wealth and passion for the newest model, he may well have been driving a '4 Cam', by that time... He would live to be 83.

Laugier is unsure how long the Drouillys kept 49534 for as early as 1946, the Roadster had resurfaced in the care of Roger Teillac, who at that time ran one of the more prominent garages for such cars in Paris. Its owner around this time was a M. Rengnez.

Laugier records the next owner to have been another serial Bugatti owner, one Francois Lecorche, who was very active in the 1960s, and owned no fewer than 18 Bugattis in that decade, alongside a plethora of other classics including Mercedes-Benz 540K, Hispano-Suiza J12, Packard V12 etc. By this point, its scuttle vents and side door had been covered up, perhaps out of impracticality. As the 1970s dawned, he found himself as a seller rather than buyer and the car migrated to noted dealer/enthusiast Jacques du Montant.

du Montant was responsible for painting the car a solid black scheme from its previous yellow with black fenders. It finally left France for the first time in the early 1970s, destined first for the U.K. where it is pictured in the Kensington Mews now guised more as a Type 55 or 57, with two tone bodywork and painted side sweeps. From the Mews it travelled 1,000s of miles into Japanese ownership, residing with a Mr. Minuro Kawamoto for much of the next decade.

In 1983 it arrived in the U.S. passing through a dealer to Robert Marceca in New York. Just one further ownership occurred before the current custodian acquired the Bugatti in 1995.

Over the course of the last two decades, the Bugatti has been systematically refurbished as an owner managed project and utilizing the resources of talented experts in this home state of Connecticut. This has included an engine rebuild and trim work at Automotive Restorations in Stratford, paintwork by Blackhorse Garage in Bridgeport and the wiring and bodywork carried out by the Lefferts brothers' Vintage Auto Restorations in Ridgefield. The work was completed at the end of 2016 and the car in its final form may be considered to be still in a running in stage.

It is unquestionably an individual automobile, presumably much as its original owner intended, and both in terms of its technical specification which is definitive prior to the twin cam straight eights and aesthetic design. This combination, has the potential to provide its next custodian with a great show or tour car, with many opportunities from concours fields to road events such as those organized by the American Bugatti Club as well as the Classic Car Club of America where it garners Full Classic © status.

Mr. Laugier summarizes the importance of this rare Roadster with words which are hard to improve upon describing it as 'a unique realization by Labourdette coachwork in Paris in Spring 1933 for its first and famous owner Commodore C.J. Drouilly who was crazy of speedboats and commissioned some bodies to Labourdette in the spirit of his sports and racing dreams. It is just a dream car, the reflect of the Paris style and way of living of the 'Années Folles'... Certainly this is high praise from one who analyses these cars so regularly, we echo such sentiments, it is certainly a very special car.