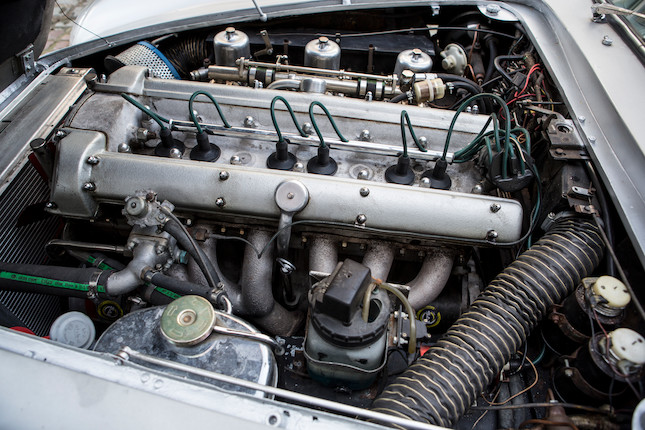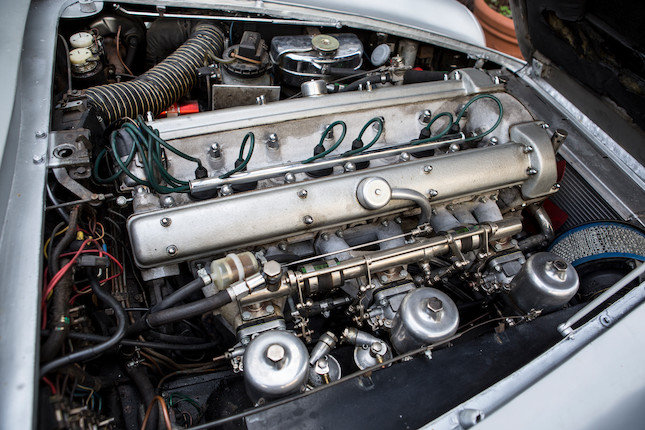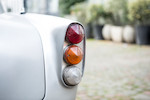 1964 Aston Martin DB5 Sports Saloon
Registration no. 2189 RD Chassis no. DB5/1529/R
6 December 2017, 14:00 GMT
London, Olympia
Sold for £462,940 inc. premium
Own a similar item?
Submit your item online for a free auction estimate.
How to sell
Looking for a similar item?
Our Collector Cars specialists can help you find a similar item at an auction or via a private sale.
Find your local specialist
Ask about this lot
Richard Stafford
Specialist, Head of Research
Tim Schofield
Senior Specialist, Head of Department, UK
Mark Gold
Head of Operations, UK
1964 Aston Martin DB5 Sports Saloon
Registration no. 2189 RD
Chassis no. DB5/1529/R
• Present family ownership for some 50 years
• Engine rebuilt and upgraded in 2006
• Maintained with no expense spared
• The most famous of all 'James Bond' Aston Martins

Footnotes
'Racing has played a major part in the development of all Aston Martin engines since Frank Halford designed the original 1.5-litre unit for Bamford & Martin. The 3,995cc 6-cylinder light alloy engine fitted to the DB5 is in all major respects the same as that which powered the 4-litre prototype which ran in the 1962 and 1963 Le Mans 24-Hour races.' – Autocar, 21st May 1965.

Aston Martin's post-war evolution had taken a giant step forward in 1958 with the launch of the DB4. Classically proportioned, the Touring-designed body established an instantly recognisable look that would stand the marque in good stead until 1970 and is still being referenced in today's Aston Martins. At its launch in October 1958, the DB4 marked a major turning point for Aston Martin as it was the first car of the David Brown era which neither used a chassis derived from the experimental Atom of 1939 nor an engine co-designed by W O Bentley. Moreover, it was the first Aston Martin to carry Carrozzeria Touring's 'Superleggera' bodywork, in which light alloy panels were fixed to a supporting framework of light-gauge steel tubes.

Although styled by Touring, the DB4's gorgeous fastback coachwork was built under license at Newport Pagnell by Aston Martin, which employed some of the finest panel beaters in the industry. The result was a car whose sleek lines were described as 'unmistakably Italian and yet... equally unmistakably Aston Martin'. When the DB4 was introduced, it was Britain's most powerful and fastest production car, and its aerodynamically styled, all-aluminium, Superleggera coachwork looked sensational, establishing a look that would endure for the next dozen years.

Touring's Superleggera body construction was deemed incompatible with the DB2/4-type multi-tubular spaceframe, so engineer Harold Beach drew up an immensely strong platform type chassis. The DB2/4's trailing-link independent front suspension gave way to unequal-length wishbones while at the rear the DB4 sported a live axle located by a Watts linkage instead of its predecessor's Panhard rod.

The Aston Martin DB4 was also the first of the DB models to employ the entirely new engine designed by Tadek Marek, which had first been seen at Le Mans the previous year in the DBR2. A Polish engineer who had joined the company in 1954, Marek had previously enjoyed a racing career and posts with General Motors and FIAT in Poland. He had designed tanks during WW2 and had arrived at Newport Pagnell from Austin. An all-alloy, twin-overhead-camshaft six like its predecessor, Marek's new 3,670cc engine featured 'square' bore and stroke dimensions of 92mm and developed its maximum power of 240bhp at 5,500rpm. The David Brown gearbox was a new four-speed all-synchromesh unit.

Five (unofficially designated) series were built as the model gradually metamorphosed into the DB5. Introduced in July 1963, the Aston Martin DB5 boasted a 4.0-litre engine, this enlarged unit having been seen first in the Lagonda Rapide of 1961. Equipped with three SU carburettors, the '400' engine produced 282bhp at 5,500rpm and was mated to a four-speed/overdrive gearbox, a 'proper' ZF five-speed unit being standardised later.

The DB5's distinctive cowled headlamps had first appeared on the DB4GT and the newcomer was the same size as the lengthened, 'Series V' DB4. Outwardly there was little to distinguish the DB5 from the last of the DB4s apart from twin fuel filler caps, though these had already appeared on some cars. Beneath the skin however, there were numerous improvements including alternator electrics, Girling disc brakes instead of Dunlops, Sundym glass, electric windows and an oil pressure gauge as standard equipment.

From September 1964 the 314bhp, triple-Weber Vantage engine became available and was fitted to a total of 95 cars. The DB5 was also offered in convertible form (the 'Volante' name would not be applied to the soft-top Aston until the DB6's arrival) while independent coachbuilder Harold Radford offered a shooting brake conversion. 1,021 DB5s were manufactured between July 1963 and September 1965, a total that included 123 convertibles and 12 shooting brakes.

The DB5 was the first and remains the most famous of all the 'James Bond' Aston Martins, having appeared in no fewer than five movies of the series, beginning with Goldfinger in 1964. Equipped with rocket launchers and sundry other gadgets, 007's DB5 was finished in Silver Birch with red interior, in which specification it was later issued by Corgi Toys.

Chassis number '1529/R' was sold new to Carter-Parratt Ltd of Sutton, Surrey and was originally finished in Platinum with red Connolly leather interior. Only one additional owner is listed on the accompanying copy build sheet: Anthony Nathaniel Crossley of Reading Carpet Co Ltd, though the change is undated. The build sheet lists various works carried out at Newport Pagnell up to January 1967 (at 21,691 miles). The current owner bought the car circa 1988 from his father-in-law, Eric Bradley, who had purchased it from Ralph Rothermere around 1968. Fulham Workshops of Parsons Green (later Clapham Common) serviced the Aston for many years until they retired.

On file are numerous invoices for extensive works carried out for the present owner by Aston Martin specialist, Tim Bissett, including one for an engine rebuild and upgrade in 2006. These works involved enlarging the engine to 4.2 litres capacity; installing Ross 9.2:1 CR pistons; porting the cylinder head and converting to unleaded' compatibility; installing V8 Vantage valves; and fitting 'torquey fast road' camshafts. The cooling and lubrication systems were suitably up-rated to cope and numerous other works carried out, as detailed at length on the related invoices. Offered with a V5C document and MoT to April 2018, this has to be one of the fastest road-going DB5s in existence.