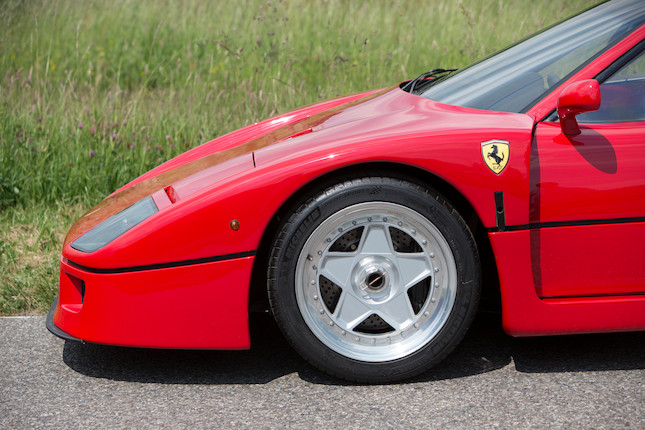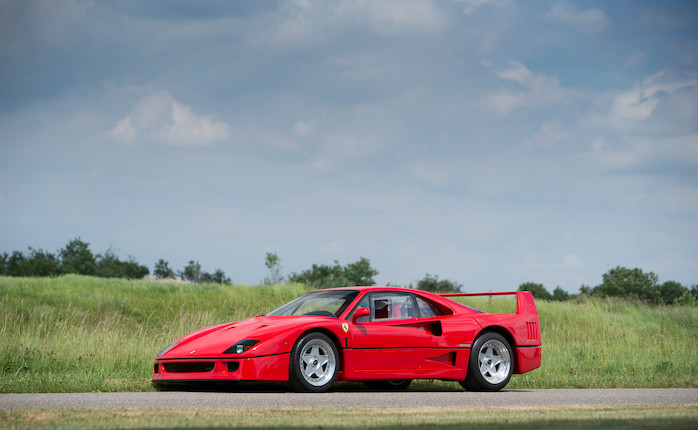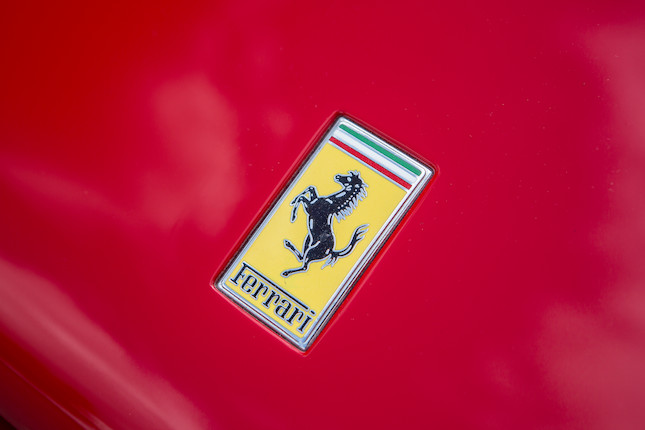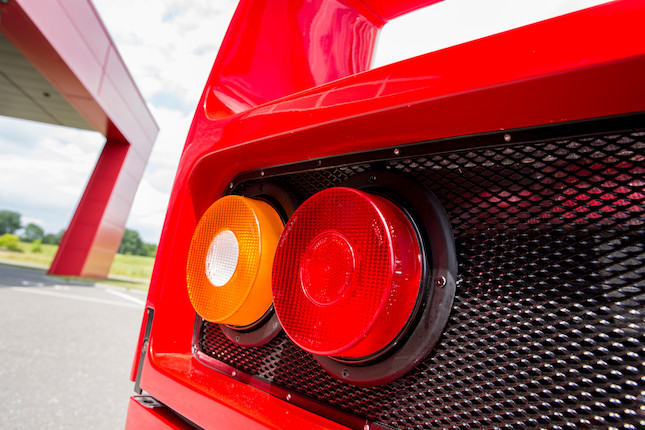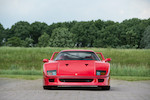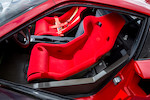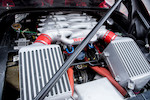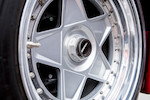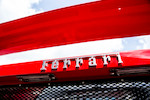 The ex David Gilmour
1988 Ferrari F40 Berlinetta
Amended
30 June 2017, 14:00 BST
Chichester, Goodwood
Refer to department for estimates
Own a similar item?
Submit your item online for a free auction estimate.
How to sell
Looking for a similar item?
Our Collector Cars specialists can help you find a similar item at an auction or via a private sale.
Find your local specialist
Ask about this lot
Sholto Gilbertson
International Specialist
The ex David Gilmour
1988 Ferrari F40 Berlinetta
Coachwork by Pininfarina
Registration no. not UK registered
Chassis no. ZFFG734B000078036
*First owned by Pink Floyd guitarist, David Gilmour
*Displayed on the Pininfarina stand at the *International Motor Show, Birmingham
*Non-catalyst, non-adjustable suspension, sliding windows
*Recent extensive restoration
*In excess of €350,000 spent

Footnotes
'The take-up into the next gear is flawless and, with the turbos cranking hard, the blast of acceleration just goes on again and you seem to be in a blur of time conquering distance, gearshifts and noise. It has the tonal quality of an F1 engine, if not the sheer ferocity. From outside, if you stand and listen, you hear the frantic whoosh as the turbos start to drive oh-so-hard.' - Autocar magazine, May 1988.

Introduced in 1988 to celebrate Enzo Ferrari's 40 years as a motor manufacturer, the F40 was the ultimate supercar. A mid-engined, two-seater berlinetta, the F40 was a development of the limited-production 288GTO, and like the latter - but unlike the preceding 308 series - mounted its power unit longitudinally rather than transversely. A four-cam 3-litre V8 with four valves per cylinder, the F40 engine employed twin IHI turbochargers to liberate 478bhp (approximately 352kW) at 7,000rpm. For the seriously speed-addicted, this could be boosted by 200bhp by means of a factory tuning kit.

Of equal, if not greater, technical interest was the method of body/chassis construction, the F40 drawing on Ferrari's Formula 1 experience in its use of composite technology. A one-piece plastic moulding, the body was bonded to the tubular steel chassis to create a lightweight structure of immense rigidity. The doors, bonnet, boot lid and other removable panels were carbon fibre. Pugnaciously styled by Pininfarina, the F40 incorporated the latest aerodynamic aids in the form of a dam-shaped nose and high rear aerofoil. Despite the need to generate considerable downforce - and with a top speed of 201mph, higher than the take-off speed of many light aircraft, the F40 needed all the downforce it could get - the result was a commendably low drag coefficient of just 0.34. The F40's interior reinforced its image as a thinly disguised race-car, with body-contoured seats, an absence of carpeting and trim, and sliding Plexiglas windows. When it came to actual competition, race-prepared F40s more than held their own, and in the Global GT series proved quicker on many circuits than McLaren's F1 GTR.

Autocar concluded its test thus: 'on a smooth road it is a scintillatingly fast car that is docile and charming in its nature; a car that is demanding but not difficult to drive, blessed as it is with massive grip and, even more importantly, superb balance and manners. You can use its performance - the closest any production carmaker has yet come to race car levels - and revel in it. ...there's little doubt it is the very personification of the term sports car.'

Even today the F40 has the power to impress. Reacquainting himself with the F40, F50 and Enzo Ferraris for Octane magazine (July 2014 edition) racing driver Mark Hales declared: 'The F40 is for me, the special one. Not just because I have spent so much time in them, but because it was such an explosive, other-worldly creation when it first appeared, and it still retains much of that character.' Enough said.

Chassis number '78036' was purchased new by 'Pink Floyd' guitarist David Gilmour at the same time as fellow band member Nick Mason bought his (chassis number '78122'). The musicians were photographed with a pair of F40s at Ferrari's Fiorano test rack, confirming their order for the cars in the company of Maranello Concessionaires' MD Roger Maingot and Ron Stratton of Stratton Ferrari. The photograph was taken in July 1988, shortly after Pink Floyd's Modena concert during the 'Momentary Lapse of Reason' tour. Both Mason and Gilmour collected their cars personally from Maranello and drove them back to the UK (on Italian export plates). The two F40s were then displayed at the International Motor Show in Birmingham from 19th to 30th October 1988; '78122' was on the Ferrari stand and '78036' on the Pininfarina stand, registered as 'F58 SBF'.  During the mid-1990s the car was owned in the UK by Mr Stuart M Bowler and registered as 'F40 REH'. Its last UK MoT test was carried out in 2006. '78036' ticks many of the boxes of interest to F40 connoisseurs, being an early, little used, non-catalyst model fitted with sliding windows and non-adjustable suspension.

Following an engine bay fire in the late 2000s, the car was bought in August 2008 by a Norwegian enthusiast, Mr Dagffin Moe, as a project needing restoration. He commissioned the current vendor (Dino Service of Schagen, Holland) to carry out the restoration but then sold the unfinished project to them in 2013. Chassis restoration was undertaken in the UK by Mototechnique, while genuine Ferrari parts sourced in Italy and Belgium. Having consumed 15,000 man-hours of labour, the work has just been completed at a cost in excess of €350,000 (approximately £304,500).

The rebuild involved a total engine and gearbox overhaul; the installation of a specially made wiring loom to original specification; and upgrading of the engine management system. New parts fitted include the fuel injection system, inlet manifold, heat exchangers, engine sensors, front brake callipers, differential and gearbox housing, engine and gearbox oil radiators, ignition system, various body panels, doors (sliding window type), rear lights and grille, seats and safety belts, steering wheel, Perspex engine cover, rear under-body, air conditioning pump, and a set of tyres. In addition, suspension modifications were made by official Ferrari agent Kroymans of Hilversum in April 2017. Bills for the aforementioned work are on file.

Described by the vendor as in generally very good condition and offered with Dutch registration papers, '78036' represents a rare opportunity to acquire a fine example of the last model to bear the personal imprint of the late Enzo Ferrari, created by him in the spirit of the legendary Le Mans-winning 250LM.
Saleroom notices
Please note that the chassis number is missing a letter in the printed and in the online catalogue and should read ZFFGJ34B000078036.