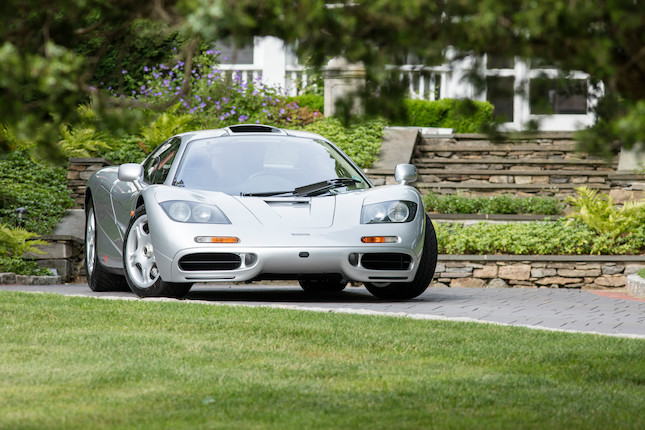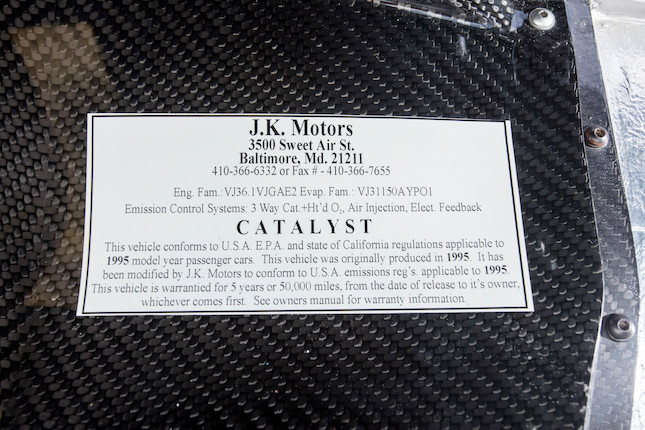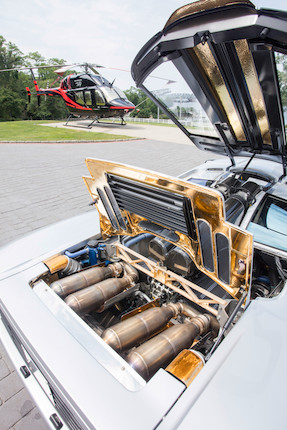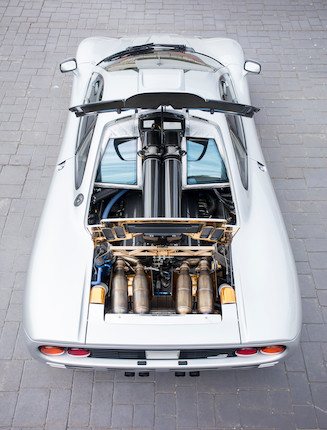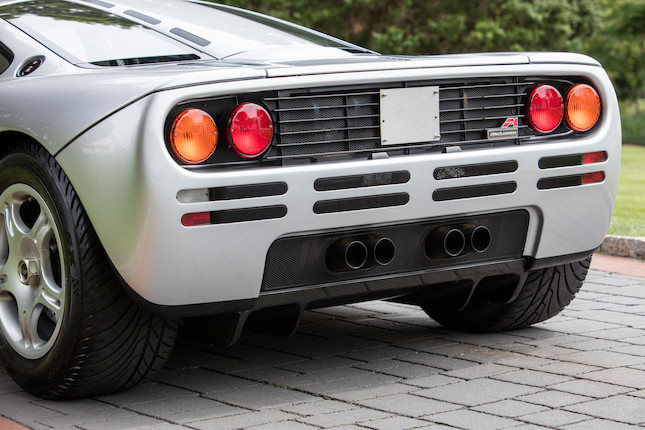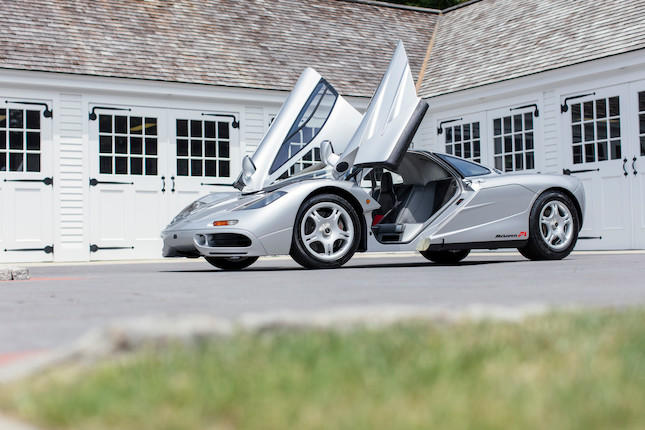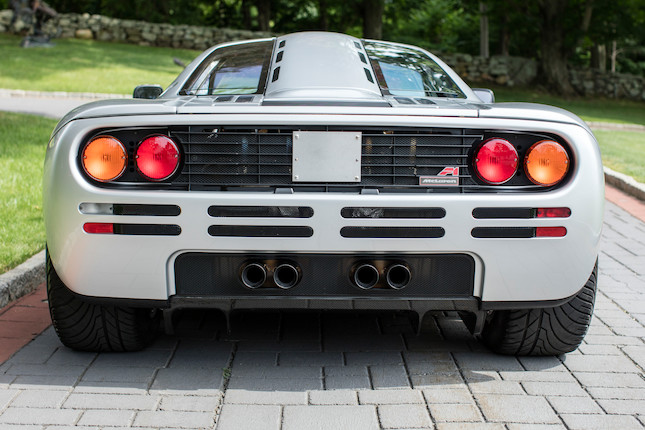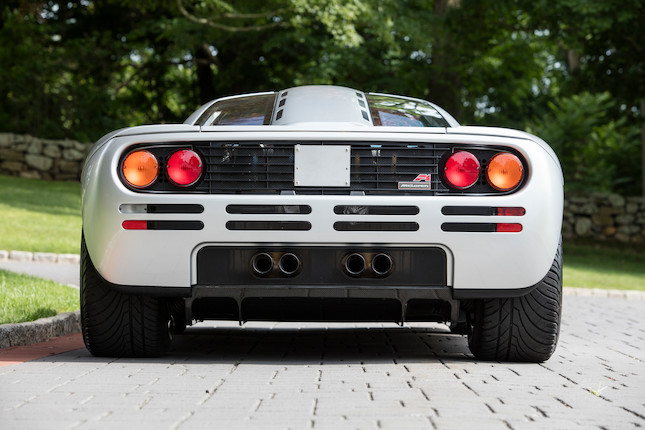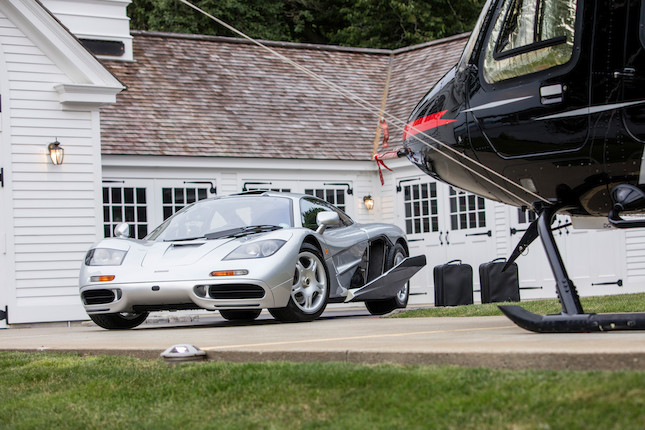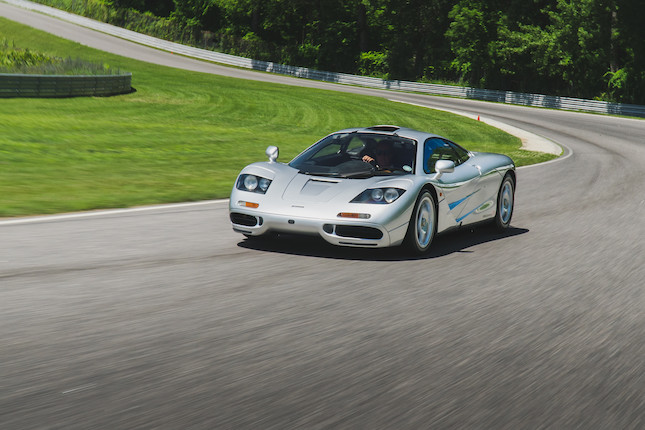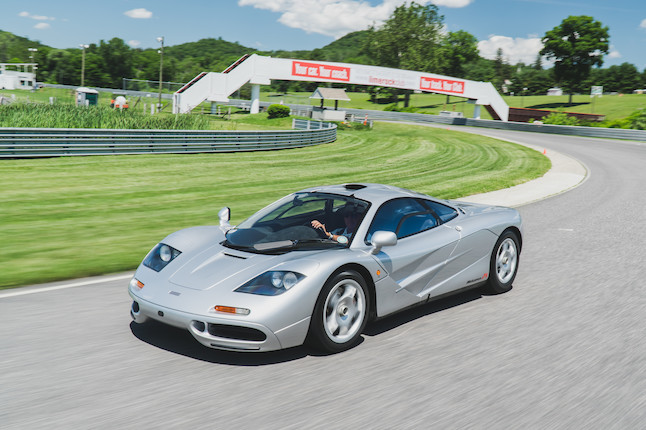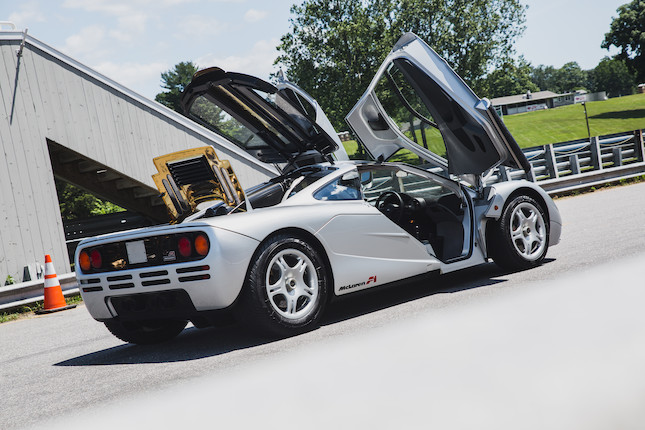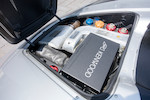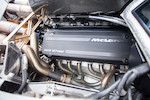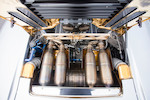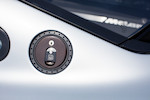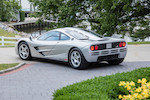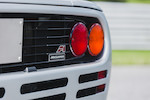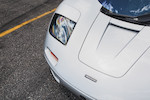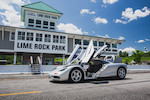 The ultimate road car
US street legal example
One owner from new
1995 Mclaren F1
18 August 2017, 10:00 PDT
Carmel, Quail Lodge & Golf Club
Sold for US$15,620,000 inc. premium
Own a similar item?
Submit your item online for a free auction estimate.
How to sell
Looking for a similar item?
Our Collector Cars specialists can help you find a similar item at an auction or via a private sale.
Find your local specialist
1995 Mclaren F1
Chassis no. SA9AB5AC5S1048044
Engine no. 61121 6070 0992

6,064cc DOHC V12
Sequential Closed-Loop Fuel Injection
627bhp at 7,500rpm
6-Speed Manual Transaxle
4-Wheel Independent Suspension
4-Wheel Drilled/Vented Disc Brakes

*Being offered by the original owner
*The 1st McLaren F1 imported to the U.S.
*The 1st fully federalized, U.S. road legal McLaren F1
*Service history from new, including July 2017 service
*Extensive list of factory accompaniments

THE MCLAREN F1

The promise was huge — to construct the most remarkable sports car ever to roll on public roads. The result of that oath — famously undertaken in 1988 by four men waiting for their flights at Milan's Linate airport — was the McLaren F1, recipient of levels of expertise and detailed craftsmanship commonly encountered at the apex of the racing world, Formula One, but never before in a road car.

Those four men — Ron Dennis, head of the McLaren International Formula One team and of the TAG-McLaren group; Gordon Murray, McLaren's technical director; TAG-McLaren Group chief Mansour Ojjeh; and Creighton Brown, a former racer and businessman who would become director of marketing — had no doubt been buoyed by the fact their organization had just completed one of the most dominant seasons in Formula One history, winning 15 of the 16 races. But there was also a question lurking around the edges of their celebration: What were they going to do to top it? Well, why not take what was learned in Formula One and build the ultimate sports car? It's doubtful even those talented and ambitious minds envisioned that their enthusiasm would lead to such a masterpiece of design and engineering, including a number of firsts for a production car: an all-carbon-composite monocoque chassis and body; central driver seating flanked by two passenger seats; fan-assisted ground-effect aerodynamics; and electronically controlled brake cooling.

So beyond the abilities of its contemporaries was the McLaren F1 — some 5,000 individual components were specially made from exotic materials — that some predicted its complexity, hyper-performance and surprising comfort would never be challenged. Ron Dennis, hardly given to hyperbole, once described the F1 as "...the finest sports car the world had ever seen, but also the finest sports car the world was ever going to see."

Just four years after that airport huddle, after a laborious investigation of every available technology, after countless hours of inventive collaboration with experts in every field of automotive manufacturing, the McLaren F1 was unveiled to the public for the first time, fittingly at Monaco's Grand Prix week in May 1992. By that time, Dennis and his colleagues came to know full well that any credible contender to the F1's supremacy of technology and performance would require a massive effort and at a horrifying expense. Andy Wallace certainly did not equivocate, speaking straight from the cockpit of the stock F1 he'd just run to a world-shattering mark of 242.9 mph (391km/h) at Volkswagen's Ehra-Leissen test track: "I still say this is the best car ever built — ever — and probably will never be beaten."

To help explain the "why" of the Dennis and Wallace assertions — and there's much more to it than just paternal pride or terminal velocity — enjoy a quick review of the F1's technology: Begin with the carbon-fiber composite monocoque and body, complete with a safety cell and front crash structure of carbon-fiber. Curb weight was just over 2,500 pounds (1,138kg), contributing to a world-record power-to-weight ratio. Indeed, saving weight was McLaren's constant mantra throughout the process — to the point of obsession it would appear to the novice, but to a racing engineer the intense concern about unnecessary heft would be familiar. To that end, and to retain its character as a pure driver's car, the F1 featured no traction control, ABS, power brakes or power steering.

Wedged into the low-slung bodywork was a bespoke 6.1-liter 60-degree V12 developed at BMW's M Sport division by meister Ingenieur Paul Rosche. Initial target displacement was 5.3 liters, but Rosche informed Murray that he could meet, even exceed, the program's goals of power and reliability with a larger engine. Work began in March 1991, and by the end of the year a first prototype was being tested on the dyno. From the start the all-aluminum, virtually square engine exceeded the target of 550bhp, and its 600mm length fulfilled the brief perfectly, but it was still a bit over the planned weight limit. No problem, said Murray. Rosche's engine provided more than enough power to offset that extra 35 pounds. A year later, the first running prototype was delivered to McLaren and installed in a test chassis.

With a bore of 86mm and stroke of 87mm, the V12 was rated at 627bhp at 7,500rpm and 479lb of torque at 7,000rpm. Its compact dimensions were made possible by placement of the crank centerline very low in the block, ultra-thin walls between the cylinders, clever arrangement of the cam and ancillary drives, and absence of a conventional flywheel. Double overhead cams actuated the 48 valves, which featured variable inlet timing. At low revs valve overlap was reduced for a smooth idle and low-speed torque; higher up in the rev range overlap was increased for better engine breathing, thus increasing power output. The valve tracts themselves were essentially straight for maximum control of the intake and exhaust charges. Twin injectors per cylinder ensured optimum air-fuel atomization across the rev range of this high-speed engine. Spark came from a transistorized ignition with 12 individual coils, induction was through 12 single throttle valves and a carbon-fiber airbox, and cooling was achieved by twin aluminum water radiators and oil/water heat exchangers. Because the V12 produced so much heat, McLaren took no halfway measures to insulate the cabin and simply lined the entire engine compartment with gold. Fuel was sourced from a cell with twin in-tank high-pressure pumps. Engine oiling was comprised of a dry sump system with a magnesium casting, four scavenge pumps and one pressure pump. Managing the electronic complexity of the V12 was left to TAG Electronics, whose expertise helped make the engine tractable in traffic yet a monster at full throttle.

Transferring all that power to the rear wheels was a major challenge, as no existing transmission fit the required dimensions nor was capable of handling the engine's torque. Murray consulted with an old collaborator on his Brabham Formula One cars, Pete Weismann of California's Traction Products, whose son came up with a novel solution by placing the gearbox transversely and offsetting its final drive to one side. After a multitude of trials and tribulations, a final design was agreed upon and a contract established with FF Developments (the same firm that developed the famous Ferguson Formula four-wheel-drive). The bespoke transverse aluminum-cased transmission was fitted with high-speed bevel gears and spur final drive and a limited slip differential. Lubrication was from an air/oil radiator-pumped system. Gear selection was through an AP 200mm triple-plate carbon/carbon clutch.

Suspension design was another thorny issue. Mansour Ojjeh put it well, saying the McLaren should be "...the kind of car you could drive to the south of France in a day." But, achieving the compromise between comfort and high-speed handling and stability would stretch the factory's inventive minds to the limit. McLaren went so far as to buy a Honda NSX, at the time considered to be the most adept at balancing comfort and handling, as well as evaluate a Porsche 928S and Jaguar XJ6 for baseline data.

McLaren's solution was, of course, extremely complex. Determining that suspension loads differed between the nose and tail of the car, engineering developed two approaches: Extremely simply explained, a front sub-frame, attached to the chassis, kept the double wishbone setup in its proper geometry throughout any loads on the front wheels; and at the rear was a so-called Incline Shear Axis setup, with the engine and suspension mounts as an integrated system to achieve the same ends. Light alloy dampers with co-axial coil springs, and an anti-roll bar were up front, while the rear featured toe control links in lieu of a bar. Indicative of Gordon Murray's exhaustive work to make the F1 entirely different from other cars was the manufacturing process for the sub-frames. Normally they would be of cast aluminum alloy, but Murray disliked the raw look of cast metal, so he insisted instead they be machined from a solid alloy billet. Such detailed craftsmanship is found throughout the F1.

Unsprung weight is a challenge for any high-performance car, and McLaren began to address that issue with bespoke, lightweight running gear. The 9.0x17-inch front and 11.5x17-inch rear magnesium alloy wheels were custom-sourced from OZ. Though larger wheels were considered, the 17s were considered sufficient to meet the car's handling and braking goals. Goodyear and Michelin were contracted to create bespoke (there's that word again) tires: Goodyear F1 or Michelin SX-MXXX3, size 235/45-17 front and 315/45ZR-17 rear. Not incidentally, McLaren cared so intensely about the car's readiness for extreme performance that if an owner got a flat, the factory would only supply two tires even if the owner needed only one, and each replacement was scrubbed into street readiness on a race track.

Another major area of weight worry was from the braking system. McLaren racing had plenty of experience with carbon discs, and using them would have made sense because of their light weight. However, adapting racing technology to the street, and making it acceptable to the car's owners, is far from easy. Even close collaboration with Brembo's experts failed to produce an acceptable carbon disc in terms of their heat characteristics and "feel." Admitting the stone wall, McLaren turned to studying the steel disc setup on a Porsche 928, and concluded that was the way to go, though with their own high-tech touches. Developed in tandem with Brembo, the system was comprised of 13.07-inch front and 12.01-inch rear steel discs liberally ventilated to help clean dust from the disc surfaces and to increase the "feel," and which were clamped by revolutionary four-pot one-piece light alloy calipers. Because Murray was adamantly opposed to power brakes, the discs were especially large in diameter for better pad grip, and they were internally ventilated for cooling.

All that might sound sufficient, but a car designed for 200+mph speeds needs more to stop it than carbon rubbing on steel, and here again the collaborative genius of the McLaren operation was made clear. An automatically deployable rear spoiler had already been included in the car's aerodynamic package, but it was discovered during wind tunnel tests that, when raised, it also helped act as an airbrake even though it was not designed to do so. Moreover, in addition to reducing the center of pressure under the car's tail, engineering added a section below the wing's hinge on each side that opened, concurrent with the deployment, and directed extra cooling air to the rear brake discs.

McLaren needed to look no further than a subsidiary of its parent company, TAG Electronics, for the expertise required to control basic operations parameters, the F1's many amenities (including a bespoke Kenwood-supplied multi-disc CD changer, and plasma-coated window glass for de-misting), as the complicated automatic systems. The computing power for engine management alone was about ten times greater than in conventional automobiles, and there was even an on-board modem allowing the self-monitoring electronics to communicate with the factory and to summon assistance if required.

If there's a single element that helps maintain the F1's aura of modernity, it's Peter Stevens' exquisite styling. Faced with the opposing goals of aerodynamic efficiency versus downforce, cockpit comfort versus a low roofline, high-speed stability versus absence of extraneous aerodynamic devices and, of course, aesthetics that should be both contemporary and classic, pleasing to owners then and into the future. Stevens penned a number of proposals before the F1's shape was committed to production, but from the outset it had been determined that the overall shape be extremely stable at all speeds and angles of pitch and yaw, but without being encumbered by strut-mounted wings or spoilers. The integrated, automatic rear "brake and balance" air foil was a start, but Murray's experience with Formula One cars went further and prompted measures to optimize airflow over, and under, the car that included a suction fan system in the nose that helped air under the rear diffuser so as minimize the car's pitch and generate more downforce. Of course, it's way more complicated, but you get the idea.

What all this technology (and more) lead to was performance that obliterated everyone's idea of what a road car could do. The factory-published figures say it all: 0 to 60mph in 3.2 seconds; 0 to 100mph in 6.35 seconds; 0 to 200mph in 28 seconds, 30 to 70mph through the gears in 2.15 seconds, and that top speed of 240 mph.

This very perfunctory list of the McLaren's F1 mechanicals and performance is evidence enough of its deserved supercar status, but equally captivating is the story of how this carbon-fiber creation turned the automotive world on its head. If the McLaren F1 was a labor of love for McLaren Cars, it was equally a labor of obsession and commitment to the highest ideals of engineering, manufacturing and customer relations.

THE MOTORCAR OFFERED

McLaren Cars Ltd was formed by the TAG/McLaren Group in March 1989. Its purpose-built production facility was adjacent to McLaren International's Woking, England, headquarters, and composite chassis production was set up in nearby Shalford - its showroom situated in London's fashionable Park Lane. The three-year program to develop the prototypes took its first serious steps forward in 1990, a "finished" prototype was shown in 1992, and the first customer delivery was in January 1994.

In total, 64 road cars were delivered to customers before production ended. McLaren F1 chassis number 044 being offered today, is one of the 64 hallowed legends. This exquisitely maintained, single-owner McLaren F1 was the very first of its type to be imported to the United States, and it was the first of only 7 McLarens to be federalized by experts in the process - Ameritech. As a result of the federalization, 044 is a U.S. road legal car.

044 is the thirty-seventh F1 off the assembly line, sporting the iconic, original Base Silver paint and a black/gray Connolly leather interior, which includes McLaren's signature red colored panels for the central driver's seat. The car was purchased new by the consignor in July 1996, while on an invitational visit to the factory. Upon purchasing the ultimate road car, the consignor and two of his closest companions went on the ultimate road trip as they toured the European countryside. Beginning at the factory, the trio went to France, Germany, the Netherlands, and Belgium, before returning to the Woking based factory. The trip, which is described by the consignor as the journey of a lifetime, accounts for just about half of the 9,600 miles on the car's odometer. Upon returning to the factory, 044 was treated to its first service by the very same hands that assembled it a short while ago. From the factory, 044 was shipped to New York where Dick Fritz and the Ameritech team took delivery of the car and begun the conversion. Understanding the significance and importance of the McLaren, Ameritech went to great lengths to ensure that during the process no part of the car was physically altered in any way that could not be put back to its 100% original form. After the conversion process was completed and 044 passed all of the necessary tests to gain its compliance, the car was delivered to the consignor where it has been the crown jewel of his East Coast based collection for the past 22 years. All of the Ametitech conversion items have been carefully removed from the vehicle, leaving it in its original, as delivered specification. Every item that was used to federalize the car has been saved and accompanies the sale.

Throughout the car's life, it has been regularly maintained and serviced by BMW North America LLC at the National Workshop-East. In May 2002, with only 7,071 miles on the odometer, 044 received a major service which among many other things, included the replacement of its fuel cell. In October 2009, less than 2,000 miles later, 044 was brought back to BMW for its second major service where at 8,731 miles, the car received its second fuel cell replacement. In July 2017, prior to arriving in California, 044 was sent to McLaren of Philadelphia, where it has once again received a fresh service – the details of the most recent service, as well as all prior services, will be included in the car's extensive list of maintenance records.

Accompanying the sale of 044 is its complete tool kit, including the modem used to connect to the factory, full luggage set, special Limited Edition of Doug Nye's opus, Driving Ambition: The Complete Story of the McLaren F1, the F1 AUTO GLYM detailing kit, complete tool roll, mechanics gloves, detailing cloth, car cover, watch, owners books and manuals, a wide assortment of factory documents and materials, and major, original, components that were removed from the car during services such as the fuel cell and tires.

While many of the road cars have been returned to the factory for new aerodynamic packages or custom interiors, 044 remains unmodified and aside from the parts replaced during its scheduled services, essentially remains as it was when it left the factory. Rarely does one of the legendary 64 road cars become available, once an owner experiences its unmatched levels of performance, virtually everything else feels slow and plodding in comparison.

It is as likely that the elements of a pure-blooded racing machine will never be so well integrated into such an ultimately satisfying road car, as it is likely that there will never again be an opportunity to purchase a single owner F1 with the incredible provenance and history of 044.