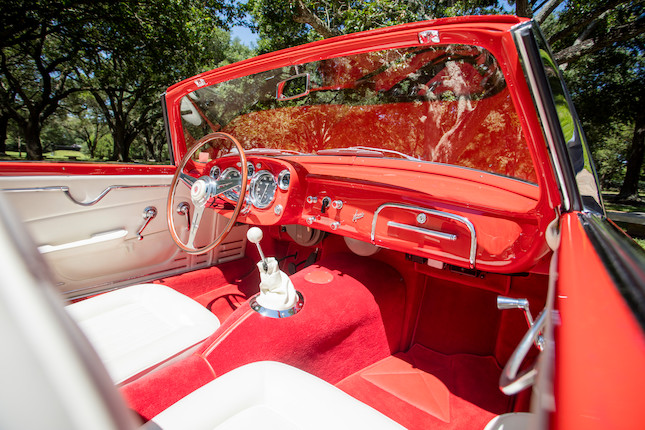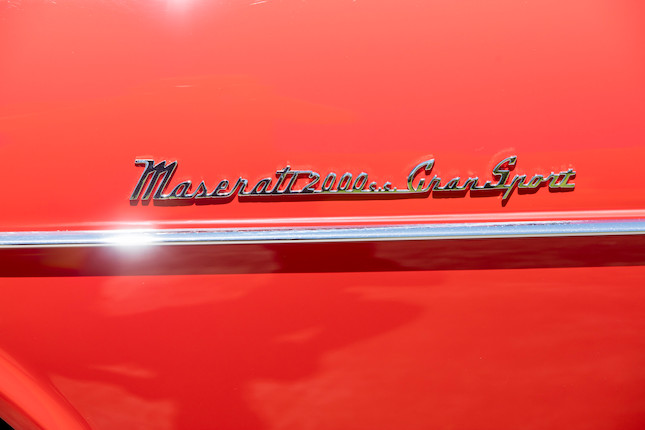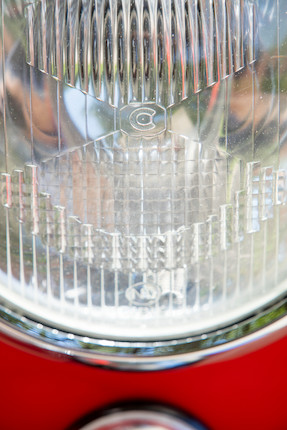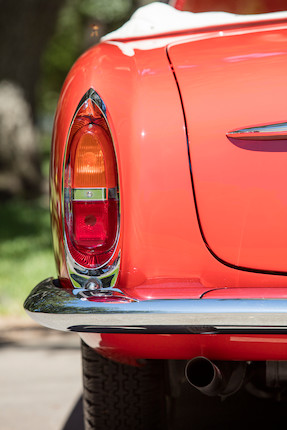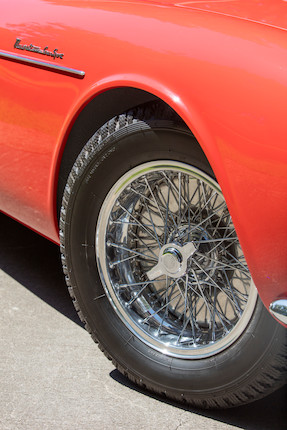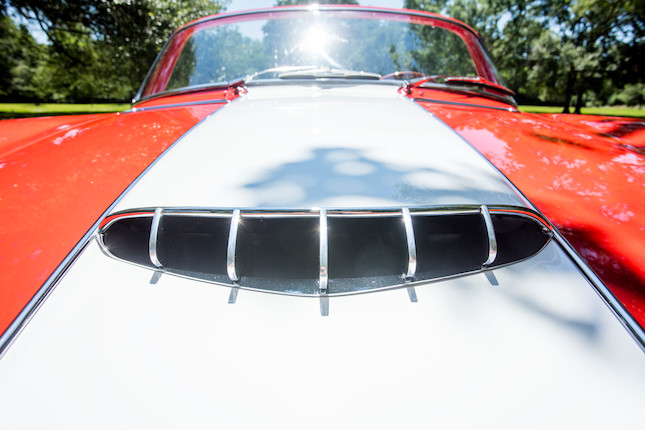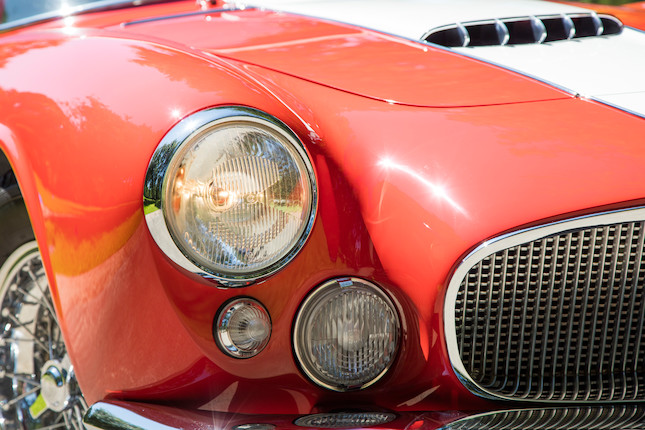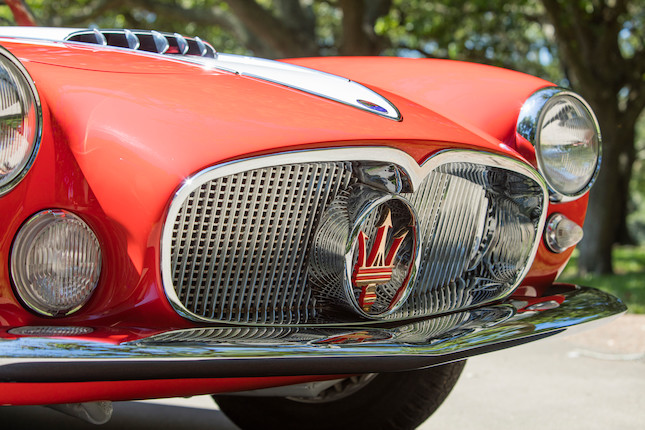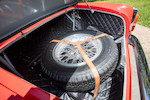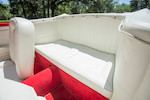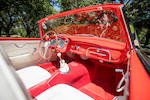 The Factory Prototype
Concorso d'Eleganza Villa d'Este Class Winner
1956 Maserati A6G/54 Gran Sport Spider
Coachwork by Frua
18 August 2017, 10:00 PDT
Carmel, Quail Lodge & Golf Club
US$3,200,000 - US$3,600,000
Own a similar item?
Submit your item online for a free auction estimate.
How to sell
Looking for a similar item?
Our Collector Cars specialists can help you find a similar item at an auction or via a private sale.
Find your local specialist
Ask about this lot
Jakob Greisen
Head of Business Development
1956 Maserati A6G/54 Gran Sport Spider
Coachwork by Frua
Chassis no. 2180
Engine no. 2146 (see text)

1,985cc DOHC Inline Six-Cylinder Engine
Triple Weber Carburetors
160 BHP at 6,000 RPM
4-Speed Manual Transmission
Front Independent Suspension - Live Rear Axle
4-Wheel Alfin Drum Brakes

*The factory prototype of bespoke open Frua coachwork for the rare third-series A6G 2000
*Comprehensive six-year restoration in Modena overseen by Adolfo Orsi
*Authentically finished in the original factory color combination
*Prominent ownership history including 18 years of stewardship by the consignor, a world-renowned *Maserati collector
*Concorso d'Eleganza Villa d'Este Class Winner and displayed at Museo Enzo Ferrari in Modena
*Documented with factory build sheet, period images, restoration photos and invoices

THE MASERATI A6G/54

In 1950, Maserati enlarged the volume of its inline 6-cylinder engine to displace two liters. While the resulting A6G 2000 still featured the single-overhead cam valve actuation of the original A6, a more powerful sports-racing A6 GCS with a dual-overhead cam was built for competition applications.

Four years later Maserati updated the A6G 2000 road car with a second series, but this version's engine was based on the competition car's detuned Formula 2 motor. Replacing the A6G 2000's gear-driven chain with a triple-timing chain, and the former wet sump lubrication for a finned light-alloy dry sump, the new A6G/54 would be tuned to develop 160 bhp and a top speed of 115 mph, eventually employing twin ignition. Approximately 60 examples were built in two series through 1957.

While Allemano produced a majority of the coachwork for the A6G/54, sixteen examples were clothed by the Carrozzeria Frua (six coupes and ten spiders), and they were often finished in two-tone paint schemes with a contrasting hood stinger. In aesthetic character, mechanical prowess, and luxurious appointments, these cars represented the apogee of Maserati's 1950s grand tourers, and are among the most luxurious, powerful and bespoke motorcars of the era.

THE MOTORCAR OFFERED

Chassis no. 2180 is the first of nine Frua-bodied spiders built on the third series of the A6G 2000 (the second series of A6G/54). The company also built two coupes on the third-series platform. This car is distinguished from the other examples that followed by its painted dashboard (the others were upholstered) and a lack of decorative plates behind the gauges.

According to Maserati records, 2180's chassis was dispatched to the Carrozzeria Frua on May 19, 1956, and by August the Spider coachwork was complete and the car returned to the Modena factory. Like many Frua-built A6G 2000 examples, 2180 was finished in a smart two-tone paint scheme, in this case featuring rosso paint with an avorio (ivory) hood stripe, and an interior of avorio leather. The new model was then extensively photographed for promotional images that would appear in the motoring press, including Quattroruote and the May 1957 issue of Motor Trend.

Distributed in October 1956 to Maserati agents Simone & Thepenier in Paris, the A6G/54 was purchased by a gentleman from Venezuela named Cavet. While the identity of caretakers during the ensuing ten years isn't currently clear, by the mid-1970s the spider was owned by a Thomas Dailey of California. He sold the car in June 1978 to Louis Rader of Mount Zion, West Virginia, at which point the original motor had been removed. Equipped with a Ford Hi-Po 289 CID V-8 engine, the Spider had also been repainted in a monochrome dark blue, while the interior was changed to black. During more than ten years of ownership, Mr. Rader endeavored to restore the car, and repainted the exterior in rosso. Around 1990 he sold the Maserati to two co-owners, Dana Beall of West Virginia and Mick Brackett of Bardstown, Kentucky, and they retained possession for the following nine years while initiating a refurbishment.

In 1999, the A6G/54 was acquired as a non-running project by the consignor, a Houston-based enthusiast widely regarded as one of world's foremost Maserati collectors. In 2002, the consignor sourced a proper replacement motor, engine no. 2146, which had originally been installed in an Allemano-bodied A6G/54. The original 2180 engine is reported to be installed in another Allemano-bodied A6G/54. A proper gearbox and differential were also acquired.

In 2003, the rolling chassis, body, and drivetrain elements were shipped to Modena to be comprehensively restored. Under the supervision of Maserati specialist Adolfo Orsi, Jr., grandson of the former company owner, Carrozzeria Autosport was retained to perform a majority of the refurbishment. The motor was rebuilt by Modena Motori, while Autosport took considerable efforts to restore the coachwork, with progress evaluated several times by Fiorenzo Fantuzzi. New alloy sheet metal was used in places where needed, while as much as possible of the original metal was saved. Autosport's Giuseppe Candini and Roberto Villa re-fabricated missing parts as needed, seamlessly integrating them with as many original parts as could be salvaged or located separately. The exterior was completed with a bare-metal repaint in the original factory livery of rosso with an avorio hood stripe, while the interior was trimmed by Interni Auto Maieli of Mantova with avorio leather complemented by a matching soft top.

After the refurbishment was completed in April 2008, a FIVA passport was procured and 2180 was presented a month later at the Villa d'Este Concorso d'Eleganza in Italy, winning first in class. Later that year, the spider returned to America for presentation at one of the consignor's hometown events, the Classy Chassis Concours d'Elegance in Houston. The Maserati's post-restoration career also included substantial coverage by the motoring press, including a feature article by Massimo Delbò in the August/September 2008 issue of Automobilism D'EPOCA, and mention in various 2008 issues of Classic Cars International, Auto d'Epoca, and Ruoteclassic.

Perhaps the greatest honor that 2180 experienced was an invitation to be displayed at the Museo Enzo Ferrari in Modena, where an exhibit celebrating Maserati's 100th anniversary was held from September 2014 to April 2015. Following the exhibit's conclusion, the consignor took advantage of the car's location in Modena by returning it to Autosport for additional attention. It was discovered that in originally building series-three spiders, Frua had modified the frames by adding smaller-tubing sections that were eventually prone to stress flex. Wishing to retain maximum authenticity, Autosport chose not to alter the original frame in any way, but added additional tubing sections for needed support to make the vehicle more roadworthy during driving events. This work was followed by another bare-metal repaint of the body in the proper factory color scheme.

Returned to the United States in June 2016, chassis no. 2180 offers its next caretaker a stunningly restored example of a Frua masterpiece. It is very well documented with a factory build sheet, various correspondence, restoration photos and invoices, and copies of its magazine coverage. As the prototype of a nine-car production run, this rare open A6G/54 claims particular historical importance, while evidencing the artistic development of the celebrated Pietro Frua. With its superb current state of condition and running order, as painstakingly perfected by Modena's greatest restoration craftsmen, this beautiful Maserati sports-racer would make an important addition any collection.