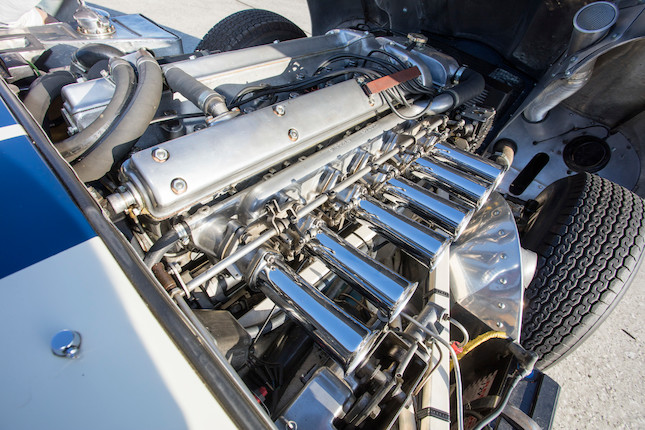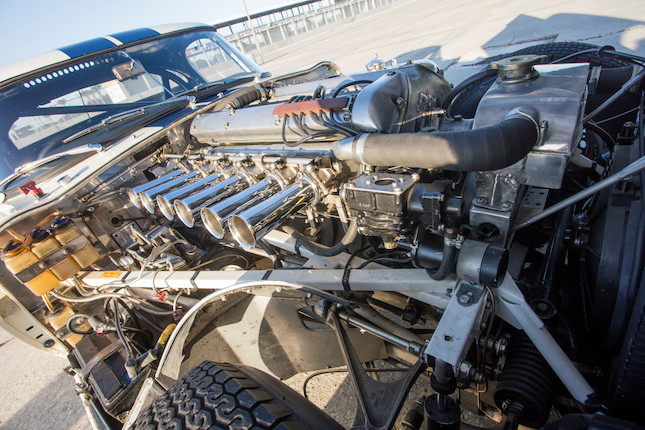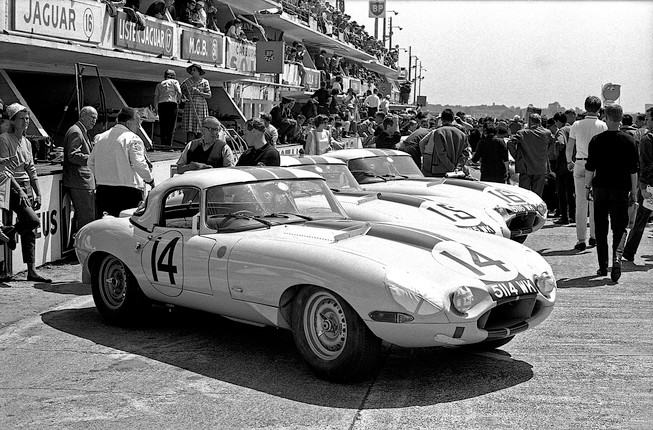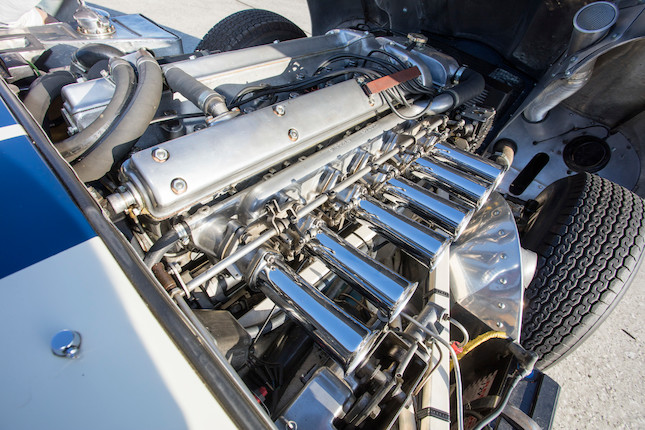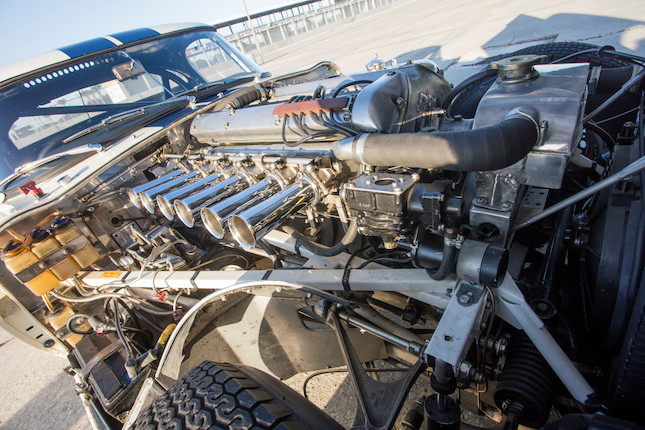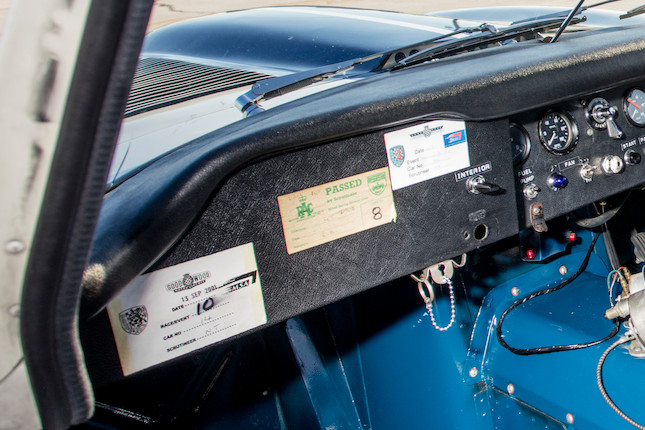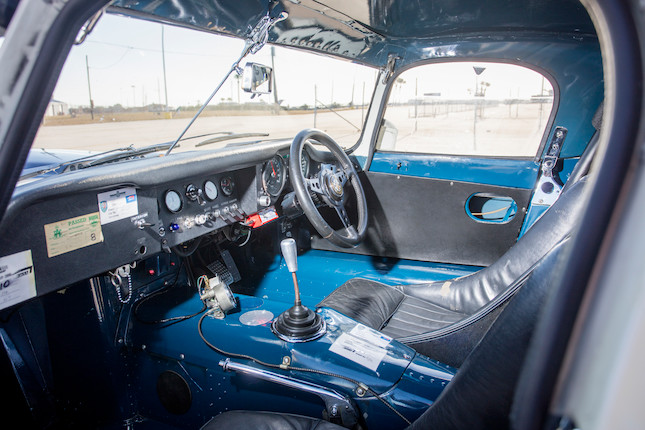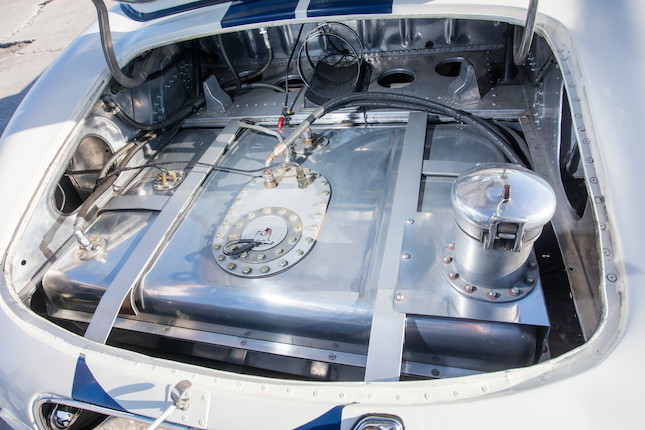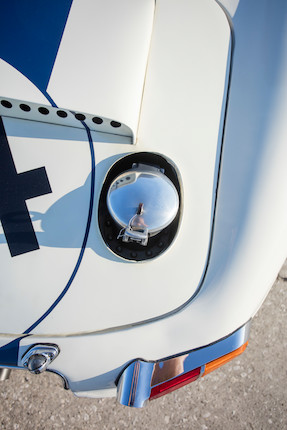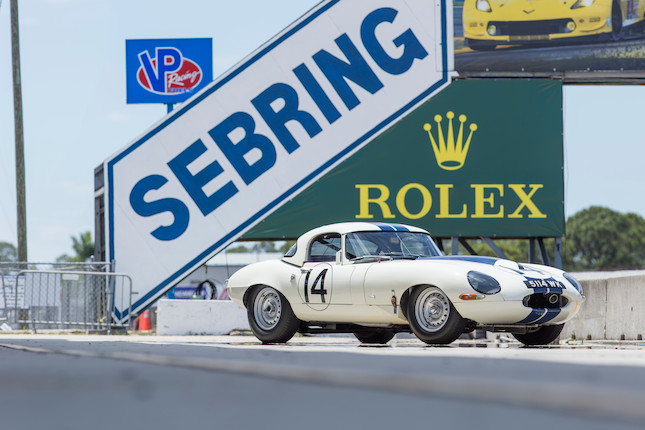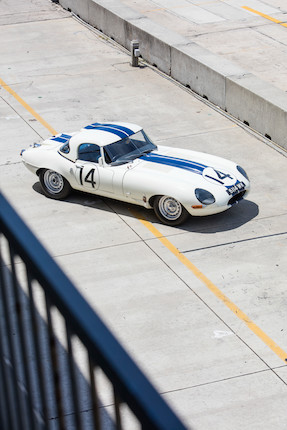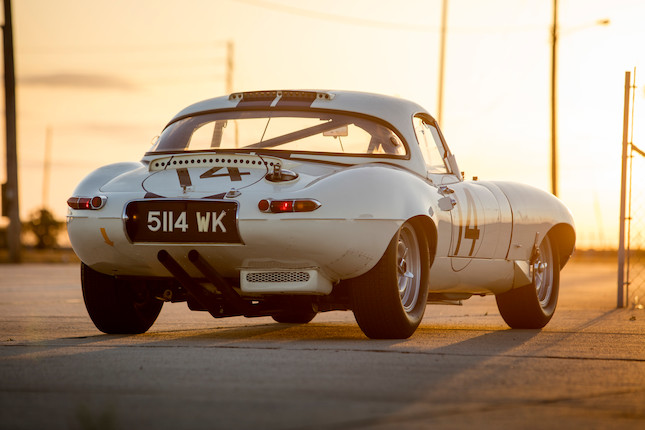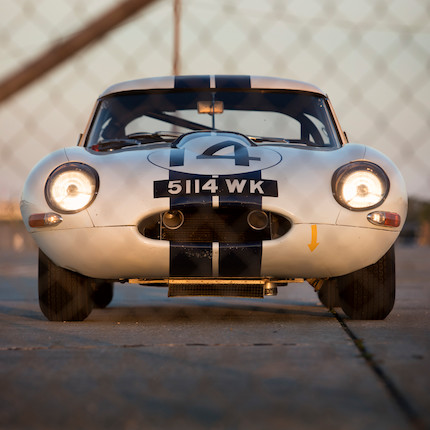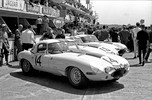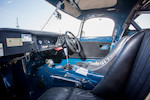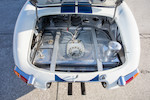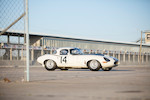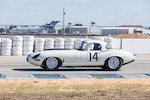 Ex-Team Cunningham
24 Hours of Le Mans and Bridgehampton 500 entry
1963 Jaguar E-Type Lightweight
18 August 2017, 10:00 PDT
Carmel, Quail Lodge & Golf Club
Own a similar item?
Submit your item online for a free auction estimate.
How to sell
Looking for a similar item?
Our Collector Cars specialists can help you find a similar item at an auction or via a private sale.
Find your local specialist
1963 Jaguar E-Type Lightweight Competition
Registration no. 5114 WK
Chassis no. S850664
Engine no. RA 1349-9S

3,781cc DOHC All-Alloy Inline 6-Cylinder Engine
Lucas Fuel Injection
293 BHP at 5,750 RPM
5-Speed Manual ZF Transmission
4-Wheel Independent Suspension
4-Wheel Disc Brakes – Inboard Rear

*Ex Team Cunningham Lightweight raced by his team at the 1963 24 Hours of Le Mans
*Driven by legendary champion drivers Walt Hansgen and Augie Pabst
*11th overall and 3rd in class at the 1963 Road America 500 and 4th overall at the 1963 Bridgehampton 500
*Overwhelmingly original example documented with expert histories, owners' correspondence, period photographs, and numerous passages from specialist literature
*Important and well-known example of a rare Jaguar sports-racer

BRIGGS SWIFT CUNNINGHAM II

American sportsman Briggs Cunningham was indisputably one of the most pivotal figures in postwar sports car racing, making a profound impact as a driver, team owner, and constructor. His contributions to both motor racing and competitive sailing eventually led to his induction in the Motorsports Hall of Fame of America, the International Motorsports Hall of Fame, and the America's Cup Hall of Fame.

Born in 1907, Cunningham was nurturing interests in sailing and motor racing by his early twenties, facilitated by a family fortune that included early shareholding in the Proctor & Gamble company. In 1931 he made his first mark in competitive sailing as a crewmember of the Dorade, which won that year's Fastnet race. Almost two decades later Briggs skippered the United States' 1958 America's Cup winner, the Columbia, which was the first 12-meter sloop to win the world's oldest international sporting trophy.

In 1930, at the age of 23, Cunningham started racing cars with friends Samuel and Miles Collier, the soon-to-be founders of the Automobile Racing Club of America (eventually renamed the Sports Car Club of America). Briggs' postwar racing career began in 1948 with modified American makes like Buick and Cadillac. In 1949 he was one of the first buyers of a Ferrari 166 Inter, and in December 1950 he placed 17th at the first endurance race at Sebring while driving an Aston Martin DB2.

At Le Mans in June 1951, Cunningham began a personal quest to win the 24-hour race by entering his C2-R roadster, which was built under his own company name. Despite the car's early retirement, Briggs continued to develop the model at his Palm Beach factory, where the famed Alfred Momo managed the Cunningham racing team (at various times fielding such accomplished drivers as Jack Brabham, Luigi Chinetti, Bob Grossman, Dan Gurney, Duncan Hamilton, Walt Hansgen, Mike Hawthorn, Phil Hill, Ed Hugus, Bruce McLaren, Stirling Moss, Augie Pabst, Roger Penske, and Roy Salvadori).

In 1953, the Cunningham company introduced a roadgoing customer car called the C3, of which about 25 examples were ultimately produced. These grand touring cars were characteristically equipped with large Chrysler engines and clothed in elegant Vignale coachwork. The C2-R was meanwhile developed into the C4-R, which achieved numerous podium finishes in SCCA racing through 1954, including first-overall at the 1953 12 Hours of Sebring. Finishes at the 24 Hours of Le Mans were equally encouraging, including fourth place in 1952, seventh place in 1953, and fifth place in 1954, and in April 1954 Cunningham was featured on the cover of Time magazine.

Unfortunately U.S. tax codes of the era limited the number of years a low-volume manufacturer could remain tax-exempt without earning a profit, so rather than pay a hefty tariff Briggs chose to close his sports car company in 1955, thereafter racing almost exclusively in foreign makes. This decision coincided with an agreement with Coventry to become the director of Jaguar Cars, New York, the marque's East Coast distributorship, which facilitated Cunningham's purchase of a D-Type and several racing XKs over the next few years.

In 1960, at the factory's behest, Cunningham entered the E2A developmental racing prototype at Le Mans, but the fin-tailed roadster suffered a blown head gasket during the 10th hour. Bonhams sold this significant motorcar at the Quail Lodge Auction in 2008. Two years later, with E-Type production in full swing, Jaguar offered its racing customers factory support, and Cunningham was one of three such owners to enter an E-Type coupe at Le Mans in June 1962. With Salvadori co-driving, the car achieved 4th overall, demonstrating the tremendous promise of the E-Type platform. Cunningham must have jumped at the chance when Lofty England offered him early examples of the new E-Type Lightweight, and he eventually acquired three cars, chassis nos. S850659, S850664 (the featured car), and S850665.

SUCCEEDING THE D-TYPE

In June 1957, the Scottish team Ecurie Ecosse claimed its second consecutive victory at the 24 Hours of Le Mans in a Jaguar D-type, giving the legendary sports racer a third straight victory in the endurance contest for which it was essentially devised. Yet despite the D-Type's unmitigated success, Jaguar was already at work in 1957 on a succeeding model, one that might serve as a production development mule or the basis of a GT-class racer. Clothed in a svelte aluminum body, the so-called E1A development car eventually blossomed into the production E-Type project, though a more dedicated racecar dubbed the E2A followed by 1959.

By early 1961, Jaguar was beginning to deliver production E-Type roadsters to racing customers in advance of the model's official debut at Geneva in March. This was intended to create a competition aura around the E-Type, even if it was merely a steel-bodied road car. With the idea of the open competition car gaining momentum, a memorandum was sent on March 16, 1961, from Jaguar engineering's lieutenant director Claude Bailey to Coventry's production department. Under the name project no. ZP 537/24, the factory was instructed to proceed with the build of seven competition cars for which he listed specific modifications to the basic E-Type that were based on E2A.

These cars were to receive special engines with gas-flowed cylinder heads, polished and crack-tested connecting rods, a lightened flywheel, a competition crankshaft damper, modified clutch, a close-ratio competition 4-speed gearbox, and trumpet tips for the S.U. carburetors. Although the engine specifications were substantial, the body remained steel and the suspension was modified only minimally with stiffer springs.

The first of these cars, chassis no. S850006, was delivered to John Coombs' racing team, and the renowned Graham Hill achieved promising results with a third-place finish at Silverstone in May 1962, second at Mallory Park a month later, and fifth at Brands Hatch in August. Increasingly used as a factory development car, Coombs' E-Type was further modified with a lighter-gauge steel body, and the engine received a "35/40º" wide-angle cylinder head like the ones used on the D-Types. The new competition car was showing tremendous potential until the Ferrari 250 GTO arrived, which quickly set the racing world on its head.

FORMULATION OF THE LIGHTWEIGHT

Receptive nevertheless to the challenge of competing with Maranello's new thoroughbred, Jaguar moved a step further with the development of S850006, using it as the mold for 17 more competition cars. First entering the build process in October 1962, the racing E-Type also incorporated elements of an earlier works car known as the Low-Drag Coupe, for which Malcolm Sayers had revised his E-Type coachwork to feature a more aerodynamic roof and tail, including trailing exhaust vents.

The new cars were lightened with aluminum alloy bodies and an aluminum hardtop that strengthened the shell's rigidity. The 3.8-liter competition engines were further upgraded with Lucas fuel injection and dry-sump lubrication, while the chassis was modified with a revised suspension geometry and myriad other competition parts.

Other than the development example, cars began numbering with S850659 and proceeded sequentially to S850669, all within the standard E-Type numbering. The only signifier of a Lightweight within the chassis number was the S prefix. As Jaguar didn't intend to build enough cars for the Lightweight to be homologated separately, the model was passed off as part of the production E-Type family even though very few parts were shared, and it was never formally marketed or acknowledged in sales materials. The lack of factory marketing has only contributed to the model's increased cachet over the decades, lending it a shroud of mystery.

The first two purpose-built Lightweights were completed in time for the 12 Hours of Sebring in March 1963, and team owners Briggs Cunningham and Kjell Qvale each acquired a car. While Bruce McLaren and Walt Hansgen finished 8th overall and second in class for Cunningham, Ed Leslie and Frank Morrill placed 7th overall and first in class for Qvale.

At the 24 Hours of Le Mans in June, Cunningham entered three Lightweights with official support from the factory, and the car piloted by Bob Grossman and Cunningham finished 9th overall and second in class. Results in non-endurance events during 1963 were even better, with four victories by Hill and a multitude of top-three finishes by Salvadori and Peter Sutcliffe at venues like Goodwood, Silverstone, Mallory Park, and Snetterton. In total, just 12 examples of the E-Type Lightweight were built, with production never actually reaching the original target of 18 cars.

Jaguar provided significant factory support for these cars, as they were sold exclusively to preferred customers and friends of managing director Frank "Lofty" England. Among the most celebrated racing sports cars to emerge from postwar Britain, where they were known as GTO Killers, the rare E-Type Lightweights have evolved into the centerpieces of significant private collections around the globe.

THE MOTORCAR OFFERED

Officially dispatched from the factory on June 7, 1963, chassis no. S850664 was the 7th Lightweight built, and the second of the three cars sold to Briggs Cunningham. It was registered with Coventry tags reading "5114 WK," which continue to adorn the rear license plate today.

As Brown's Lane was still working through issues with a longer-legged ZF 5-speed gearbox, the Lightweight was equipped with a Jaguar 4-speed gearbox when delivered to Cunningham for use at Le Mans. It was piloted there by the legendary champion drivers Walt Hansgen and Augie Pabst, and officially entered as #14. The other Cunningham cars, S850665 (#16) and S850659 (#15), were respectively driven by Roy Salvadori and Paul Richards; and Bob Grossman and Cunningham, himself.

Unfortunately, the 4-speed gearbox failed to hold up for more than an hour, forcing S850664's early retirement after qualifying at 14th on the starting grid. Salvadori was involved in a fiery crash in the 6th hour from which he barely emerged intact, but Grossman and Cunningham remained in 7th place by Sunday morning. Then a brake failure forced Grossman into a hay bale and the front end sustained minor damage. After the car limped back to the pits, the crew was able to cut off part of S850664's hood and graft it onto S850659, and Grossman dashed back into the race, managing to finish 9th out of the 12 surviving cars (from a starting field of 55 entries!).

After Le Mans, S850664 was returned to the factory to replace the hood and install the desirable 5-speed ZF gearbox. In this configuration, the Lightweight was delivered to the United States and driven to an 11th-place finish for Cunningham by Hansgen and Richards at the Road America 500 in September 1963. A 4th-place finish by Richards at Bridgehampton followed a week later, and after this brief competition career the unique coupe was retired to Cunningham's well-known museum in Costa Mesa, California.

Though it is uncertain exactly how long Briggs kept the E-Type, by the early 1970s the car had come into the possession of a Jaguar enthusiast named Robert Lane, who was a longtime gunsmith on the Paramount Studios lot in Hollywood as an employee of Stembridge's, one of the movie industry's principal armorers. Lane was simultaneously the owner of one of the first C-Types to reach America, chassis no. XKC-007.

In 1973, Lane sold the Lightweight to respected collector Sir Anthony Bamford of Great Britain. His ownership commenced a long chain of respected English caretakers that included noted collector Paul Vestey, and Adrian Hamilton, son of the 1953 Le Mans winner and C-Type stalwart Duncan Hamilton. This period featured a fair amount of vintage racing, as well as a minor accident at Silverstone during Mike Fisher's ownership circa 1975 (which in later inspections was deemed to have required only minimal repairs, per notes in the car's file).

In the late 1980s, the Lightweight was significantly restored by Richard Freshman of California, and he took the opportunity to remove the original alloy motor and replace it with a faithful iron-block copy, in order to preserve the historically important factory motor (which was nevertheless kept with the car). S850664 was then acquired by the respected Campbell McLaren (in his second stint of ownership), and in the early 1990s he began entrusting all mechanical maintenance and race support to the Jaguar competition specialists at Lynx Engineering. Lynx oversaw the E-Type's mechanical care and race support for the following decade (which included reinstalling the original alloy engine), and entered the car at the 1994 Coys Festival GT race, where it beat all other Jaguars. This entry shortly followed S850664's appearance in the June 1994 issue of Classic & Sportscar magazine.

In 1995, the Lightweight was acquired by David Vine, and he presented the car at the pre-Le Mans cavalcade in June 1995, and the Goodwood Festival of Speed. Lynx was entrusted to sympathetically prepare the Jaguar for touring applications, which included reinforcing certain chassis sections in factory-originated techniques, rebuilding the gearbox with a new bell housing, and removing the large long-distance Le Mans fuel tank so that Vine could use the trunk for stowage (the tank has since been re-installed). Passing to dealer Andre Bloom of London in 1998, the E-Type continued to be presented at events, including the 1999 Goodwood Festival of Speed, the 2001 Louis Vuitton Classic, the 2001 Le Mans Legends, and the 2001 and 2002 Goodwood Revivals (where it was co-piloted by the former Le Mans and Can-Am winning driver Jackie Oliver).

Around 2003, the rare E-Type was consigned to Don Williams' Blackhawk Collection and displayed at his famed Danville, California, showroom. Not long after it was purchased by a Hong Kong-based Jaguar collector who already owned one of the other E-Type Lightweights, and it remained in his fine collection for many years. Widely photographed as one of the famed 1963 Cunningham team cars, this spectacular E-Type Lightweight has been researched and documented by some of the world's most prominent marque historians. Among other titles, it is depicted as the cover car of Dominique Pascal's 1990 book British Cars at Le Mans.

S850664 desirably retains its factory-issued aluminum coachwork and matching-numbers alloy engine, a rarity given that most E-Type Lightweights have now been fitted with a replacement motor. It is accompanied by a deep file of documentation that includes correspondence and invoices from Lynx, vehicle histories written by several authors, magazine articles, and an original developmental test report to Cunningham team manager Alfred Momo and the Jaguar factory written by test driver Bill Kimberly (nephew of the better-known driver James "Gentleman Jim" Kimberly).

Boasting impressive competition history as an official team car of the legendary Briggs Cunningham, and having been piloted by champion drivers Augie Pabst and Walt Hansgen, this important and highly original E-Type Lightweight is among the most important examples of the rare competition model. It has been fastidiously maintained to highlight its 1963 Le Mans appearance, and is ready for immediate use at premium vintage racing events and concours d'elegance worldwide. Such a well-documented and historically significant sports-racer would crown most any collection, warranting the serious attention of Jaguar enthusiasts far and wide.