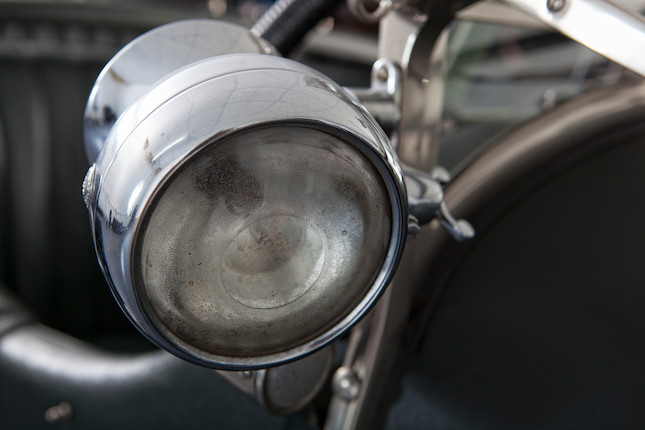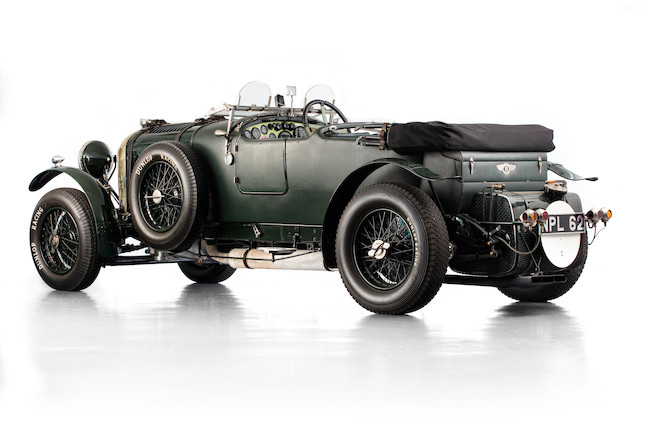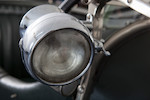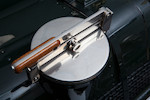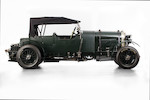 1930 Bentley 4 1/2 Litre Tourer
Registration no. NPL 62 Chassis no. PB3528 Engine no. SL3057
19 September 2016, 20:00 BST
London, New Bond Street
Sold for £315,100 inc. premium
Own a similar item?
Submit your item online for a free auction estimate.
How to sell
Looking for a similar item?
Our Motorcycles specialists can help you find a similar item at an auction or via a private sale.
Find your local specialist
Ask about this lot
Ben Walker
Department Director
1930 Bentley 4 1/2 Litre Tourer
Registration no. NPL 62
Chassis no. PB3528
Engine no. SL3057
• Known ownership history
• 'Le Mans' body by H&H Coachworks
• Purchased in 2013

W O Bentley proudly debuted the new 3-litre car bearing his name on Stand 126 at the 1919 Olympia Motor Exhibition, the prototype engine having fired up for the first time just a few weeks earlier. In only mildly developed form, this was the model which was to become a legend in motor racing history and which, with its leather-strapped bonnet, classical radiator design and British Racing Green livery has become the archetypal vintage sports car.

Early success in the 1922 Isle of Man Tourist Trophy, when Bentleys finished second, fourth and fifth to take the Team Prize, led to the introduction of the TT Replica (later known as the Speed Model). However, by the middle of the decade the 3-Litre's competitiveness was on the wane and this, together with the fact that too many customers had been tempted to fit unsuitably heavy coachwork to the excellent 3-Litre chassis rather than accept the expense and complexity of Bentley's 6 1/2 litre 'Silent Six', led to the introduction of the '4 1/2'.

The new 4 1/2 Litre model effectively employed the chassis, transmission and brakes of the 3-Litre, combined with an engine that was in essence two-thirds of the six-cylinder 6 1/2 litre unit. Thus the new four-cylinder motor retained the six's 100x140mm bore/stroke and Bentley's familiar four-valves-per-cylinder fixed-'head architecture, but reverted to the front-end vertical camshaft drive of the 3-Litre. Bentley Motors lost no time in race-proving its new car. It is believed that the first prototype engine went into the 3-Litre chassis of the 1927 Le Mans practice car. Subsequently this same engine was fitted to the first production 4½-Litre chassis for that year's Grand Prix d'Endurance at the Sarthe circuit. The original 4 1/2 Litre car, nicknamed by the team 'Old Mother Gun' and driven by Frank Clement and Leslie Callingham, promptly set the fastest race lap of 73.41mph before being eliminated in the infamous 'White House Crash' multiple pile-up.

The 4 1/2 Litre was produced for four years, all but nine of the 665 cars made being built on the 3-Litre's 'Long Standard', 10' 10"-wheelbase chassis. Purchasers of the 4 1/2 Litre model were, in common with those of all vintage-period Bentleys, free to specify their preferences from a very considerable range of mechanical and electrical equipment, in addition to whatever body style and coachbuilder might be required.

The accompanying illustrated report, compiled by world-renowned Bentley authority, Clare Hay, states that chassis number 'PB3528', fitted with engine number 'PB3528', was passed of Final Test on 11th December 1929. The car was completed in January 1930 with Weymann type saloon coachwork by Gurney Nutting, and the first recorded owner is one Samuel Salmon of Messrs J Lyons & Co, operators of the famous 'Lyons Corner House' chain of restaurants. Its original registration was 'MP 37'. The Service Record notes various works carried out during Mr Salmon's ownership.

The next owner listed is one R Mead, some time between March 1935 and April 1936, and the registration changed to 'CMH 15'. One D Marley Fletcher of the London Rifle Brigade is the next owner noted, from mid-1938, followed by P C Weeks in 1947 and L W Aird in 1950. It is believed that Aird rebuilt 'PB3528' and fitted the 3-Litre engine 'LT1579'. By this time the chassis had already been re-bodied with four-seat, open tourer coachwork. It was reregistered as 'NPL 62', a Surrey number dating from December 1949. Later owners are listed as C W Scott in 1955, P G Hill in 1964, and A J Stait in 1971. The earliest known photograph (see report) dates from March 1956 when 'PB3528' was offered for sale in Autosport by Shoreham Autos. Their advertisement states: 'very smart open 4-seater sports body fitted about 1948'.

By 1985 'PB3528' belonged to Fuad Majzub, who kept the engine when he sold the otherwise complete Bentley, which passed via an intermediary to John Brown. 4 1/2 Litre engine number 'XF3521' was assigned to the chassis and in this form the car was bought by Stanley Mann, who sold it on to George Dodds. At around this time 'PB3528' was seen in rolling chassis form at Stanley Mann's premises with body and engine removed. 'XF3521' later went into chassis 'HT1634'.

Previous V5C Registration Certificates record George Dodds as keeper from 23rd December 1988, and Malcolm Bishop as keeper from 14th October 1990. Robert White purchased the Bentley from Malcolm Bishop in June 2013 (sales invoice on file).

With the oldest approaching its 100th birthday and the youngest 85 years old, most Cricklewood-built Bentleys will have been restored at some time in their lives, and many more than once. It is not unusual for a new replacement chassis to be used, while swaps of major components - engines, gearboxes, axles, etc - are commonplace. Conversions of cars to 'Le Mans Replica' specification are understandably popular. This has been the fate of 'PB3528', and seemingly very little of the original survives in the car we see today. Prospective purchasers are advised to read the accompanying Hay Report prior to bidding.