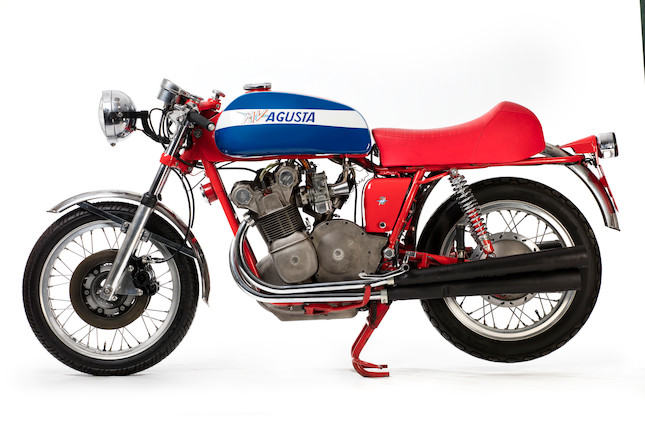 c.1974 MV Agusta 750S
Registration no. Unregistered Frame no. MV4C75*214 0544 Engine no. 214 0529
19 September 2016, 18:00 BST
London, New Bond Street
Sold for £56,350 inc. premium
Own a similar item?
Submit your item online for a free auction estimate.
How to sell
Looking for a similar item?
Our Motorcycles specialists can help you find a similar item at an auction or via a private sale.
Find your local specialist
Ask about this lot
Ben Walker
Department Director
c.1974 MV Agusta 750S
Registration no. Unregistered
Frame no. MV4C75*214 0544
Engine no. 214 0529
• Later, revised model
• Believed an older restoration
• Circa 12,500 kilometres recorded

Developed from its long line of highly successful multi-cylinder racers, MV Agusta's first road-going four - the 4C, a twin-carburettor, 600cc, shaft-driven tourer - appeared in 1965. But the public demanded something more exciting from many-times World Champions MV, and the Gallarate manufacturer duly obliged in 1968, upping capacity to 743cc and further boosting maximum power (to 65bhp) by fitting a quartet of Dell'Orto carburettors to the revised 750S, a high-speed symphony in red, white and blue. Perhaps surprisingly for a sports model, the 750S retained the 4C's shaft final drive while the frame too was virtually identical to that of its predecessor.

Hand made in limited numbers and priced accordingly, the 750S was way beyond the financial reach of the average enthusiast. Marque specialist Mick Walker got to try a mint, low mileage example in 1983, recording the event in his book 'MV Agusta Fours': 'The experience was unique; the rider was transported to a different level, and made to feel really special. There was certainly a pronounced "feel-good factor".'

Although no lightweight - it weighed nearly as much as a Kawasaki Z1 - the 750S gave little away in outright performance terms to such larger machinery, thanks, no doubt, to its engine's Grand Prix heritage. Testing a 750S in 1975, Bike magazine found the motor very powerful. 'Surprisingly it also has great reserves of torque and pulls happily from four thousand. It's probably the most powerful 750cc motor made; in a straight drag with a Z1 it lost only a few yards up to 100mph.' Bike rated the 750S as 'one of the most dramatic-looking bikes made, the real stuff of legend.' Few would disagree.

The 750S offered here is one of the revised and more powerful models equipped with twin front disc brakes, which began reaching customers from early 1974. Believed an earlier restoration by Kay Engineering, the machine displays a total of circa 12,500 kilometres to the odometer. There are no documents with this Lot.