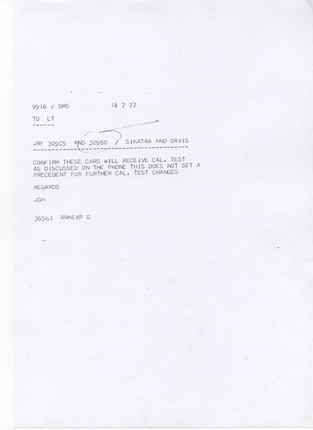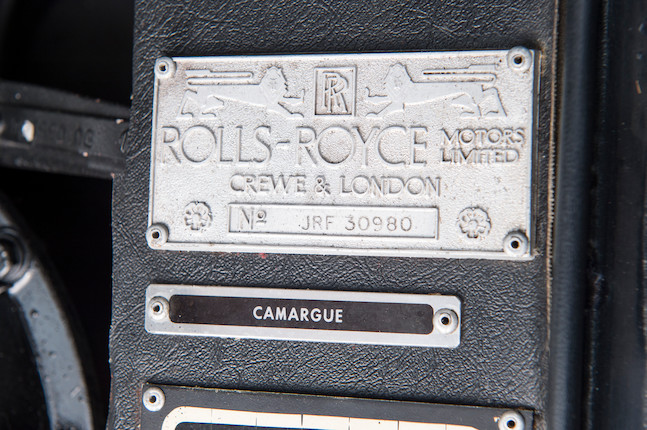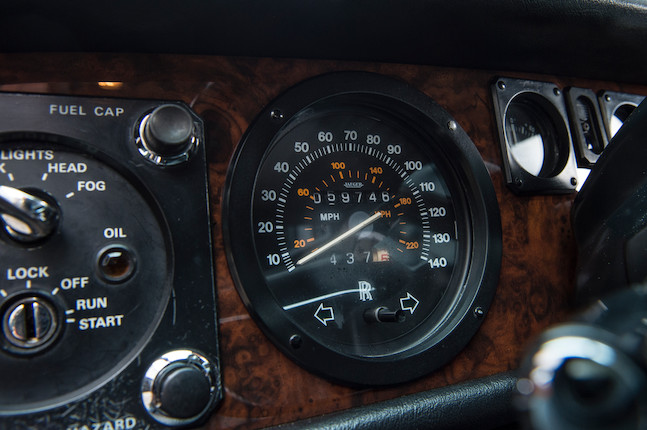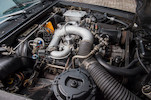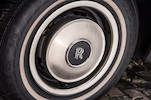 Ex-Sammy Davis Jr.
1977 Rolls Royce Camargue
Coachwork by Mulliner Park Ward
9 March 2017, 13:00 EST
Fernandina Beach Golf Club
Sold for US$46,200 inc. premium
Own a similar item?
Submit your item online for a free auction estimate.
How to sell
Looking for a similar item?
Our Collector Cars specialists can help you find a similar item at an auction or via a private sale.
Find your local specialist
Ask about this lot
Eric Minoff
Senior Specialist
Rupert Banner
VP, Business Development
Evan Ide
Vice President, Senior Specialist
Ex-Sammy Davis Jr.
1977 Rolls Royce Camargue
Coachwork by Mulliner Park Ward
Chassis no. JRF30980
Engine no. 30980

6,750cc OHV V8 Engine
220bhp at 4,000rpm
3-Speed GM400 Automatic Transmission
4-Wheel Independent Suspension
4-Wheel Disc Brakes

*Rat Pack car!
*One of only 530 built
*Recent brake service
*Offered with copies of factory records

THE CAMARGUE

It could be surmised that, if an uninitiated person was asked to guess what they had just seen after having been given a brief glance at a Camargue (Who made it? Who designed it? When was it built? How many did they build?), the answers might come back: Ferrari or Maserati; Michelotti or Bertone; mid-1990s or 2000s; it's a one off. It may surprise even the cognoscenti to know that these stunningly elegant two door Rolls-Royce sport coupes date originally from the mid-1970s, are from the pen of Pininfarina, were a full production car rather than a styling exercise and that the adornment of the Rolls-Royce grille is not a disguise but a confirmation that the car is from that esteemed manufacturer from stem to stern.

With the underpinnings of the contemporary Silver Shadow, the Camargue coupe was strikingly different from any preceding Rolls-Royce model, and closer in concept to the Bentley Continental. The company's flagship, it used an up-rated version of Rolls' dependable 6,750cc V8 engine. The power output remained undisclosed, in keeping with tradition, although most testers reported a healthy improvement in acceleration above 70mph and a top speed in excess of 120mph. The car also featured Rolls-Royce's advanced split-level air conditioning system which enabled independent temperature control at two levels, something that would later become standard on the Shadow II range.

Original U.S. list prices were approximately $148,000 making Camargues perilously expensive and in today's money, they would eclipse the cost of almost all new cars. The prohibitive cost, paired with the lengthy production build time, undoubtedly accounted for the modest numbers built; perhaps some of those in the line gave up waiting and chose to take the two Silver Shadows instead, or a handful of other cars? Although in production for 11 years until 1986, some 530 were built. Of those, a mere 30 entered the U.S.A. each year even though the bulk of production was intended for overseas customers and the majority built with left-hand drive.

THE MOTORCAR OFFERED

Not too surprisingly, these cars appealed to the Stars of their day, and according to folklore, this was one of a brace of Camargues bought new by passionate car guys and Rat Pack celebs, Sammy Davis Jr. and Frank Sinatra, the latter receiving car JRF 30905. Both were ordered through Bill Harrah's Modern Classic Motors dealership in Reno, Nevada in January 1977, it is said that they were gifts to each other!

As new, JRF-30980 was ordered in two tone Tudor Red with a Masons Black lower body, Nuella Black 5000 leather trim, grey headlining, black carpet, Blaupunkt Frankfurt radio and was built to California spec. The car was ready by the summer of 1977 and factory records show it arrived on the ship Asiafreighter on August 25, that year.

It is understood that Davis kept the car for several years, after which it migrated to the East Coast, where it has been suggested it was owned by a Mafia boss in the New York area and it is said that this accounts for its revision to a full Mason's black livery with blacked out windows that it still wears. Then later it crossed the Atlantic to the country of its origin. By this stage the car's provenance was lost and it was only a chance request to the Rolls-Royce Enthusiasts Club archives in the U.K. which revealed its celebrity past.

Today, a modest mileage of 59,000 is recorded on the odometer which is thought to be original to the car, and in recent times it has received servicing attention to the braking system a significant invoice in excess of $25,000 being on file for this work.

Davis exploits and pension for enjoying life surrounded by an entourage of beautiful blonds are well documented, a Rolls-Royce was usually part of the equation... If only it could speak you can imagine the Camargue would have some fun tales to tell!