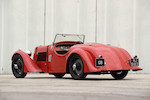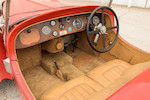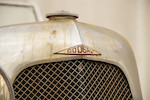 1935 GODSAL SPORTS TOURER
Coachwork by Corsica

9 March 2017, 13:00 EST
Fernandina Beach Golf Club
Sold for US$203,500 inc. premium
Own a similar item?
Submit your item online for a free auction estimate.
How to sell
Looking for a similar item?
Our Collector Cars specialists can help you find a similar item at an auction or via a private sale.
Find your local specialist
Ask about this lot
Evan Ide
Senior Specialist
Rupert Banner
VP, Business Development
Eric Minoff
Senior Specialist
1935 GODSAL SPORTS TOURER
Coachwork by Corsica

Chassis no. 001

Ford Flathead V8 Engine
Single Dual-throat Carburetor
Approximately 85bhp at 5,500rpm
4-Speed Pre-Selector Transmission
Sliding Pillar Front Suspension – Live Rear Axle
4-Wheel Drum Brakes

*Stylish and innovative British one-off
*Sporting coachwork by Corsica
*Powerful V8 power plant
*Documented by magazine articles and movie feature

THE GODSAL

Britain has always seemed to lend itself well to the cottage industry. Perhaps it is due to traditional British stiff upper lip persistence, or maybe it's the soggy weather that gives people plenty of time to dream, we'll never know. But storied companies like Morgan, Lotus, Lola, Allard and McLaren all got their start as a man, an idea and a shed.

For every success story, however, there are probably dozens who didn't make it past the initial idea or the first car. One such early hopeful in the cottage manufacturing scene was Charles Godsal; a name that even the most studied automotive anoraks may have never heard. Charles Godsal was the son of London barrister and prolific inventor, Herbert Godsal. Charles had clearly inherited his father's interest in engineering and inventing, and in 1935 he commissioned the construction of a sporting automobile of his own design. The Godsal was an interesting and stylish sports car, powered by a contemporary Ford V8 engine which was backed by a preselect gearbox and riding on a proprietary chassis that featured Lancia-inspired sliding pillar front suspension and a heavy-duty rear axle sourced from Bentley.

The body was a sleek and sporty affair that was built by the famous Corsica coachworks, and the car was constructed by Research Engineers, Ltd, also of London. The prototype was exceptionally well built and sorted. Godsal was certainly talented and understood what it took to build an automobile. While it seemed like Godsal was doing everything the right way to ensure success, a lack of funding meant only a single prototype was constructed; the car cost over £3000 to construct, a staggering sum for 1935.

As Charles moved on to other interests such as aviation, the car that bore his name was sold on to a friend. The Godsal then disappeared for some time, until is surfaced in the 1969 movie "Mosquito Squadron", painted red with white stripes and air-raid tape over the headlamps and wearing incongruous cycle fenders up front and a crudely made bonnet sprouting outside exhausts.

In March of 1977, Thoroughbred & Classic Cars Magazine of the UK featured a story on this mysterious car, which picked up in 1972 when the car appeared in an advertisement among other sports cars for sale, described as a 1954 Ford V8 Special. Anthony Sidgwick of Cirencester was intrigued by this car and upon closer inspection found it to be far more advanced than a home-built special, so he took a chance and purchased it, limping it home on three of its eight cylinders. From there, curiosity took over and in-depth research began. Thankfully at that time, some of the people originally involved in the project as well as Godsal family members still had fuzzy memories of the car and were instrumental in piecing together its history and confirming its pre-war origins. Extensive searching led to Research Engineers, Ltd, who was still in business in 1972 and whose Managing Director vaguely recalled the car. Photos were found in the company archives that showed the car fresh from Corsica coachworks, this time wearing its original and stylish sweeping front wings, bonnet and Marchal headlamps. Using these photographs as reference, the car was restored by Ashton Keynes Vintage Restorations with new, original style front wings and bonnet.

Jerry Old of California, who had been working in Saudi Arabia for many years, was in London in June of 1977 on his way back to the States. He found himself at Paradise Garage, and was immediately struck by the fascinating one-off car. A deal was stuck, and Mr. Old purchased the Godsal and had it shipped home to California. Old showed the car once or twice, and then put the car in storage. Upon retiring in 1993, he moved to Kansas City, MO, and brought the Godsal with him. It remained with Mr. Old in storage until 2016.

In the flesh, the one and only Godsal chassis 001 looks not unlike an early Aston Martin or Riley, with its low-slung stance and large, purposeful wheels. The Corsica coachwork features an attractive radiator shell, cut down cockpit and lovely ribs down the rear deck and wings. For what is in reality a one-off prototype, the construction and design was certainly very well resolved from the start. Extensive history of the car's origins as well as the fascinating life of Charles Godsal are available, and will be included in the sale along with a copy of the 1977 Thoroughbred and Classic Cars magazine featuring the car, and a DVD copy of the movie Mosquito Squadron.

The Godsal presents in aged, although complete condition, and would be an interesting car to treat to a restoration. While it is a shame the Godsal never reached production, it only means the story is that much more intriguing. This is a fascinating one-off motorcar built by an equally fascinating individual.