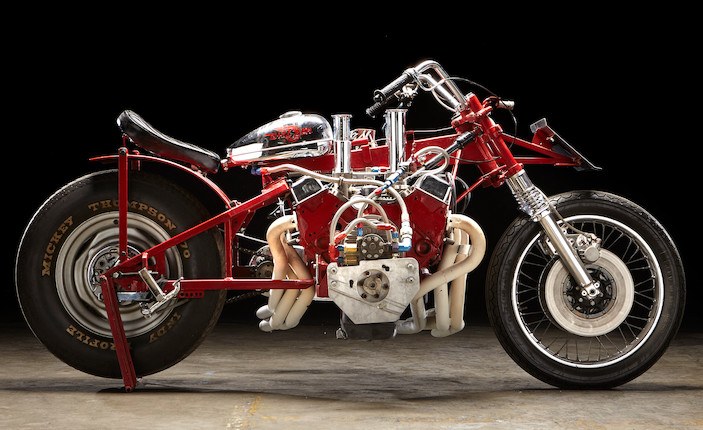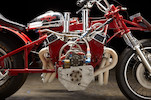 1971 EJ Potter Chevrolet V8 "Widowmaker 7" Dragbike
Amended
26 January 2017, 12:00 PST
Las Vegas, Rio's Hotel & Casino
Own a similar item?
Submit your item online for a free auction estimate.
How to sell
Looking for a similar item?
Our Motorcycles specialists can help you find a similar item at an auction or via a private sale.
Find your local specialist
Ask about this lot
Ben Walker
Department Director
1971 EJ Potter Chevrolet V8 "Widowmaker 7" Dragbike

• The world's fastest motorcycle in 1973 as confirmed by Guinness Book of World Records

'Drag racers...would try anything that made sense... While motorcycle guys have often borrowed technology from car guys, some have gone so far as to borrow engines. And no one has been more associated with this than E.J. Potter, affectionately known as the "Michigan Madman".

'Potter grew up in the central Michigan town of Ithaca, the son of a scientist. After first competing on dirt tracks, he decided in 1960 to pursue a dream (of)...putting a Chevy V8 engine into a motorcycle frame... Potter would spend more than a decade building, racing–and sometimes wrecking–six more "Bloody Mary" and "Widowmaker" machines. And he did so...in the USA, England, Australia and Canada... In the beginning... Potter was paid $1 for every mile per hour he exceeded 100mph. He quickly realized that his homemade clutch (built from a Harley-Davidson drum brake) was limiting (him) to about 115mph and that, in turn, limited his income... His solution...was to eliminate the clutch altogether. And...trap speeds increased to 136mph...

'The first engine Potter used was a 283 cubic inch, carbureted Chevrolet. The transmission was connected to the engine by means of a chain... Potter chose a large, steel backbone...trellis...that used the engine as a stressed member...' Motorcycle Drag Racing: A History by John S. Stein (Gear Head Publishing, 2011)

Widowmaker 7 has a Chevrolet small-block 350cid V8 with Crane gear-driven roller cam and rockers, Brodix aluminum heads, 12.5:1 forged pistons and a 1960s Vertex Len Hughes-built magneto, and Kinsler-rebuilt Hilborn fuel injection.

In September 2016's Classic & Sports Car, Mick Walsh wrote: "Photographs in American magazines of a wild V8 motorcycle smoking down a dragstrip captivated me as a kid and, ever since... I've been fascinated... While studying the spectacular drag 'bikes in the Goodwood Festival of Speed paddock, I was stopped in my tracks by...Widowmaker 7. As I chatted to its owner Clyde Hensley... others who'd seen Potter perform at Santa Pod in '66 came to pay homage to the 500bhp Chevy-powered beast. He sadly died aged 71 in 2012 in Ithaca, Michigan after battling Alzheimer's."

Randy Newell bought it from E.J. in 1974, the late Gary Werner from him, in 1979. Bonnie Werner sold it to Dean Fish in 2007; Hensley bought it shortly thereafter. Werner restored it in the 1990s and had it on display at the Don Garlits Museum. The 1973 Guinness Book of World Records listed it as the world's fastest motorcycle and the bike also held three AHRA world records and went 8.68 at 172mph! E.J. was the last to ride it (1999). He had a video made and the bike was on the front cover of his book, Michigan Madman; both are included with the bike as are E.J.'s original helmet, and 24-volt battery starter wagon.

He ran the bike on a kick-stand and pushed it off at 7,500rpm. Just add fuel.
Footnotes
Offered on a Bill of Sale
Saleroom notices
Offered on a Bill of Sale.