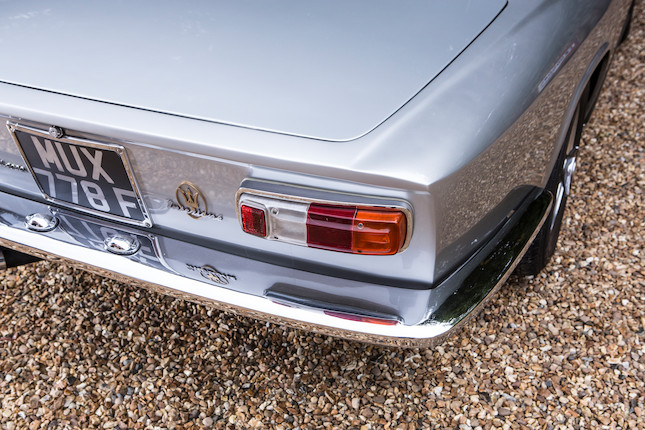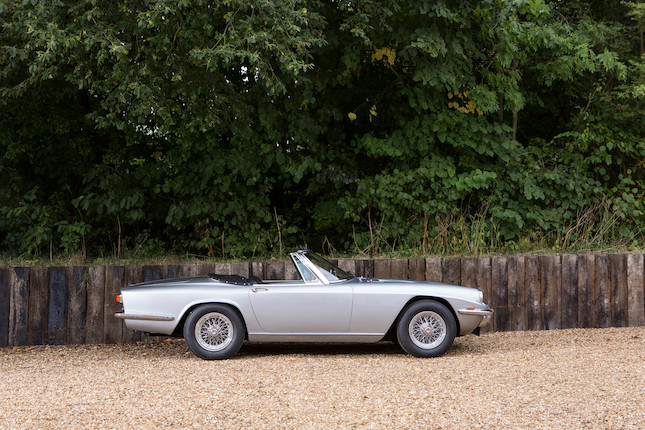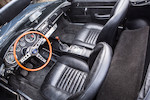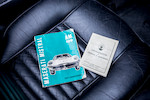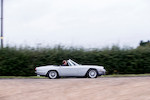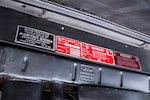 1968 Maserati Mistral 4000 Spyder
4 December 2016, 14:30 GMT
London, New Bond Street
Sold for £535,000 inc. premium
Own a similar item?
Submit your item online for a free auction estimate.
How to sell
Looking for a similar item?
Our Collector Cars specialists can help you find a similar item at an auction or via a private sale.
Find your local specialist
1968 Maserati Mistral 4000 Spyder
Coachwork by Carrozzeria Frua
Registration no. MUX 778F
Chassis no. AM109SA1 707
*The 1968 Naples Motor Show car
*Delivered new to South Africa
*Three owners
*Matching numbers
*Circa 26,000 miles from new
*Outstandingly original
Footnotes
'We do not suppose there are many cars whose names conjure up an aura of exotic glamour to the same extent as that of Maserati. Even now, many years after the company has withdrawn from any form of competition, past glories linger on.' - Sporting Motorist.

Maserati's survival strategy for the 1960s centred on establishing the company - which hitherto had mainly concentrated on its Grand Prix and sports car racing activities - as a producer of road cars. The Modena marque's new era began in 1957 with the launch at the Geneva Salon of the Touring-bodied 3500 GT. A luxury '2+2', the 3500 GT drew heavily on Maserati's competition experience, employing a tubular chassis frame and an engine derived from the 350S sportscar unit of 1956. Suspension was independent at the front by wishbones and coil springs, while at the back there was a conventional live axle/semi-elliptic arrangement. The 3500 GT's designer was none other than Giulio Alfieri, creator of the immortal Tipo 60/61 'Birdcage' sports-racer and the man responsible for developing the 250F into a World Championship winner. The twin-overhead-camshaft, six-cylinder engine was a close relative of that used in the 250F and developed around 220bhp initially, later examples producing 235bhp on Lucas mechanical fuel injection. Built initially with drum brakes and four-speed transmission, the 3500 GT was progressively updated, gaining five speeds, front disc brakes and, finally, all-disc braking.

Last of these classic six-cylinder Maseratis, the Pietro Frua-styled Mistral commenced production in 1963. The 3.7-litre version of the Bolognese manufacturer's long-stroke engine was fitted to most cars, other options being the 3.5-litre or, from 1966, the 4.0-litre unit. A handsome two-seater on a shortened, square-tube chassis, the Mistral was built in coupé and spyder versions, the former's opening rear window hatch making it an unusually practical car. A five-speed gearbox, disc brakes and fuel injection were standard equipment; automatic transmission, air conditioning and a limited-slip differential the options. Production ceased in 1970, by which time a total of 828 coupés and 120 spyders had been built. Of these, only 37 were 4.0-litre Mistrals Spyders, making this particular model one of the rarest variants.

As detailed on Maserati factory build sheets, chassis number '707' was ordered on 30th January 1968 through Sport Auto in Rome by Mr Aaron Searll of Cape Town, South Africa (Sport Auto's original dealer sticker is still on the car). Aaron Searll founded and built up a clothing manufacturing empire based in Cape Town, Seardel, and was considered 'the doyen of the South African clothing industry'.

This 4.0-litre Mistral equipped with five-speed manual gearbox was shown at the 1968 Naples Motor Show prior to shipping to South Africa, and is recorded by Maserati as delivered on 10th April 1968. It was not invoiced and paid for (in US dollars) until August 1968, as detailed in copies of original sales invoices from Maserati. '707' left Venice bound for Cape Town on 22nd August 1968 aboard the 'Europa' (see copy of correspondence between Maserati and the shipping company on file).

The Mistral was owned by Mr Searll until his unexpected death in 2010. It was then purchased by a noted South African collector, Mr D Lyons, and retained as part of his private collection until its acquisition by the current owner in 2015. Imported into UK in 2016, the car currently displays a warranted original total of 26,103 miles on the odometer.

The car was repainted during Mr Searll's ownership (date unknown), while between 2008 and 2012 the Borrani wheels rebuilt as required by Borrani and date stamped. Some minor service work was carried out in South Africa, including the fitting of new tyres, and further minor servicing has been undertaken since the car's arrival in the UK.

An original, matching numbers example, '707' boasts a totally original interior. The leather seats display a light patination commensurate with the limited mileage covered. Incredibly, all carpets, including the boot, are original to the car, as are the 'Maserati'-embossed floor mats, and under-bonnet and boot lid quilting. The hood and hood cover are original, and the car also comes with an additional new hood cover for everyday use to avoid possible damage to the original. The original tool rolls are present, as is the original jack and some original tools. '707' also retains its original and correct Lucas fuel injection system with Lucas 'bomb' type fuel pump. Other noteworthy features of this astonishingly original car include the original windscreen wiper arms, Carello lights and trims, dated windscreen and all other glass, and the Maserati fuel filler cap.

An original owner's handbook and worldwide dealer book, plus copies of workshop and maintenance manuals, are included in the sale. A modern alternator and radio are the only notified deviations from factory specification.
Representing an exciting opportunity to acquire a rare Spyder version of one of these highly sought-after classic Maseratis, this quite outstanding Mistral is potentially the most original and low-mileage example in existence. Starting instantly and responding as only a low-mileage, original example can, it is a dream come true for any aficionado of fine thoroughbred sports cars.