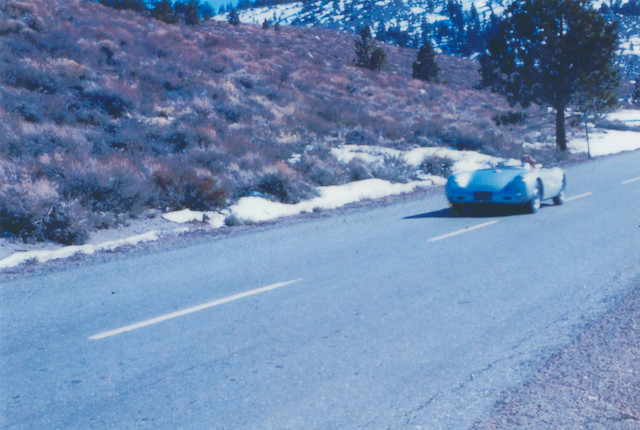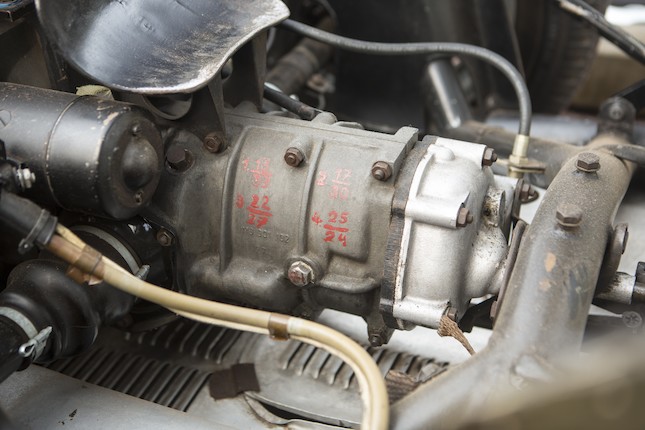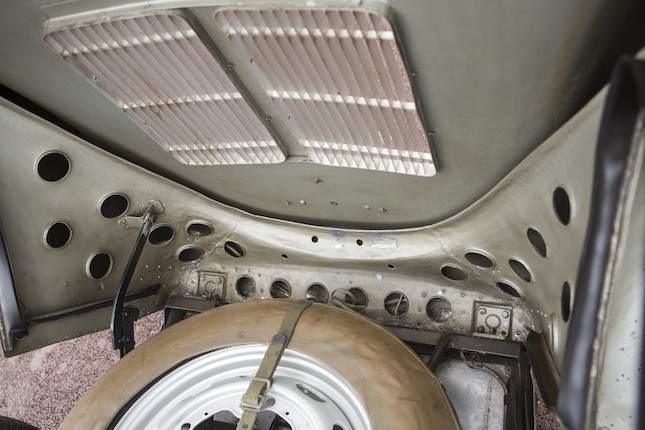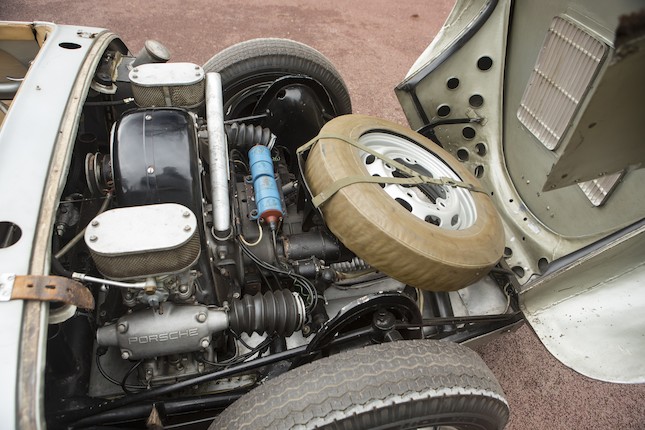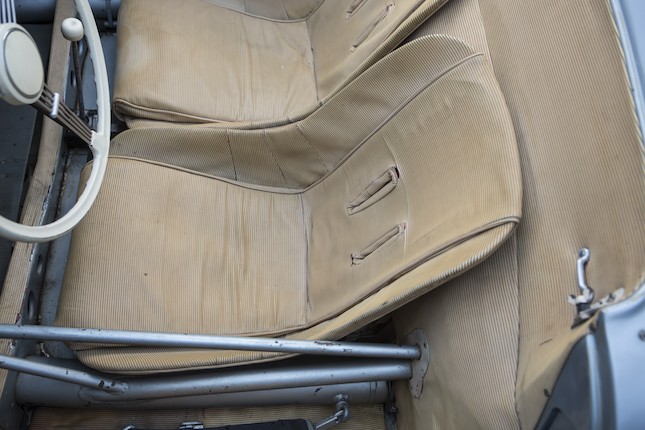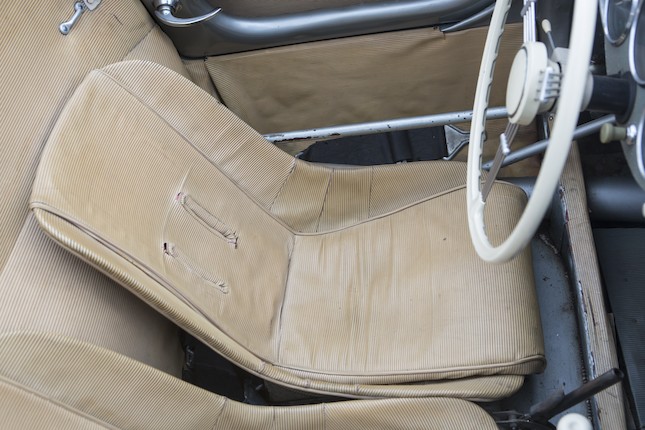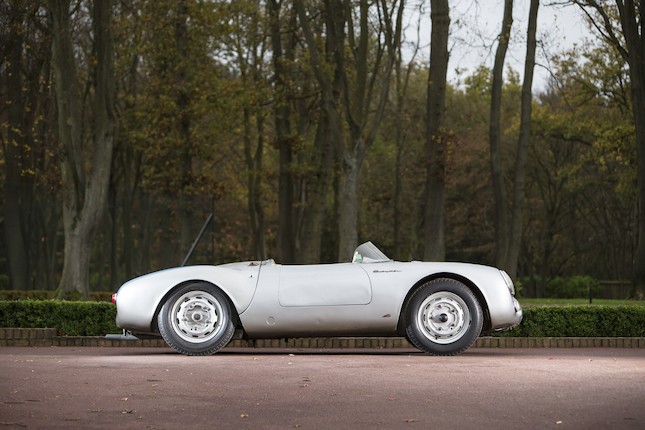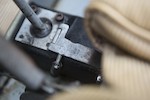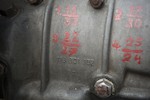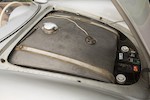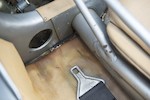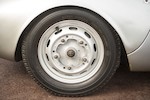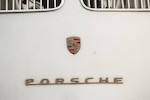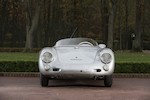 1956 Porsche 1.5-litre TYP 550/1500 Rennsport Spyder Sports-Racing Two-Seater
Coachwork by Wendler Chassis no. 550-0090
10 September 2016, 14:00 BST
Chichester, Goodwood
Sold for £4,593,500 inc. premium
Own a similar item?
Submit your item online for a free auction estimate.
How to sell
Looking for a similar item?
Our Collector Cars specialists can help you find a similar item at an auction or via a private sale.
Find your local specialist
The Ex-Willett Brown, Vasek Polak, Fred Sebald, Richard A. Barbour, George Reilly
1956 Porsche 1.5-litre TYP 550/1500 Rennsport Spyder Sports-Racing Two-Seater
Coachwork by Wendler
Chassis no. 550-0090
*Amazingly original, unrestored example of Porsche's first purebred sports-racing car
*4-cam, 4-cylinder air-cooled 1.5 litre 8,000rpm engine
*FIVA Award-winning car honoured at Pebble Beach Concours, 2010
*Perfect provenance headed by respected connoisseurial collectors
*Offered here fresh from long-term connoisseurial ownership
Footnotes
In offering this mouth-wateringly original, unmolested and intricate 'time machine' 550 RS Spyder, we feel privileged to present what is considered to be the world's best-preserved, never restored example of this seminal Porsche model surviving today...

This exceptionally rare and therefore extremely important Porsche 550RS is offered here with the perfect provenance of long-term caring ownership by a succession of great American fine-car connoisseurs.

Most critically, with every passing year more of the world's diminishing treasury of such unrestored 'as-manufactured' or 'document' cars lose that irreplaceable characteristic by usually well-meaning, yet perhaps not fully thought-through, restoration.

The problem is that while restoration can return an ageing artefact to something purporting to match its initial condition as first manufactured, that will always be – inevitably – however painstaking well executed - an artifice. Far-reaching restoration applies on a ratchet principle – it only ever works one way. Once original finish has been obscured or replaced, original paintwork, the original time-machine evidence of how the artefact in question was originally completed by the contemporary craftsmen whose skills truly created it... has simply gone for ever, with no option to retrieve it.

Comprehensive restoration to achieve mere glowing quality is simultaneously a process of obliteration. Once lost, 'originality' can never, ever, be regained. And as the motoring world's treasury of these increasingly rare 'time machines' depletes, the basic laws of supply and demand must most assuredly apply. As we enter an era in which fully-restored classic cars are effectively two a penny – the real rarities will be the protected, connoisseurially-conserved crown-jewel cars such as 550RS chassis No 090 as now offered here.

This individual car featured prominently in the June 1971 edition of the internationally-renowned American monthly magazine 'Road & Track'. William Motta photographed '090' now offered here for that feature, which was written by Allan Girdler and which also involved the nostalgic test-driving presence of former 1950s Porsche 550 star driver, the diminutive Richie Ginther of Ferrari, BRM, Cooper-Maserati, Honda and Eagle Formula 1 fame, one of the great Ford GT programme's star drivers, and winner of the 1965 Mexican Grand Prix.

Allen Girdler's story began: "Nostalgia comes hard to Richie Ginther. The setting couldn't have been more conducive for rekindling of the glorious past: A 550 Porsche Spyder barking at idle, in a clatter of roller bearings and overhead cams and the salty, blue haze and smell of real Castor oil. Instant race day, 1954.

"Ginther climbed through the tiny door and over the frame tubes and squirmed into the seat. Away, down the snow-framed mountain road and back again, faster and faster. Then he came in, smiling. Perhaps recalling his victories in 1954 and '55, the 550 ride that was the first big step in his climb to Formula 1...".

The 'Road & Track' story went on to highlight how the 550 Spyder was Porsche's first genuine racing car design. But when launched at the 1953 Paris Salon, the model had much about it than being a mere weapons-grade on-track warrior. As the story emphasised: "The 550 had full road equipment, with lights and so forth, and a top, and enough stamina and ground clearance to compete in rallies – which it did. The bodywork and weather gear qualified the 550 for international sports car races – and Hans Herrmann took first in class and sixth overall in the 550's first race, the 1954 Mille Miglia.... Herrmann was third overall in that year's Carrera PanAmericana. There were 75 cars with bigger engines in that race, and Herrmann beat 73 of them..."

The cars were built by Porsche in exclusive numbers. In the US the model did not qualify as a production sports car, even with its top and road equipment. There weren't enough of them to be a real road car, according to the governing SCCA. Unofficially, the same rule makers would cheerfully confess they kept the Porsche 550s out to give other makes a chance...

The great Ken Miles became another leading Porsche 550 exponent and one year when 23 drivers scored SCCA National points in the Club's F-modified class –21 of them were driving Spyders.

In his 'Road & Track' piece, Allan Girdler continued: "What was it like to drive? Very like the standard Porsche, is the opinion of both..." (our former) "...testers and Richie Ginther now. The steering, Ginther said, 'was completely familiar'.

"The gearshift and brakes were good then, not so good now, although it's not really fair to make such a comparison...

"The 550 never had any shortcomings in the suspension departments, Ginther recalls, and he credits the factory's use of the Nurburgring as a proving ground. Every possible handling situation exists there, and Porsche had them all understood before the car was introduced..."

Weight distribution was 48/52 front/rear where 'R&T' had expected more weight on the rear; "The car was, said Ginther 'You got into it and felt a part of it. Things reacted just as you expected them to. When you went into a corner, you'd predict an arc, and the car would carry through on the arc you predicted. It was the competition machine."

Girdler considered "Odd he should say that. The car pictured here is an exception. It never was a competition machine. Never raced as they say in the ads. Only this time it's the truth.

"In 1956, as now, there was glamour attached to racing cars, and there were people who thought they'd like to drive to work in the hottest racing car of the day. Of those who actually could buy the latest in winning cars, some did enjoy the experience, and some didn't.

"This car, No 90, was first bought by a West Coast television executive..." – actually one Willett H. Brown, sometime President of CBS – "The car was delivered equipped for the street but the owner must have found it more of a challenge than he was equal to...When the first owner sold it" – in 1956/57 – "...he had enjoyed it for a total of 634 miles.

"The next owner was more of an enthusiast. That led to his sale of the car, you might say. He sold it to raise capital to start a Porsche agency, after 12,000 presumably delightful miles...

"During this time the present..." – remember, this was in 1971 – "...owner Fred Sebald, had been longing for a Spyder. When the Spyders were the competition machines, Sebald was the race car body repairman of Southern California. When Ginther and Hill and von Neumann and their peers shunted hay bales and each other. Sebald made things right again. So he knew and appreciated 550s.

"When 1956 Spyder 550RS/1500 No 90 turned up on Vasek Polak's lot, Sebald bought it. He later retired from the bent metal business (to become a ski instructor...). Skis mean snow, Sebald lives in the mountains and the car now spends most of its time carefully wrapped up in a garage. When he bought it he had intended it to be a wonderful ad for his body shop. He meant to restore it, but couldnt't bring himself to lay an intrusive finger upon it. Not only has this car not been raced, that's the original paint..."

And so this extraordinary Porsche 550RS slumbered on. Fred Sebald's Foreign Auto Shop had been in Glendale, California, and that was where he cherished No 90 through the 1960s. When he opted out of panel-bashing and into the ski-lodge business he and his equally Porschephile wife Pat moved into their Sebald's Bavarian Park Resort, in picturesque June Lake, California.

From the Sebalds the car passed subsequently to Richard A. Barbour for the price of $4,500 as confirmed by the April 13, 1971 copy bill of sale preserved within the extensive documentation files which accompany the car today. It passed subsequently into the possession of respected US classic car collector George Reilly, who found that – exactly as described in the 'Road & Track' article – the car remained "totally original, complete with all the original equipment supplied with the car when new", in the words of the current vendor – another enthusiastic car connoisseur of international renown.

While Porsche's early reputation was founded upon small-capacity aerodyne production coupe designs based upon Volkswagen technology – as originated in the 1930s for 'the people's car' under Prof. Dr. Ferdinand Porsche's consultancy direction, it took virtually a special builder to point the way towards what the factory would introduce as the 550 Rennsport Spyder. It was in 1950 that Frankfurt Volkswagen dealer Walter Glockler worked with local engineer Hermann Ramelow to assemble a Porsche-based special purely for sports car competition. He used a welded tubular chassis frame into which he fitted a 1086cc air-cooled Porsche 4-cylinder engine, mounting just ahead of the rear axle. This 'Glockler Spyder' turned the scales at barely 450kg – 992lbs – which endowed it with vividly promising power-to-weight ratio. Glockler improved upon the basic idea with a second special, this time powered by a 1500cc Porsche engine and he promptly broke the class lap record at the major Freiburg-Schauinsland mountain climb.

Late in 1951, Glockler sold the car to the contemporary Porsche and BMW importer for the United States, Max Hoffman, in whose hands it became a very familiar contender in early SCCA events there.

Encouraged to build more dedicated competition cars than their core production series, the Porsche factory launched its definitive model 550 Rennsport design in 1953. Basis of the new model was a ladder frame composed of welded steel tubes which was stiffened materially by the sleekly-aerodynamic lightweight aluminium body panelling, which was rigidly-attached to create a kind of semi-monocoque structure. Even the dash panel was welded to the sub-structure to form a further transverse stiffening member. The 550 Spyder version's weather-protection top could be folded or completely removed to choice.

All-round independent suspension was adopted, by twin trailing arms and transverse torsion-bar springs at the front and - after the first two 550 prototypes had tried leading-arm rear suspension - trailing arms were used at the rear to control the customary Porsche swing-axle system. Hydraulic drum brakes featured. Early cars scaled around 550kg – 1,213lbs – later increasing to 590kg – 1,301lbs.

These little aerodyne Porsches were extremely quick in a straight line – having a claimed top speed of some 220km/h – 137mph – and accelerating from 0-100km/h – 62mph – in less than 10 seconds - spectacular indeed with such a small capacity engine in the early 1950s.

Power unit design for the Porsche 550 had been led by future company head Professor Ernst Fuhrmann. It was known as the Typ 547, and featured four shaft-driven overhead camshafts, two heading each twin-barrelled cylinder bank. With an aluminium crankcase, the originally 1498cc flat-4 engine produced a lusty 110bhp at 7,800rpm. It breathed through two twin-choke downdraught Solex carburettors. The two valves per cylinder were inclined and the crankshaft was of the Hirth built-up type, permitted the use of four roller-type main bearing to minimise frictional loss. The 4-cam engine also featured twin-plug ignition with two plugs, two coils and two distributors driven from the upper camshafts.

The power unit was of course air-cooled, by a v-belt-driven fan, and it was mounted ahead of the rear axle line, with the gearbox overhung at the rear. While the initial 550 Spyders of 1954 used regular Porsche 4-speed gearboxes, Richard von Frankenberg's entry in the 1955 Tourist Trophy race at Dundrod, Ulster, boasted an experimental 5-speed transmission. This became standard-equipment for the Spyders produced from 1956 forward.

Two initial works-entered 550 Coupes finished 1-2 in their class at Le Mans in 1953, and the cars went on to shine in further great classic races including the Italian Mille Miglia, and the great Carrera PanAmericana Mexico in central America, ultimately achieving completely iconic status within the wide world of classic Porsches.

When the American 'Sports Cars Illustrated' magazine explored the reality of the Porsche 550 in period, renowned writer Griff Borgeson declared: "The Porsche Spyder is a fantastic machine. It is fast and fiercely powerful, one of the most successful competition sports cars in history, and it has a personality no less complex than Dr Jekyll's. At brisk highway speeds it is very easy to drive, docile, perfectly manageable, superbly responsive."

He continued: "There is nothing in the car's character that makes it inappropriate for use as a round-town hack. It has enough street equipment to satisfy the least austere sports car fan: top, windshield, trafficators, speedometer, windshield, wipers...and there's nothing to keep you from having radio and heater installed". And he described how Ken Miles had a 550 Spyder "...that he uses daily in LA traffic, and he says 'Why not? Set up for town driving, with soft plugs and the right jets, it's a joy to drive – comfortable, roomy, and it goes like a bullet from a gun when you open the tap...".

In that same feature story, Richie Ginther explained to Borgeson how his racing 550 Spyder with its 4-cam roller-bearing engine was "....geared for about 125mph at 7,500rpm, and I turn to 7,800 regularly. At Palm Springs I tried to keep it above 5,500 coming out of all the corners. There's a 4,200 feet straight-away on the course and if I came out onto it clean and fast at about 80, I turned a good 8,000rpm before I had to shut off. We know we can turn 8,200 without valve gear trouble, and even at this figure piston speed is no problem...".

Richie Ginther continued: "If the Spyder's tail comes loose you can just leave it hanging out. You won't go as fast as when it's behind you and I know that for sure...". Borgeson found "The Spyder's steering is as light as they come. The brake pedal and clutch pressure are light – very light. Throttle response is good, particularly when you approach the engine's peak-power operating range. There's nothing to changing gears; you shift with a true flick of the wrist. The ride is soft... The screaming duet of engine and exhaust is carried away behind you.... While a one-hour race can leave a Ferrari driver too weak in the legs to walk without limping and too weak in the arms to pick up his trophy, the Spyder leaves him with no more than a reasonable sweat...".


These comments amply demonstrate the enormously high regard in which proven 'car guys' from the 1950s to the 1970s held the Porsche 550RS Spyder - such as the outstandingly – indeed probably uniquely – original example we so proudly offer right here.

There are inevitably some panel ripples, and minor paint cracks, and scuffs and discolouration in places on '0090', but these fall squarely into the category of utterly compelling fine patina.

In 2010, under the special awards category of the pinnacle-level international Pebble Beach Concours, '0090' now offered here was recognized by the Pebble Beach Judging Committee with the FIVA Postwar award. One of the most highly respected members of the connoisseurial car collecting community has remarked that "people were all agog just to see the car".

Porsche 550 chassis '0090' here has never been offered publicly for sale, and it has been very rarely seen. Now its presentation at Goodwood this weekend offers a superb opportunity for Porsche aficionados to examine and appreciate this historically important and iconic piece of Porsche lore.

Bonhams takes great pleasure in offering this 60-year-old beauty - to the connoisseurial car collecting market... – genuinely never raced nor rallied, but, most significantly, never ever even restored. It is that rarest of collector's car rarities - truly, a time machine.