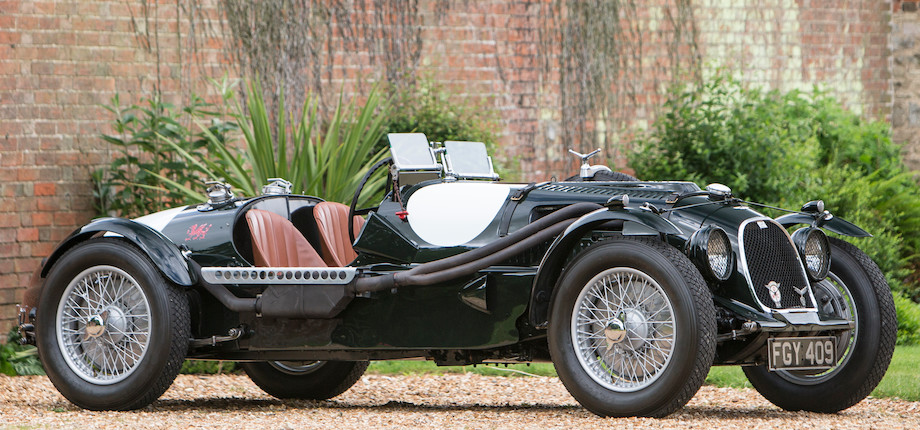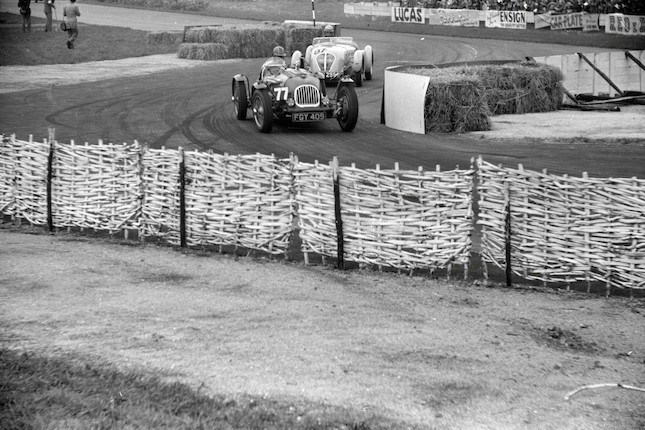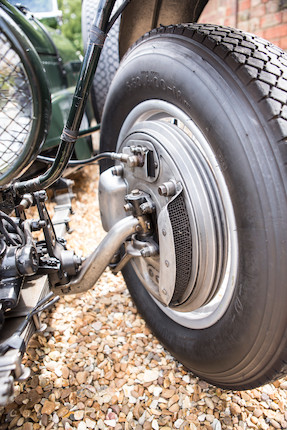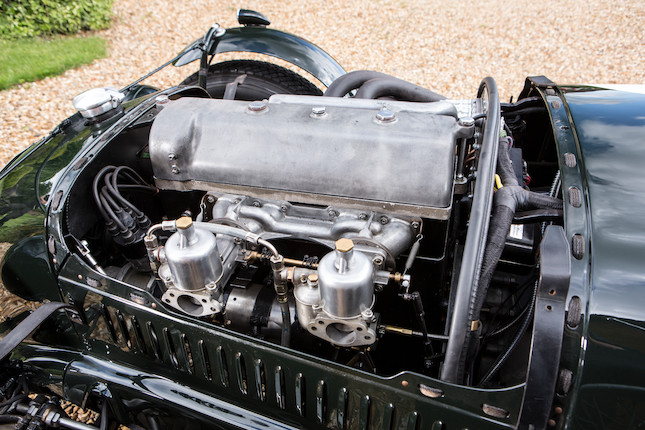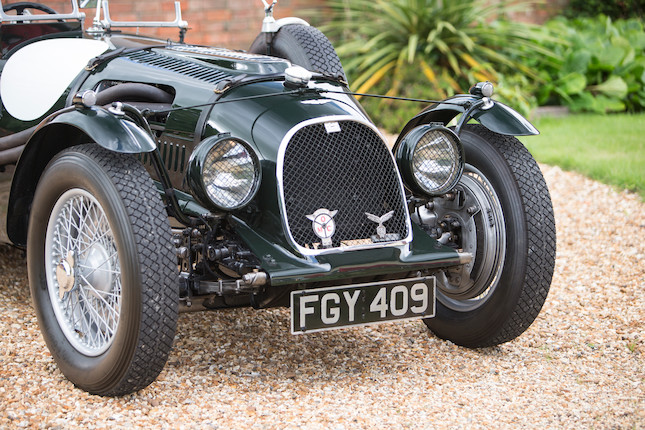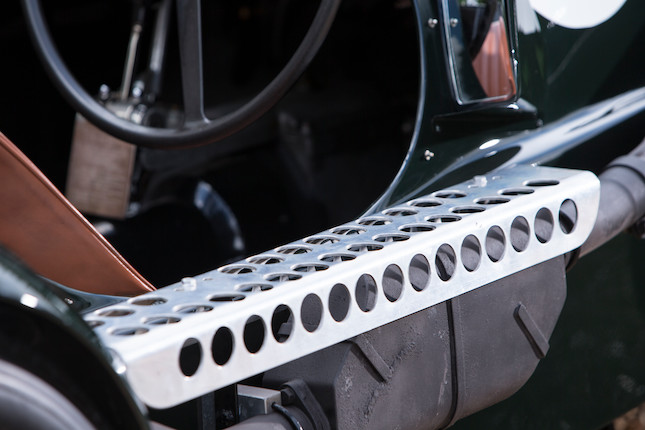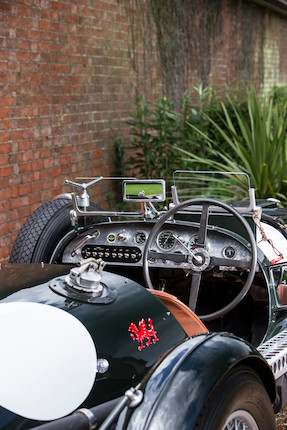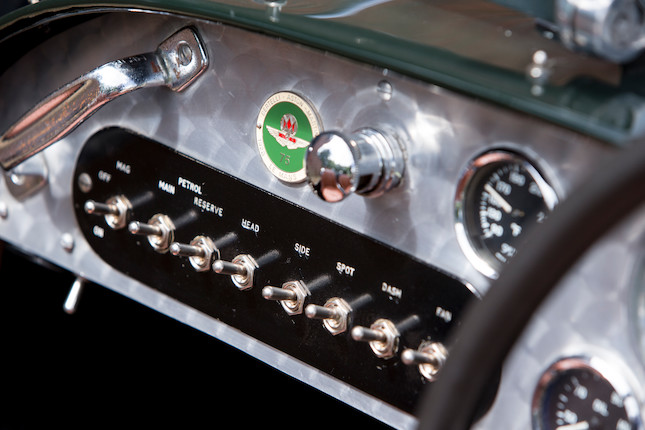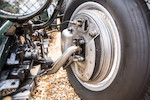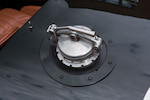 1936 Aston Martin 2-Litre Speed Model 'Red Dragon' Sports-Racing Two-Seater
Registration no. FGY 409 Chassis no. H6/711/U
10 September 2016, 14:00 BST
Chichester, Goodwood
Own a similar item?
Submit your item online for a free auction estimate.
How to sell
Looking for a similar item?
Our Collector Cars specialists can help you find a similar item at an auction or via a private sale.
Find your local specialist
The Ex-Works, Dick Seaman, Eddie Hertzberger, Dudley Folland, John Wyer, Colonel Ronnie Hoare, Jack Fairman
1936 Aston Martin 2-Litre Speed Model 'Red Dragon' Sports-Racing Two-Seater
Registration no. FGY 409
Chassis no. H6/711/U
*The ultimate pre War competition Aston Martin
*Multiple participant in the Mille Miglia and Le Mans 24-hour race
*Competitive entrant for the world's premier historic motoring events
*Equally at home on road and track
Footnotes
It is particularly fitting that this singularly important Aston Martin sports-racing car is offered for sale here at the Goodwood Motor Circuit since two of its most celebrated drivers in-period have particular links here. Richard John 'Dick' Beattie-Seaman – the finest British racing driver of the 1930s, later winner of the 1938 German Grand Prix in his works Mercedes-Benz W154 – was born at Aldingbourne House, which still stands today a mere three miles away to the east, within earshot of Goodwood Motor Circuit. And in later years this remarkable car would be owned and campaigned by leading Welsh privateer Dudley Folland – one of the first internationally-known owner-drivers to compete at Goodwood, not least in the first Ferrari V12 ever to appear in England.

Against this background, Bonhams is particularly delighted to offer this uniquely-specified historic Aston Martin here at the Goodwood Revival Meeting. As new this particular car could perhaps be regarded as the ultimate in the illustrious line of pre-war Aston Martin 'Ulster' works racing cars.

Rumours had begun to circulate early in 1936 of a new larger-engined Aston Martin to replace the marque's successful 1½-litre designs. Discreet official confirmation came when two entries were made in the 2-litre class of the Le Mans 24-hour race. Aston Martin's production of the 2-Litre 'Speed Model' competition variant would total just 23, making it more rare and exclusive than its 'Ulster' predecessor, production of which ran to 31.

The 4-cylinder engine was enlarged to 1,949cc with the ports reversed in expectation of minimizing detonation as experienced on the 1½-litre unit. The patented Renwick & Bertelli wedge-shaped combustion chambers were retained, while 18mm spark plugs appeared on the exhaust side of the cylinder head instead of the inlet side. Scintilla magneto ignition was used, and dry-sump lubrication retained.

Two new Speed Model Team Cars were readied for Le Mans only for that 1936 race to be cancelled following French industrial strife. Neither car would ever be raced by the works. The first chassis, 'LM22' was the last to bear the famous factory prefix 'LM'. Chassis design followed that of the familiar Mark II model's, down-swept beneath the rear axle and upswept over the front. It was wider, and more rigidly cross-braced, although its 102-inches, 260cm, wheelbase matched the Ulster's. The front axle was mounted via 'Silentbloc' bushed trunnions, with torque reaction during braking or under drive being controlled by stout cables in tension. Great attention was paid to improved steering geometry while Lockheed hydraulic brakes with twin master cylinders were adopted. The gearbox was in unit with the enlarged engine.

Sadly, economic times were hard. Following the cancellation of Le Mans, Aston Martin withdrew indefinitely from active competition. The two prototype 2-litre cars were to be sold. However, they had aroused such interest that two further machines were laid down, with pure two-seater bodies. Two entries were then made in the 1936 RAC Tourist Trophy race at Ards in Northern Ireland, one a deadly serious fully factory-backed effort and the other a relatively light-hearted entry for Alan Phipps and his wife (nee Doreen Evans).

So it was that this very special machine made its racing debut in the last of the RAC TT races run on Northern Ireland's fabulous Ards circuit. Its driver on the 13.6-mile loop of rural roads linking the towns of Dundonald, Newtownards and Comber, was the then 23-year-old Dick Seaman.

He was then just completing the sensational Voiturette racing season in which he won on the Isle of Man, and at Pescara, Berne and Donington Park in his modified nine-year old straight-eight Delage – humbling the strongest ERA and Maserati opposition. He had caught the eye of Daimler-Benz racing manager Alfred Neubauer who offered a works Mercedes-Benz test-drive at Monza. From 1937-1939 Dick Seaman would become the first British driver to command a place in a major Continental factory Grand Prix team – winning the 1938 German GP before crashing fatally while dominating the 1939 Belgian Grand Prix...

At Ards in 1936, driving 'H6/711/U' offered here, Dick Seaman had been engaged to resist the German-design threat of the latest Frazer Nash-BMW 328s, which Aston Martin was clearly desperate to beat. Aston technical head 'Bert' Bertelli and new owner Gordon Sutherland fully appreciated how valuable a TT victory could be over their German foe.

But during practice, to the team's dismay, the Seaman car lost its oil pressure due probably to a wrongly fitted dry-sump suction pipe, and the engine bearings ran. By working through the night, chief mechanic Joe Bestente and his crew re-assembled the engine in time for the race, but it could not be run in. Seaman could race flat out and attempt to break the BMWs before wrecking his own engine....or nurse the new Aston Martin throughout, hoping for misfortune to befall the German cars.

The race was run in heavy rain. Seaman the racer evidently took the former course and as Aston Martin historian Dudley Coram related: "From the fall of the flag he was travelling at a great pace well ahead of his class... ". Despite the conditions Seaman lapped at 75.89mph "...doing best against (his) handicap, the young Englishman putting up a wonderful run in circumstances which were anything but envious". But after only three or four laps the car's oil pressure began to fluctuate "...and at twelve laps the bearings gave up the struggle and Seaman retired after a truly magnificent drive...(which)... impressed everyone...and it seemed all the more unfortunate that the firm remained adamant in their decision not to race again...".

In this car Dick Seaman had led that 1936 TT overall on handicap and twice broke the 2-litre class lap record, before engine seizure due to oil loss.

Surviving factory documentation lists the original engine as unit 'H-6-711', installed in "Chassis built in experimental shop for 1936 Ulster race & driven by R. Seaman". A further note records "Engine seized due to lack oil. Afterwards rebuilt & sold E. Hertzberger. Ran various continental races during 1937, inc. Mille Miglia, Le Mans, Montlhery".

Its initial ex-works ownerships have been listed as follows:

E. Hertzberger of Rotterdam, Holland
A.D. Whitworth, Connaught Club, London W1 Ref. Bellevue Gges (Racing Dept)
Mr Elwes, University Motors
Capt. D. Folland, Powley Sales Co, High Street, Blaina, Monmouthshire
P.A.B. Stewart, 15 Hillside Road, East Ewell, Surrey

A separate listing includes in November 1950, Ronald John Hoare CBE of Kelling Hall, Holt, Norfolk – the great former-Royal Artillery motoring enthusiast who became famous simply as 'The Colonel' – Ronnie Hoare – UK Ferrari importer, head of Maranello Concessionaires Ltd and patron of that company's eponymous, highly successful Ferrari racing team. 'The Colonel' was a famously exacting character who would only settle for the very finest motor cars.

Peter Stewart's subsequent ownership is then recorded as commencing in 1952 followed by four further owners before marque enthusiast Geoff Bishop, acquired the car, his tenure enduring from 1959 until 1996. These latter owners are listed in the car's buff continuation logbook, issued in 1950 and commencing with John Wyer and Dudley Folland...

Following Geoff Bishop's 37-year tenure, 'Red Dragon' as offered here passed through three further ownerships before being acquired by the present vendor, a connoisseur of fine motor cars of many years standing.

Following its dominant start in the 1936 RAC TT, the car's first private owner was Dutch sportsman Eddie Hertzberger, a wealthy Rotterdam clothier who also excelled at boxing, sailing and skiing. Aston Martin fitted a new engine for him which was stamped with the original serial number to simplify Customs documentation, Hertzberger also adopted a more modern-style radiator cowl and streamlined wings, the car's appearance becoming similar to the contemporary sports-racing Talbot-Lago, but resplendent in Dutch Racing Orange.

Eddie Hertzberger entered the 1937 Mille Miglia 1,000-mile round-Italy race. Clearly a hard, determined and talented racing driver - knowing he would be at a disadvantage to the Italians on their home soil - he drove his Aston Martin from Holland, negotiating as many Alpine passes as possible to gain experience.

The great race was again run in almost continuous rain, Hertzberger driving as if in a Grand Prix, pushing the Aston to its absolute limits. At Florence he was comfortably leading the 2-litre class - a remarkable seventh overall...

Unfortunately this fine run was halted by a broken valve spring, Hertzberger's skilful (and brave) riding mechanic Van der Pijl changing the offending component despite dropping a valve collet down the timing chain gallery, which was retrieved with a blob of grease on the end of a stick.

The pair lost an hour, dropping to fourth in class, but Hertzberger fought on through the ceaseless drizzle, clawing his way back to finish a fine second in class and 16th overall. He and his Aston Martin had proved formidably competitive Mille Miglia contenders.

With French fellow-enthusiast, Albert Debille, Hertzberger then co-drove this Aston Martin in the 1937 Le Mans 24-Hour race. Ranged against an armada of works BMW 328s, 'H6/711/U' again proved hugely competitive. The mercurial pairing duelled so effectively with Gerard's 3-litre Delage and the quickest 328s for the class lead, that by the early hours of Sunday morning they ran a remarkable sixth overall. Sadly, this second very competitive appearance at pinnacle International level was ended by a dropped valve.

Albert Debille then won the 2-litre class of the subsequent Coupe de l'Automne race, run during the AGACI Journée des Indépendants meeting at Montlhéry, France, on September 19th 1937.

Into 1938 Eddie Hertzberger entered this Aston Martin for its second Mille Miglia race, co-driving with Albert Debille. Yet again confronting the usual squadron of works-backed BMW 328s, the gallant Dutch-entered Aston Martin took the battle to them before having, sadly, to retire. Regardless, Montlhéry again proved lucky as Hertzberger won the 2-litre class in the 1938 Coupe de Paris. 

The car's story featured postwar in 'The Autocar' magazine's 'Talking of Sports Cars' series. It had achieved further fame in the ownership of Dudley Folland. In the journal's February 18, 1949, edition – under the heading 'The Folland Aston Martin' – he was cited as being rightly proud that 'FGY409' (as the car had been UK road-registered) was the Aston Martin in which "...the late Richard Seaman, after confounding the prophets by staying out of sight of the Frazer Nash-BMWs for twelve laps, and twice breaking the Class E record for the circuit, the second time at 78.06mph..." – had competed in the 1936 TT.

Having been returned to England by Hertzberger in 1939 the car had "...fretted the war away in a Glasgow garage. Via Allan-Arnold of Manchester it then passed into the hands of Jim Elwes..." (who) "...ran the Aston on the road for about eighteen months, piling up a substantial mileage and becoming progressively more enamoured of a car which so entrancingly epitomized a great...tradition. Virtually innocent of temperament and vices, the Aston proved as dependable a bowler-hat machine as the heart could desire, and, with something closely approaching 100bhp available on Pool..." (low-grade utility petrol) "...was, frankly, a wolf in wolves' clothing."

Dudley Folland bought 'FGY409' in the summer of 1947, at which time it represented the most potent British sports-racing car available to compete in international endurance races. Here another great name enters the story – John Wyer, of postwar Aston Martin works team and eventual Gulf-JW multiple Le Mans and World Championship-winning fame.

Just postwar, he had been invited to join Monaco Motors at Watford as managing director, appointed by founders Peter Monkhouse and Ian Connell. Both were established racing drivers and created the company to prepare racing cars for private owners. In 1948 Welsh enthusiast Dudley Folland bought Peter Monkhouse's share. He had been at Cambridge University with Connell pre-War when he raced under the pseudonym 'Tim D. Davies' to avoid family alarm.

He entrusted the very car now offered here to Monaco, wishing to run it in the first postwar 24-Hour race, to be run at Spa-Francorchamps in Belgium. A measure of the respect in which this car and team were held is well illustrated by a letter on file from then Aston Martin company owner Gordon Sutherland saying that the car should be treated as a works entry with the firm's full backing

In his brilliant autobiography 'The Certain Sound' (Automobile Year: Edita, 1981) John Wyer recalled: "I am amazed at the light-hearted way in which we undertook what was really quite a serious operation. Our team consisted of exactly five people – Dudley and his wife Joy, Ian Connell, my wife Tottie and myself....Joy and Tottie were in charge of time-keeping and catering, Ian was second driver and second mechanic and I was team manager and first mechanic. Only Dudley, the owner, was not expected to do anything except drive."

Their trip began inauspiciously as they missed their ferry, crossing finally to Dunkirk, where the war-damaged lock gates had jammed, delaying them a further four hours. The pavé road from Dunkirk to Ostend then split the Aston Martin's special 28-gallon fuel tank – a Monaco Motors replacement for the standard 15-gallon type. Limping the car to Brussels they found a tinsmith to repair the tank. After his first practice lap at Spa, Dudley Folland then reported clutch slip. John Wyer tried the car to confirm the problem. He then stripped the clutch, found it had been over-oiled and fitted a new clutch plate which cured the problem. In second practice the car ran perfectly.

Wyer wrote: "In the race things went unbelievably well... I had decided in advance how fast we could safely run for 24 hours and Dudley and Ian simply drove at that speed and took no notice of anybody. We had a very large fuel tank and could run for four hours without stopping. To our surprise we quite soon found ourselves in the first ten and then in the first five.

"It rained heavily and continuously which is bad enough anywhere but worse at Spa. During the night there was all sorts of mayhem...and by 04.00 on Sunday morning the only two really competitive cars left on the track were the works Aston Martin" – co-driven by St John 'Jock' Horsfall and Leslie Johnson – "...and our own, running first and second and on the same lap.

"At about 07.00 John Eason-Gibson came to me and said that David Brown wanted us to stop racing against each other and to have an arranged finish. I said 'Does that mean we win and you are second?', and he said, 'No, it means that we win and you are second'. I said I would discuss it with Dudley. It was still raining hard and very slippery and Joy Folland was all in favour of the arrangement. Finally Dudley agreed that we would have a moratorium and maintain position at reduced speed until 12.00 when we would think again.

"At one point during the Sunday morning I noticed that the works Aston Martin had speeded up and was increasing its lead. I protested to Eason-Gibson who professed ignorance and slowed his car down, but of course he knew exactly what was going on.

"At 12.00 we came in for our last stop and for Ian to replace Dudley. I knew the works car would have to stop again whereas we would not. Moreover, it would be driven by Leslie Johnson and while Jock Horsfall was slightly faster than Dudley, Ian was certainly faster than Leslie. We were less than half a lap behind and our car seemed better than at the start. I was fairly confident we could win in the last four hours. But at that last pit stop I noticed that the car took an extra churn of fuel, about 20 litres. Then, as Ian left the pit and accelerated up the hill from the Eau Rouge we saw the car spin, it seemed quite slowly, and slide down the steep slope on the right of the road.

"I ran and scrambled up the muddy bank, still with some hope of getting the car back on the road but I found it lying at a steep angle and it was obvious that any attempt to move it would end in the Eau Rouge. I then noticed a smell of petrol and found that the fuel tank had split again. I have always been convinced that it was petrol being sprayed onto the rear tyres which had caused the crash and it was in no way Ian's fault. The rain had stopped and the road was drying, and Ian was still going quite slowly after the pit stop....we were all stunned by our misfortune and could hardly believe it was true. We...we sat behind the pits with Tony Rolt (who had retired much earlier) and Freddie Dixon, drinking brandy and periodically going to sleep...".

After this disappointment, the Folland Aston Martin reappeared in the Paris 12-Hours at Montlhéry, in which Folland and Connell finished third overall, beaten only by Luigi Chinetti's latest Ferrari V12 and the rapid Louveau/Brunet Delage. Their Aston Martin averaged 68.3mph for the 12-Hours, and Folland's final two laps were the car's fastest of the race. He was entranced by the Chinetti Ferrari, and ordered one from the factory. Into 1949 it would become the first Ferrari to appear in the UK – and Dudley Folland would campaign it briefly as a stable-mate to the Aston Martin. Both would be emblazoned with his Welsh dragon symbol, after which the rebodied Aston Martin would become known as 'Red Dragon'.

Into 1949 it was campaigned for the second time in the Le Mans 24-Hour race and again in the Spa 24-Hours, but as John Wyer put it "...the old car was beginning to feel its age and failed on both occasions".

Under his direction at Monaco Motors, 'FGY409' was progressively lightened to extend its competitive life. This culminated in the lightweight body currently fitted, most probably in preparation for the 1950 season, which bears a striking similarity to its fellow 'Red Dragon' - the cycle-winged Spider Corsa-bodied Folland Ferrari, but the owner then decided to retire from racing. The car is still accompanied by its original fuel tank (which still bears traces of Hertzberger Dutch Racing Orange paint) while the cycle-type mudguards appear to be those used by Folland in the 1940s. According to notes on file he spent circa £1,500 on the car with Monaco Motors from 1948 to 1950 – a very considerable sum at the time.

This Lot's impressive documentation file includes a 1948 John Wyer report on the car's engine performance plus type-written notes to a Mr Pugh (presumably Folland's 'man') detailing work due on 'Red Dragon' for 1949. The file also contains subsequent owner Peter Stewart's notebook covering his racing with the car during 1951-52; highly detailed, recording lap times, thoughts and all work done. It mentions that his best lap at Goodwood in 1952 was 1min 58secs compared to works Aston Martin driver Jack Fairman's 1.55 - 'Jolly Jack' actually winning in this then-Peter Stewart-entered car at Goodwood on March 22 that year.

Another notebook accompanying the car dates from Chris Coulman's ownership in the late 1950s into the Bishop tenure through the 1980s. The car competed in the embryonic historic racing events held at Goodwood in 1964 - finishing 5th amongst a very strong field including ERAs. The file also features many invoices for work done from the early 1950s forward, while numerous race programmes and cuttings demonstrate the car's successful competition life. Indeed it was widely regarded as the quickest pre-war Aston Martin in historic racing, as it had been when new in contemporary racing, before its active hiatus between 1973 and 1988.

Geoff Bishop rebuilt the car around 1988-89 within his exceptionally long ownership, while marque specialist Ecurie Bertelli has completed considerable further work upon the car for its current owner who has taken, in his own words "... a money no object approach to the cars ownership".


He has used 'FGY409' offered here with great success in all of the world's premier historic motoring events including the Le Mans Classic, Monaco Historique, Mille Miglia Retrospective amongst many others, in all of which it has proved not just extremely competitive, but at the same time an excellent and most tractable road car. Aston Martin 'Red Dragon' was also invited to the 2014 Pebble Beach Concours where it was much admired on the lawn and performed faultlessly during the accompanying road rally Tour d'Elegance.

Following a minor racing accident at Brands Hatch in 2013 the opportunity was taken to refurbish the car cosmetically, and fully rebuild the engine at cost of circa £35,000, since when the car has remained fresh, being little used. The context in which such historic Aston Martin endurance-racing cars are viewed today makes this ex-Works, ex-Dick Seaman, ex-Eddie Hertzberger, ex-Dudley Folland car – with which the late, great John Wyer had such a close relationship – of particular appeal. It remains as it so clearly always has been the ultimate pre War competition Aston Martin, ready as it always has been to punch above its weight on the racing circuits of the world or be an effortless high speed touring car. It is offered here complete with FIA HTP and FIVA papers, and we recommend it highly as a valuable – and immensely useable and enjoyable - collector's Aston Martin warranting the closest possible consideration.