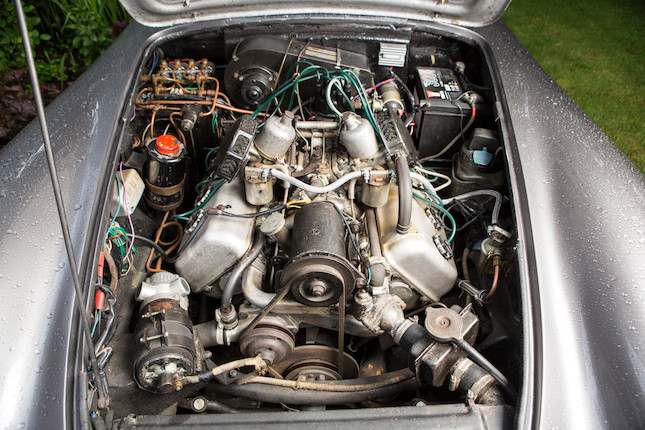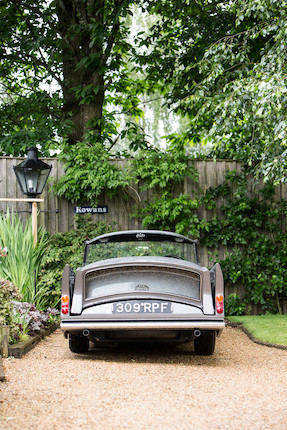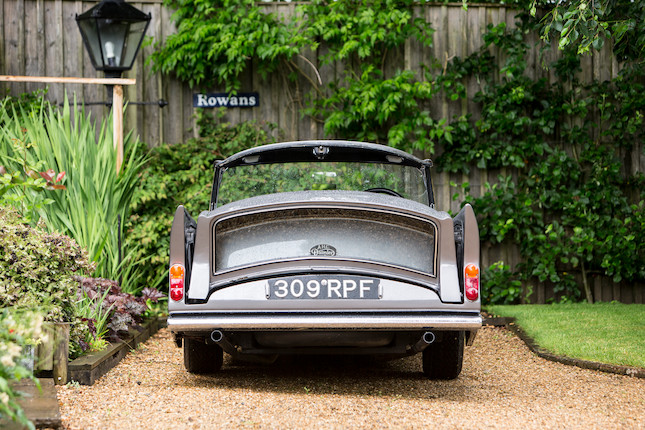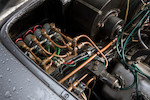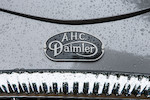 1960 Daimler SP250 AHC Retractable Hardtop Coupé
Coachwork by Daimler/AHC Registration no. 309 RPF Chassis no. 101354
10 September 2016, 14:00 BST
Chichester, Goodwood
Own a similar item?
Submit your item online for a free auction estimate.
How to sell
Looking for a similar item?
Our Collector Cars specialists can help you find a similar item at an auction or via a private sale.
Find your local specialist
1960 Daimler SP250 AHC Retractable Hardtop Coupé
Coachwork by Daimler/AHC
Registration no. 309 RPF
Chassis no. 101354
*Unique retractable hardtop prototype
*Single family ownership from new
*Recently re-commissioned
*Roof in working order

Footnotes
The unique Daimler SP250 offered here incorporates a retractable hardtop roof patented by Antony H Croucher Precision & Prototype Engineering Co Ltd (AHC) of Alton, Hampshire. Antony H Croucher, the vendor's father, first came up with the idea of a power operated (electro-hydraulic) retractable hardtop roof in the late 1940s and applied for a patent in 1947 (No. 18875/47), which was completed in October 1950 on a Riley 1.5, although nothing ever became of it. With the patent running out in 1964, a new Daimler SP250 was purchased in 1960, this car being considered ideal for conversion on account of its glassfibre body.

An unusual departure for a firm more noted for its stately limousines, the SP250 sports car was Daimler's final fling before the firm's acquisition by Jaguar. Aimed at the North American market and launched in 1959, the SP250 employed a separate ladder-type chassis on which sat controversially styled glassfibre coachwork constructed by Daimler themselves. Four-wheel disc brakes were an unusual feature at the time, but unquestionably the car's biggest virtue was its 2.5-litre V8 engine. An outstandingly flexible unit designed by Triumph Motorcycles' Edward Turner, the smaller of Daimler's two V8s produced 140bhp, an output good enough to propel the SP250 to a top speed of 125mph. In keeping with the demands of its intended market, automatic transmission was available as an option. The model survived Jaguar's 1960 takeover, but the E-Type's arrival sounded the death knell for the SP250, which ceased production in 1964.

As well as incorporating the novel retracting roof, AHC's converted SP250 was be made into a four-seater and given an enlarged boot. AHC applied for a patent in 1962 (23981/62), which was completed in July 1964. Company records show that some 3,080 man-hours were spent on the engineering side and 1,948 man-hours in the drawing office. King & Taylor of Godalming, Surrey made the body, while all of the engineering, including making body moulds, was undertaken at AHC's factory. The car was finished in 1963 at a cost in excess of £30,000. Unusually, the AHC roof could be raised or lowered at speed, unlike other systems that require the car to be stationary.

AHC's Daimler got good press coverage, copies of which the vendor still has, as well as the working drawings. The system was intended for use on large luxury cars such as the Jaguar Mark X, Vauxhall Velox, etc but nothing became of it. Eventually, after lengthy negations with his father, the vendor bought the Daimler from him in 1969. Classic & Sports Car magazine invited its owner to show the car at the BBC Top Gear Classic Car Show, where it appeared in May 1994.

After a defective car cover caused the paint to micro-blister, the car was re-sprayed silver grey (originally it was orange with a white roof, bonnet and boot). Unfortunately, when the coachworks finished the re-spray they could not get the roof to work properly; it has to be shut to refuel so was temporarily fixed in that position. '309 RFP' attended the SP250 50th Anniversary gathering at Gaydon on 20th June 2009, has returned to the Classic Car Show (on 17th November 2012), and has also visited the Goodwood Revival.

After years of deliberating what to do about the roof, the owner was persuaded by his brother (an engineer) to get it working. His brother and another engineering friend set about the task and after months of effort succeeded in returning the roof to working order. So the car could be seen, it was put on display in 2013 in the Atwell-Wilson Motor Museum in Calne, Wiltshire where it has been up to now. Recently re-commissioned, this unique prototype Daimler is MoT'd and ready for use. Accompanying documentation includes an old-style logbook, V5C registration document, sundry restoration invoices, and the inventor's original notes outlining the concept.