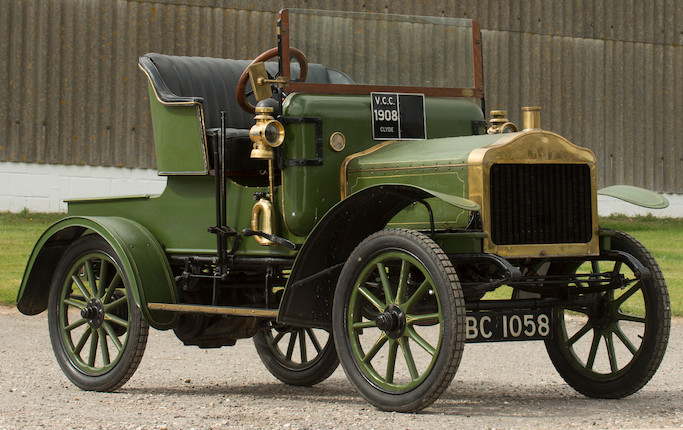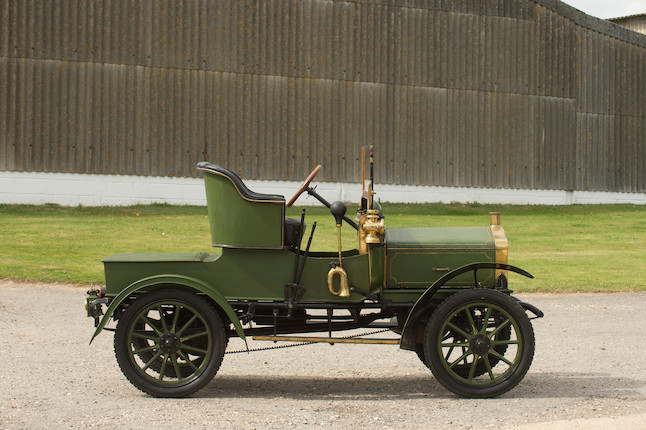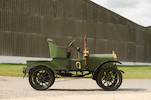 1908 Clyde 8/10hp Silent Light Roadster
Registration no. BC 1058 Chassis no. none
3 September 2016, 15:00 BST
Beaulieu, National Motor Museum
Own a similar item?
Submit your item online for a free auction estimate.
How to sell
Looking for a similar item?
Our Collector Cars specialists can help you find a similar item at an auction or via a private sale.
Find your local specialist
1908 Clyde 8/10hp Silent Light Roadster
Registration no. BC 1058
Chassis no. none
*Ultra-rare British make
*Only one of three known survivors with a White & Poppe engine
*41 years on museum display
*Well documented history
Footnotes
Pioneering cyclist George H Wait established a bicycle-making business in Leicester in 1890 and first turned to powered transport in 1899. The Clyde Cycle & Motor Car Co Ltd was incorporated in 1901, and the first car to carry its name appeared that same year. Clyde used White & Poppe and Aster engines, and also built motorcycles. Together with bicycles, the latter formed the bulk of production, and when the original Clyde company was liquidated in 1905 it had built an estimated 245 cars. Although Wait then concentrated on garage work, he did build a few more Clydes, that offered here being one of only three known survivors. After WWI George Wait continued in business as a motor dealer and agent, and even built a few Clydes in the 1920s.

Manufactured in 1908 and powered by a twin-cylinder White & Poppe engine, this particular Clyde was first registered in October 1920 (after the passing of the Roads Act) to one Barry Phipps of Leicester. An old-style buff logbook on file shows that the car was owned by George Wait himself from 1952 to 1956; it then passed to one Derek Blackburn of Peterborough. The logbook refers to 'BC 1058' as the 'Dr Hilley car', though the significance of this is not known.

A bill of sale on file records the Clyde's sale in March 1960 by Regency Motors of Walton, Peterborough to one Ray E Dillon of Hutchinson, Kansas, USA. The Clyde was then restored by the 'Dutch' Hoefer Body Shop in Hutchinson, and in 1962 was put on display at the Kauffman Museum in North Newton, Kansas. The Kauffman Museum kept the Clyde on display for the next 41 years, selling it to one Rob Roark of Manchester, Connecticut, USA in August 2003. The Clyde next changed hands in August 2015 when it was sold to R Sport Inc of Dover, Delaware. There are documents on file recording all of the foregoing history, together with newspaper clippings and copies of original Clyde brochure material (inspection recommended). A shortened windscreen and different carburettor are the only notified deviations from factory specification.

The Clyde is currently with Setford & Co, who have been briefed by the vendor to ensure proper operation following the car's 41 years on museum display and 12 years with Mr Roark, during which time it probably drove only some 100 miles in total. A V5C Registration Certificate has been applied for and at time of cataloguing a VCC inspection is awaited (this car is known to the Club). A unique opportunity.