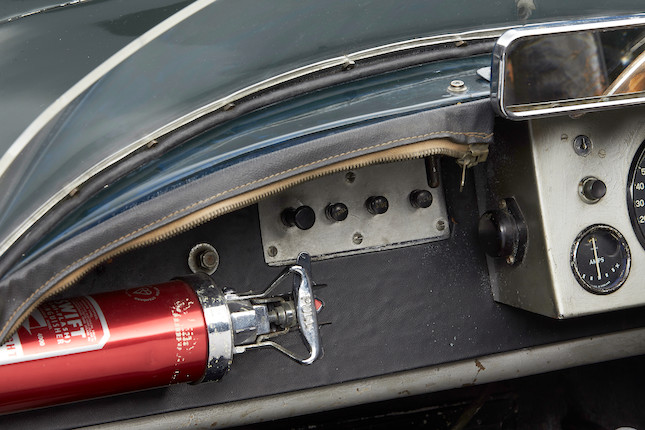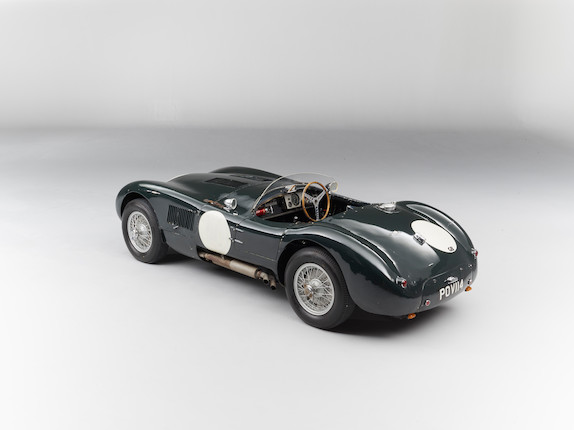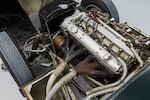 1953 Jaguar XK120C 'C-Type' Sports-Racing Two-Seat Roadster
13 May 2016, 19:30 CEST
Monte Carlo, Fairmont Hotel
Sold for €7,245,000 inc. premium
Own a similar item?
Submit your item online for a free auction estimate.
How to sell
Looking for a similar item?
Our Collector Cars specialists can help you find a similar item at an auction or via a private sale.
Find your local specialist
Ask about this lot
Philip Kantor
International Chairman for Motoring
The Ex-Ecurie Francorchamps, Roger Laurent, Baron Charles de Tornaco, Jacques Swaters, Olivier Gendebien – 1953 Le Mans 24-Hour, Spa 24-Hours, ADAC 1,000-Kilometres race
1953 Jaguar XK120C 'C-Type' Sports-Racing Two-Seat Roadster
Registration no. POV 114 (UK)
Chassis no. XKC 011' – Originally 'XKC 047're-stamped 'XKC 011' by Jaguar Cars Ltd. in 1954
Engine no. E 1066-9
• Le Mans 24-Hour race finisher, placing 9th overall
• Jaguar works-supported entrant
• One of the most original C-Types extant
• Single family ownership since 1963
• Incredible provenance

In this wonderful Le Mans racing Jaguar we at Bonhams are delighted to offer one of the most unmolested, highly original, 1950s 24-Hour-race sports cars still surviving anywhere in the world today... It is also much more than 'just' a Le Mans 24-Hour race car – it is a Le Mans 24-Hour-race top-ten finisher, and it achieved that feat in the Jaguar C-Type model's greatest Le Mans year – 1953 – when the works-prepared and entered cars finished first, second, fourth and ninth overall.

This remarkably conserved Jaguar C-Type is offered here 61 years after it was last sold ex-works by its manufacturer. It is also offered here direct from no fewer than 53 long years in one single, caring, continuous family ownership.

Today, surviving examples of the 53 Jaguar C-Type sports-racing cars produced by the world-famous Coventry marque in 1951-53 are particularly coveted. These discreetly-styled, exceptionally well-proportioned and handsome projectiles are famously useable on both road and track.

Amongst all genuine C-Types, only two have been preserved in family ownerships that have prevailed for more than half a century. And standing here before you – immediately available to the highest bidder – is the only Jaguar C-Type of that pair to have survived from period, unrestored...


Throughout its long current ownership it has been consistently preserved and maintained in running order. It has never been circuit-raced within its current ownership and indeed its last competitive appearance was in a sprint in 1969. It has instead been used only very occasionally for day-to-day touring or specialised Jaguar and historic rally-type events. But – most significantly – the car as offered here has survived throughout its long life with hardly anyone really laying an intrusive, meddling, originality-destroying or performance-improving spanner upon it... The only notable changes from its 1953-1960 racing order are the sensible safety measures of '60s/'70s-style braided Aeroquip-type brake lines and oil-pipes in place of the originals, detachable four-point seat belts, stowage of a sizeable hand-held fire extinguisher in the cockpit and discreet addition of flashing turn indicators, those at the front mounted within the headlight fixtures, and those at the rear tucked unobtrusively beneath the tail.

During the 1950s, Jaguar Cars won the world's most prestigious sports car race – the Le Mans 24-Hours – no fewer than five times. Jaguar's first dedicated sports-racing design, the XK120C or 'C-Type', won the great race in 1951 and 1953, followed by their D-Type models' famous hat-trick of victories there through 1955-57...

For many subsequent years, Jaguar Cars Ltd traded upon those Le Mans-winning laurels, before returning to racing in the late 1980s. And in 1988 and 1990 the latest Tom Walkinshaw Racing Jaguar XJR9 and XJR12s added two further Le Mans wins.


The C-Type and D-Type pedigree has come down to us today more highly burnished than ever. Fewer C-Types were built than D-Types. These lovely 1951-53 sports-racing cars are less common, more useable and accommodating for two persons, and deliver impeccable manners on both road and track. Furthermore, with stowage space on top of the panelled sills on each side of the cockpit, and in the body 'tub' behind the right-front wheel-arch – in addition to some space above the spare wheel within its tail bay – the C-Type becomes a genuinely habitable fast touring car. It is the combination of all these factors that have come to be recognized in recent times by an ever-more eager connoisseurial and collectors' market.

In practical terms this Jaguar C-Type stands before you in driveable – immediately useable – order. But its value plainly embraces so much more than mere utility. Here we are proud to offer an unspoiled work of engineering art – and one that survives from its contemporary racing period 1953-60 in the finest connoisseurial condition. If this Jaguar was an equally historic British building, it would surely be Grade I listed...

Its current exceptionally long-term family ownership commenced in January 1963, when it was bought – for £635 – by pre-war Brooklands personality/postwar racing photographer Guy Griffiths.


Jaguar Cars Ltd had originally road-registered it under the serial 'POV 114' on January 14, 1955. The original logbook issued at that time still accompanies the car today. It declares the car's chassis identity as plainly stamped upon the car's chassis frame at that time (and still today) – 'XKC 011'. The car became Guy Griffiths' first racing Jaguar and it founded his family's superb Chipping Campden Car Collection, in Gloucestershire, England. There it was joined subsequently by an excellent Jaguar D-Type, the unique Jaguar D-Type/E-Type 'missing link' prototype E2A, and one of the famed 'Lightweight' Jaguar E-Types – amongst other exhibits. Significantly, not only was 'POV 114' as offered here the founding car in the Griffiths family collection – it is also the last to be made available to the market ...

Guy Griffiths went on to recognise that while there was an emerging class of British club racing catering for historic Grand Prix cars, there was no such active stage upon which historic sports-racing cars could still perform. Consequently he launched and promoted his own 'Griffiths Formula' race series in 1966 — this year marking his innovative idea's 50th anniversary — in which such cars could be energetically and competitively exercised. It has been from that foundation of the Griffiths Formula that modern-style Historic sports and racing car competition has since developed – of which such events as the Monaco Historique and Goodwood Revival Meeting are surely the highest expression. So to that extent 'XKC 011' as offered here is the car that sparked the historic motor sports-racing car explosion...
On May 7, 1963, Jaguar's assistant managing director – and the company's famous former works racing team manager - 'Lofty' England wrote to Guy Griffiths: "I have had a look into the history of 'XKC 011'. This car was used as one of our works cars in 1952 but I am afraid our records of the actual races in which it was used are no longer available. It remained our property until 1954 when the car was rebuilt and equipped with Panhard rod-type rear suspension linkage and the engine fitted with Weber carburettors.

"It was then sold to Dunlop who used it for tyre test purposes. The car was subsequently sold by them to Mike Salmon and in turn became the property of Gordon Lee and Robin Sturgess, being raced by all these three individuals...".

The three names of Salmon, Lee and Sturgess would become extremely well known within the British club racing scene through 1957-1960. Michael Salmon was a Channel Islander who became a Jaguar-trained manager and salesman. He campaigned 'XKC 011' as offered here very widely in British home events, performing most notably at Goodwood, Silverstone and Brands Hatch. The car was very well prepared, quick and consistent and in Salmon's hands it became a regular front runner and occasional race winner. He finally sold the car to Gordon Lee whose exploits in 'XKC 011' mirrored and extended Salmon's success. Leicester car dealer Robin Sturgess then purchased the car from Lee and continued to cement its reputation as one of the quickest and most consistently successful C-Types on the entire British club racing scene – despite, by that time, the car's advancing age.


Following his acquisition of the car right at the start of 1963, Guy Griffiths and his equally-enthusiastic daughter Penny had noticed traces of Dunlop grey paint, and Salmon/Sturgess dark blue where the car's overlying British Racing Green paintwork had chipped or flaked. But areas of bright yellow, the Belgian national racing colour, also showed. And they saw that the bodywork number tags read 'K 1047' – indicating that the body was from car 'XKC 047', not 'XKC 011' as the chassis was clearly stamped.

The original 'XKC 047' had indeed been liveried in bright Belgian yellow. It had been built in 1953 – intended initially as a rally car for Jaguar hero Ian Appleyard to campaign in succession to his legendarily successful Jaguar XK120, 'NUB 120'. However, the more that Ian Appleyard assessed the C-Type as a rally car – since many of the Alpine rally stages in which he was most interested were at that time still unsurfaced, loose, and strewn with rocks, stones and gravel – the more he recognized the unsuitability of such a pure-blooded high-speed sports-racing car as the Le Mans-tailored C-Type.

In consequence Ian Appleyard opted out, cancelling his order. Scans of the extensive and detailed correspondence between Mr Appleyard and Jaguar Cars Ltd, concerning his requirements for the C-Type to be adapted for his kind of rally use, are included within the extensive documentation file accompanying this Lot. There were, however, other eager customers then queuing at Jaguar's door.


The car was promptly sold to one of them – the former Belgian 350cc and 500cc motor-cycle racing Champion Roger Laurent. Its sale to him was finalised on May 19, 1953, and 'XKC 047' – as it was properly identified at the time - was works prepared and entered by the Ecurie Francorchamps team - in which Laurent was a partner – at Le Mans that year. It was intended to serve as a quasi-works back-up for the factory team's 'Lightweight' C-Types. Roger Laurent and his stylish young co-driver Baron Charles de Tornaco finished a highly creditable ninth overall.

Not only were the Belgian crew delighted with that result. So were the Jaguar company founder William Lyons, chief engineer William Heynes and of course 'Lofty' England himself. The works 'Lightweight' C-Types had just finished first, second and fourth – totally dominating the 24-Hour race – and their client team's car had finished a worthy ninth in support. The Belgian racing yellow-liveried car had been run very much as part of the works team effort, prepared and serviced during the race by works team mechanics, and occupying the same pit area...as so evocatively captured in Belgian enthusiast spectator Jacques Callier's gorgeous panoramic colour photograph reproduced in these pages.


After Le Mans in mid-June, 1953, the car then competed again in the Belgian Spa 24-Hours on the weekend of July 25-26. Co-driven by Roger Laurent and Ecurie Francorchamps principal Jacques Swaters, it ran well before engine failure. After re-fettling by Jaguar, it reappeared in the Nurburgring 1,000-Kilometres on August 30, 1953, co-driven by owner Laurent and the patrician Olivier Gendebien, Ferrari's future four-time Le Mans winner, but a piston failed.

At the end of its 1953 race programme, 'XKC 047' was returned to the Jaguar factory in England, where it then remained in store through 1954 – although Swaters and Laurent made an entry under its chassis number for a return to Le Mans that year.

In 1955 it was then sold – see later – to the Dunlop Tyre & Rubber Company Ltd, who required a high-performance test and development vehicle. For its Dunlop test-car duties a passenger-side door was provided as a modification from the standard (driver's-door only) C-Type specification. Two small swiveling hatches were also added in the cockpit floor, one ahead of the driver's seat, the other ahead of the passenger seat. We understand that these were to provide neat access for the read-out cabling used when a towed fifth-wheel measuring device (and similar such ancillary test equipment) was added.

There is no doubt that this triple-Weber carbureted, 'Lightweight' rear-suspended car emerged as a most capable all-round road, race and test car. Its subsequent club racing competitiveness in the hands of Michael Salmon, Gordon Lee and Robin Sturgess into the 1960s amply confirm as much.

Ten years after this car's 1953 Le Mans 24-Hour race success, enter Guy Griffiths and his then-teenaged car-enthusiast daughter Penny, who recalls: "I went with Dad to see the C-Type. I just thought it was Fantastic! He played it cool and we drove home again. But later that week he said 'I've been thinking about the C-Type. It's an awful lot of money but - yes, we'll have it' and I remember being so excited. It was our first Jaguar and I remember it coming home for the first time. Guy really didn't like the look of the cockpit, complaining it had apparently been sprayed a cheap, horrible, silver. My mother had trained as a dressmaker. She said 'Oh don't worry about that. Black Rexine. That's the stuff. I'll cover it.' And she did, and that Rexine is still in there today.

"On my 17th birthday Guy decided we'd go racing together. He would drive the C-Type while I was allowed to drive our Healey Silverstone. He entered us for a Curborough Sprint, and he was caught out by the short braking zone after the flying finish and spun it!"

Penny's future husband was Jaguar engineer Roger Woodley. They later took the 'C' to a sprint at Weston-super-Mare and then on assorted Jaguar 'Raids' to the Le Mans 24-Hours. She recalls: "One year we ran in the Rallye Georges Durand, named after the local hotelier whose place had become the Hotel Touring, in St Leonard-du-Bois. Durand had been one of the founders of the 24-Hour race, back in 1923, largely as a tourist magnet to boost his business. The Rallye was essentially a little local club celebration of Durand's great creation, running old cars around the countryside. Roger and I set off in the C-Type for about 20 minutes to the next village, where we were all encouraged to mark the occasion with the local cider. Then we drove another 20 minutes to another village – where we were offered Calvados.
Another 20 minutes, another village – huge lunch-stop with wine... All the time we were being escorted by the Gendarmerie on their motor-cycles, but nobody seemed to turn a hair. It was rural France in the 1980s, but today all of us would have been arrested - quite rightly. Standards were just different then.

Penny's husband Roger tragically died in 1995. Her many friends in the Jaguar world were very supportive, and in 1998 she was invited by Danish Jaguarphile Ole Sommer to run the 'C' in a rally in Denmark. She set off alone, heading towards Felixstowe and the North Sea ferry: "I'd only gone about 10 miles when the engine starting to misfire, popping and banging. I stopped, rang a friend and was advised to check the fuel filters. I did, and they were full of rust particles. I cleaned them out, put it all back together, it re-started OK so off I drove. Fifty miles down the road, it happened again. Same problem. It happened every 50 miles or so.

"I still made it to the ferry, Jaguar C-Type, woman on her own, and the daylight beginning to fade. So I wound up in Denmark, and all I knew was that I had to find an address in Copenhagen. I just had a one-page map that I'd torn out of a road atlas, and an address to aim for. But I couldn't find any signs for Copenhagen. There were plenty instead for some place called 'København' but I hadn't a clue that is Copenhagen.

"I kept turning round and trying another way, then cleaning the filters again, all with no mobile 'phone, and after three hours I'd just had enough. I stopped by a friendly looking person and asked if they had any idea where this destination might be. And they immediately said 'Oh, how lovely to see you – what a wonderful car – yes it's just a couple of hundred metres away, follow us'. Lucky break or what? And, yes, the C-Type has generally been very kind to us for the greater part of my life. It's been part of the family for well over fifty years. Roger loved it too. It means a lot...".

The presence of body 'K 1047' on their chassis 'XKC 011' had always puzzled Penny and Roger. During the 1980s, Ted Brookes – former works-team mechanic who had been attached to Francorchamps in 1953-54 – told Roger he thought it had been Penny's '011' that the Belgians raced in 1954. Body-swapping was mentioned – conceivably in this case at the end of that season, so Jaguar got their car back, while updating the Belgians' genuine 1953 '047' to compensate. C-Type body swaps were nothing new. At May Silverstone 1953, Moss had rolled his works car in practice yet raced it that weekend rebodied.

This anecdotal background finally led to the 2014 Jaguar Register relating how: "...the body from XKC 047 was fitted to chassis XKC 011, with the body from XKC 011 finishing up on chassis number XKC 012/047".

However, within the Griffiths ownership of this C-Type, since the chassis is plainly stamped 'XKC 011' and the bodywork – with its under-lying Belgian-yellow paintwork – is plainly tagged 'K 1047', it was regarded for 52 years as a split-identity car, combining the chassis of 'XKC 011' with the body from 'XKC 047'.

The puzzle was always how could such a union have come about? Only in the past two years has it become apparent that in 1954 Jaguar Cars Ltd clandestinely substituted a works-team C-Type for Laurent's 'XKC 047' which had been entered to compete for a second time in the 24-Hour race. The works C-Type that eventually ran there was then campaigned for the rest of that season in Ecurie Francorchamps' proud Belgian livery. Original works team documentation survives within the Jaguar factory archive confirming that the 1954 Le Mans substitute car's true identity was 'XKC 011'. But why today should it apparently wear the bodywork of 'XKC 047' when the panelling it really wore during its works team career differed very obviously in several respects?
During detailed investigation by our Bonhams team, with the support of the best-informed Jaguar authorities we could consult (as acknowledged here) the following factors were considered.

Jaguar C-Type 'XKC 011' as offered here features the Jaguar works team's ultimate 'Lightweight'-specification, 4-link rear suspension. It has two blade-section locating links up high above its live back axle, and two more below. What is more the lower links are indeed the ultimate works-spec hockey-stick shaped design.

The car also features the long, lateral Panhard rod of those ultimate-specification C-Types, securing the back axle against lateral movement. Bonhams also had the 'XKC 011' chassis stamp, which is on the correct right-front damper abutment, double-checked by specialist Dr Shaun Crofton of the metallurgy department of Imperial College, London, employing magnetic particle inspection (MPI) to detect any falsification. That stamp proved absolutely genuine, unaltered - again matching the genuine 'XKC 011'...

But it was noted that the stamping is not positioned on that abutment's leading-edge, like most – but not all – other C-Types. Instead a line of weld covers what would have been the usual stamp location – perhaps repairing a fatigue crack?

A search was then made for any possible 'XKC 047' stamping - to convince a 1954 Le Mans scrutineer, as the old tale maintained? After a lengthy search, over on the rear face of the left-side damper brace, very faint beneath light surface oxidation...one was indeed found, and can be clearly seen upon the car today.


It is a poorly-struck 'XKC 047', punched at the angle necessary if working under pressure with the engine installed – in which case the dynamo would obstruct a straight strike. So works mechanic Ted Brookes's old anecdote did appear to fit the belief that the chassis is indeed the works' original 'XKC 011' dating back to 1952.

However, since that car had been converted to use the latest disc brakes the chassis should also display the special features required by that contemporary system. Jaguar's latest Dunlop disc brakes had been boosted by a Plessey hydraulic pump driven off the gearbox output. That demanded a redesigned gearbox housing, picking-up on twin chassis-frame mounts instead of just one on the centreline. A disc-braked C-Type's massive front calipers - with the steering near full lock - would foul the model's normal mid-mounted front anti-roll bar. Therefore in disc-braked Jaguar C-Types the front anti-roll bar was under-slung, exposed well below the nose bodywork and requiring extra attachment brackets...
In fact the gearbox in the 'XKC 011'– stamped chassis of the undeniably, totally, genuine ex-Francorchamps/Salmon/Lee/Sturgess car offered here remains completely original in its as-built 1953 form, without any Plessey-type gearbox mounts.

Instead it features the centerline 'lateral bridge-piece' mount, entirely consistent with it being the original chassis not of the 1952 'XKC 011' but of the 1953 'XKC 047'. The front of the chassis is also entirely original in appearance, with no sign of attachment brackets for an under-slung anti-roll bar ever having been grafted on. So, that hasty 'XKC 047' stamping was almost certainly not struck for the ACO's benefit in 1954. It is far more likely to have been a reference strike made at the time that the original chassis number 'XKC 047' was welded into obliteration by Jaguar, and a fresh 'XKC 011' stamp struck instead.

Thus, it became plain that Jaguar Cars Ltd had rewarded the Francorchamps principals for their fine 1954 season with the original 'XKC 011' by leaving that car with them to sell – which they did, seemingly under the chassis identity 'XKC 047'. But in fact Jaguar had instead taken Laurent's original 1953 'XKC 047' back 'in-house' and re-stamped it here as 'XKC 011', for sale to Dunlop – who plainly used it to test their tyres and wheels, and not their disc brakes.

So it is that the car offered here is the purebred, perfect-identity 'XKC 047', with its 1953 Le Mans history completely intact, and as campaigned in period by those brave, charismatic, stylish Belgian racers – resistance fighter Jacques Swaters, two-wheeled Champion Roger Laurent, the aristocratic 'Mr Cool' Baron Charles de Tornaco...and the equally patrician, future quadruple-Le Mans winner for Ferrari, Olivier Gendebien.

Perhaps the Jaguar C-Type model's greatest admirer is none other than contemporary Jaguar works team star Sir Stirling Moss. Consider his words here on this confined, rarefied and exclusive group of world-class Le Mans-winning cars: "I always really rated the C-Type – for me it was a far better car than the 'D'. I reckon a properly-driven C-Type would still be faster round the Nurburgring than any 'D'. I just thought they were terrific...and wonderful in the wet, which I always liked anyway."
He further explains: "Its spaceframe chassis was designed for racing, unlike the XK120's which behaved like a touring car being driven fast, quite nice and soft and comfortable, but rather floppy. The racing C-Type changed all that.


"Those 3.4-litre XK engines had nice, smooth power and made a lovely noise. But I do remember how Jaguars never had good seats. The XK120's weren't that good, and when the C-Type came along they built racing seats which weren't much better." This does not apply to the seats in 'XKC047' as offered here, which have beautifully-aged black-leather, padded-roll upholstery on plainly period plywood bases, one with 'Mark VII saloon' scrawled upon its underside.

"Of course, one great advance was Malcolm Sayer's new aerodynamic all-enveloping body, because it helped to make the C-Types fast for their time." Sir Stirling further recalled how he and his team-mates were bursting with pride when they first accompanied the gleaming new team cars to scrutineering at Le Mans: "It was the most modern, futuristic, potent-looking device...and it was British Racing Green. We really did feel as if we were showing the flag, and that counted for a lot...".

Backed-up by the Belgian boys for two consecutive years, Jaguar's C-Type programme excelled on the historic Le Mans 24-Hour circuit at La Sarthe. Here we offer one of the most evocative of all surviving, time-machine, works-prepared Le Mans Jaguars – and we unreservedly commend this splendid and palpably historic sports-racing artwork to the market.


Bonhams would like to thank the following for their research, advice and expertise in relation to this Lot.

British Jaguar authority Den Carlow, motoring writer Marc Noordeloos, Jaguar enthusiast Jeremy McChesney, Chris Keith-Lucas of CKL Engineering Ltd, Gary Pearson of Pearsons Engineering, Australian Jaguar authorities Les Hughes and Terry McGrath, Andrew Tart of Andrew Tart Motor Engineering, and the author of this description, motor racing historian Doug Nye.