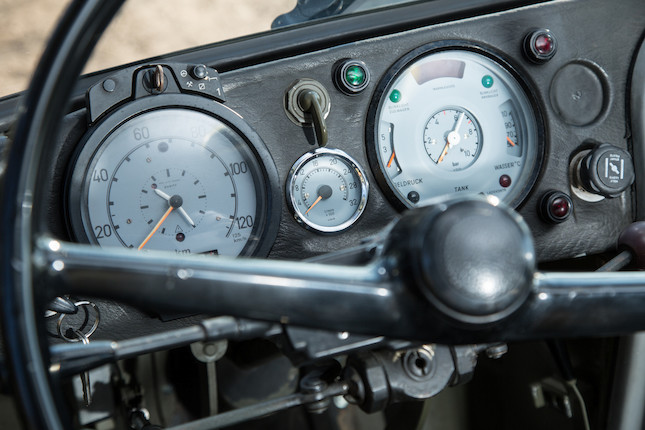 1983 Mercedes-Benz Unimog 406.101 ATV
19 March 2016, 14:30 CET
Stuttgart, Mercedes-Benz Museum
Sold for €39,760.51 inc. premium
Own a similar item?
Submit your item online for a free auction estimate.
How to sell
Looking for a similar item?
Our Collector Cars specialists can help you find a similar item at an auction or via a private sale.
Find your local specialist
Ask about this lot
Philip Kantor
International Chairman for Motoring
1983 Mercedes-Benz Unimog 406.101 ATV
Chassis no. L7FOW7P98
•Iconic German all-terrain vehicle
•Originally a Luftwaffe aircraft tractor
•Restored in the Netherlands
•Converted for civilian use in Germany

One of only 353 of its type, this Unimog 406 aircraft tractor was built in December 1983 and is believed to have completed its last military duties on 3rd June 1996. The accompanying tachograph testifies to the military registration number 'Y 504 256' and the 91,000 kilometres recorded. On 23rd October 1998 the German armed forces authorised the sale of a number of Unimogs, and this example found new owners in the Netherlands. Between 2003 and 2012 the vehicle was completely renovated in the Netherlands and the cab's optical defects corrected (see Oldtimer Traktor article on file).

In 2012 the Unimog came back across the border to Vreden, Germany where it was completely rebuilt for civilian use. The ballast weights on the stern were replaced with a new flat bed, while new wider wings made room for wider all-terrain tyres. The headlights and various pipes and valves were replaced, and all fluids changed. All the cab's door and window seals were replaced with new ones also. A ball coupling has been fitted at the rear, in addition to a truck clutch. All parts have been approved by the German TüV authorities.

What makes this aircraft tractor special is probably the original 630kg Frontanbauplatte (front mounting plate), which combined with the wide tyres conveys an impression of enormous strength. As a reminder of the Unimog's original role as an aircraft tractor, a tow-bar is fitted at the front. All the original aircraft tractor parts (wings, wheels, counterbalance weights, etc) are available should a future owner wish to return the vehicle to its original specification.

The state of the vehicle at circa 3,000 engine hours and some 97,000 kilometres is said to be generally very good, the result of regular maintenance. All switches and instrument lights are functioning. The engine starts immediately, even at temperatures below freezing, while the gearbox works flawlessly and synchronises perfectly, as does the all-wheel drive and differential locking function. Apart from the driver's seat squab, which has been re-covered, the upholstery is original and in good condition. The vehicle is finished in 'NATO Olive'. There are restoration bills are available totalling over €12,000 (spent by the previous owner), German Luftwaffe registration papers (cancelled), current German Fahrzeugbrief and a fresh TüV, the latter issued in February 2016 and valid for 12 months only because vehicle is a truck.

1983 Mercedes-Benz Unimog 406.101 ATV
Fahrgestell-Nr. L7FOW7P98

Dieser Unimog 406 Flugzeugschlepper wurde im Dezember 1983 gebaut und ist einer von nur 353 Exemplaren seines Types. Sein letzter militärischer Einsatz war vermutlich am 3. Juni 1996. Die beiliegende Tachoscheibe zeugt von dem Bundeswehrkennzeichen ,,Y 504 256" und der Laufleistung von 91.000 km. Am 23.10.1998 wurde zwecks Verkauf des Unimogs der Fahrzeugschein von der Bundeswehr ausgestellt. Der Schlepper fand seinen neuen Eigentümer in den Niederlanden. Dort wurde das Fahrzeug zwischen 2003 und 2012 renoviert, wobei es sich im Wesentlichen um die Beseitigung optischer Mängel am Fahrerhaus handelte (siehe Artikel aus der ,,Oldtimer-Traktor" 2009).

2012 kam der Unimog zurück nach Deutschland und wurde dort aufwändig für die zivile Nutzung umgebaut. Dabei mussten die Balastgewichte auf dem Heck einer neuen Pritsche weichen, für die neuen geländefähigen Breitreifen wurden ebenfalls neue und breitere Kotflügel montiert. Scheinwerfer, diverse Leitungen und Ventile wurden erneuert, Abdichtungsarbeiten durchgeführt und sämtliche Öle gewechselt. Alle Tür- und Fensterdichtungen des Fahrerhauses wurden durch neue ersetzt. Im Heck wurde zusätzlich zum Kupplungsmaul eine Kugelkopfkupplung montiert. Sämtliche Teile wurden vom TÜV abgenommen und eingetragen. Das Besondere an diesem Flugzeugschlepper dürfte die 630 kg schwere Original-Frontanbauplatte sein, welche dem Fahrzeug zusammen mit den Breitreifen einen sehr bulligen Eindruck verleiht. Als Reminiszenz an die ursprüngliche Bestimmung des Flugzeugschleppers befindet sich eine Schleppstange vorne an der Pritsche. Sämtliche Flugzeugschlepper-Originalteile (Kotflügen, Räder, Gewichte etc.) sind übrigens noch vorhanden, so dass auch eine Rückrüstung in den Originalzustand möglich ist.

Der Zustand des Fahrzeugs bei ca. 3.000 Motorstunden und ca. 97.000 km Laufleistung ist sehr gut. Es gibt keinen Rost und keinen Wartungsstau. Einfach jeder Schalter und jedes Glühlämpchen funktioniert. Der Motor springt auch bei Minusgraden sofort an, das Getriebe lässt sich einwandfrei schalten und synchronisiert perfekt, auch Allrad und Sperren funktionieren. Bis auf die Sitzfläche des Fahrersitzes, die neu bezogen wure, sind auch die Polster original und in gutem Zustand. Die Lackierung ist ,,Nato oliv". Er wird mit Restaurierungsbelegen über mehr als € 12.000 (vom Vorbesizter), annulierter Luftwaffe-Zulassung, einem deutschen Fahrzeugbrief sowie einem frischen TÜV, der erst im Februar bestanden wurde und 12 Monate gültig ist, angeboten.