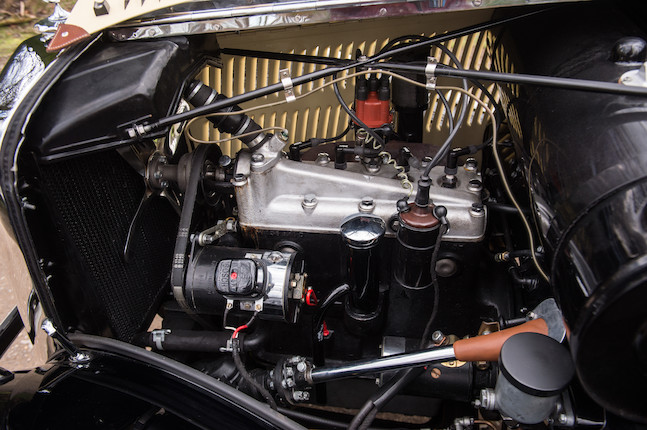 1939 Mercedes-Benz 170 V Sport-Roadster
19 March 2016, 14:30 CET
Stuttgart, Mercedes-Benz Museum
Own a similar item?
Submit your item online for a free auction estimate.
How to sell
Looking for a similar item?
Our Collector Cars specialists can help you find a similar item at an auction or via a private sale.
Find your local specialist
Ask about this lot
Philip Kantor
International Chairman for Motoring
1939 Mercedes-Benz 170 V Sport-Roadster
Chassis no. 416603
Engine no. 271994
•One of 271 Sport-Roadsters produced
•Delivered new to Denmark
•Restored to concours condition in 2011
•Registered in the Netherlands

'The specification of the Type 170V Mercedes is extremely interesting and its air of individuality is reflected in the performance of the car, in a refreshing contrast to the stereotypical merits of the average vehicle.' - The Motor, 22nd November 1938.

Introduced in 1931, the 170 made up the bulk of Mercedes-Benz production in the difficult Depression years of the mid-1930s. Although outwardly of conservative appearance, the Hans Nibel-designed 170 featured all-independent suspension that set new standards of ride comfort and safety; it was also competitively priced for a six-cylinder car and suited the prevailing market conditions, being compact and economical yet engineered and constructed to Mercedes-Benz's traditionally high standards. The 1,692cc, sidevalve engine drove via a three-speed manual gearbox, which was equipped with an overdrive economy gear.

So successful was Nibel's original concept that the 170 changed little until it was replaced in 1936 by the four-cylinder 170V. A landmark model for the Stuttgart-based manufacturer, the 1.7-litre 170V formed the mainstay of Mercedes-Benz production in the immediate post-war years. Running gear was state-of-the-art at the time, comprising an oval-tube backbone-type chassis, swing-axle independent rear suspension, transverse-leaf independent front suspension and hydraulic brakes. Two- and four-door saloon models were offered together with no fewer than five different soft-tops. The model reappeared post-war and in improved form continued in production until 1955.

The Mercedes-Benz 170V offered here is one of 271 of these stylish Sport-Roadsters built, of which only 11 are known to exist today. The car was delivered new to Copenhagen, Denmark and remained in that country until the current owner purchased it and had it restored in 2011, by which time a replacement engine had been installed. The vendor choose the same colour scheme as shown in the accompanying period factory brochure. Seldom driven since the restoration, this rare pre-war Mercedes-Benz Sport-Roadster is offered with Netherlands registration papers and an illustrated report (dated 3rd March 2014) rating it as in concours condition.

1939 Mercedes-Benz 170 V Sport-Roadster
Fahrgestell-Nr. 416603
Motor-Nr. 271994

•Einer von nur 271 gebauten Sport-Roadstern
•Dänische Erstauslieferung
•2011 zum Concours-Zustand restauriert
•In den Niederlanden zugelassen

"Die Spezifikation des Mercedes 170 V ist hochinteressant und sein Anschein von Individualität spiegelt sich in den Fahrleistungen wieder, in einem erfrischenden Kontrast zu den klischeehaften Leistungen des durchschnittlichen Automobils". – Die englische Fachzeitschrift The Motor, 22. November 1938

Der 1931 vorgestellte 170 machte den Löwenanteil der Mercedes-Benz Produktion in den schwierigen Jahren der Depression Mitte der dreißiger Jahre aus. Obwohl äußerlich eher konservativ anmutend, setzte der von Hans Nibel entwickelte 170 mit Einzelradaufhängung rundum neue Maßstäbe in Fahrkomfort und Sicherheit. Er war außerdem für einen Sechszylinder relativ günstig und paßte in die damalige Marktlage: gleichzeitig kompakt und sparsam war er dennoch nach den traditionell hohen Standards von Mercedes-Benz entwickelt und gebaut worden. Der seitengesteuerte 1.692 ccm große Motor übertrug seine Kraft über ein manuelles Dreiganggetriebe, welches mit einem zuschaltbaren Schongang versehen war.

Der 170 war ein so großer Erfolg dass er bis zu seiner Ablösung im Jahre 1936 durch den vierzylindrigen 170 V fast unverändert gebaut wurde. Der 170 V mit seinem 1.7 Liter großen Vierzylinder war ein Meilenstein für den Stuttgarter Hersteller. 1936 vorgestellt, sollte er bis in die unmittelbaren Nachkriegsjahre den Großteil der Mercedes-Benz Produktion bilden. Die Mechanik entsprach dem aktuellen Stand der Zeit, mit einem aus Ovalrohren bestehenden Zentralrohrrahmen, hinterer Einzelradaufhängung an einer Schwingachse und hydraulisch betätigten Bremsen. Zwei- und viertürige Varianten wurden zusammen mit nicht weniger als fünf verschiedenen offenen Versionen angeboten. Das Modell erschien aufs Neue nach dem Krieg und blieb in verbesserter Form bis 1955 im Programm.

Der hier angebotene 170 V ist einer von nur 271 gebauten, eleganten Sport-Roadstern und man geht davon aus, dass hiervon nur noch 11 Exemplare existieren. Der Wagen wurde neu nach Kopenhagen in Dänemark ausgeliefert und verblieb dort, bis der jetzige Besitzer ihn erwarb und 2011 einer Restaurierung unterzog. Zu diesem Zeitpunkt hatte er bereits einen Austauschmotor. Bei der Restaurierung wurde die Farbkombination aus dem beiliegenden Originalprospekt gewählt. Seit seiner Fertigstellung wurde er wenig bewegt und wird nun mit niederländischen Zulassungspapieren und einem illustrierten Gutachten vom 3. März 2014, welches ihm den Concours-Zustand attestiert, angeboten.