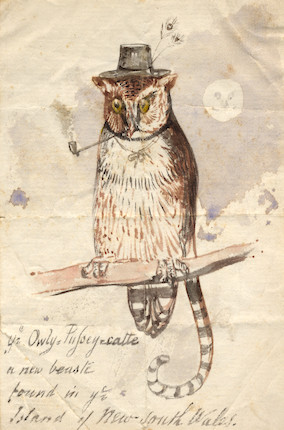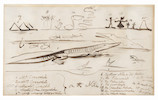 LEAR (EDWARD)
Group of four autograph drawings by Lear, drawn for the family of his childhood friend Fanny Drewitt of Peppering House, Dorset, and her husband George Coombe, including "Ye Owly Pussey-catte" and a nonsense drawing of Mr and Mrs Crocodile, with a watercolour of Peppering House by Coombe and other drawings and watercolours (one possibly by Lear) in a disbound album
Amended
9 November 2016, 13:00 GMT
London, Knightsbridge
Sold for £9,375 inc. premium
Own a similar item?
Submit your item online for a free auction estimate.
How to sell
Looking for a similar item?
Our Books & Manuscripts specialists can help you find a similar item at an auction or via a private sale.
Find your local specialist
LEAR (EDWARD)
Group of four autograph drawings by Lear, drawn for the family of his childhood friend Fanny Drewitt of Peppering House, Dorset, and her husband George Coombe, comprising (i) a watercolour of "Ye Owly Pussey-catte a new beast found in ye Island of New South Wales", showing him perched on a branch, puffing a churchwarden pipe and wearing a settlers' wide-awake hat with two peacock feathers in the brim, with a smiling moon looking on; captioned by Lear in grey wash (as quoted), paper originally folded for delivery, pasted down at the corners, 134 x 89mm.; (ii) pen-and-ink study of a (naturalistic) owl upon a branch, signed "E. Lear del. 1846", time-stained where formerly framed and left-hand margin frayed, other light dust-staining, 228 x 178mm.; (iii) pen-and-ink nonsense drawing of the River Nile and its inhabitants, showing Mr and Mrs Crocodile, Master Crocodile, Master John Crocodile and Miss Mary Crocodile on the Nile; with "the River Nile and its fishes" , "The Pirramids", "The Palmtrees","The Great Eagle", "The Peculiar Pelican", "The unpleasant Snake", "The black Man", "The black Woman", "The smalle blacks", "One of the Temples" (each keyed with a number), slight discoloration at the edges where formerly framed, mounted onto part of an album leaf, 111 x 185mm.; (iv) pen ink and brown wash view [of Peppering House], signed "Edward Lear. del." and dated "...1846", discoloured at edges where formerly framed, tear at bottom right-hand corner (obscuring part of the date), tapes on reverse, 143 x 207mm.; (v) near matching view of Peppering House by George Coombe, taken from slightly further away, in watercolour over pencil, signed and dated "G.C./ Oct 6th 1843", laid down, slight dust-staining, 136 x 218mm.; (vi) together with a partly-dismembered album, comprising watercolours and other drawings, one of a lady seated beneath an old oak tree probably by Lear, watercolours by Coombe (including a distant view of the Acropolis in the style of Lear, 6 April 1859) and two Lear lithographs of Knowsley, partially disbound, boards detached, 4to
Footnotes
'YE OWLY PUSSEY-CATTE' OF NEW SOUTH WALES – Lear drawings from the collection of his childhood friend Fanny Coombe (née Drewitt) and her husband George. Although undated, the striking drawing of the Owly Pussycat could well date from the same period as the two dated drawings in the group, both executed in 1846; in which case it would long predate his famous poem 'The Owl and the Pussy Cat', which was not composed until the Christmas of 1867 (for Janet, the sick daughter of his friend Arthur Symonds with whom he was staying at Cannes), and first published in 1871, as part of the Nonsense Songs. A possible antecedent can be found in Lear's study of the Owl or Night Monkey, a monkey with owl-like face and long cat-like tail, lithographed in John Edward Gray's Gleanings from the Menagerie and Aviary at Knowsley Hall (1846), plate 1. Our drawing is unusual in that it is executed with stylistic care more usually to be found in his 'serious' drawings, such as the Knowsley studies, rather than in the more rough-and-ready style of the line drawing illustrating his 'nonsense' verse. It could have well been intended for the Coombes' daughter, Fanny Jane Dolly, born in the summer of 1832 (see the letter to his 'Niece – par adoption' dated 15 July 1832, in The Complete Verse and Other Nonsense, edited by Vivien Noakes, 2001).

A drawing by Lear of the Drewitt family seat, Peppering House, taken from much the same angle as ours (although dating from much earlier in his career) is illustrated by Charles Nugent, Edward Lear the Landscape Artist, catalogue of the Wordsworth Trust Grasmere exhibition, 2009, p.3; where Lear's letters to the Coombe family from the Frederick Warne Archive (ex Christie's, 29 June 1995) are also printed and illustrated. A small group of illustrated letters to Fanny Drewitt Coombe can also be found in the Beinecke Library, Yale (ex Frederick Koch Collection).
Saleroom notices
This lot also includes two pen and ink drawings by Edward Lear, one of a pair of mallards signed 'E. Lear' and dated 'April 15 1846', the other of a black swan also signed 'E. Lear' and dated 'April 17 1846'.