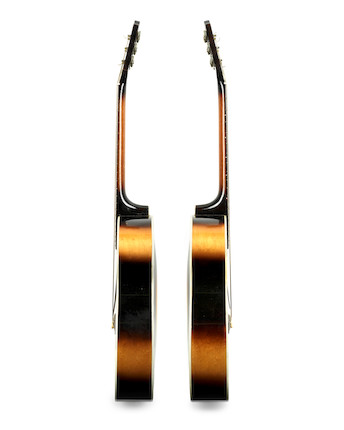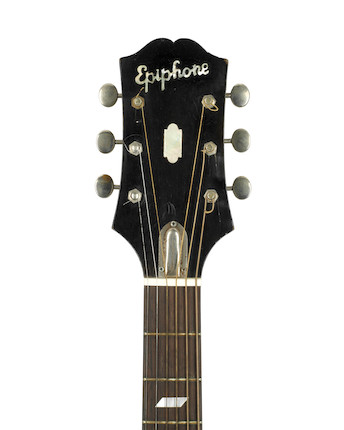 Jimi Hendrix: An Epiphone FT 79 acoustic guitar,
1951,
15 December 2016, 12:00 GMT
London, Knightsbridge
Sold for £209,000 inc. premium
Own a similar item?
Submit your item online for a free auction estimate.
How to sell
Looking for a similar item?
Our Popular Culture specialists can help you find a similar item at an auction or via a private sale.
Find your local specialist
Ask about this lot
Claire Tole-Moir
Head of Department
Stephen Maycock
Specialist Consultant, Collectors, Popular Culture
Jimi Hendrix: An Epiphone FT 79 acoustic guitar,
1951,
serial no. 62262 on blue-edged, white rectangular label inside body under sound hole, with bound spruce top and bound maple back and sides, tobacco sunburst finish, tortoiseshell-style scratchplate, the neck with twenty fret rosewood fingerboard with parallelogram markers, headstock with 'Epiphone' inlay, chrome truss-rod cover and machine heads, strung left-handed, together with sheepskin guitar strap and a (non-original) vintage hard case with A. Parker stencilled in white, guitar 41½in (105.5cm) long
Footnotes
Jimi Hendrix owned this guitar for almost three years - longer than any other documented Hendrix guitar - whilst at his artistic and creative peak and it was his constant companion for a significant part of this time. He can be seen playing an identical guitar in the photograph illustrated in this catalogue, taken in London in 1967. Jimi paid for this Epiphone with money earned from Monterey and the subsequent American concerts and it was bought, as Noel Redding recalled 'second hand, for about $25, in New York after our first tour of the States and brought back to England with us on the plane'. Jimi must have been playing the guitar during the subsequent weeks spent recording, jamming and performing in New York, Washington DC and Los Angeles because a strap-button positioned for a left handed musician is clearly visible in photographs taken of the Experience posing on the tarmac at Heathrow Airport on August 21st, 1967.

Jimi's return home from America with new guitars (when the psychedelic 'Flying V' also made its first appearance) was no surprise to Kathy Etchingham, his girlfriend at the time. The acoustic Epiphone became Jimi's favoured instrument at their Upper Berkeley Street flat where, she has said, 'it was used very, very heavily, continuously, all the time. Jimi had music coming out of every pore. One minute he'd be eating his breakfast, the next he'd say 'hey' and pick up the guitar and play the riffs in his head - only he could hear what he was hearing - and he would go through the words as well.' Manager Chas Chandler remarked that Jimi was so attached to his guitar that he would even take it to the bathroom with him. Kathy: 'We shared the flat in Upper Berkeley Street with Chas and Lotta, but had our own bathroom. Ours was fully tiled and had no window but a beautiful echo, a good sound that Jimi liked so he would sit on the loo and play!' Hendrix had already moved from a basement flat in Montagu Square following complaints about the noise and the acoustic Epiphone came into its own at Upper Berkeley Street where, Kathy remembers, 'Jimi used it for almost everything he composed in this country, as he didn't use an amp until the move to Brook Street, and in any case Chas would never have allowed it in case we disturbed the neighbours because we'd upset them in Montagu Square and Chas didn't want to be chucked out of a second flat.' When working on a song 'Jimi would pick up and then play the acoustic, then pick up a Strat and play that unplugged, listening to it without an amp. He constantly played it to work out riffs and song arrangements including his own version of Dylan's "All Along The Watchtower".'

The guitar continued to be used regularly following Jimi's move to Brook Street, around the time 'Electric Ladyland' was completed, and can be seen in photographs taken at this time. Jimi was captured on film playing this distinctive guitar on at least one occasion, most notably when Jimi performed Elvis Presley's 'Hound Dog' at the after-show party following The Experience's Royal Albert Hall concert of February 18th 1969. Visitors to Brook Street at this time remember the guitar was 'always within arm's reach, usually beside the bed and, invariably, played at raucous parties!' In March 1970 Jimi gave the Epiphone to Alan Parker, guitarist with Blue Mink, having been introduced to him by Kathy's friend, Blue Mink's singer Madeleine Bell. The guitar was subsequently used by Parker on numerous recordings and film soundtracks including those by Dusty Springfield, Walker Brothers, Blue Mink, Paul McCartney and on David Bowie's 'Diamond Dogs'.

Literature: Harry Shapiro & Cesar Glebeek, 'Electric Gypsy', William Heinemann, 1990, p.227 (illustrated), referenced pps.630 & 632; Mitch Mitchell & John Platt, 'The Hendrix Experience', Hamlyn, 1990, p.41 illustrates the 'Newsweek' photograph of Mitch playing this guitar with Jimi & Noel at 43 Upper Berkeley Street on September 26th 1967 and p.77 shows the Experience on their return from America, August 1967, Noel holding the Epiphone; Tony Brown, 'Jimi Hendrix Concert Files', Omnibus, 1999, p.58.

Website: www.jimihendrix-lifelines.net, with thanks to Ben Valkhoff
www.youtube.com/watch?v=Utv4zk9wPCA

Film: 'The Jimi Hendrix Experience Royal Albert Hall 2/24/69', Rising Sun Products, n.d., includes footage of Jimi playing 'Hound Dog' on this guitar.

Exhibited: Handel & Hendrix In London, Handel House Museum, 23/25 Brook Street, London, February-September 2016.

Ex-lot 135, The Jimi Hendrix Auction, Bonham's London, 21st June 2001.