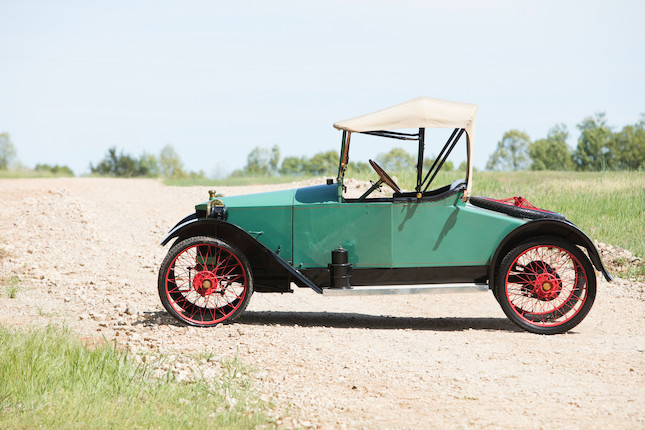 1913 CAR NATION MODEL C ROADSTER
5 June 2016, 12:00 EDT
Greenwich
Sold for US$24,200 inc. premium
Own a similar item?
Submit your item online for a free auction estimate.
How to sell
Looking for a similar item?
Our Collector Cars specialists can help you find a similar item at an auction or via a private sale.
Find your local specialist
Ask about this lot
Rupert Banner
VP, Business Development
Eric Minoff
Senior Specialist
Evan Ide
Vice President, Senior Specialist
1913 CAR NATION MODEL C ROADSTER

Chassis no. 649

134ci Inline 4-cylinder
Single carburetor
18 ALAM hp
3-speed transmission
2-wheel drum brakes

*One of only two known surviving examples
*Documented back to the 1950s
*Twice participated in the Glidden Tour—1957 and 1959
*Beautifully patinaed, 60 year old restoration
*Eligible of many desirable tours and events

THE CAR-NATION

With 134 cubic inches, 18 horsepower a 3-speed sliding gear transmission and a 104 inch wheelbase the Detroit-built Car Nation filled a niche between cycle cars and full size automobiles like Ford's Model T. The Car-Nation's $500 price also fitted neatly below the Model T at the time, although Ford's economies of scale would soon whittle down the difference until it disappeared. Soon Car-Nation, too, disappeared.

While it survived, however, the Car-Nation was a sporty and practical automobile. It had features shared with its larger counterparts and room for four in its touring body configuration.

The Car-Nation's charms are evident, from a vee-shaped radiator reminiscent of the Mercedes of the time to a spare tire mounted on the rear turtle deck (with a golf bag door on the side) of the 2-seat roadster body. Light weight is one of the Car-Nation's attributes and should contribute to excellent performance from a drivetrain that is only 42 cubic inches and 2 horsepower less than the much larger Model T.

THE MOTORCAR OFFERED

Today it is believed there are only two Car-Nation Model C Roadsters in existence and this one has led a charmed life. It was discovered in Maine and purchased on July 20, 1954, then shipped by rail to its new owner who performed a complete restoration. Over the next decade or so it was used extensively including the 1957 AACA Annual Fall Meet. It was awarded an early AACA National First Prize and participated at least twice, in 1957 and 1959, in the Glidden Tour. It then spent many years on display in a well known auto museum from which it was purchased a few years ago.

Finished in chartreuse green with black fenders, black leatherette upholstery and a beige cloth top, it is well equipped with red wire wheels, acetylene headlights, spare wheel and tire and a period Westclox watch on the dashboard. The brass-spoked steering wheel is a quality touch.

It is accompanied by a thorough documentation package relating to its 1954 acquisition, shipping documents and photos of the restoration process. There also are original Car-Nation sales brochures.

The restoration is now over half a century old but looks better than its age would suggest. There are some rusty corners and edges, but the paint is decent, the brass is polished, the upholstery is very good and the top is sound. The engine compartment is orderly and complete.

A Car-Nation will stimulate conversations wherever it appears, introducing onlookers to a marque few if any have heard of. As this Car-Nation's history attests with its Glidden Tour history it should also prove to be a satisfying tour and event car, a welcome entrant with an intriguing story to tell as well as one of only two known to survive.