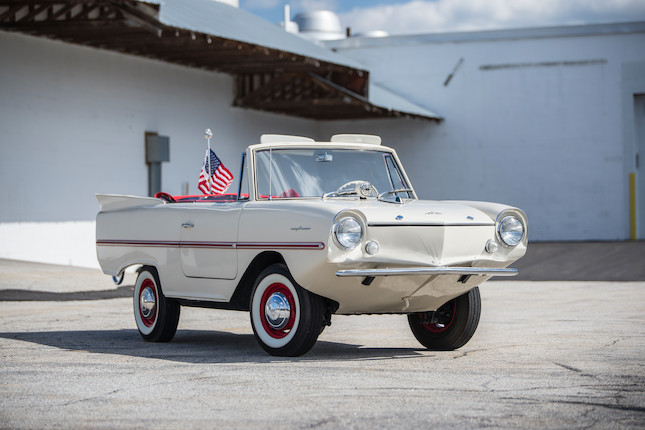 1965 AMPHICAR MODEL 770 CONVERTIBLE

Amended
5 June 2016, 12:00 EDT
Greenwich
Sold for US$68,200 inc. premium
Own a similar item?
Submit your item online for a free auction estimate.
How to sell
Looking for a similar item?
Our Collector Cars specialists can help you find a similar item at an auction or via a private sale.
Find your local specialist
Ask about this lot
Evan Ide
Senior Specialist
Eric Minoff
Senior Specialist
Rupert Banner
VP, Business Development
1965 AMPHICAR MODEL 770 CONVERTIBLE

Chassis no. 100251
Engine no. 499

1,147cc OHV inline four-cylinder engine
Single Solex downdraft carburetor
43bhp at 4,750rpm
Four-speed all-synchromesh manual transmission plus single speed with reverse water transmission
Four-wheel independent suspension
Four-wheel waterproof hydraulic drum brakes

*Thoroughly and correctly restored at a cost of over $65,000
*Sea and land tested
*Nicely detailed inside and out
*U.S. Coast Guard and DOT certified
*Saves the hassle of having to buy a boat

THE AMPHICAR

Hans Trippel's experiments with amphibious vehicles began in the 1930s, bearing fruit in wartime in the form of the Volkswagen based Schwimmwagen, more than 14,000 of which saw service with the German Army in WWII. Trippel revived the concept post-war with the Amphicar (originally called the Eurocar). Necessarily of unitary construction, the cabriolet-style Amphicar was powered by a 70cu in (1,147cc) four-cylinder Triumph Herald engine mounted in the rear and driving the rear wheels. A special transmission drove the two propellers that afforded a maximum cruising speed on water of around 6 knots (7mph), the top speed on land being around 70mph. No special steering gear was required for use on water, the car being steered in the normal way. The design certainly worked, as demonstrated by a well-publicized stunt that saw an Amphicar successfully cross the English Channel from France to England in 1962. Nevertheless, and despite the attractions of its dual capability, the Amphicar was not a commercial success. In what should have been its biggest market - the USA - the Amphicar was handicapped by the many difficulties involved in trying to comply with smog and safety regulations. Demand for what was essentially a novelty vehicle never remotely approached the 20,000 units projected annually, only 3,000-or-so being constructed before production ceased in 1968.

THE MOTORCAR OFFERED

Finished in White with a matching Red and White vinyl interior, this Amphicar is certainly one of the most accurately restored examples around. Acquired by the present owner, an Amphicar enthusiast who has owned numerous examples, over a decade ago, in 2008 a ground (and sea) up restoration was undertaken by Roger Sallee. Mr. Sallee is known as one of the premier Amphicar restorers and no expense was spared to ensure this example would stand out.

Starting with a rust-free and original example, the car was disassembled and stripped to bare metal. The body and panels were primed, skimmed, and refinished. The undercarriage and suspension was removed and cleaned. The engine and transmission were completed torn down and rebuilt, with marque specialists Midwest Amphicars handling the complicated transmission. The brakes, electrical, and fuel systems were also thorough serviced. Everything was done with an eye toward authenticity and reliability with the only liberties taken being the addition of a heavy duty clutch designed by John Freese and the replacement and conversion of the positively grounded generator to a negatively grounded alternator. This switch was done to guard against electrical failure that typically occurs when the Amphicar is at sea and the generator is not producing enough power.

Outside of the mechanicals, the cosmetics were also carefully detailed. The interior was entirely refinished with correct vinyl cloth and panels while all of the chrome fixtures and moldings were refinished and polished. New rubber floormats were fitted, a new top was installed, and all switchgear was cleaned and refreshed. Finally, all of the rubber seals were replaced—something of extreme importance in a car that floats! An exhaustive list of all of the work carried out documents the extreme attention to detail and quantity and quality of work completed, not to mention the over $65,000 in restoration costs include $15,000 is NOS parts alone.

Tested on land and sea, it is both DOT and US Coast Guard certified. Complete with a correct jack, tool kit, and owner's manual in addition to an installed electric bilge pump, front and rear navigational lights, marine flag, and a set of life jackets and paddles, it is no doubt ready to transport family and friends from the lake house to the beach—and beyond.
Saleroom notices
Please note that the correct chassis and engine numbers for this car are 106523485 and GD35099HE respectively.