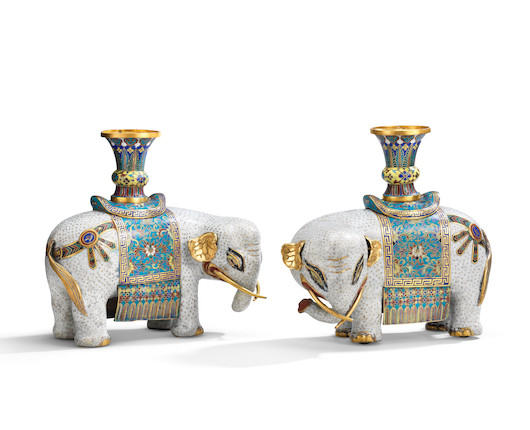 A pair of gilt-bronze and cloisonné enamel elephants
Mid-Qing Dynasty
3 December 2015, 12:00 HKT
Hong Kong, Admiralty
Own a similar item?
Submit your item online for a free auction estimate.
How to sell
Looking for a similar item?
Our Chinese Ceramics & Works of Art specialists can help you find a similar item at an auction or via a private sale.
Find your local specialist
A pair of gilt-bronze and cloisonné enamel elephants
Mid-Qing Dynasty
Each modelled standing with head turned to one side, the white body with gilt spots and a tasselled saddle cloth decorated with leafy stylised lotuses and fastened with colourfully enamelled trappings, the back with a saddle surmounted by an archaistic gu-shaped vase, decorated with a band of flowers between upright leaves and lotus lappets, in various bright tones of white, yellow, blue, red and green on a rich turquoise ground.
Each 32.5cm (13 3/4in) high (2).
Footnotes
清中期 銅胎掐絲琺瑯太平有象一對

During the Qing dynasty, it was customary to have elephants carrying vases with offerings on their backs during imperial processions for celebrating the emperor's birthday. The word elephant is a pun for 'sign', 象 xiang, and when combined with a vase, 瓶 ping, it forms the rebus 太平有象 taiping youxiang, which translates to 'when there is peace, there are signs'.

The auspicious imagery of an elephant carrying a vase was therefore very popular at court and used widely as a decorative motif in various mediums. For a number of examples of cloisonné enamel elephants carrying various types of vases, mid-Qing dynasty, see Compendium of Collections in the Palace Museum: Enamels 4, Beijing, 2011, pls.84-86. See also footnote to Lot 51 in this sale.

See a pair of white cloisonné enamel elephants with gilt wires instead of spots, with zun-shaped vases flanked by foreigners, sold at Christie's New York, 24 March 2011, lot 1614. Compare also with another pair of cloisonné enamel elephants with tall zun-shaped vases with elephant handles, Qianlong/Jiaqing, sold at Sotheby's Paris, 12 June 2008, lot 375.

象馱寶瓶為宮廷常見之陳設器,亦常見於重大慶典中。象乃太平盛世的象徵,而象馱寶瓶有「太平有象」的吉祥寓意,因此為常用題材之一。

北京故宮博物院藏更多象馱寶瓶例子可資參考,見《故宮博物院藏品大系:琺瑯器編4》,北京及安徽,2011年,頁132-135,圖版84-86。另見本圖錄中51號拍品。

更多相關例子可對比一對以白色琺瑯為地的掐絲琺瑯太平有象,售於紐約佳士得,2011年3月24日,編號1614;另見一對清乾隆/嘉慶時期的太平有象,售於巴黎蘇富比,2008年12日,編號375。