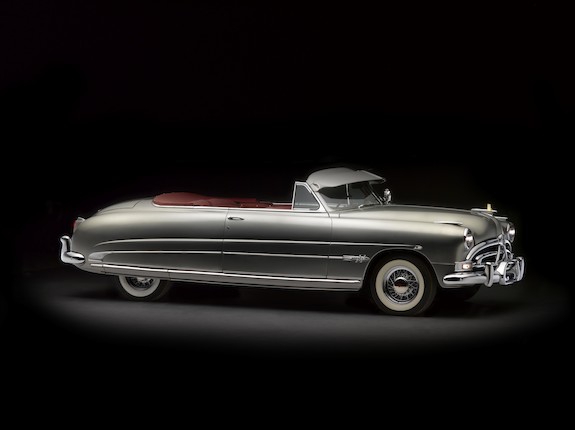 1951 HUDSON HORNET CONVERTIBLE BROUGHAM
19 August 2016, 11:00 PDT
Carmel, Quail Lodge & Golf Club
Sold for US$192,500 inc. premium
Own a similar item?
Submit your item online for a free auction estimate.
How to sell
Looking for a similar item?
Our Collector Cars specialists can help you find a similar item at an auction or via a private sale.
Find your local specialist
Ask about this lot
Mark Osborne
Vice President
1951 HUDSON HORNET CONVERTIBLE BROUGHAM

Chassis no. 7A122578

308ci Inline 6-Cylinder Engine
Twin H-Power Carburetors
160bhp at 3,800rpm
Hydramatic Dual-Range Transmission
Independent Front Suspension – Live Rear Axle
4-Wheel Drum Brakes

*Expertly restored by marque-specialists 21st Century Hudson
*Beautiful Newport Gray over Maroon color combination
*Loaded with period-correct accessories and Twin H-Power induction system
*A classic and iconic piece of open top Americana


THE HUDSON HORNET

Hudson was among the first of the Detroit automakers to introduce new models after World War II, and they were without question the most dramatically different of all of the new designs.

Hudson's innovation for 1948 was the "step-down" chassis with the foot wells recessed between the widened chassis rails. This was an early expression of the "unit body" concept, which merged the body and frame in a single, welded unit. The rear chassis rails passed outside the rear wheels, which was in contrast to the other American automobiles of the era. Rather, the Hudson's rear fender skirts were functional, they were not just a stylistic embellishment. The model was marketed as the step-down Hudson, and the cars were only five feet high. They were among the fastest, best handling cars around, combining Hudson's competent 6- and 8-cylinder engines with the low center of gravity and relatively light weight of the step-down design.

Hudson highlighted the 1951 model year with a new Hornet model, which empowered the already dramatic step-down design with a larger engine. At the heart of the Hornet was an evolution of the new Super Six engine which had been introduced in the step-down model in 1948, but enlarged to 308ci. The most powerful Six on the market, it was soon campaigning on the stock car tracks, rolling up six first-place finishes on the competitive NASCAR circuit.


THE MOTORCAR OFFERED

Built in September of 1951, this beautiful Hornet Convertible Brougham emerged from Hudson's Detroit facility with its iconic step-down body believed to have been finished in sleek Newport Gray paint over a plush Maroon leather interior, the same combination it bares today.

Recently, this stylish convertible was carefully and thoroughly restored by Hudson expert Russell Maas of 21st Century Hudson in Heyworth, Illinois. Stripped down to bare metal, this elegant convertible was repainted in elegant Newport Gray with a reupholstered Maroon leather interior to match, featuring maroon velour carpeting, correct leather-grain dash, and a new smart black convertible top with matching maroon piping protecting the new hides from the elements. The extensive bright work received similar attention, with stainless pieces brought to a high polish and re-plated chrome pieces.

Exacting work was carried out on all major mechanical systems of this rare Hudson. The powerful 6-cylinder engine was refurbished, and now delivers great performance thanks to its Twin-H Power intake and dual carburetors. Hudson specialist Gus Souza was tasked with refurbishing the Dual Range Hydramatic transmission, which smoothly shifts through the gears, driving the rebuilt rear end. The suspension and braking systems were addressed as well, with new brake lines, cylinders, springs and king pins introduced.

All told, this classic Hudson is in exceptional condition throughout and is fitted with many desirable period accessories, including Kelsey Hayes wire wheels, a paint-matched sun visor, driver side spotlight, and Hudson's venerable Twin-H Power intake.

With low production numbers, era-defining style, and class-leading performance, the Hudson Hornet Convertible is a highly desirable automobile from one of America's greatest firms. With exceptional restoration work throughout its 208-inch footprint, this Hornet offers an excellent combination of rarity, quality, and performance in one stylish package.