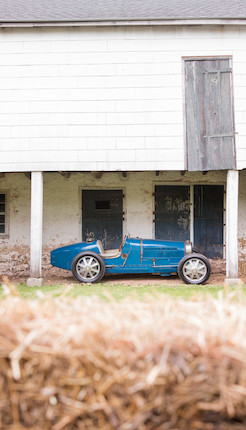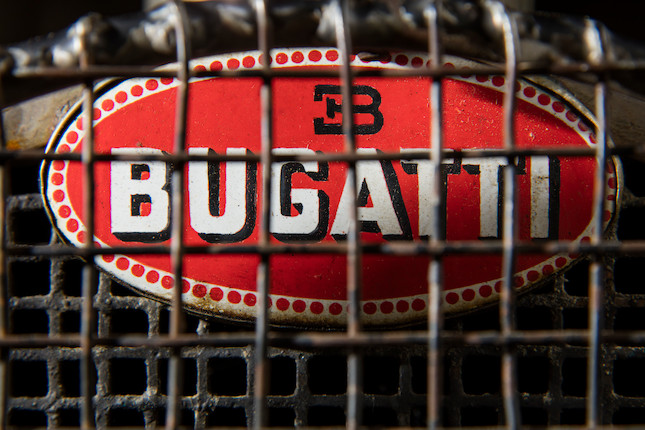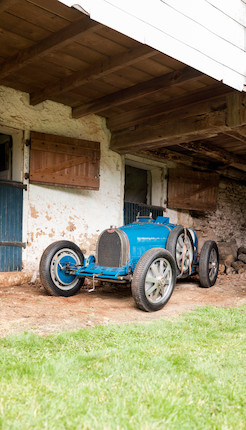 The Ex-Earl Howe, Hon. Brian Lewis, Piero Taruffi, Tazio Nuvolari, Arthur Dobson, and Bill Serri Jr.
1931 BUGATTI TYPE 51 GRAND PRIX RACING TWO SEATER
19 August 2016, 11:00 PDT
Carmel, Quail Lodge & Golf Club
Sold for US$4,000,000 inc. premium
Own a similar item?
Submit your item online for a free auction estimate.
How to sell
Looking for a similar item?
Our Collector Cars specialists can help you find a similar item at an auction or via a private sale.
Find your local specialist
Ask about this lot
Mark Osborne
Vice President
The Ex-Earl Howe, Hon. Brian Lewis, Piero Taruffi, Tazio Nuvolari, Arthur Dobson, and Bill Serri Jr.
1931 BUGATTI TYPE 51 GRAND PRIX RACING TWO SEATER

Chassis no. 51121
Engine no. 2
2,262cc, DOHC Inline 8-Cylinder Engine
Single Zenith carburetor with Roots-Type Supercharger 160-180hp at 5,000rpm
4-Speed Manual Transmission
Front, Semi-Elliptic Leaf Spring, Rear, Quarter-Elliptic Leaf Spring Suspension
4-Wheel Cable-Operated Drum Brakes
*Four times Monaco Entrant, outstanding racing provenance
*Known history from new
*Current ownership for more than 3 decades
*Miller-influenced Twin Cam Bugatti
Watch video of this Bugatti Type 51 in motion!
(
Special thanks to Dr. Frederick Simeone and the Simeone Foundation Automotive Museum
)
EARL HOWE
While the immortal Bugatti Type 51 Grand Prix car design requires little introduction, neither should the contemporary stature of this particularly mouth-watering example's original owner ex-works – and the man who campaigned the car Internationally during the first four years of its long active life – the aristocratic British owner/driver, the Earl Howe.
Francis Richard Henry Penn Curzon CBE, held the titles Viscount Curzon and the 5th Earl Howe. He had been born in Mayfair, London, on May 1, 1884, into an illustrious Royal Navy family. In 1918 he won the Battersea South parliamentary seat for the Conservative Party, and he served as Member of Parliament for the constituency for the next ten years, until 1929.
Although an extremely enthusiastic motorist for the greater part of his life he did not begin racing seriously until he was already 44 years old. Earl Howe then became not only one of Great Britain's best-known racing drivers, he also became one of its most successful and high-profile motor sportsmen. He was President of the British Racing Drivers' Club, and after World War 2 would assume a wonderfully effective and popular role as the great elder statesman of British motor sport.
His driving career began in 1928 when he drove his first major motor race in the 1928 Irish TT. By 1930 he had bought Rudolf Caracciola's ageing Mercedes-Benz SSK and in 1931 he campaigned an Alfa Romeo 8C-2300 in partnership with his celebrated friend Sir Henry 'Tim' Birkin, and in partnership they won the Le Mans 24-Hour race...no less.
It was in that same year that the Earl bought Bugatti Type 51 chassis serial '51121' as now offered here, and he would continue racing during the early to mid-1930s with this Type 51, together with a 1.5 litre supercharged straight-eight Delage, assorted MGs and Alfa Romeos before buying an ERA single-seater voiturette (the contemporary equivalent of a 'GP2' category car) for the 1936 season, subsequently becoming part of the ERA works team.
An ugly accident which he was fortunate to survive during the Campbell Trophy race at Brooklands in 1937 sidelined him for much of that year, and postwar he would assume his elder-statesman role within British motor sport, prominent in racing organisation and a leading member of the British RAC Competition Committee.
All of Earl Howe's racing cars were meticulously prepared – largely by his long-faithful personal mechanic Percy Thomas - and the Earl was habitually immaculate in his polo-style hard-shelled blue crash helmet and BRDC-badged silk overalls. Thus it was that Earl Howe went racing with immense style, and great Royal Navy-imbued efficiency. Contemporary British motor racing authority, Rivers Fletcher described Howe as being "...certainly strict. In his pit everything had to be 'ship-shape and Bristol fashion' and he and his car were ready right on time for scrutineering and practice: he abhorred last-minute rushes to get things ready for an event...". His cars were impeccably presented, and he adopted for them his late father's former horse-racing colors of royal-blue and silver.
Howe always regretted the fact that so few British-made cars were competitive within International racing during his career, with the ERA the shining exception. But from 1931-1933 the British industry's loss had certainly been Bugatti's gain, as Earl Howe became one of the most active and enthusiastic of British owner-drivers.
He had wisely learned the arts of race driving largely in sports cars through 1928-30 before aspiring to International Grand Prix racing in 1931. There were then two rival GP-eligible car models available for sporting-minded private owners – the Italian 8C-2300 Alfa Romeo 'Monza' and the French Type 51 Bugatti. The latter looked externally very similar to the Molsheim factory's preceding Type 35 Grand Prix model which had achieved such great success since its emergence in 1924. But the Type 51's major innovation was its new twin-overhead camshaft supercharged straight-8 cylinder engine.
BUGATTI AND MILLER
The Bugatti Type 50 road car and Type 51 Grand Prix car introduced twin-overhead camshafts to Bugatti's brand of purebred bloodstream. Famously, Ettore Bugatti based this new design upon the finest of contemporary American track-racing engine technology - which was the highly-supercharged straight-8 Miller 91...
In 1915, Los Angeles-based carburetor and engine specialist Harry Amenius Miller, together with his shop foreman Fred Offenhauser, developed an engine design derived from the best elements of an already successful 1913 Peugeot racing engine. In particular, their 181-cubic-inch straight-eight Miller engine boasted a valve-train featuring twin overhead camshafts which would come to characterize a pure-bloodline of American track racing engines culminating in the long-dominant Offenhauser in-line four-cylinder design.
The great racing Millers of the 1920s absolutely dominated American speedway racing, and the exploits of such great racing drivers as the youthful genius Frank Lockhart built the marque's legendary fame. Regulation changes saw Miller engine displacement slashed, first to 121 cu. in. and, for 1926-29, to 91 cu. in., producing the definitive Miller 91 model which appeared in both front- and rear-drive form.
In 1929, the Packard Cable Company sponsored a trio of new Miller 91s for American National Championship racing; two front-drive versions driven by 'Leon Duray' (real name George Stewart) and Ralph Hepburn and a rear-drive variant for Tony Gulotta. Duray took the two gleaming front-drive cars on a European tour, setting records at Montlhéry near Paris, France, and then at Monza Autodrome in Italy.
But the strain of road racing broke both cars, and 'Leon Duray' ran out of money. Spectator Ettore Bugatti was sufficiently impressed by the Packard Cable Special Millers to offer Duray a deal: swap the pair of them for three Type 43 Bugattis.
Did Bugatti need a couple of broken American speedy special cars? Hardly. But what Ettore Bugatti obtained from Duray was a perfect pattern to reproduce the outstanding twin-overhead camshaft engine top-end of the period. When the Bugatti Type 50 introduced twin-overhead camshaft design to the Molsheim marque, the Miller match was self-evident. In the Bugatti Type 51 - as offered here in '51121' - such twin-cam majesty made its successful return to French Grand Prix racing-car design.
At the 1931 Monaco Grand Prix the doyen of British motor racing reporters, W.F. Bradley, wrote for 'The Autocar' that the new Bugatti was "...one of the most beautiful and carefully-prepared racing cars it has been my privilege to examine in a very long experience". He described how the engine developed approximately 20 per cent more power than the Type 35 and "...is marvelously rapid in acceleration".
THE MOTORCAR OFFERED
The example offered here is one of the best known and most distinctive of all Grand Prix Bugattis.
As a good customer of Le Patron it should not be surprising that Lord Howe was able to get hold of one of the first Type 51s, which by chassis number is actually the first in the series of the 40 cars built, '51121'. He had ordered it through Colonel Sorel, the British concessionaire and actually took delivery of it ex-works on April 14, 1931. One of the benefits as a prominently owned privateer car and domiciled in the UK is that its racing history is so easily chartable and undisputed, an aspect which is much harder to establish with as opposed to Works cars which were invariably rebuilt between races.
Its career began a few days later, when Earl Howe was present at that 1931 Monaco Grand Prix with his then brand-new car, the individual machine now offered here, freshly liveried in dark green paintwork.
An inauspicious start, which saw him retire when a cam-box stud pulled out, did not deter him, the occasion heralding more than 3 years of racing in his custody. Next, he shared the driving with the Hon. Brian Lewis – later to become Lord Essendon – in the French GP at Montlhéry, finishing 12th. In the German GP at the Nurburgring Howe finished, but too far off the pace to be classified. Co-driving with Clifton Penn-Hughes – another British Bugatti specialist – Howe then contested the BRDC '500' race at Brooklands, but again was forced to retire.
By now the Type 51 had gained Howe's racing colors of blue and silver along its sides and distinctive larger filler caps, ensuring that it stands out from a frequently Bugatti dominated grid in all contemporary photographs.
Earl Howe retained '51121' for 1932, initially taking it back to Monte Carlo where this time he finished a fine fourth overall behind the works Bugattis and Alfa Romeo 8C. Howe was really improving as a racing driver, as he then won the Mountain Handicap race at Brooklands after starting from scratch, and averaging 73.64mph on the famous short circuit around the Member's Hill. He then hill-climbed the Bugatti at Shelsley Walsh, returning Fastest Time of the Day at 44 seconds, and then deep into Europe – at the Klausenpass mountain climb, Howe set third FTD on the dauntingly long and arduous course.
He then tackled a second BRDC '500' with the Bugatti, this time lapping the Brooklands Outer Circuit at an average speed of 126mph – demonstrating the Type 51's startling performance potential – before being forced to retire as the pounding from the bumpy high bankings split the fuel tank.
The British Earl then tackled his third consecutive Monaco Grand Prix with the car in 1933, being sidelined this time by rear axle failure. In the French GP he was hit in the eye by a flying stone and had to retire as he would from the Nice GP (engine trouble) before placing tenth in that year's Italian GP at Monza.
Four British home events completed his 1933 season with the Bugatti – setting 2nd FTD in both the Brighton Speed Trials and at Shelsley Walsh, before winning an Invitation race at Donington Park. Finally, back at Brooklands, he loaned the car to guest Italian driver Piero Taruffi, who promptly finished 2nd with it in the Mountain Championship race...while the towering Italian Champion Tazio Nuvolari – none other, absolutely racing royalty at that time – also sampled the car during practice there...
Howe must really have enjoyed this Bugatti Type 51 since he retained it despite its advancing obsolescence for the 1934 competition season. His outings in the car that year were highlighted by fifth place in the Marne GP at Reims-Gueux and 7th in the Nice GP. Back home he finished 5th in the JCC International Trophy race at Brooklands, before winning the Gold Star Handicap race at the Whit-Monday Brooklands Meeting. Third places at Shelsley Walsh and in the Donington Trophy race completed his programme, in which Howe also competed in a more modern 3-litre Maserati.
At last the Type 51 had become surplus to the Earl's requirements, and he sold it to a most capable fellow British driver, Arthur Dobson – later to make his name as ERA works driver. He fitted a pre-selector gearbox in place of the Type 51's conventional original and third in class at Shelsley Walsh was his best result through 1935 before he sold the car to enthusiastic garage proprietor C. Mervyn White, of Chalfont St. Peter, Buckinghamshire.
Mervyn White then finished 2nd with the car in a 1936 Brooklands Long Handicap race, and also contested the Leinster Trophy in Eire, the JCC International Trophy at Donington Park and the Donington Grand Prix, but unreliability intruded each time.
Early in 1937, Mervyn White then won the Brooklands Easter meeting Long Handicap race at 121.4mph and took a 3rd place in the Broadcast Trophy race there. He ran in the Brooklands Campbell Trophy and at Donington Park but – returning to race in Eire - during practice for the Cork GP he crashed badly at the Carrigrohane circuit's Gravel Pit Bend, the Bugatti overturned and Mervyn White suffered severe head injuries, to which he succumbed four days later in Cork's Mercy Hospital.
The Bugatti – its damage largely confined to front and rear axles and the tail bodywork - was later acquired jointly by Arthur Baron, owner of a Bugatti garage in Dorking, Surrey (who also owned a Bugatti Type 59) and his business partner Norman Lewis.
They rebuilt the car, and competed with it during 1938. In 1939 it returned to Shelsley Walsh, winning its class there driven by Norman Lewis, and it won again at Wetherby in Yorkshire while also competing at Prescott hill-climb. From Baron and Lewis, the car then passed to one D.M. Jenkinson – not to be confused with Denis Jenkinson of 'Motor Sport' magazine fame, whose initials were D.S.J. – whose family owned the Mount Pleasant Hotel on the Great North Road, just outside Doncaster.
In 1954 the car was acquired by one A.M. Mackay of Symonds Hyde, Hatfield, Hertfordshire. It was little seen in Mr. Mackay's ownership – so far as the Bugatti Owners' Club would record – but was rebuilt by noted Bugatti specialist Geoffrey St. John.
In 1983 the current owner, a passionate Bugattiste decided to acquire a great Grand Prix Bugatti, and to do so enlisted the help of renowned Bugatti aficionado Bill Serri. Serri advised of a particularly good car that was available in Switzerland and he was promptly sent off to inspect it. However, while on his travels he took the opportunity to traverse back through the U.K. and to visit Mackay, as a courtesy and to compare notes with the other car he had inspected as he knew Mackay's car to be one of the best of all. Serri's dialogue with Mackay was incredibly timely as when he arrived, he found Mackay to be fixated on trying to acquire a neighboring farm to his property. 'Why buy the car in Switzerland?' he said, knowing that if he could sell the Bugatti, the farm would be his! Calls and Telexes were quickly made back to New York and a deal was struck within hours... A few days later the Bugatti was flown to the States and into the stable where it has resided for the last 30 years.
Initially in this ownership the car was exercised, with occasional appearances at Bridgehampton. One particularly fond memory of its owner was when he got to drive the car in front of famed Bugatti driver and later New York restauranteur, Rene Dreyfus. Latterly, like a true thoroughbred it was laid up in its stable and has not been seen publicly for many years.
Arriving on the market for the first time at public auction, this remarkable Bugatti has recently been entrusted to renowned engineering experts Leydon Restorations of Lahaska, Pennsylvania who have systematically and sympathetically checked through its engine and the car has been made to run again. At a recent 'firing-up' the awesome Twin Cam was shown to be in rude health and sounding particularly strong, although naturally the restorers advise that a thorough re-commissioning be made before it be used or campaigned properly.
On that day, it provided the opportunity for the cataloguer to sample the incredible performance of this iconic pure bred Bugatti, to appreciate just how drivable and tractable these cars are, and to understand why a number of people elect to use them for fast road touring as well as competition. Viewed today, the Howe Type 51 has as impressive a presence as it does sound, its older refurbished paintwork and general aesthetics have gained a charming patina matching the majority of its pigskin upholstery which may well date back to the war and is in remarkably good order.
On the technical side, despite such an active early career it retains its original chassis, matched stamped engine crankcase and rear axle, while the aforementioned gearbox was later returned to a period correct unit. Along the way, given its racing career it is thought that inevitably some of the metal skin would have been replaced, although major items such as its hood and accompanying undertrays are clearly original. All of this has been verified in June 2016 by respected marque historian Mark Morris who has completed a report on it which accompanies the car. During this inspection, some elements such as the presence of harnessing points for dual spare tires came to light which intriguingly allude to potential use in the Targa Florio race in Sicily which Bugatti so dominated through the 1920s, pre-Howe, if true this could only enhance the spectacular racing heritage of his steed.
The finest and most compelling of all connoisseur collector's cars are those that are not only enduring examples of the original manufacturer's work. They are also those cars whose surviving fabric in essence bears the fingerprints of bygone owners of the most sublime International repute and renown.
In Bugatti Type 51 chassis '51121' offered here, its long-term ownership and association with the great British motor sporting personality of Francis, Earl Howe, Viscount Curzon, adds particular savor. Add the fact that at the Brooklands Autumn Meeting of October 1933 – on his way back home to Italy after winning the RAC Tourist Trophy race at Ards in Ulster for MG – none other than the legendary Tazio Nuvolari also drove Earl Howe's '51121' as offered here. So here one has the added 'finger print' of association with arguably the greatest race car driver of all time, a claim frequently attributed in the histories of Grand Prix cars, but rarely substantiated factually.
With its fascinating connection to the Miller dynasty, in technical and historical terms there can be few cars of such stature as this Franco-American Bugatti. We heartily recommend '51121' offered here for the most careful connoisseurial consideration, this is indeed a most important Type 51.
Footnotes
Offered on a Bill of Sale