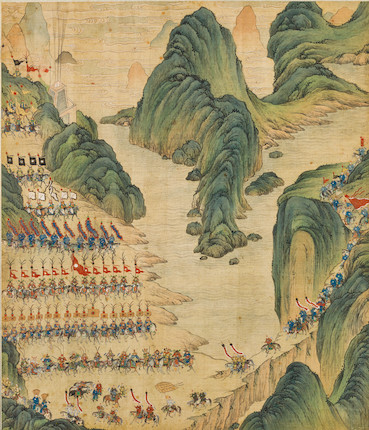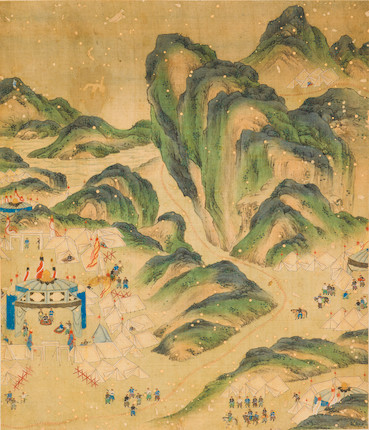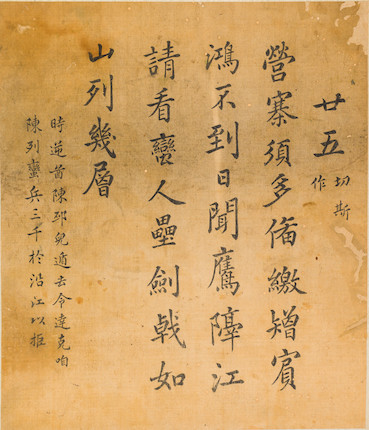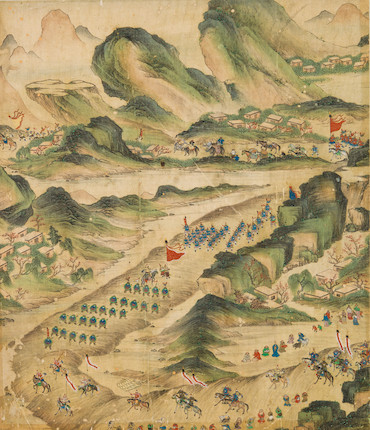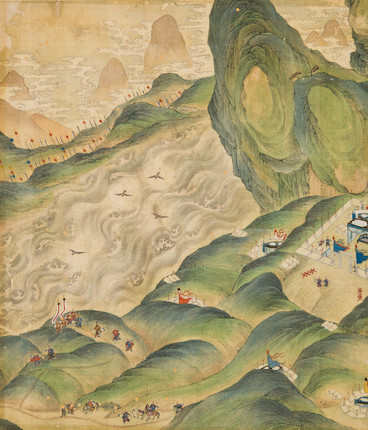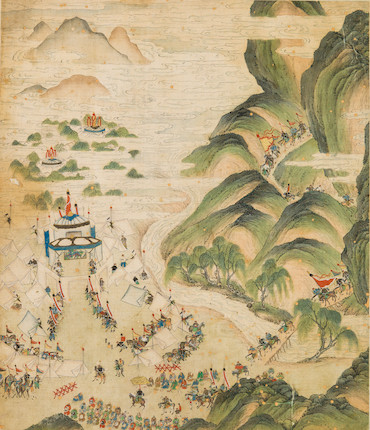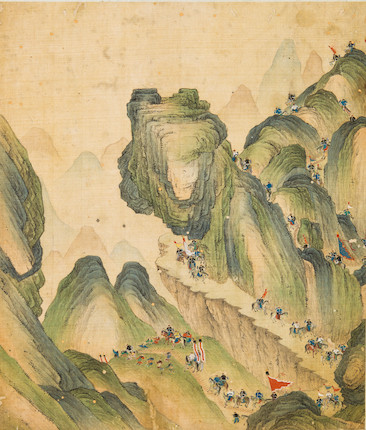 The Property of a Gentleman 紳士藏品
An album with seven sections of a painting
Early 18th century
2 June 2016, 10:30 HKT
Hong Kong, Admiralty
Sold for HK$687,500 inc. premium
Own a similar item?
Submit your item online for a free auction estimate.
How to sell
Looking for a similar item?
Our Chinese Ceramics & Works of Art specialists can help you find a similar item at an auction or via a private sale.
Find your local specialist
Ask about this lot
Chinese Art (HK)
An album with seven sections of a painting
Early 18th century
Ink and colour on silk, comprising seven album leaves depicting scenes of the Qing military expedition to Tibet of 1720, leaf four with accompanying separate leaf with a kaishu inscription, detached album cover.
Each: 46cm (18 1/8in) x 39.5cm (15 1/2in) (9).
Footnotes
十八世紀早期 設色絹本圖冊七開 佚名

Provenance 來源:
Lieutenant-Colonel T.S.Cox and thence by descent

T.S.Cox中校舊藏,後由其家族繼承

Lieutenant-Colonel T.S.Cox time in China 1900 – 1902
T.S.Cox中校1900至1902年在華期間

Lieutenant-Colonel T.S.Cox graduated from Sandhurst Military Academy in 1892 and was commissioned in 1894 in the 16th Indian Cavalry, The Bengal Lancers. His noteworthy military service included in 1897, Tochi Field Force, N.W. Frontier; and in 1900, the China Expeditionary Force during the Boxer Rebellion, when he was awarded the US Military Order of the Dragon. In 1901 he was seconded as the Advisor to the Chinese Government and awarded an Imperial decoration by Shanqi, Prince Su (1866-1922). In 1903 he was elected to the Royal Geographical Society. In 1903 he served as Captain in the Indian Army; between 1904–1907, he was posted in the D.M.O. War Office, London, the Balkans, Asia Minor, Somaliland, Abyssinia, Russian central Asia, and Ottoman Middle East; in 1911 he was awarded the King George V Delhi Coronation Durbar medal. Between 1912-1913 he was posted in the Middle East and Central Asia. In 1915, he took part in the Gallipoli Campaign and in 1916 transferred to command the 37th Dogras. In 1917 he served in the Mesopotamian campaign and was wounded whilst serving in the Aden Field Force. In 1920 he served with the Waziristan Field Force, NW Frontier; in 1921 he transferred to command the 3rd Madras Regiment and in 1925 retired from the Indian Army as Lieutenant-Colonel.

July 1900: Cox was ordered to North China to join China Expeditionary Force to relieve the siege of the Beijing International Legation Area by Chinese 'Boxers'. Collected a troop of 16th Bengal Lancers in Hong Kong on August 15 1900 and disembarked at Sinho for Tianjin on September 11. Advanced on Beijing September/October 1900. Subsequently placed in charge of a 'Flying Column' sent to capture Boxer leaders at Baoding, a hundred miles south-west of Beijing. Campaign medal, and learned to speak Chinese. Passed 6-day Chinese language examination.

January - June 1901 worked for the British Military Commander, General Sir Alfred Gaselee, and awarded Military Order of the Dragon in April. July 1901 promoted Staff Captain and seconded to raise and train a Battalion of Chinese Railway Police, whose task was to guard the Beijing, Tongshan, and Tianjin districts for the British High Command, stationed at the Temple of Heaven in Beijing.

January 1 – December 25 1902 Cox was the Officer Commanding Railway Police, Chinese Imperial Railways, most of this time under contract to the Chinese Imperial Government. In addition to this role, from June 1 to December 1902 he was 'Confidential Adviser' to His Imperial Highness Prince Su, Governor of Beijing (the Emperors uncle), and from August 15 to December 1902 also 'Confidential Adviser' to His Imperial Highness Prince Qing, Head of Chinese Octroi (Customs) Department. Cox received a Letter of Appreciation and was awarded a Chinese Imperial Decoration for his services. He left Beijing for India on December 25 1902.

T.S.Cox中校1892年畢業於桑德赫斯特皇家軍事學院,1894年加入印度騎兵團第十六團,1897年參加巴基斯坦奇山戰役,駐守西北前線。1900年,入華參與鎮壓義和團運動,1901年受命於清政府並受到肅親王嘉獎,1903年被選入皇家地理協會。1903年受命為英屬印度軍指揮官。1904至1907年間,曾被派駐倫敦、巴爾幹半島地區、安納托利亞地區、索馬裡闌地區、阿比西尼亞、俄羅斯、土耳其地區等等。1911年,被授予喬治王五世德里杜爾巴勳章。1912年至1913年間,又被派駐中東及中亞地區。1915年,參加第一次世界大戰的加里波利之戰,並於1916年調遣指揮第37軍團。1917年,參加美索不達米亞戰役時受傷。1920年參加窩茲日斯坦戰役。1921年調遣指揮英屬印度陸軍第三軍團,最後於1925年正式退伍。

1900年7月:被派入華解救受到義和團圍攻的北京使館區。於1900年8月15日從香港帶領英屬印度騎兵團第十六團出發前往天津,於9月11日登岸,次月抵達北京,並受命指揮衝擊隊於京城西南處追拿義和團首領。當年榮獲勳章,並學習中文。

1901年1月至6月效命於英軍司令阿弗萊德將軍,並於同年四月獲得勳章。1901年7月被升任為副司令,負責訓練在華的鐵路守道軍,任務是保護英國公使在北京的安全。

1902年1月1日至12月25日,被清廷任命為鐵路守道軍總指揮,期間與清政府有密切往來。1902年6月1日至12月,被肅親王秘任為貼身顧問,並在同年8月15日至12月被慶親王密任為貼身顧問。期間多次受到清廷的嘉獎,最後於1902年12月25日離京返回印度。

The rare documentary series of paintings depict scenes commemorating the Qing military campaign in Tibet in 1720, when the Kangxi emperor sent an army to expel the Dzungar Mongols from Tibet and established a Chinese protectorate over the country.

In 1719, the Kangxi emperor mobilised two simultaneous invading forces to Tibet: a main expedition force of twelve thousand troops from Kokonor (modern day Qinghai province) and another force numbering three thousand troops (one thousand Manchu troops and two thousand Green Standard troops) departing from Sichuan province. Qing soldiers including elite Bannermen from the Eight Banners were called to arms for the war effort involving at least three divisions: Bordered Yellow Banner (鑲黃旗), Bordered Red Banner (鑲紅旗) and Bordered Blue Banner (鑲藍旗), as depicted on the present lot. The mastermind behind this campaign was Nian Gengyao (1679-1726), a Chinese military commander with extensive military experience on the western frontier of the Qing empire. On 24 September 1720, the Sichuan expedition conquered Lhasa; see Dai Yingcong, The Sichuan Frontier and Tibet: Imperial Strategy in the Early Qing, University of Washington Press, 2009, p.81.

The fourth section of the paintings is accompanied by inscription, which reads:

廿五
切斯作
營寨須多備繳矰,賓鴻不到日聞鷹。
隔江請看蠻人壘,劍戟如山列幾層。
時逆酋陳邳兒遁去,令達克咱陳列蠻兵三千,於沿江以拒。

and can be translated as:

Twenty-five
By Qiesi
The military camps needs to prepare as many arrows and traps as possible,
cry of the eagles heard at dawn but our allies have yet to arrive.
Across the river are the ramparts of the enemy barbarians,
their swords and spears plenty in layers like mountains.
The leader of the enemy Chen Pier retreated,
he ordered Da Kezan to take command of three thousand troops,
and resisted us at the river.

該圖冊應是描繪清康熙五十六年(1717年)至五十九年(1720年)之間清軍平定西藏準格爾部的戰爭場面。準噶爾部是厄魯特蒙古的一部。康熙十六年(1677年),準噶爾部首領噶爾丹發動分裂叛亂,康熙皇帝派兵十萬,分中、西、東路平定叛亂。

此七開冊頁中,大部分為描繪清軍八旗將領率部隊穿過天險、深入藏地安營紮寨之畫面。其中一開附有題記,交代此開所繪是清軍與巴達克咱率領的藏兵在噶爾招穆倫渡口相遇的場面。康熙五十九年七月底至八月初,南路清軍在噶爾弼率領下自成都啟程,經打箭爐(今康定)、裡塘、巴塘,於六月間至察木多(今西藏昌都);七月底八月初進至拉裡(今西藏嘉黎)。當時大策零敦多布派吹木丕勒寨桑,率藏兵守禦墨竹工卡。噶爾弼改變原定等候中路大軍的計畫,於八月初六日直撲墨竹工卡。吹木丕勒寨桑逃往達木,墨竹工卡的呼圖克圖歸順清軍。清軍順利佔領墨竹工卡後,即向噶爾招穆倫渡口進軍。

平定準噶爾之役歷康熙、雍正、乾隆三朝,前後長達七十年。乾隆皇帝最後平定準噶爾後,西域天山南北盡入版圖,與天山以南的回部合稱西域新疆。