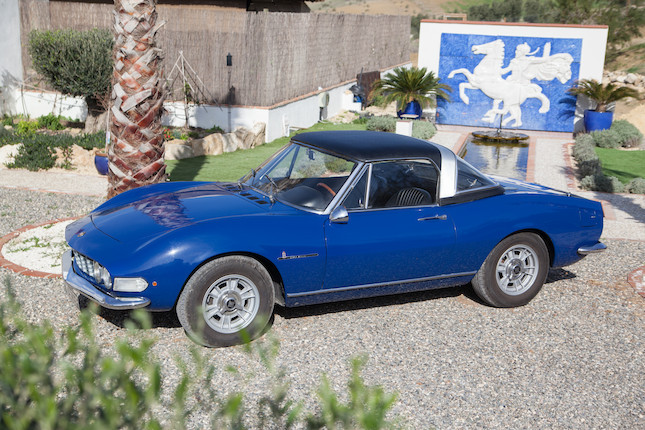 FIAT Dino 2.0 Spider avec hardtop 1967
4 February 2016, 14:00 CET
Paris, The Grand Palais
Own a similar item?
Submit your item online for a free auction estimate.
How to sell
Looking for a similar item?
Our Collector Cars specialists can help you find a similar item at an auction or via a private sale.
Find your local specialist
Ask about this lot
Philip Kantor
International Chairman for Motoring
FIAT Dino 2.0 Spider avec hardtop 1967
Carrosserie Pininfarina
Châssis n°135AS000696
Moteur n°0000668

•Vendue neuve en Italie
•Couleurs, numéros de châssis et moteur concordants
•Longtemps restée entre les mains d'un propriétaire privé

Au milieu des années 1960, Ferrari fut dans l'obligation de disposer d'un moteur de deux litres produit en série pour courir en Formule 2 en comptant sur la Dino à moteur central comme type de base. Confrontée à l'impossibilité de produire ce moteur à 500 exemplaires par an, minimum requis par le règlement pour obtenir l'homologation, Ferrari sollicita l'aide de FIAT. Cette dernière accepta de construire le moteur V6 à 4 ACT de la Dino et cet accord déboucha sur un type dérivé produit par FIAT. Lancée au Salon de Turin 1966 sous la forme de la Spyder à carrosserie Pininfarina, la FIAT Dino qui recevait le moteur V6 deux litres de 160 ch installé de façon conventionnelle à l'avant du châssis fut remarquable en ce sens qu'elle fut la première FIAT équipée d'origine d'un moteur à 4 ACT et d'un différentiel à glissement limité. Carrossée en acier, la nouvelle FIAT Dino qui utilisait une boîte FIAT à 5 rapports se caractérisait par une suspension avant indépendante à base de triangles et de ressorts hélicoïdaux, un pont arrière rigide oscillant et quatre freins à disque. Un modèle Coupé sur empattement allongé carrossé par Bertone apparut l'année suivante et en 1969, la cylindrée du moteur V6 fut portée à 2 418 cm3, tandis qu'en même temps étaient adoptées une boîte de vitesses ZF et la suspension arrière à roues indépendantes avec bras longitudinaux empruntée à la FIAT 130. La puissance passa à 180 ch (DIN) à 6 600 tr/min. Les révisions de style furent limitées, dans le cas de la Spyder à une nouvelle calandre, à une moulure centrale en caoutchouc sur les pare-chocs et à des centres de roue différents, tandis que l'intérieur bénéficiait d'une planche de bord munie de nouveaux contacteurs et d'une moquette dans le coffre. Élégante voiture à quatre places, la FIAT Dino accélérait de 0 à 100 km/h en 8 secondes environ et pouvait atteindre 210 km/h en émettant une sonorité très Ferrari. La production fut arrêtée en 1972.

Livrée neuve à Parme, en Italie, et immatriculée pour la première fois en 1968, cette FIAT Dino Spyder acquise auprès du concessionnaire Landmark en septembre 2014 est actuellement immatriculée au Royaume-Uni. Peinte dans sa teinte d'origine French Blue, elle possède son moteur d'origine, son démarreur Dinoplex et sa radio d'origine, cette dernière ne fonctionnant pas. Affichant 80 354 km au compteur, la Dino n'a eu au total que cinq propriétaires dont un qui la conserva de 1973 à 2008, soit 35 années au total. On notera qu'elle est chaussée de pneus neufs, d'un coupe-batterie (dans le coffre), de ceintures ventrales et d'un système auxiliaire de refroidissement du moteur. Décrite comme étant en bon état général, cette très désirable Dino de la première série est offerte avec son certificat de vente de 2014, un certificat d'exportation permanente (au Royaume-Uni), d'un rapport du MoT et de son document d'immatriculation au Royaume-Uni V5C.

1967 FIAT Dino 2.0 Spider with Hardtop
Coachwork by Pininfarina
Chassis no. 135AS000696
Engine no. 0000668

•Delivered new in Italy
•Matching numbers and colours example
•Long-term private ownership

In the mid 1960s, Ferrari needed a 2.0-litre production-based engine for the new Formula 2, conceiving the mid-engined Dino to provide the necessary basis. Faced with the daunting task of building 500 units per annum to meet the homologation requirements, Ferrari turned to FIAT for assistance, the resulting agreement for the latter to build the Dino's four-cam V6 engine leading to a spin-off model for FIAT. Launched in Pininfarina-bodied Spider form at the 1966 Turin Show, the FIAT Dino carried its 2.0-litre, 160bhp engine ahead of the driver in conventional manner and was notable as the first FIAT to employ four overhead camshafts and a limited-slip differential as standard. Steel bodied, the newcomer employed a FIAT five-speed gearbox and featured independent front suspension by means of wishbones and coil springs, a live rear axle and disc brakes all round. A longer-wheelbase Coupé model with Bertone coachwork appeared the following year and in 1969 the V6 engine's capacity was increased to 2,418cc, a ZF gearbox and FIAT 130-type trailing-arm independent rear suspension being adopted at the same time. Power went up to 180bhp (DIN) at 6,600rpm. Styling changes were few: in the Spider's case being confined to a new front grille, rubber centre strips in the bumpers and different wheel centres, while the interior benefited from improved switch gear and a carpeted boot. A stylish conveyance for four, the FIAT Dino raced to 100km/h in around 8 seconds and could reach 210km/h while making all the right Ferrari-esque noises. Production ceased in 1972.

Delivered new to Parma, Italy and first registered in 1968, this FIAT Dino Spider was purchased from the Landmark dealership in September 2014 and is currently registered in the UK. The car is finished in its original colour scheme of French Blue, and retains its original engine, original Dinoplex starter motor and original radio, although the latter is not working. Currently displaying a total of 80,354 kilometres on the odometer, the Dino has had only five owners in total, one of whom kept it between 1973 and 2008, a total of 35 years. Other noteworthy features include new tyres; a battery cut-off switch (in boot); laptop seat belts; and an auxiliary engine cooling. Described as in generally good condition, this highly desirable early Dino is offered with the 2014 purchase receipt; Certificate of Permanent Export (to UK); an MoT certificate; and a UK V5C registration document.