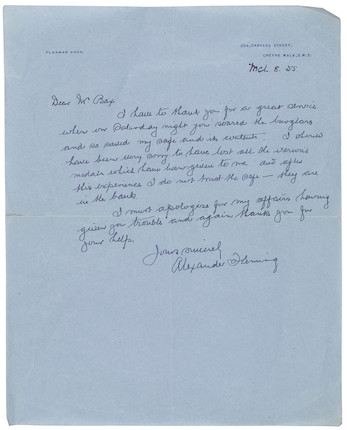 PENICILLIN.
FLEMING, ALEXANDER. 1881-1955.
Original Penicillin Mold culture,
7 December 2016, 11:00 EST
New York
Sold for US$46,250 inc. premium
Own a similar item?
Submit your item online for a free auction estimate.
How to sell
Looking for a similar item?
Our History of Science & Technology specialists can help you find a similar item at an auction or via a private sale.
Find your local specialist
Ask about this lot
Adam Stackhouse
Specialist
PENICILLIN.
FLEMING, ALEXANDER. 1881-1955. Original Penicillin Mold culture, preserved between two pieces of glass, each approx 50 mm in diameter, glass pieces sealed together with clear packing tape. Signed and dated on underside "Alexander Fleming / 1954".
WITH: An Autograph Letter Signed ("Alexander Fleming"), 1 p, [London], March 8, 1955 to Mr Bax, thanking him for saving his home from burglary. AND: A Letter from Elizabeth Montgomery (presumed Fleming's housekeeper), 2 pp, Christchurch, England, n.d., to Mr and Mrs Bax, transmitting the current sample.
Provenance: Bax Family (accompanying letters).

THE FIRST ANTIBIOTIC. Fleming's discovery of the antibacterial properties of penicillin is one of the most sensational in medical history. Fleming himself would say of it, "When I woke up just after dawn on September 28, 1928, I certainly didn't plan to revolutionise all medicine by discovering the world's first antibiotic, or bacteria killer. But I suppose that was exactly what I did." He had left a stack of staph cultures in his study next to an open window where they were contaminated by an airborne mold during his holiday. Before disposing of the cultures, he noticed that the mold had prevented normal growth by the staph. Fleming's incredible discovery was somewhat neglected until it was taken up by Howard Florey and his assistant Ernst Chain in 1938, barely in time for World War II. By the end of the War, vast quantities of penicillin were produced every month saving untold millions of lives.
In 1945, Fleming, Florey and Chain were jointly awarded the Nobel Prize in Medicine. Interestingly, the current penicillin culture directly relates to that Prize. It was given by Fleming and his housekeeper to their neighbors, the Bax family, in 1955. Mr Bax had scared off some burglars from Fleming's home and in his letter of thanks Fleming specifically says Mr Bax, "saved my safe and its contents. I should have been very sorry to have lost all the various medals which have been given to me and after this experience I do not trust the safe—they are in the bank." This makes this sample all the more piquant as presumably the Nobel Prize medal itself had been in the safe.
The letter from Fleming's housekeeper is also of interest. Of the present "souvenir of the Fleming family" she writes: "P.S. As though you didn't know - but just in case - this round affair is a blob of the original Mould of Penicillin, not to be confused with Gorgonzola cheese!!!"