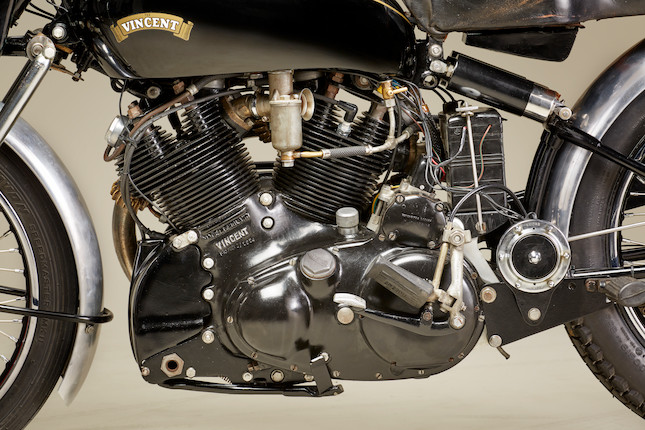 Built by Matthew Biberman to celebrate "Big Sid" Biberman's love of Vincents,1951 Vincent 998CC SERIES C "BIG SID" BLACK SHADOW

Upper and Rear Frame no. RC7754B

Frame no. RC7754B Engine no. F10AB/1B/5854
7 January 2016, 11:00 PST
Las Vegas, Bally's Hotel & Casino
Sold for US$137,000 inc. premium
Own a similar item?
Submit your item online for a free auction estimate.
How to sell
Looking for a similar item?
Our Motorcycles specialists can help you find a similar item at an auction or via a private sale.
Find your local specialist
Ask about this lot
Ben Walker
Department Director
Mark Osborne
Vice President
Built by Matthew Biberman to celebrate "Big Sid" Biberman's love of Vincents
1951 Vincent 998CC SERIES C "BIG SID" BLACK SHADOW

Upper and Rear Frame no. RC7754B

Frame no. RC7754B
Engine no. F10AB/1B/5854

This numbers matching Black Shadow left the factory in January 1951 consigned to the Indian Sales Corporation, taking delivery in New Orleans. Much later it was sold by Ed Bibelhauser to Larry Elmore on a bill of sale dated August 17, 2008, and in turn sold to Matthew Biberman on October 10, 2011. The son of legendary Vincent tuner Big Sid Biberman, Matthew has re-built this Black Shadow as a tribute to his father.

After Sid Biberman died on June 23, 2013, Jay Leno observed "the motorcycle world lost an icon." Heartfelt tributes followed in Cycle World, Classic Bike, Cafe Racer and Motorcyclist. In the book, Motorcycle Drag Racing: A History, John Stein notes that in the sixties "Big Sid Biberman's Vincent 'The Rattler' was one of the quickest in the country." In the August 2013 issue of Classic Bike, Mark Chapman writes that "at the end of its evolution, in '63-'64, The Rattler was capable of 10.5 second quarters and trap speeds in the low 140s." In the Louisville Courier Journal's obituary, Matt Frassica adds that Sid "collected 40 trophies" before explaining how Sid then chose to retire from racing and turn his attention to servicing motorcycles in his own shop.

Sid spent the next 40 years working on any motorcycle a customer would entrust to him. During this time Sid's reputation really grew. Chapman explains the legend spread that "Sid could listen to your motorcycle and tell you which tiny seal had moved on a shaft and was now chafing against a cog deep in your gearbox." In 1991, a Rapide and an Egli Sid had built won top prizes at the Daytona spring bike show, (the Egli was also featured as the centerfold in the October 1993 issue of Classic Bike). In 1998, Sid published a book in which he offered his personal account of the Vincent - its development and its notable achievements. He called it Vincents with Big Sid, and Leno wrote a moving introduction to it. A few years later the Vincent Owner's Club made Sid an honorary member, and he is a current nominee for induction into the AMA's Motorcycle Hall of Fame.

In 2000, Sid relocated to Louisville, Kentucky where he lived with his son Matthew who then spent the next 12 years learning Sid's craft. In addition to working with Sid to repair or restore approximately 40 Vincents, Matthew wrote a widely acclaimed and very successful memoir, Big Sid's Vincati. In it Matthew recounts their efforts constructing one Vincent special in order to tell the story of Sid's lifelong fascination with motorcycles. This book remains one of the most positive and most prominent accounts of motorcycling to break out into the mainstream in recent years. The media attention devoted to Sid increased once more after his triumphant return to land speed record attempts. With Matthew as crew chief and Logan Robison as pilot, "Team Big Sid" went on to set seven records at three American venues. As evidenced by the appearance of the Vincati on the cover of the UK's Classic Motorcycle Bike Guide in June 2015, Sid's status as a motorcycle icon today seems bigger than ever. He has now been the subject of three episodes of the hit TV show Café Racer as well as lengthy interview for the website Jay Leno's Garage.

Matthew bought this Black Shadow shortly after he and Sid returned from Sid's record-setting at the Bonneville Salt Flats. The previous owner Larry Elmore had known the Bibermans for years. Having now abandoned his dream of building up the bike himself, Larry sold the bike to Matthew so that, in his words, "he could become part of the Big Sid story." Sid was actively involved in the purchase of the bike, as well as prepping the bike's components for reassembly. In December 2011 the motor was shipped to the Biberman's good friend Steve Hamel in St. Paul, Minnesota. Arguably the top Vincent engine builder working today, Hamel rebuilt the flywheel assembly and fettled both the bike's lower end and heads. Unfortunately Sid died before this work was completed in November of 2014. Carrying on with the assistance of Logan Robison, Matthew built up the machine in "true Big Sid style."

Although the motor and the rolling parts have been repainted, the bike's hardware and components have been refitted without cosmetic alteration. This decision extends to refitting of the period chrome pieces. Wherever possible the pieces original to this machine have been retained. One prominent exception is the Grimeca dual throttle. As was Sid's preference, Matthew has set up the bike without the factory two-into-one throttle cable set and in so doing he has incorporated the throttle Sid had set aside from The Rattler. The result is what Sid called a "rider's mount," a Vincent that not only looks like a fitting example of the breed but one that can validate the legend through its performance.

As a way to honor his father, Matthew debuted this machine at the July 2015, North American Vincent Rally where he rode it on the group ride and for the filming of an event documentary. The bike was also featured in the 2015 Kentucky Kickdown motorcycle show where it led over 50 motorcycles on the third annual Big Sid memorial ride. In conjunction with this event, the Big Sid Black Shadow was featured in the Louisville Courier Journal.

With now more than 200 miles on the bike, Matthew is proud to bring this Shadow to auction. With a newly rebuilt magneto and generator by Doug Wood, the bike is easy to start, shifts slickly, and delivers true Shadow performance. Clutch action is good, as is braking and handling. The 6-volt electrical system is fully operational, including the horn. The bike comes complete with the tire pump under the tank and a tool tray outfitted as per the factory's provisions. Literature includes Vincent Owner's Club Dating Certificate, Works Order Form, Road Test Report, Despatch Check Sheet, and Completion note as well as a rider's handbook, and signed copies of the Bibermans' publications.

Sid would indeed be very proud to see what his son Matthew has made of this, his very last Vincent.