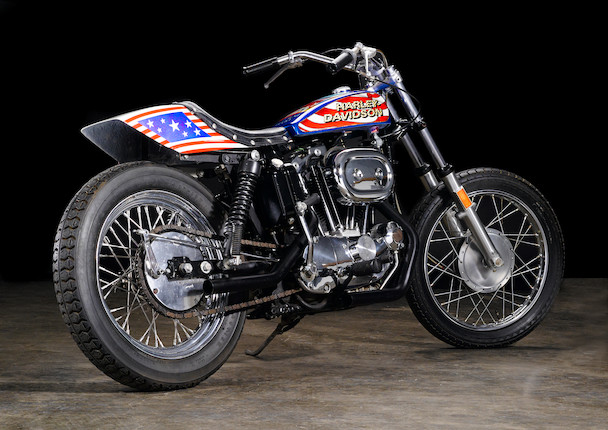 Film used, built by Bud Ekins for the movie 'Viva Knievel!',1976 Harley-Davidson XL1000 Evel Knievel Custom
Amended
7 January 2016, 11:00 PST
Las Vegas, Bally's Hotel & Casino
Own a similar item?
Submit your item online for a free auction estimate.
How to sell
Looking for a similar item?
Our Motorcycles specialists can help you find a similar item at an auction or via a private sale.
Find your local specialist
Ask about this lot
Ben Walker
Department Director
Mark Osborne
Vice President
Film used, built by Bud Ekins for the movie 'Viva Knievel!'
1976 Harley-Davidson XL1000 Evel Knievel Custom
He was perhaps the greatest showman of the 20th century and without doubt one of the most famous motorcyclists ever. High school dropout Robert Craig Knievel left Butte, Montana with not much more than a petty criminal record and an insatiable hunger for fame and money. Stints at rodeo riding, ski-jumping and semi-pro hockey had failed to deliver the desired notoriety, but the man could ride a motorcycle. As Evel Knievel, jumping ramp to ramp in a leather jumpsuit, he became a genuine cultural phenomenon to a nation reeling from the 1970s morass of the Vietnam War, Watergate and the Oil Crisis. "I came along at the right time in the right place," Knievel told writer Davey Combs. "America was down on its ass when I came along and needed somebody who was truthful and honest, someone who would spill blood and break bones and suffer brain concussions, somebody who wasn't a phony."

A measure of his popularity was the production of two feature-length films – the first, Evel Knievel, a biopic starring George Hamilton in the title role; the second, Viva Knievel!, with none other than Knievel himself playing lead. The latter was an unlikely action-adventure flick with Knievel fighting Mexican drug dealers, but it attracted a cast that included big names like Gene Kelly, Red Buttons, Lauren Hutton and Leslie Nielsen.

The mechanical stars of Viva Knievel! included this motorcycle, a 1976 Ironhead Sportster 1000 done up to look like one of Knievel's XR-750 jump bikes. Several new Sportsters were dispatched from the Harley factory for use in the movie, delivered to Dick Hutchins, a Los Angeles-area dealer. From there Warner Bros. commissioned Bud Ekins to perform cosmetic makeovers that would turn the roadsters into convincing jump bikes. Following filming, Hutchins purchased this example, which for many years was on display at the museum attached to his new dealership in Yucca Valley, California.

In the current owner's care, the bike has undergone a recent cosmetic restoration, including being repainted by George Sedlak, the man who originally painted Knievel's jump bikes and all of the motorcycles in the movie. It is sold with a letter of authenticity from Dick Hutchins.
Footnotes
Offered on a Bill of Sale.
Saleroom notices
Please note that the frame and engine numbers for this bike are 4A23219H6 and 4A23219H6 respectively.