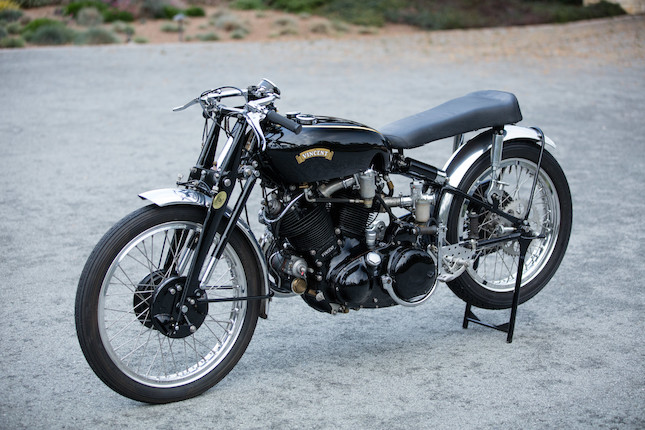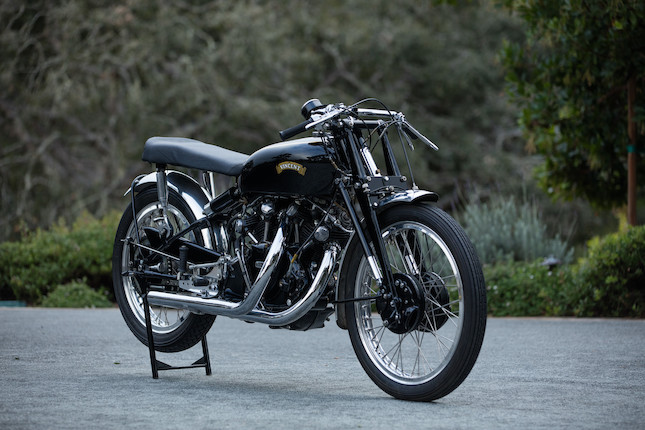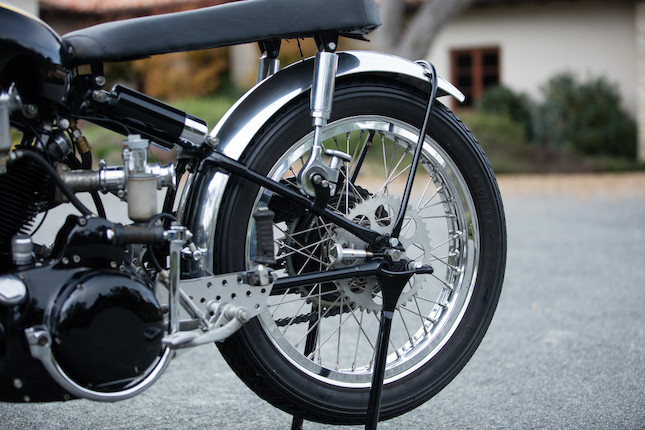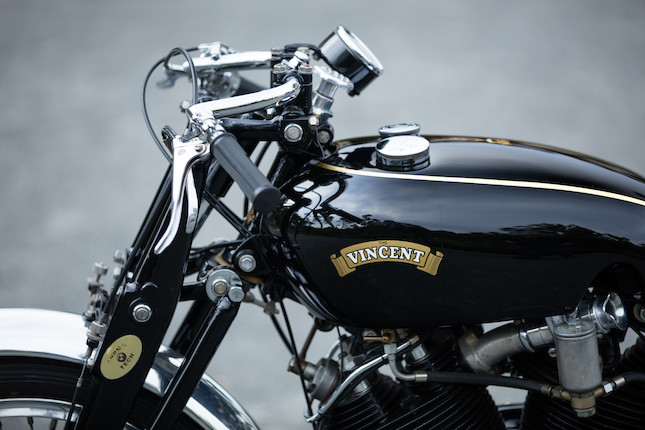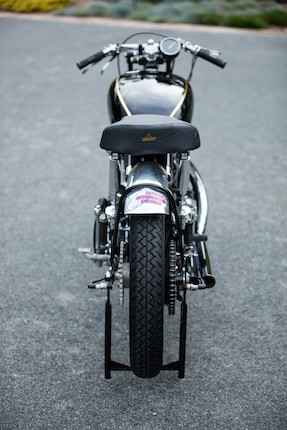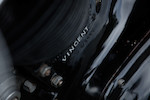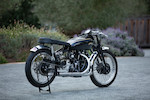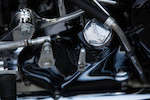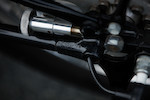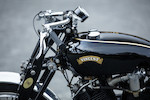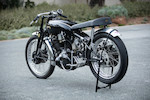 The Ex-Ed LaBelle road racer and drag bike
1952 VINCENT BLACK SHADOW SPECIAL
7 January 2016, 11:00 PST
Las Vegas, Bally's Hotel & Casino
Own a similar item?
Submit your item online for a free auction estimate.
How to sell
Looking for a similar item?
Our Motorcycles specialists can help you find a similar item at an auction or via a private sale.
Find your local specialist
Ask about this lot
Ben Walker
Department Director
Mark Osborne
Vice President
The Ex-Ed LaBelle road racer and drag bike
1952 Vincent Black Shadow Special
Frame no. RC10120B
Engine no. F10AB/1B/8220
Ed LaBelle was a skilled rider from the Philadelphia area, a Canadian road race champion three times on a Manx Norton, once hired by BMW to ride one of their prized RS54s at the Isle of Man. He sometimes rode Vincents for Gene Aucott, original U.S. distributor for the brand. In 1952 a works-built, special-order Black Shadow was delivered to the shop. It had been specified with many Lightning components, such as a Lucas KVF-TT magneto, tachometer, high-compression pistons with carburetors modified 'to suit' and 2in. straight exhaust pipes. The factory tester made note that this was a 'lively' engine.

For whatever reason, the party who ordered the Vincent could not finalize the purchase, so LaBelle put a deal together and the bike was his. He logged about 700 break-in street miles, then prepped the bike for racing. It saw duty on dragstrips and road race tracks in the U.S. and in Canada, unlimited-class road racing being popular up north. In 1964, the 'Smoker' as the bike came to be known, was on the high banks at the just-opened Daytona International Speedway, running for speed records sanctioned by the United States Motorcycle Club. Before tire wear and carburetor troubles sidelined the effort, the Vincent reportedly attained 128mph.

In the mid-1980s, his racing days over, LaBelle sold all of his Vincent bikes and inventory to Domiracer in Cincinnati, Ohio. The current owner acquired the Black Shadow special from Domiracer and undertook a complete restoration in 1994-96. Most of the work was carried out by the late Dick Busby and partner Haig Altounian. A newly rebuilt crankshaft assembly was installed, as were 9.0:1 pistons and NOS MkII racing cams/followers. All bearings were renewed. Cylinder heads were rebuilt by Vincent guru Mike Parti. Paintwork was farmed out to Vincent paint specialists Marion 'Bones' Cooper and Wayne Griffith. NOS Lightning fenders were fitted, while foot controls were replaced with NOS Black Lightning rearsets. An optional Black Lightning record-attempt rear sprocket was also installed on the left-hand side. Lightning wheels were laced up. The original KVF-TT magneto was renewed by the late Perry Gerhardt.

Freshly restored, in 1997 the Vincent was ridden for parade laps at Daytona Speedway, where it was reunited with LaBelle. Since then it has won awards at numerous concours events, including the AMA Daytona Show, Del Mar Concours, British & European Classic Motorcycle Day in Olney, Maryland, several Vincent Owner's Club rallies and the Amelia Island Concours. It was also featured in Big Sid Biberman's book. Included in this lot is the original bill of sale, a copy of the works build sheet and a certificate of authenticity from the Vincent Owner's Club.