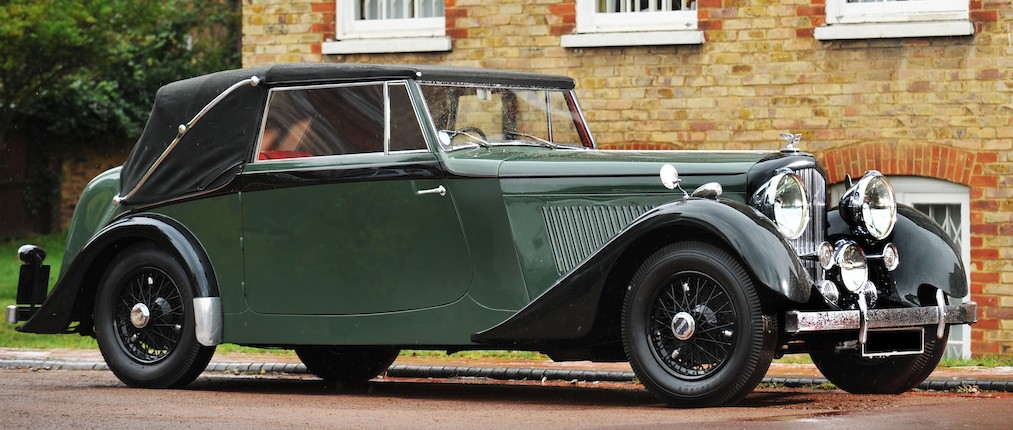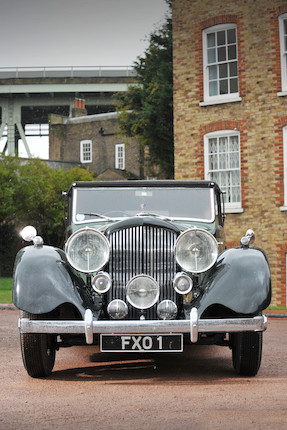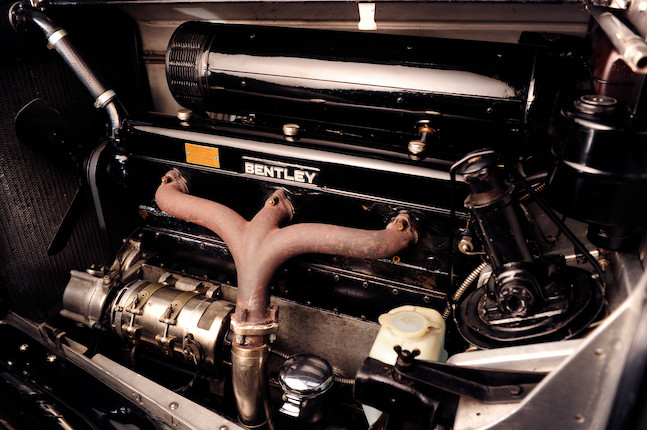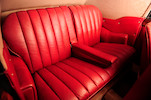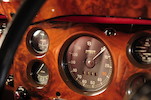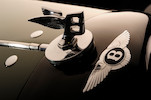 Bentley 4¼-Litre cabriolet 1939
5 September 2015, 18:15 CEST
Chantilly, Château de Chantilly and Paris
Own a similar item?
Submit your item online for a free auction estimate.
How to sell
Looking for a similar item?
Our Automobilia specialists can help you find a similar item at an auction or via a private sale.
Find your local specialist
Ask about this lot
Philip Kantor
International Chairman for Motoring
Bentley 4¼-Litre cabriolet 1939
Carrosserie Vanden Plas
Châssis n° B105MX
Moteur n° W2BC

*La quintessence des Bentley Derby anciennement propriété de Peter Blond
*L'une des neuf carrosseries de ce type
*Fraîchement restaurée avec d'importantes factures à l'appui
*Modèle MX avec overdrive très recherché

À la fin des années 1930, la Bentley « Derby », dévoilée vers le début de la décennie après la reprise de la marque par Rolls-Royce, avait subi un certain nombre de modifications, la plus importante étant l'accroissement de l'alésage en 1936 qui avait porté la capacité à 4 257 cm3, réalésage qui avait coïncidé avec l'adoption des paliers de vilebrequin Hall de meilleur qualité. Ce moteur, similaire à celui de son homologue Rolls-Royce - la 25/30 HP - comme c'était déjà le cas avec le précédent modèle 3 ½ Liter, bénéficiait de caractéristiques supérieures sur la Bentley, équipé de deux carburateurs SU, d'un taux de compression plus élevé et de cames « plus sportives ». En conséquence, la nouvelle 4 ¼ Liter offrait plus de puissance qu'avant tout en conservant l'ancien châssis, désormais bien au point, avec sa boîte infaillible et ses freins assistés par servo. C'est la construction d'autoroutes modernes en Europe centrale, permettant aux voitures de rouler longtemps à des vitesses soutenues, qui avait poussé à l'adoption des paliers à coussinets Hall et qui allait entraîner l'installation d'une boîte avec overdrive et l'amélioration du système de lubrification de l'incomparable « grande routière » de Bentley, des progrès qui correspondaient à l'arrivée des voitures de la série M, en 1939. Seulement 200, environ, furent construites en 1939 et toutes sont particulièrement recherchées aujourd'hui.

Avec son moteur 4 ¼, sa boîte avec overdrive et sa carrosserie cabriolet Vanden Plas, B105MW représente la forme la plus achevée et la plus recherchée de la Bentley Derby. Le carrossier londonien Vanden Plas s'était forgé une réputation assez flatteuse en s'associant avec Bentley, habillant près de 700 châssis au cours des années 1920, dont les voitures d'usine du Mans. La société avait survécu à la faillite de Bentley et à sa résurrection sous la direction de Rolls-Royce, en se diversifiant avec d'autres marques et en reprenant sa relation avec son partenaire pour créer quelques-uns des plus sublimes dessins sur châssis Bentley Derby, dont B105MX est sans aucun doute un des plus représentatifs.

La voiture a été livrée à son premier propriétaire, Sir Arthur Cory-Wright, le 16 juin 1939 et fait partie des neuf carrosseries de ce style signées par la carrosserie Vanden Plas, qui dans ce cas précis se distingue par sa calandre noire et l'absence de marchepieds. B105MX figure dans l'ouvrage de référence de Mervyn Frankel et Ian Strang « Bentley, the 1938/1939 Overdrive Cars » (page 183) et l'on nous signale que la Society of Automotive Historians in Britain confirme que la Bentley a bien été construite à Derby et que le numéro de châssis correspond bien à l'année-modèle.

En 1979, la voiture a été acquise par le précédent propriétaire Peter Blond – ancien pilote à Goodwood, Le Mans et autres et éminent collectionneur – qui a commandé une restauration totale, étalée sur sept années, par les plus grands spécialistes. La structure en frêne a été remplacé là où il était nécessaire, les piliers de portes renforcés par des renforts en acier, le faisceau électrique refait et une nouvelle culasse en aluminium compatible à l'essence sans plomb avec des sièges de soupapes renforcés installée sur le moteur.

B105 MX arbore une élégante livrée deux tons Smoke ou Velvet Green, tandis que l'intérieur, impeccable, est tendu de cuire rouge, avec moquette crème, haut de portes en noyer et tableau de bord plaqué en bois de rose. La capote en mohair, positionnée loin derrière les sièges arrière, met en valeur les lignes basses de la carrosserie lorsqu'elle est repliée. La housse de cuir de la capote complète agréablement la sellerie, alors que d'autres détails remarquables incluent une roue de secours à l'arrière, un klaxon « Town and Country », des phares efficaces et une serrure de bouchon de réservoir bienvenue.

L'actuel propriétaire a acheté la Bentley en 2011, date depuis laquelle elle a bénéficié d'une rénovation complète de la mécanique et de la carrosserie par Cheshire Classic Cars au Royaume-Uni pour un coût de plus de 60 000 £ (facture au dossier). Les travaux incluent la révision du moteur, de la boîte et de la suspension avant, des retouches de peinture, de nouvelles moquettes et un nouveau volant.

Quintessence des cabriolets Bentley Derby, restauré avec la plus grande exigence et se présentant dans un état exceptionnel, B105MX est accompagnée d'un dossier historique complet comprenant un journal détaillé de sa restauration, des rapports d'inspection, toutes les factures de restauration, ses papiers d'immatriculation belge et son contrôle technique.

1939 Bentley 4¼-Litre Drophead Coupé
Coachwork by Vanden Plas
Chassis no. B105MX
Engine no. W2BC

*The ultimate 'Derby Bentley' formerly the property of Peter Blond
*One of only nine with this coachwork
*Benefiting from recent restoration with invoices
*Desirable MX series model with overdrive

By the end of the 1930s the 'Derby' Bentley, introduced towards the beginning of that decade following the firm's take-over by Rolls-Royce, had undergone a number of significant developments, not the least of which was an increase in bore size in 1936 that upped the capacity to 4,257cc, a move that coincided with the adoption of superior Hall's Metal bearings. This new engine was shared with the equivalent Rolls-Royce - the 25/30hp - and as had been the case with the preceding 3½-Litre model, enjoyed a superior specification in Bentley form, boasting twin SU carburettors, raised compression ratio and a more 'sporting' camshaft. Thus the new 4¼-Litre model offered more power than before while retaining the well-proven chassis with its faultless gearchange and servo-assisted brakes. It was the construction of modern highways in Continental Europe, enabling cars to travel at sustained high speeds, that had prompted the introduction of the Hall's Metal bearings and would lead eventually to the adoption of on an overdrive gearbox and improved lubrication system on Bentley's peerless Grande Routière, improvements which coincided with the introduction of the 'M' series cars in 1939. Refinement, reliability and effortless long-distance cruising were hallmarks of the coveted overdrive-equipped 'M' series. Only some 200-or-so were produced during 1939 and all are most highly regarded today.

With its 4¼-litre engine, overdrive gearbox and drophead coupé body by Vanden Plas, 'B105MX' represents the Derby Bentley in its ultimate and most desirable incarnation. London-based coachbuilder Vanden Plas had forged its not inconsiderable reputation by a most fortuitous alliance with Bentley, bodying some 700-or-so of the latter's chassis during the 1920s, including the Le Mans team cars. The firm survived Bentley's demise and resurrection under Rolls-Royce ownership, diversifying into other makes and resuming the relationship with its old partner to produce some of the most sublime designs on the Derby Bentley chassis, of which 'B105MX' is without doubt one of the finest.

The car was delivered to its first owner, Sir Arthur Cory-Wright, on 16th June 1939 and is one of only nine with this style of Vanden Plas coachwork, which in this case is distinguished by a black radiator shell and the absence of running boards. 'B105MX' is featured in Mervyn Frankel and Ian Strang's authoritative work, 'Bentley: The 1938/1939 Overdrive Cars' (page 183) and we are advised that The Society of Automotive Historians in Britain confirms that the Bentley was manufactured at Derby and that the chassis number is correct for the model year.

In 1979 the car was acquired by the much respected Peter Blond - an ex-racing driver at Goodwood, Le Mans and elsewhere, and a prominent collector - who commissioned the foremost specialist restorers to undertake a total restoration over a seven-year period. The original ash frame was replaced wherever necessary; pillars to the doors strengthened by a steel web; the electrics rewired; and a new aluminium cylinder head with unleaded-compatible hardened valve seats fitted to the engine.

'B105MX' is finished in elegant two-tone livery of Smoke over Velvet Green, while the immaculate interior boasts red leather upholstery, cream carpeting, decorative walnut door cappings and a rosewood veneered dashboard. The positioning of the mohair hood, well behind the rear seats, enables the stylish coachwork's low lines to be retained when the hood is stowed away. The leather hood bag complements the upholstery, while other noteworthy features include a tail-mounted spare, 'Town and Country' horns, correct driving light and a useful lock to the petrol filler cap.

The current owner purchased the Bentley in 2011, since when it has benefited from extensive mechanical and cosmetic refurbishment undertaken by Cheshire Classic Cars in the UK at a cost in excess of £60,000 (bills on file). Works carried out include overhauling the engine, gearbox and front suspension, a partial repaint, new carpets and a new steering wheel.

A supreme example of a Derby Bentley drophead coupé, restored to the highest standards and presented in outstanding condition, 'B105MX' comes with a full file of history including a detailed workshop log, full inspection reports, all restorers' receipts, Belgian registration papers and Contrôle Technique.