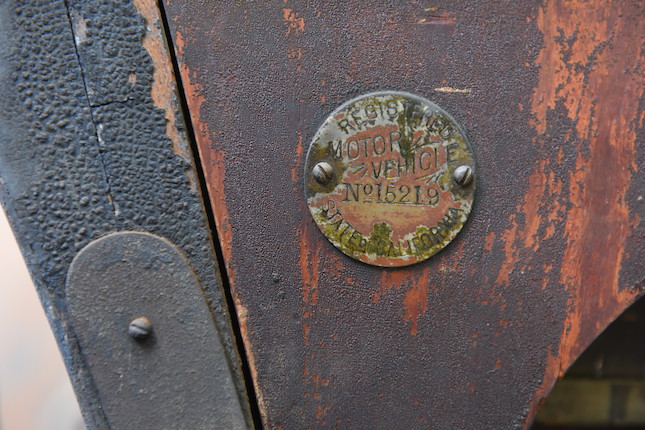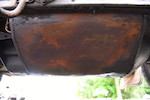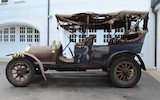 Timewarp discovery car, Ex-Buess Collection
1908 Rainier Model D 45/50hp Seven Passenger Touring
Chassis no. 1603
Amended
5 October 2015, 14:00 EDT
Philadelphia, Simeone Foundation Automotive Museum
Sold for US$253,000 inc. premium
Own a similar item?
Submit your item online for a free auction estimate.
How to sell
Looking for a similar item?
Our Collector Cars specialists can help you find a similar item at an auction or via a private sale.
Find your local specialist
Ask about this lot
Rupert Banner
VP, Business Development
Evan Ide
Vice President, Senior Specialist
Eric Minoff
Senior Specialist
Timewarp discovery car, Ex-Buess Collection
1908 Rainier Model D 45/50hp Seven Passenger Touring
Chassis no. 1603
412.33 ci, T-head, Inline 4-Cylinder Engine
Single Carburetor
45/50hp
4-Speed Manual Transmission
Front and Rear Leaf Spring Suspension

*Long-term California car, with original ownership in the Asbury family
*Former ownership in the noted Buess collection for more than 60 years
*Rare big horsepower brass era touring car
*Known to Horseless Carriage Club since the club's incubation
*Potential preservation candidate
*Sole survivor of the model

THE RAINIER

A name that immediately reminds one of the Royal family of the small principality of Monaco and the fairytale marriage of its Prince to Philadelphia-born, legendary actress Grace Kelly, in fact has origins closer to the bride than the blue blood, being an American bred automobile. The company was founded and began producing cars in Flushing, New York in 1905. The Rainier Car Company was founded by its namesake, John T. Rainier, one of many pioneering motor manufacturers of the day, but one who preferred to focus on quality over quantity and with a particular eye on performance. With a good run of success in his first few years, and a string of competition awards along the East Coast, he wisely relocated to Saginaw, Michigan to produce his fourth car, the Model D, in 1907.

As an independent this would prove to be his zenith, the new car being of considerable stature with a 5 x 5¼ inch 4-cylinder 50hp engine, a 'make and break' ignition system and a 4-speed transmission with overdrive on top gear. At prices approaching $6,000, they were certainly for the more elite motorist, but so confident was Rainier that he marketed them as economical in one regard offering a 'guarantee of a year's use without repair expenses'. For this price their clientele undeniably received a machine of quality with a copious use of nickel steel including for its pressed chassis frame.

Their use of fine materials and a sporting engine with big capacity and large ports and valves enabled Rainier to achieve some modest success in competition. Louis Disbrow won the 200 mile Atlanta Cup and, proving their stamina, came in 2nd in a 24-hour race at Brighton Beach in 1909, ahead of such luminaries of the day as Ralph de Palma in a Fiat and Ralph Mulford in a Lozier.

During 1908, Rainier delivered some 300 automobiles and clearly must have been on the right tracks as his cars came onto the radar of William Durant and his General Motors who acquired the business in May 1909 with the intent of using this brand as their top of the line automobile. The venture only lasted to 1911.

Viewed today, and as evidenced by this particular example, Rainier cars have all the hallmarks of the upper crust automobiles of Europe, such as Delaunay Belleville, Hotchkiss and Spyker with its barrel-shaped radiator and hood and for this car its 'Roi-des-Belges' body styling.

THE MOTORCAR OFFERED

This extraordinary automobile is the very essence of a 'timewarp' or 'barn find' – a car that arrives on the market for the first time publicly in its 108 year lifespan and that can credit a mere handful of owners from new. As is so often the case, the simple number of changes in ownership over the course of such a lengthy period has accounted for its remarkable state of preservation today.

Its succinct history is charted as having been delivered new in California to the Asbury family, owners of a noted truck and bus company in the Los Angeles area. It is said that the reason the car was laid up originally was that a half shaft casing cracked. In the 1930s the Asburys gave the car to their chauffeur Calvin Johnson who, keen to get the car back on the road, replaced the rear axle with a Pierce-Arrow unit. Mobile again, Johnston drove the car to the second earliest meeting of the Horseless Carriage Club at Doc Shafer's ranch in San Bernandino from his Glendale home.

It was there that the next owner's son, arch California car sleuth and restorer Fred Buess would first see the car with his father. They long admired the car and when Johnston died in around 1947 it was put up for sale in a sealed tender bid auction. The Buess's acquired it to join their noted collection where it would share stable with a number of 'as found', preservation quality pre-war machines.

The Rainier stayed with the Buess family for six decades through to the end of the 1990s, and since that time has been cared for in similarly enthusiastic ownerships. Its present owner, a prominent collector of the finest brass era motorcars, was similarly charmed by its condition and it joined his collection in recent years. Throughout that time, the broken original axle was actually retained, such that today should someone wish, its breakage could almost certainly be repaired or replaced and the unit returned to the car. In Buess's ownership the car is known to have been used and it is thought to have been run as recently as five years ago, although it has not been attempted to be run in its current hands. As shown in the photographs some initial work was begun; its radiator being rebuilt properly with a new core.

Viewed carefully the leather upholstery, particularly in the rear compartment, may well be retrievable or perhaps create perfect patterns for replication. Its rather sorry top is complete in its mechanism, but threadbare in its covering. Amazingly side curtains still remain beneath the rear seat squab.

Accompanying the car for many years is a photo of it seemingly in the teen era, a particular detail of the imposing and impressive image is a raised monogram catching the light, which matches a series of holes through the rear doors on both sides, almost certainly testifying its authenticity.

Standing next to the car, it has incredible presence and is such a find that its condition proves to be almost hypnotic and demands exploration. Whether it be as a sympathetic restoration or the basis for a comprehensive rebuild, it is clear that from the car's completeness, incredible presence and inviting condition, it will provide a rewarding project for its next custodian.
Saleroom notices
The title for this vehicle is in transit.