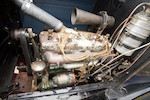 Offered from the Evergreen Collection
1916 Mecca Thirty Touring
Chassis no. 441
5 October 2015, 14:00 EDT
Philadelphia, Simeone Foundation Automotive Museum
Sold for US$13,200 inc. premium
Own a similar item?
Submit your item online for a free auction estimate.
How to sell
Looking for a similar item?
Our Collector Cars specialists can help you find a similar item at an auction or via a private sale.
Find your local specialist
Ask about this lot
Rupert Banner
VP, Business Development
Evan Ide
Vice President, Senior Specialist
Eric Minoff
Senior Specialist
Offered from the Evergreen Collection
1916 Mecca Thirty Touring
Chassis no. 441
188ci Side Valve Inline 4-Cylinder Engine
Single Schebler Carburetor
23bhp
3-Speed Manual Transmission
4-Wheel Semi-Elliptic Leaf Spring Suspension
Rear Wheel Mechanical Drum Brakes

*Exceptionally rare, one-year only marque
*Likely one of the only, if not the only, surviving examples
*An interesting footnote in the history of the motorcar
*Sure to draw crowds of followers

THE MECCA

Created in an era when starting a motorcar company was still a project endeavored by entrepreneurs with little more than a garage and some can-do spirit, the Mecca was born out of a repair shop. The Times Square Automobile Company in New York City was principally involved in rebuilding used cars when it decided to enter in the new car business by building a car of its own. Sourcing its name from the fact that Broadway was the place to which the theater world flocked—not the city at the center of the Muslim world, ironically enough—its first car was a cycle car that was shown in October 1914 and was to be built in Teaneck, New Jersey. However, there is little to say that the assembly line ever started combined with the fact that Times Square had decided cycle cars were not the best avenue.

Switching gears, Times Square contracted the Princess Motorcar Company in Detroit to build a version of its own Model 30 as a Mecca branded "Thirty". Debuting in mid-1915, a reference from Motor Age indicated that the company had disappeared before the start of 1917.

THE MOTORCAR OFFERED

Only three bodies were offered for the Mecca, a five-passenger Touring along with a pair of two-passenger models: a Roadster and a Runabout. This Touring, surely one of the few surviving Meccas, is reported to have been stored from the 1950s until only a few years ago. Appearing to have been gently refreshed over the years with a paint job and interior done some time ago, the car is understood to fire up and run.

A rarely seen marque, the next owner is unlikely to come upon another one at a local or national car show. Not having been shown publicly in some time, the opportunity to watch the masses flock to your Mecca awaits.