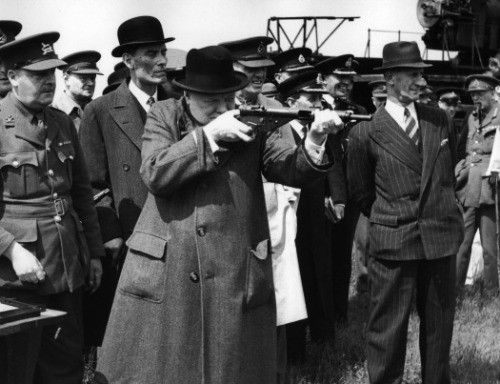 A 7.65mm (.32ACP) 'Model 1913' Self-Loading Pistol by Webley & Scott, no. 130104 from the collection of Sir Winston Churchill
2 December 2015, 14:00 GMT
London, Knightsbridge
Sold for £5,000 inc. premium
Own a similar item?
Submit your item online for a free auction estimate.
How to sell
Looking for a similar item?
Our Sporting Guns specialists can help you find a similar item at an auction or via a private sale.
Find your local specialist
A 7.65mm (.32ACP) 'Model 1913' Self-Loading Pistol by Webley & Scott, no. 130104 from the collection of Sir Winston Churchill
Much blued finish, the left side of the slide stamped Webley & Scott Ltd, London & Birmingham, 7.65mm & .32 Automatic Pistol, the butt with diamond pattern ebonite grips (the left with small chip the right with larger chip missing), magazine missing
3in. barrel, contemporary Birmingham nitro proof

Footnotes
Provenance
Sotheby & Co. London, Modern Sporting Guns, Militaria, Antique Firearms, Armour and Edged Weapons, 15 July 1975, lot 46
The pistol is offered with two letters dated 1st and 30th September 1975 certifying its provenance and signed by Sir Winston Churchill's grandson, Winston Spencer-Churchill MP, a further letter dated 28th May 2015 from Kent Police confirms that 'Mr. Winston Spencer-Churchill did in fact own a .32 pistol serial number 130104', in a cardboard carton with Purdey storage label dated 7/1/65 and 17/9/70.

This pistol comes from the private collection of Sir Winston Churchill MP, KB whose collection also included a presentation Sten Mk III sub-machine gun with which he was famously photographed during World War II. The .32 Webley & Scott was adopted by Scotland Yard for use on close protection details in 1911. Walter J. Thompson, Chuchill's most famous bodyguard, carried one during his eighteen years service beside the Prime minister.

At the request of the vendor this lot is being offered in its original working condition and ownership without the proper authority is only allowed following De-Activation according to the Home Office guidelines and certification from the London Proof House.

Please note that there are specific Import / Export regulations relating to firearms which vary according to the country of destination.